Water sans bottle, illegal narcotics, and five-dollar souls (what a bargain!) — since its rollout, Facebook Marketplace has been fertile ground for buying and selling notoriously niche as well as some actually useful items.
Launched in late 2016, Facebook's peer-to-peer selling platform was created after the company saw the success of thousands of unofficial buy-and-sell groups — which attract over 550 million people around the world every month!
In short, FB marketplace empowers online sellers to create listings without the hassle of finding and joining the right Facebook group. Now, buyers can easily find items for sale in their vicinity and make purchases through Facebook Messenger.
You might be thinking, what does Facebook get? While the transactions are surprisingly still free, Facebook introduced several ad formats to start generating profit in 2018. Now in 2022, brands and retailers are starting to take advantage of this social marketplace to reach the platform's massive audience. And with users in 70 countries and 800 million active monthly users, we think it's about time.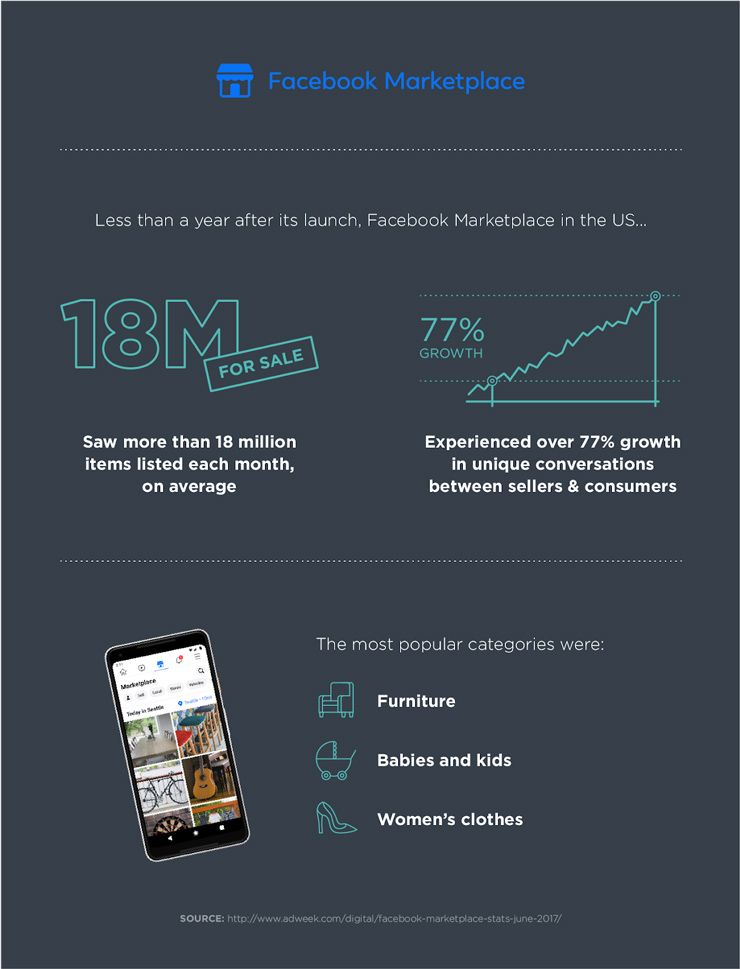 Interested in jumping on the Facebook Marketplace train in 2022?
Then keep reading as we explain all of these tactics, best practices for using Facebook Marketplace for your brand, and the number-one tool for keeping all your product data fresh on the fast-paced social media platform.
Why Facebook Marketplace is a Goldmine for Retailers
Why are brands and retailers flocking to Facebook Marketplace? Because it empowers them to cut through the noise to engage interested consumers, collect feedback on new offers, and build trust and reach within Facebook's audience.
Engage Consumers With Strong Purchase Intent
Reaching consumers at the exact point at which they intend to buy something can lead to a massive increase in conversion rates. And, usually, it's pretty difficult to achieve on a large scale. But on Facebook, most consumers are ready to buy!
When Apartment Guide added Marketplace ads to their existing News Feed ads, they saw conversions double and cost per conversion drop a massive 45%.
How's that for spending a little money to make a lot of money in return?!
A Low-Risk Product Testing Ground
Another valuable feature of FB marketplace is that there is no initial cost to create a listing. That means you can test out new products risk-free and without lengthy A/B testing. Just create a listing (which we'll explain next), start tweaking the settings, and see what brings in the best results. You can experiment with different pricing, exclusive deals, and even special discounts. And, if you want to get a feel for what sells best on the platform before you even start making listings, you can always check out the "Top Picks" sections for each category to gain insights.
Build Trust, Increase Reach Within the Facebook Universe
Because purchases are usually made through Facebook Messenger, buyers and sellers are able to establish trust and lasting bonds that lead to further sales.
Another benefit of working within an advertising oligopoly like Facebook is that you can access all of their apps. Facebook can serve your ads on its own platform, Instagram, and the Facebook Audience Network — a network of mobile apps that partner with Facebook to sell ad space to them.
And who could forget Facebook's vast amounts of user data?
Facebook knows everything about their users: what they buy, what music they listen to, where they vacation, what size they wear, what they had for lunch yesterday, and plenty more. And, they are eager to use this data to make advertisers more effective! You can also integrate your Facebook ads with a hyper-personalised application that will target multiple user groups, to bring more sales and enrich data on Facebook. This all means improved reach, more personalized ads, and ultimately higher conversion rates for you.
How to Create a Product Listing on Facebook Marketplace
While Facebook doesn't limit the types of items individual users can sell (within reason), it's important to remember that only certain types of businesses are allowed to sell on Marketplace:
Dealerships
Real estate businesses
Retail and ecommerce businesses
Assuming you fall into that "retail and ecommerce" zone, let's dive into the technicalities of setting up your first listing. To enter the Marketplace, log in to your Facebook account and select "Marketplace" in the left-hand sidebar: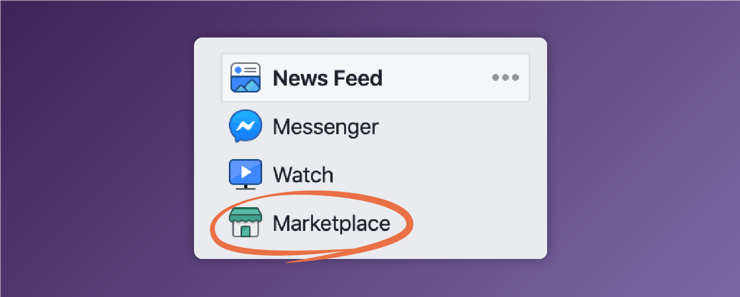 Once you're in Marketplace, start creating your listing by clicking the "Sell Something" button in the left-hand sidebar: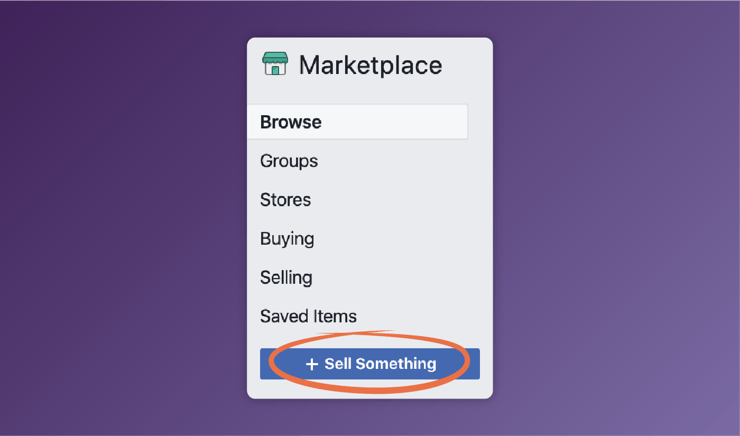 In the first pop-up window, you will be prompted to specify whether you're selling a vehicle, home, or item. Select "Item for Sale" and fill in your product details in the next window: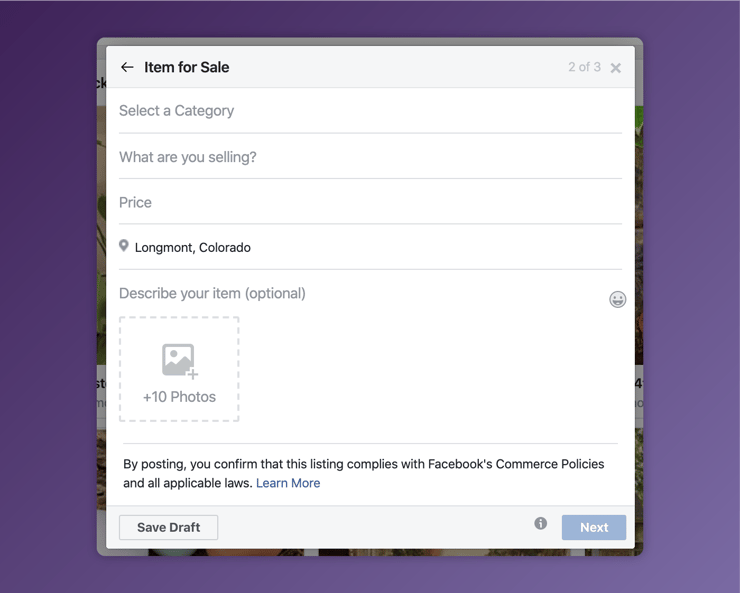 Once you've filled it all out and added photos, click "Next" then "Publish" and you'll have successfully created your first listing!
Your listing will be visible to everyone in your specified area who is browsing Marketplace. This is probably the most important thing to note when you consider using Facebook Marketplace for your business: If you want better conversions, you must optimize for local sales.
Both individuals and businesses are obliged to comply with Facebook's Commerce Policies with their listings. This means that the following items can not be sold:
Non-physical items: Anything that isn't a physical product. For example, "in search of" posts, lost and found posts, job ads, jokes, and news aren't allowed.
Services or event tickets: You can only sell a service or event tickets on Marketplace with Facebook's written permission.
Animals: Selling animals or offering them for adoption isn't allowed on Marketplace.
Healthcare items: Healthcare-related items (thermometers, first aid kits, etc.) aren't allowed.
Shady items: Just say no to listing drugs, ingestible supplements, adult products, alcohol, and tobacco products.
Further criteria with which your listing must comply are:
The photos of the item must match the description and title of the listing
Items for sale on Facebook Marketplace can't show before and after pictures (no weight loss products here!)
Boosting Your Facebook Marketplace Listings
Boosted listings will appear to people in your nearby zip codes and are the easiest way to attract more traffic to your listing. All you have to do is click on a listing in Marketplace and select the "Boost Listing" option:

From there, you can set a budget, choose how long your ad will run, select your payment method, and even preview your boosted listing before it goes live: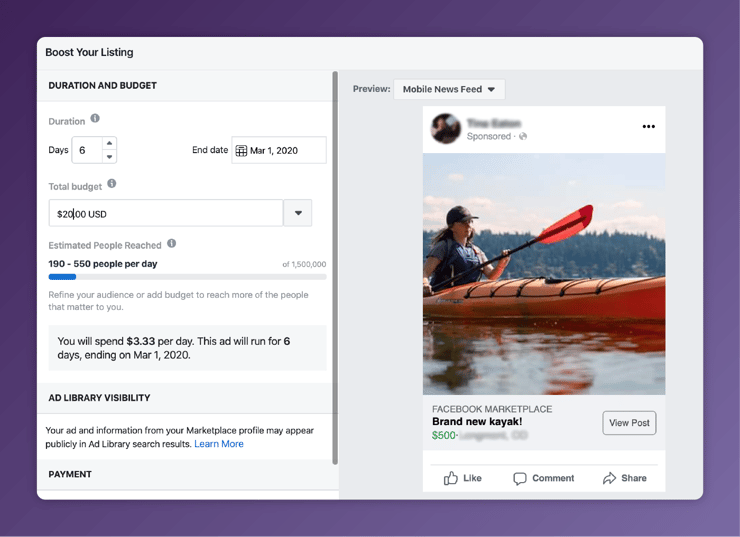 These ads (boosted listings are considered ads) will automatically populate the price, title, photos, and description from the original listing.
Once they've been live for a bit, Facebook will give you some stats for your boosted listings: The number of people they reached, the number of messages you received about them, how much you've spent, and how long the boost lasted.
Based on this information, you can determine which one of your boosted listings performed the best, recreate it as a Facebook ad, and use Facebook's automatic placement option for scaling your reach. That's next.
How to Advertise on Facebook Marketplace
Placing an ad in the Marketplace can be a lucrative strategy for every business that wants to reach users with strong purchase intent, promote their products to localized audiences, and foster a more personal relationship with buyers.
If you want to use Facebook Marketplace for ad placement, you're not going to follow the above steps to create product listings. Instead, you'll create placement ads the same way you would create ads in your Facebook Ads Manager.
To create an ad for the Marketplace, navigate to "Advertising on Facebook" in the drop-down menu on the far upper, right-hand corner of your screen: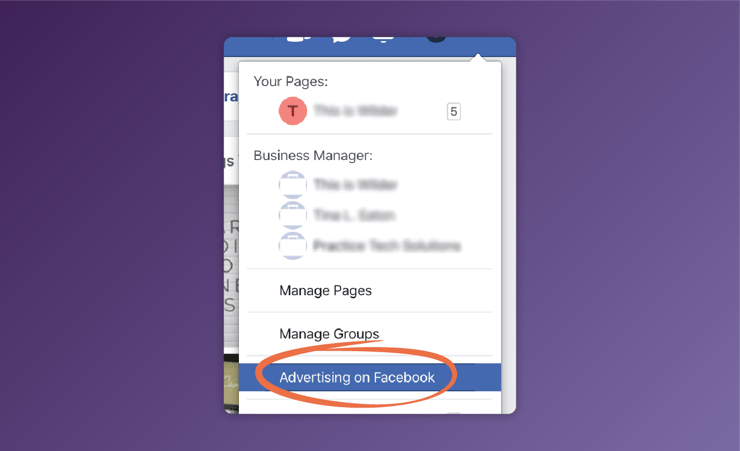 It's important to note that what you see next will depend on the kind of page you're created an ad from and whether or not you've created an ad before. Either way, follow the prompts and you should be able to successfully create an ad.
Here are Facebook's general instructions for ad creation:
In your Ads Manager account, choose "Brand Awareness," "Reach," "Traffic," "Video views," "Lead generation," "Event responses," "Messages," "Conversions," "Catalog sales," or "Store traffic" as your objective and click "Continue"
Choose your destination
Choose your audience, define your targeting options
Choose "Automatic Placements" or "Edit Placements" (There's unfortunately no option to select Marketplace as the only place to display your ads yet. We recommend choosing "Automatic Placement" for better ad scaling and to leverage Facebook's family of mobile apps for exposure.)
Set your budget, schedule your ad
Choose your format from video, image, or carousel (several rotating images)
Click "Done," click "Place Order," and enjoy seeing your ad on Marketplace and the Facebook mobile app once it's approved!
The Best Ad Formats for Facebook Marketplace: Image and Video
Image and carousel ads perform well in social marketplaces for two reasons.
One, they look more like the other listings, so people who want to purchase directly from a seller are more likely to click on them.
And, somewhat paradoxically, professional photos can also make ads look just a tiny bit more special among a sea of amateur photos from individual listings.
It's best to find the sweet spot between appearing professional while still blending with the general look of related listings.
As for the technical specs, Facebook recommends that single images be 1,200x628 pixels and carousel images 600x600 pixels.
In the case of video ads, it's standing out that plays in your favor.
Since Marketplace is largely populated with static images, videos are likely to grab consumer attention. Similar to the above tip about photos, don't alienate viewers with over-the-top video production. Instead, go for a more DIY solution when you're choosing/creating the video for your ad to convey authenticity and commitment.
Manage Your Products Across Facebook — and Every Other Platform — With PIM
Creating listings and ads on Facebook Marketplace enables brands and retailers to reach consumers with strong purchase intent, test out new products practically risk-free, and increase their reach in the massive Facebook universe.
However, it isn't all a walk in the park. It takes a ton of effort to get the correct product data and keeping it updated on Facebook and other fast-paced platforms.
Especially now, when a single online product can have as many as 200 attributes. That means ecommerce managers and marketers have thousands if not millions of data points to create, optimize, and maintain.
Slip up and enter something wrong? Too bad, because a single product data error can cost a business anywhere from $50 to $80 to fix.
That explains how, worldwide, inaccurate product data costs the ecommerce industry over $100 billion USD every year.
For a whole lot smaller investment than that, you can get your very own product information management (PIM) software that integrates directly with your webstore, your Facebook account, and everywhere else you've listed products so you can tweak pricing, adjust messaging, add new product descriptions, etc. — and keep it updated across platforms with the push of a button.
Today, your product listings have to go omnichannel or go home.
Interested in staying in the game?
Learn how by downloading Plytix's free guide to how omnichannel ecommerce works, its big business benefits, and the tools you need to achieve it in your own organization.