If you think things will go back to what they were two years ago, pre-COVID, think again.
Europe's ecommerce growth spurt has proven that shoppers around the world are leaning towards online shopping. In fact, as I write, 76% of American and 86.7% of UK consumers are shopping online right now. So, whether it's on Amazon or Google, the future of retail is bright.
Google steps up its ecommerce game
Recent events have fueled Amazon's dominance (even more) as an ecommerce shopping destination. And as a result, their ad platform has become more desirable. While Amazon is still far from removing Google from the search throne (Google holds a 92.47% market share since June 2021), they do have the potential to take a large portion of Google's market share.
This is why Google has been adapting to improve the online shopping experience for both consumers and sellers. But, what exactly are those contributions? Find out in the article below.
1. Offering businesses more online visibility
Most people use Google at least once a day, and they use it for different reasons.
According to these figures:
Google is aware of that, and they have made it easier for businesses to target those customers.
Before, the search giant had Google My Business (GMB), which was essentially an online directory for businesses to add images, store addresses, phone numbers, website URLs, and trading hours for customers to see (should they need any information related to the store).
It was even great for local SEO.
Now, they've renamed it to Google Business Profile—a game-changer for multichannel commerce. Your business profile can be visible across all Google platforms. This includes Google Search, Google Images, Google Maps, Google Lens, Google Shopping Tab, and more.
But that isn't even the best part. This new tool enables you to engage with your customers and ensure swift responses to queries and reviews, check insights, show in-stock inventory, and more. According to Google, "your Google business website lets you present your business professionally online, showcasing your photos and business details in a beautiful way."
2. Offering free and paid advertising solutions
Google has been known for its advertising solutions for years.
This comes as no surprise, as there is a large number of users using Google daily to search for queries and more. As mentioned in the stats above, 19% will click on a Google ad during their search. And the likelihood of those clicks becoming a purchase are high. Why? Ads are known to gain more leads, and your product is being shown to more people with the intent to buy.
But, not every business can afford paid ads, which was what Google only offered in the past. Now, they offer free product listings on Google shopping after 8-years of only having paid advertising. This means that the 'Shopping' search results will also have unpaid, organic listings.
This gives more (smaller) brands the opportunity to create wider brand awareness.
With the free listings, there are two options: standard or an enhanced listing. Both are similar, as your product listing will appear across Google platforms; however, with an enhanced listing, your product can appear on the Shopping tab, YouTube, Google Search, Google Images, Google Lens, and more. With the help of product listing optimization (PLO), which is essentially optimizing your product pages to meet the specific channel requirements, businesses can stand out and show their customers a wider selection of products without any added cost.
They also recently released new features to help give merchants gain deeper insights and feedback into their listings, to see how they can improve. This includes a new conversion measurement tool, a new price insights tool, and new shipping and returns overview pages.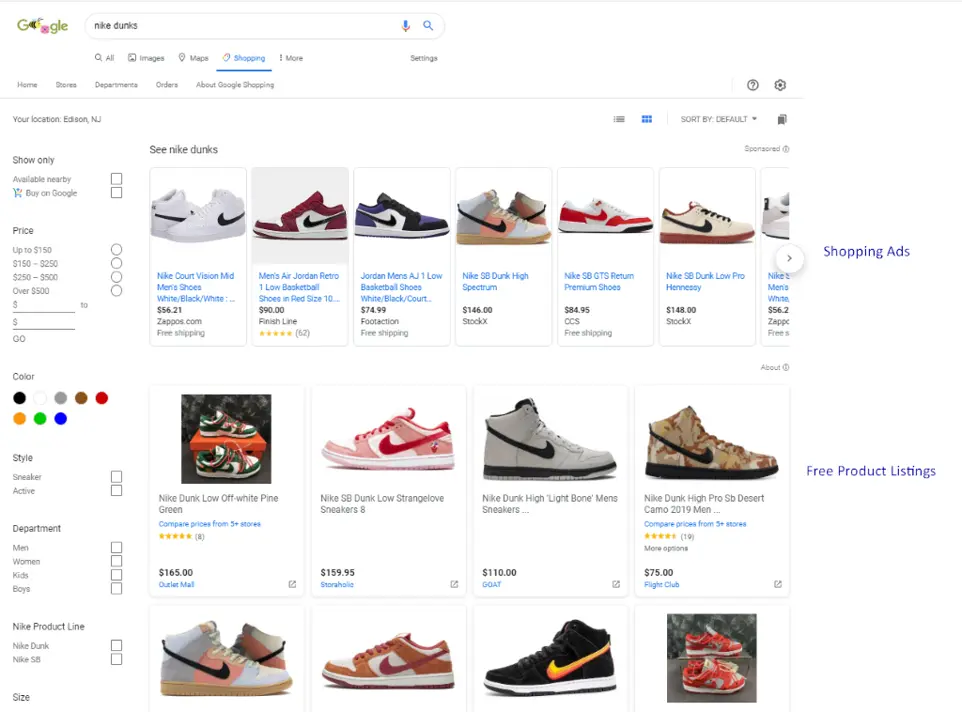 3. Offering a central hub for product information
Managing product information and digital assets can be a challenge, especially if your products are on various platforms. So, while the Merchant Center is far from being a PIM for Google Shopping, it can make showcasing your product/s on Google far less complicated.
With the Merchant Center, businesses can upload their product information, and manage how their products appear on Google. You can also use the information within the Merchant Center to easily run ads and appear across paid and update channels such as Google, Shopping ads, Shopping actions, and other Google services. This makes reaching your target audience easier.
4. Offering valuable insights for businesses
Ecommerce is a numbers game, and fortunately, Google has a number of tools that can help you gain valuable insights for your ecommerce business. These, of course, are data-driven.
Google Tag Manager to manage various tracking codes on your website
Google Analytics to help provides reports on your ecommerce stores performance
Google Webmaster Tools or what is widely known as Google Search Console to help businesses understand how their site is performing on Google
Having access to all this insight helps you become more visible without breaking the bank.
5. Offering better experiences through partnerships
To achieve something great, you cannot always work alone. Take Shopify partnering with Tiktok, for example. Or last year, when Google announced that it would be partnering with Shopify to make it easier for Shopify merchants to get their products featured across Google. This decision comes after there was a significant increase in interest over the last year.
According to Google, "This new collaboration with Shopify will enable merchants to become discoverable to high-intent consumers across Google Search, Shopping, YouTube, Google Images, and more." Now, on Shopify Google, merchants can automatically sync product information from their Shopify store to their Google Merchant Center. They can even update their Google product listings in their Shopify admin, and have it automatically updated.
6. Offering new tools for a better experience in ecommerce
Partnerships aren't the only thing Google has been thinking about. They have recently introduced a couple of new tools for the ecommerce industry. They introduced Google Graphs, which is an AI-enhanced model that understands that products, sellers, brands, reviews, product information, and inventory is constantly changing. The "Shopping Graph" is designed to show consumers relevant product listings and information as they search. This happens in real-time, making online shopping an even faster and more convenient way to shop.
This is a game-changer and will be a valuable contribution to the growing market.
Google may also be looking into focusing more on using images for product discovery. Users can search within a screenshot using the "search inside this screenshot" when a picture is uploaded to Google Photos. Here, they can see similar products, all thanks to Google Lens.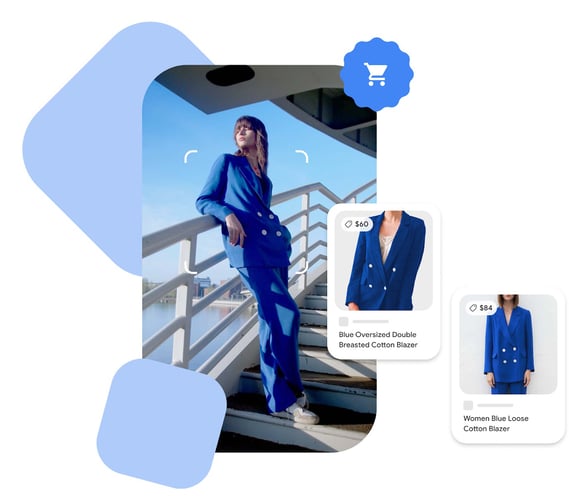 Not forgetting, they have also released a retail search tool to help enhance shopper discovery.
According to, Srikanth Belwadi, Group Product Manager, Google Cloud, "With this new tool, retailers can supercharge their websites and mobile apps with Google-quality search. Built on Google's technologies that understand user intent and context, the solution helps businesses improve the search and overall shopping experience across all of their digital touchpoints."
Considering that 94% of American online shoppers have abandoned a shopping session because they received irrelevant search results, this will definitely improve sales for many.
Make no mistake, Google is changing the game
While Amazon may be the ecommerce giant, Google isn't planning on stepping aside. They have seen the potential of the ecommerce industry and want to support e-businesses even more.
But to truly maximize what Google has to offer, you need to have accurate and rich product information. Google only gives you the tools to be visible to your customers but it's your product information that will increase that visibility and increase your likelihood of making sales. You need product information management software, or what is also known as a product experience management tool, to streamline product data throughout its lifecycle.
Some of the most well-known brands in the world use a PIM database, such as Plytix, as their single repository to store product data, digital assets, and more! It really makes life easier.
To see how PIM can help you, request a demo and chat with us. Our experts will be thrilled to tell you more about one of the best PIMs for small businesses and how it can add value.
Google Shopping