If there's a surefire way to captivate even the laziest audience in seconds, it's probably video.
Well, you can make a case for high-quality product images, but that's not enough.
At least 95% of people absorb videos better than text.
That means ecommerce brands can no longer get by using written content and images alone. You'll need to spice things up to market your products and attract your target audience.
Potential customers are more likely to want a product when they see it in action or other people talking about it. Video content showcases the benefits of your product that business-to-business (B2B) customers might not see immediately at face value. That's why 88% of buyers have been convinced to buy a product by watching the brand's video. So, if you're new to B2B ecommerce video campaigns, you might be inundated with ways to create an effective video marketing strategy for your business. Here's a step-by-step guide to help you succeed.
1. Decide where you will use the videos
Where you use your video can matter as much as what's in your video.
Why? Each video passes across a different message.
Deciding on the main theme of this message is the key to an effective product video placement.
Depending on your campaign goal, you may use your product videos in:
Welcome email sequences
Landing pages
Product pages
Social platforms
Sales outreach strategies
Be as specific as possible when thinking about where you'll use your video, as these channels trigger different responses from their audiences. For instance, the product videos in welcome email sequences introduce your brand in a way that gradually satisfies the curiosity of users.
Email tracking tools can tell you when new users open and respond to their emails.
However, for video ads on social, the goal might be to reach a new market and populate your sales funnel. In that case, you'll want to use product videos optimized for social media platforms to highlight the benefits of your product and motivate them to action.
2. Determine the goal of each video
It's a no-brainer, but each video marketing campaign must have a goal.
Your video content plan must reach buyers at different stages of the customer journey. And for this, you'll need a sales or marketing funnel to outline and visualize the goal of your strategy.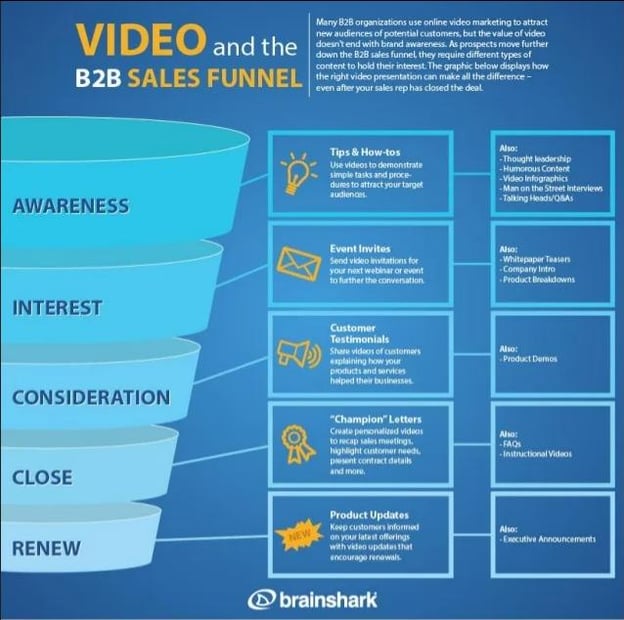 Source
Awareness: The goal should position your brand as a go-to resource for informative content in your industry niche. Show off your products with social media ads, explainer videos, educational videos, and email marketing product videos. However, use a Grammarly alternative to maintain impeccable writing style and grammar throughout the sequence.
The 'Whiteboard Friday' series videos by Moz teaches new SEO concepts to B2B viewers.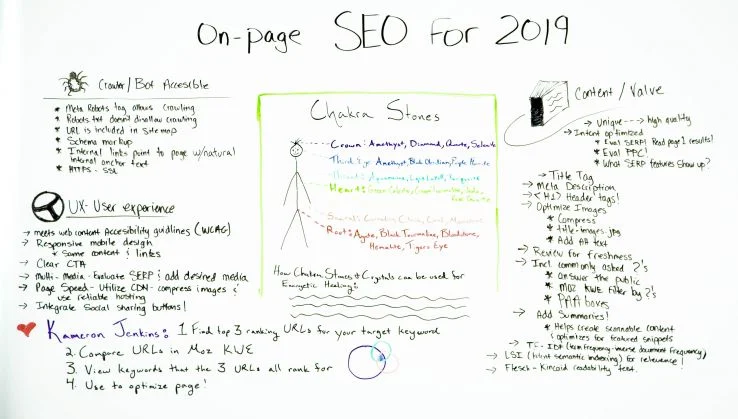 Source
The video series establishes Moz as a reliable SEO expert without outrightly selling their products. Be like Moz. Include awareness videos in your blog, welcome email sequences, or on your YouTube channel to attract new visitors.
Consideration: Here, you must engage viewers with informative content that solves customers' problems and creates personal connections. Focus on creating video product reviews, FAQs, and testimonial videos as cost-effective solutions your business can provide.
Decision: Since this stage's ideal goal is to nurture and help viewers convert, you'll want to create visual content that shows social proof. Go for free demos and use case videos. Alternatively, an instructional video to give viewers an idea of how to use your product.
That's what ActiveCollab does with their demo video.
The video explains how users can handle online payments with their products in a fun way.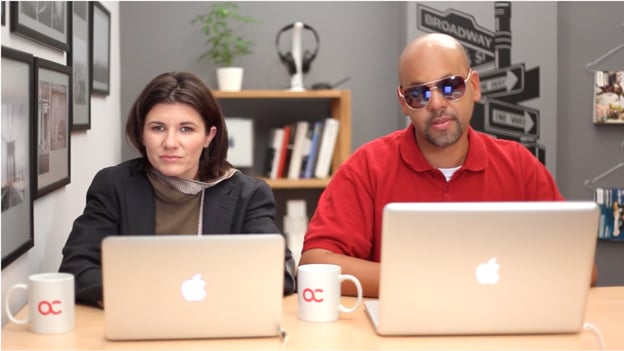 Demo or tutorial videos give insider tips and expert advice that drives viewers to convert.
A successful B2B video marketing strategy should include high-funnel videos aimed at brand building and low-funnel videos aimed at driving sales. Each video should have different marketing messages, so store these snippets of data in a PIM tool to manage all messaging.
3

.

Identify how to make each video successful

If you're not a videographer, outsource your product filming to a freelancer or production company. Why? Video production might prove difficult and expensive if you're inexperienced.

However, if you're going the DIY route and have a solid understanding of each video's goal, you can shoot your product page videos and make them successful with the following tips.
Shoot the products in action to show a panoramic and full-circle view of the product. Also, take shots of the product with ready-to-pair accessories.
Use a simple, well-lit background to take a clean shot.
Keep videos short and straight to the point with a one-minute-ish video.
This product video by camping gear company Kelty ticks all the right boxes.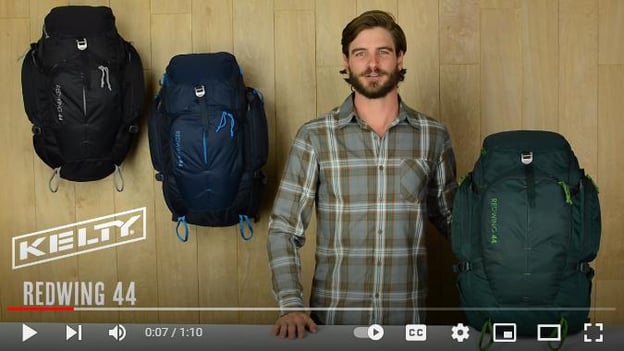 Source
The above tips apply when shooting professional videos for different campaigns, such as paid advertising or welcome series email campaigns. However, for your social media videos to attract new customers and increase conversions, they must fit the channel they'll go live on.
Consider these differences as you optimize your video content for paid ads, or else your video marketing efforts might just be in vain. Additionally, render videos in the right format.
4. Set a budget
Having a budget will help you limit how much you can spend on creating a video and, thus, what margin to expect. You can track these expenses in the same place your content sits: in a good product information management system (PIM). It's going to be difficult at first—especially when you're new to stuff like this. Plan for all the resources and money at your disposal. The PIM system ensures teams have access to all product data in one location.
Some videos will cost you a few hundred dollars, and others? Let's say you need more than enough to cater to video production expenses if you were hiring performers and a crew.
If you're starting, most times, you don't need all that. Just maintain a realistic budget to buy basic, high-quality video tools for shooting and editing with video maker software.
5. Review your performance
When developing your video marketing strategy, you should be able to determine what success looks like. It could be an increase in website checkout rates or video engagements. Whatever your video marketing objectives are, ensure there are pre-defined performance metrics to allow you to measure success at any given time. These video metrics will help you review your campaign's performance and know where you're falling off and what aspect to improve.
Consider these common goals and key metrics when reviewing your video marketing strategy.
Goal 1: increase paid and organic traffic
Here, you want to measure your video's click-through rate and play rate. If more people are clicking through your paid ads on social channels or there's an uptick in the number of video plays on your website. Then, your product videos get more views, translating to more traffic.
Goal 2: revenue and lead generation
For video marketers, generating new opportunities and revenue from each campaign takes the crux of the cake. Of course, when you maintain a realistic budget, you can tell when you hit a profit margin by accounting for production expenses. However, to determine the net positive impact of your video on your overall marketing campaign, you should review;
Click-through rates.
How many people click through to buy, learn more or sign up? Your call-to-action might be non-compelling or placed wrongly if the CTR is low.
Video engagement rates.
How many leads watch your entire video? What is the view-through rate? Along with the usual likes, comments, and shares that indicate organic engagements on social media, some video-only platforms like YouTube, can show you the exact point your video viewers lost interest in. Though what counts as 'engagement' differs by channel and user preference. Just like someone may find 15-second videos more engaging on TikTok than a one-minute video on Facebook. Since each social platform measures these metrics differently, you should review them separately. Make changes to your strategy according to what's obtainable on social to improve audience retention.
Bounce rate.
This metric will show how many people don't bother with your video when they land on your website. If more people are opting for product descriptions instead of watching product videos, reevaluate your video content placement.
Bottom-line conversions such as purchases, calls, or sign-ups to your email list can help you determine revenue generation. Do this by measuring how many customers checked in their promo codes and made calls or purchases via external or embedded links.
Goal 3: increase video marketing conversions
If your campaign aims to increase video marketing conversions, you should review multichannel click-through and conversion rates. The multichannel CTR metric considers how viewers react to certain call-to-actions on several marketing channels such as emails, landing pages, and social media. It measures how many viewers click on the CTA at the end of a video or follow through with a pre-defined next step. (Here's a video with a CTA at the end. The company also embeds a link to its website to make viewers' navigation seamless.)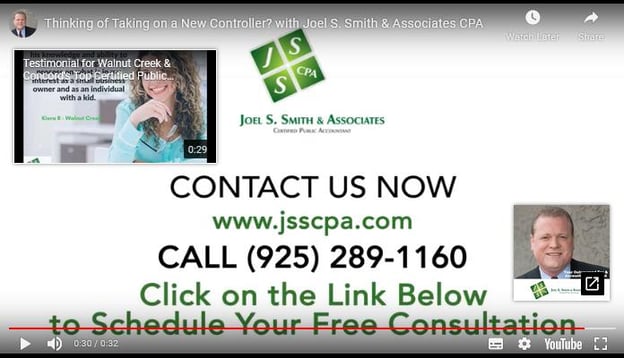 Source
If your CTR is underperforming, you might want to use a different CTA message, place the CTA earlier in the video, or change the color of the CTA's video frame. However, for landing page or product page video conversions, you'll want to see how many viewers completed the intended goal. That could be filling out a demo form or making a purchase. Review the page's performance to know if a product video placement increases or decreases conversions.
Goal 4: improve search engine ranking
YouTube is the second largest search engine after Google.
So, it only makes sense that you optimize your video content strategy for it too. While there are several benchmarks to use when reviewing your SEO performance—organic search engine traffic should be your first point of call. If more people are finding your ecommerce product videos through organic searches and paid search ads, then your videos are performing well.
If not, you may have to review your YouTube SEO strategy to ensure you rank.
Takeaways
The benefits of video marketing are far-reaching. It presents a unique opportunity for brands to connect with new and current customers. When creating your video strategy, consider your overall marketing goals and the social channels they'll go on. The type of video content you create must be short, engaging, and aligned to a goal to be successful. Use the tips in this article to create a conversion-focused video marketing strategy to boost your business.
Ecommerce