At the moment, over 500,000 active stores are running on Shopify.
However, not all of them are equally successful. While some of these businesses bring in revenues that exceed a million dollars a year, others struggle to reach the break-even point. Often, it's these mistakes that lead to Shopify failures.
But what about you? Do you want to increase sales this year? Heck yes! Well, our advice is to write killer product descriptions, and you will accomplish your goal. Good copy can bring more traffic to your store and double conversion rates.
Here are a few tips that might help you boost your sales:
Get to know your customers better
Whether you write a book, article, or product copy, you should know who you're speaking to. So the first thing you should do is to research your target audience.
Define demographics and psychographics using the following:
Age
Gender
Education level
Income level
Ethnicity
Marital status
Attitudes, believes, principles
Lifestyle
Once you have a clear understanding of who will visit your site or buy your products, you'll know how to display your descriptions. Besides, it will also help you in crafting the copy: you'll use the right style and language to communicate.
Think like a customer
Before you write a product description, imagine yourself as a customer. More importantly, imagine yourself as your customer. Think about the type of product information you would want to know. What about the different features and benefits that would interest you? Be sure to address these questions in your copy.
Caroline Macaulay, a content marketer from SupremeDissertations, says:
"Most sellers try to convince customers that their products are good. And that's a wrong approach for doing business on Shopify. If you want people to buy from you, you should analyze their needs and preferences and then make them believe that your product is the exact item they are looking for."
Choose relevant keywords
Always consider product description writing as a part of your ecommerce SEO strategy. It is advised that you run multiple keyword research sessions to find industry-specific keywords to include in your product copy. You can do that using Ubersuggest, Keywords Explorer by Ahrefs, or any other tool that appeals to you.
Do not fixate on high-volume keywords. Pay attention to the keywords with low competition and include long-tale keywords. Even though keywords with low competition will not help you drive massive traffic to your website, you can leverage them to drive quality traffic and build brand awareness over time.
While we're on the topic of SEO, remember to optimize your copy for search and discovery. This can go as far as your taxonomy structure and product attributes.
Use descriptive adjectives in your copy
Online shoppers don't have an opportunity to touch and see your product before buying it. Try and find the right words to describe your product as precisely as possible. Help shoppers imagine how it feels to touch/wear/use the item shown in the picture. This is your chance to tell a story that resonates with them.
Look at the product copy below; it's a prime example of how you can use descriptive adjectives to trigger customers' imagination and increase sales.
Improve readability
Your product descriptions should be quick-to-read and easy-to-scan-through. If your current product copies look like a wall of text, you should try something new:
Use bullet points to describe primary features
Keep sentences short and concise for readers
Avoid using passive voice when writing copy
Replace wordy phrases with simpler alternatives. For instance, use the word "on time" instead of "in a timely manner"
If you have to write a long description, add subheadings like "features", "benefits", etc. to break up the copy into bite-sized chunks


Use advanced writing tools
If copywriting is a new thing for you, don't feel ashamed to seek help and use advanced writing tools (anything to make your listing more professional). Here is a list of apps, tools, and services one can use to craft an ideal product description:
Don't skip the proofreading stage
Ensure that your product descriptions are free from typos, grammar mistakes, and the use of incorrect industry jargon. Poorly written descriptions come across as lazy, careless, and unprofessional. Always review what you write to ensure you're representing your brand in the most trusting, confident, and effective manner. The easiest way to do it is to use free grammar checkers such as Grammarly.
Provide more, rich details
To thrive in the long run, aim to build trust and loyalty with your users. You should present your products in a way it will add maximum value to your customers.
Depending on what products you sell, provide your customers with rich content that is hyper-relevant. For instance, if you sell garments and accessories, you can specify the measurements of the item shown in the photo. It will help shoppers to analyze whether the chosen item will fit them and whether it's worth buying.
Ready to write killer product descriptions?
Product descriptions carry just as much weight as quality product photos do for your listings on Shopify. So, if you want to increase sales, you should invest your time and money in crafting compelling copy. Use the tips covered in this article, and you will boost your content marketing efforts and drive more sales. (Remember, there is no one-size-fits-all. Keep testing your product descriptions in a variety of different formats to see what works for your customers.)
We know as much as you do that it can be overwhelming to keep track of content as you test and enrich. By storing information in one centralized location, Plytix PIM, you have full control over your content and what you share to your Shopify store. With us, you can even track your listings through a Product Performance Analytics tool to see how you're progressing and what requires more work.
Want to learn more? Book a demo with one of our PIM experts to walk you through the tool. Our knowledgeable team will share plenty of helpful tips and tricks on how to win product listing optimization on Shopify using a PIM.
Download our FREE PIM Buyer's Guide to learn more about the PIM system.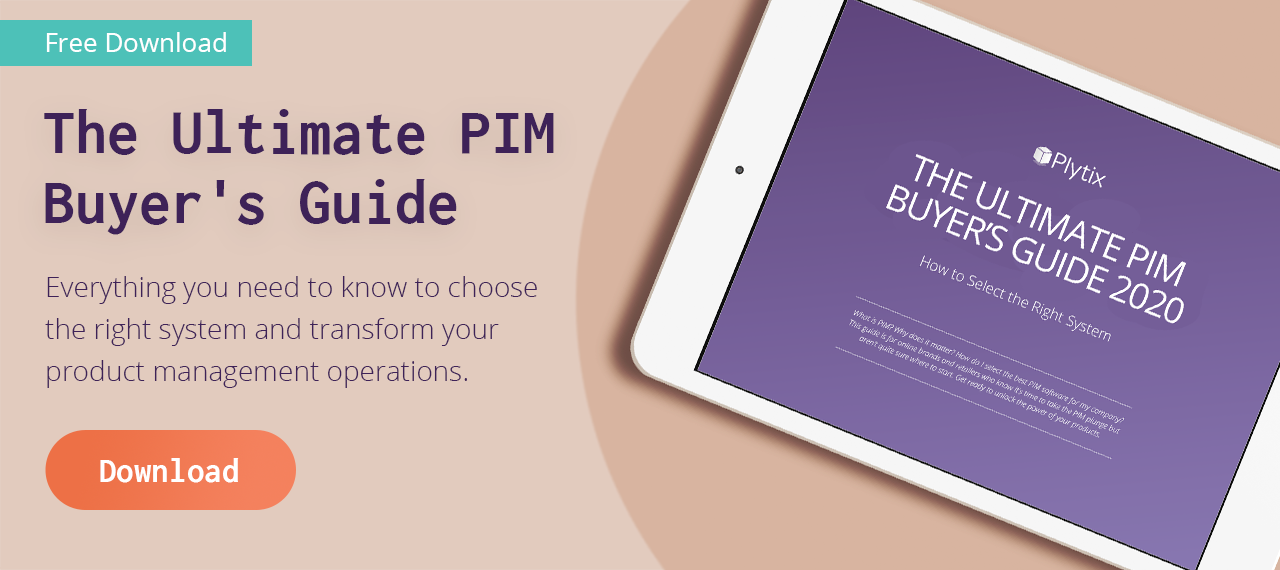 Product Information Management
,
Shopify