TikTok shoppable ads, Instagram Drops, Facebook live shopping, Pinterest shopping list, and Twitter Shops are some of the many social commerce features that are attracting a slew of customers who love shopping on social media. These customers are already open to discovering the next product to buy ... they simply need a little persuasion with your words.
And this is where product descriptions come into play.
Product descriptions are your ultimate weapon of persuasion with their power to influence purchasing decisions. But they have to be of the highest quality and very engaging to grab the attention of customers who are scrolling through a serious number of similar content.
So, let's see how you can strengthen your descriptions to boost visibility and increase sales.
Make your product descriptions short and informative
Social media users face dozens of new posts coming through their feeds, so they've learned to digest that information as fast as possible. They know what they're looking for, so you have a limited time to grab their full attention. That's why it's crucial to keep your product descriptions short and to the point. Irrelevant paragraphs can do more harm than good. So, your product descriptions must contain only the most important information that customers will need to make a decision on whether or not to follow through with the link to add the item to cart.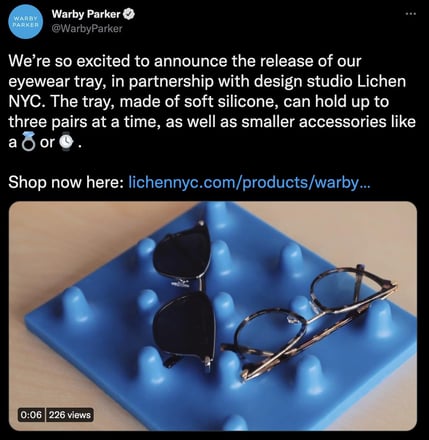 Add a personalized touch to your product descriptions
It's vital to remember that social media is designed for connections. The way to build a connection with your target customers is to use a casual tone of voice that they will resonate with when reading your descriptions. The descriptions should read as naturally to social media as possible. Get to know how your customers speak, and use that language as your base when writing the descriptions. It can be something as simple as adding casual words or emojis.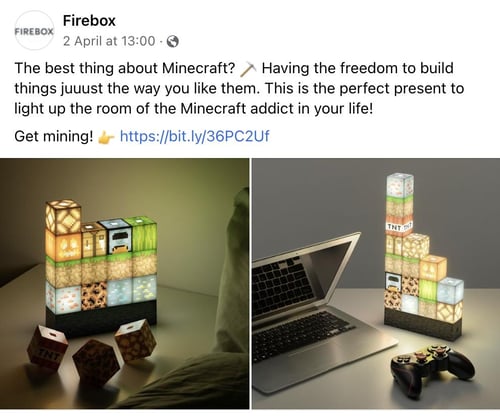 Showcase the key benefits your products offer
While customers care about the features or characteristics of a product, they're more persuaded by what the product can do for them. (Remember that customers buy products because they have a problem that needs solving.) So, in saying that, we recommend that asserting how they can benefit from your product is the best approach, rather than listing technical features or characteristics that may take longer to understand at first glance.
Say, for instance, you sell electric shaving machines. Your product description should include benefits like "easy-to-use," "provides comfort," "causes less irritation" and "use wet or dry." That's how you maximize the effectiveness of your product description on Facebook Shops or other social media channels. If customers are interested in this product, they will learn more about the technical features when they land on the product page on your ecommerce store.
Optimize your product descriptions
No matter the sales channel you're creating product content for, you have to ensure that it is enriched and optimized. Both search engine optimization (SEO) and product listing optimization (PLO) are necessary elements that can boost your multichannel marketing efforts.
They scale your content's visibility on search engines and sales channels.
SEO and PLO ensure that your content can reach relevant people for social media specifically. This is all possible thanks to social media's automated targeting algorithms which personalize ads according to user interactions. Research the relevant keywords customers use to search for products and incorporate them into your product descriptions. Be descriptive enough to fit the keywords in naturally, but concise enough to keep your copy short and informative.
Include a clear call to action
The impact of calls to action (CTAs) cannot be underestimated, even for social media.
A call to action is used to guide customers to take the desired action, whether it's to visit your website to check out the latest additions to your product range on IG Drops or a visit to your web store to purchase a product at a discounted price. Ensure that the call to action is short and sweet to make the customer's social shopping experience and journey easier.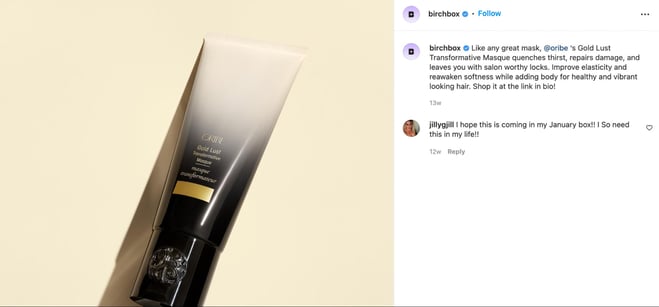 Support your product descriptions with quality visual media
Studies have shown that we're able to process visual media faster and easier than written content. Due to the nature of social media platforms, which are designed with a visual-first approach, it just makes sense to add complimentary visual content such as video or images.
Customers are more than likely to notice the product image or video before they read the product description. They may stop to read more because they liked what they saw in the image or video. (But make sure that the visual content you use directly reflects the product you're marketing in its truest form.) Oftentimes, customers will return a product because it did not match the description or the visual attached to it. When you showcase a product in a visual form, you're creating an expectation that you cannot fail to deliver on.
Now, the question you might be asking yourself is: where do you store all of this additional information when you already have tons of product information to deal with? In a PIM system.
Create improved product descriptions with Plytix
Social media users are always encountering new products on social media.
Product descriptions are the perfect way to push them down the sales funnel. Make them answer questions customers will have without making them do the hard labor.
What is the product?

What does the product do?

How can I benefit from your product? Should I buy it?

What makes your product better than the same product of a competitor?
So, when you create your social product descriptions, follow this checklist for writing better product descriptions in ecommerce. If you remember these 6-tips, you'll win on socials:
Stay short and informative

Have a personalized approach

Showcase the key benefits of my product

Optimize for SEO and PLO elements

Include a clear call to action

Feature high-quality visual media
Once your descriptions are ready, store them in a product information management system (PIM) with your other product information. We're talking about everything from SKUs to technical sales-related information. When you have Plytix in your ecommerce tech stack, your data management will be more efficient than ever before! (Not to mention, we're the best PIM for ecommerce as we also double as a digital asset management system.) We make product syndication so much easier so that you can distribute without breaking a sweat.
Sign up for a demo and ask us anything about PIM for multichannel commerce, or download our free Guide to Facebook Shops to learn more about selling on this social platform!
Frequently Asked Questions
Writing a product description that stands out on social media involves being concise, focusing on the benefits to the customer, and using a tone that resonates with your audience. Make sure to:
Keep your language simple and direct.
Highlight the unique value proposition of your product.
Use visually engaging media to complement your text.
Optimize your descriptions with relevant keywords for searchability.
Include a clear call-to-action that guides customers on what to do next.
Your social media product descriptions should include:
A brief overview of the product and its key features.
The benefits the product offers and the problems it solves.
Social proof, such as testimonials or user-generated content, to build trust.
A strong and clear call-to-action, such as "Shop Now" or "Learn More."
High-quality images or videos that showcase the product in use.
To optimize your product descriptions for SEO and social media algorithms, you should:
Conduct keyword research to find the terms your customers are using to search for products like yours.
Naturally integrate these keywords into your product descriptions.
Use social media tools to tag products and enable easy shopping features.
Regularly update your content to keep it fresh and relevant.
Use analytics to track which descriptions are performing best and refine your strategy accordingly.