Anyone who sells products online, from manufacturers to merchants, should know the importance of omnichannel sales.
It's one of the biggest trends in ecommerce — as more and more digital touchpoints emerge, consumers expect sellers to provide seamless shopping and service experiences across all of them, pretty much instantly. That means being poised — and organized, ready, and willing — to jump headfirst into any new channel, as soon as it emerges.
One channel that's been around for a while but remains underutilized (in our humble opinion) is Google Manufacturer Center, which provides the tools manufacturers, brand owners, and brand licensors need to control how their products look in Google shopping and other tools across the brand. Considering how ubiquitous Google has become in the internet age, this is not a tool sellers should ignore.
So how do you import your products, sell them, and generally make the most of Google Manufacturer Center as an omnichannel retailer? Read on to find out.
Why Should Manufacturers Join Google Manufacturer Center?
We've already touched on the main reason manufacturers should join Google Manufacturer Center: It's how brands can accurately represent their products across Google.com, Google Shopping, and any other Google services where products are displayed.
Google Manufacturer Center allows brands to upload their own, authoritative product information, which ensures that when shoppers view your products through Google tools and services, they're seeing rich, accurate manufacturing data that can help them make more informed shopping decisions.
We already know the importance of providing rich product data for ecommerce shoppers. The average retailer spends 8.1 percent of total sales on return logistics, which means cutting down on product returns is an immediate way to boost your brand's bottom line. And why do customers return items they buy from ecommerce stores? Because the product they received isn't the product they expected.
In fact, 40 percent of online shoppers have returned a purchase due to poor or missing product information. Two-thirds of them said they abandoned a cart because the product information they needed to make the purchase just wasn't there. And to make matters even worse, 90 percent of shoppers say they'll never buy from a retailer again after they've received inaccurate product information.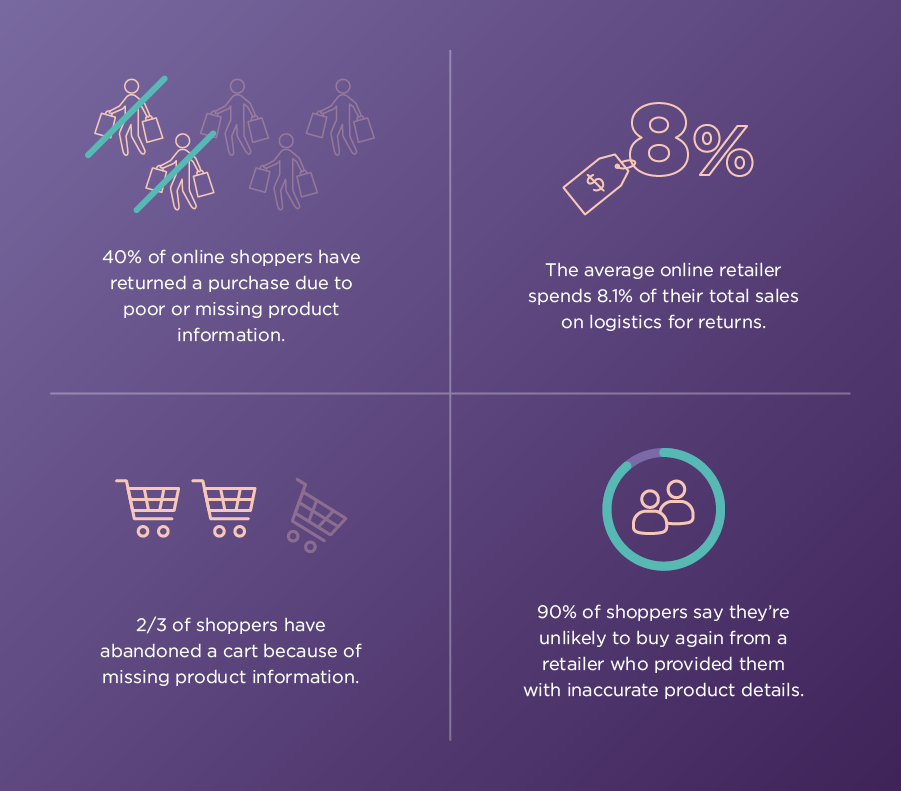 Combat this by providing shoppers with as much product information as possible, so they have a better idea of what they're getting when they receive your product. That includes as much manufacturing information — from materials and dimensions to images, descriptions, and details — as customers need to feel completely confident when they make a purchase.
Plus, Google Manufacturer Center provides some product level insights and data that can help inform your sales and marketing strategies. You'll be able to see how many times your products appear on Google within a given time frame, how many times shoppers click your products compared to competing products in the same category, and other valuable insights.
Is Google Manufacturer Center Only for Manufacturers?
The short answer is yes. Google Manufacturer Center is only available to manufacturers, brand owners, and brand licensors, according to its website. Even if you're a merchant who ships direct-to-consumer, you won't be able to use Google Manufacturer Center unless you fit one of those categories.
But there's another, similar tool for all online retailers: Google Merchant Center. If you're a retailer who can't use Google Manufacturer Center, Merchant Center is the tool that will give you the control you need over how your products appear across Google's suite of services.
Importing Products to Google Manufacturer Center: A How-To Guide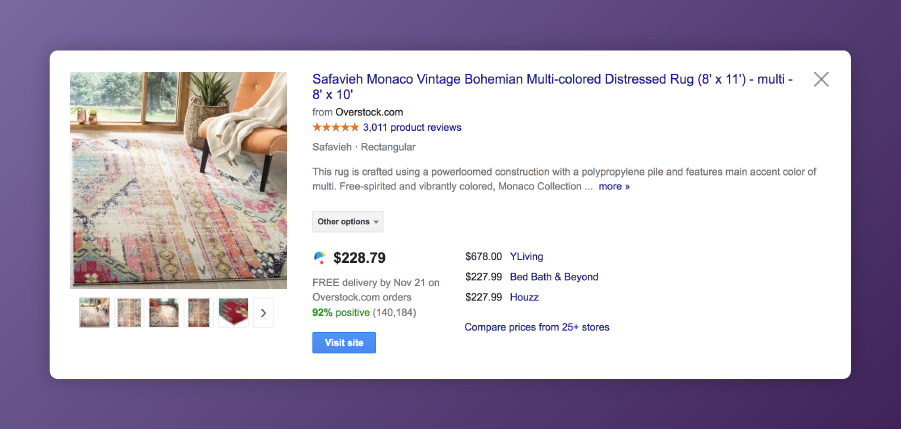 To import products to Google Manufacturer Center, you're only required to include six pieces of information:
ID
Title
Description
Image Link
GTIN (Global Trade Item Number)
In addition to those, Google recommends including:
MPN (Manufacturer's Part Number)
Product Line
Additional Image Link
Feature Description
And then there are all these optional attributes. Considering how important it is to today's consumers to have rich, complete product data when shopping online, we recommend including all of this information, even though Google doesn't require it.
Product Name
Product Type
Disclosure Date
Release Date
Video Link
Product Page URL
Suggested Retail Price
Product Detail
And that's it. Importing your products to Google Manufacturer Center is as easy as uploading all of that information and submitting it for Google's approval. Of course, just because you can stop there, doesn't mean you should. There are plenty of tips and tricks for uploading you product data to Google Manufacturer Center that will help you get the most out of the platform.
Use Keywords
SEO is important in product information and listings, so leveraging your keywords in the product title and description will give your products a better chance of being seen, even in competitive categories.
Leverage Categories
Use the Google Product Taxonomy to ensure you're providing as much detail as possible when it comes to categorizing your products. The more granular you can get with categories, the more likely your products are to stand out from the field.
Include As Many Details As Possible
Google provides you with a staggering 10,000 characters to describe your products. Take advantage of the space! Check your grammar and punctuation, and provide good visual details to go along with your product visuals. Don't feel pressured to use all 10,000 characters, but put yourself in the customer's shoes and include all the information they'll need to make informed choices about buying your products.
Doing all of this manually is certainly an option. But that's time consuming and opens you up to errors, which would defeat the purpose of having accurate product information on Google Manufacturer Center in the first place.
Instead, it's simple to create a feed that imports your existing product information into Google Manufacturer Center at regular intervals, straight from wherever you store your product information. And we're not biased or anything, but for this purpose, there are a lot of benefits to storing your product information with Plytix.
Partner with Plytix to Maximize Your Google Manufacturer Center Experience
Google Manufacturer Center is a powerful tool, but for businesses that already offer a lot of products, or that hope to grow and scale in the future, maintaining all the data required to make the most of it is a complex, time-consuming process. Sure, you can hire more people to manually import all the data every time you want to add more SKUs. But there's a better solution: Product information management (PIM) software.
And while you have a lot of options for great PIM software, one of those choices is the PIM that Google named a premium, certified data partner: Plytix.
If your goal is to create automated feeds for Google Manufacturer Center, Plytix is the all-in-one PIM platform you need. It helps you centralize, optimize, distribute, and analyze product data, ensuring you have a single source of truth where all your product information is kept accurate, up-to-date, accessible across your team, and ready to push to any new channel — from Google Manufacturer Center to the countless new channels that are arising all the time today.
Plytix is Key to Taking Full Advantage of Google Manufacturer Center (and Other Channels)
Plytix has benefits far beyond helping you get the most out of Google Manufacturer Center. Good PIM practices are absolutely vital to omnichannel success in today's ecommerce landscape.
Moving forward means being omnichannel, so if you're ready to learn more, check out our free ebook, Going Omnichannel, today.