When I moved to a new city last summer, I decided to sell off most of what I owned and furnish my new apartment pretty much from scratch. I wanted my space to have a new, more grownup look — like the design and influencer accounts I follow on Instagram.
I knew I wouldn't want to spend days or even weeks waiting in a bare apartment for furniture and decor to be delivered, so I started shopping about a month before my move-in date. I started pinning decor aesthetics I loved on Pinterest and shopping around for pieces that fit the look I wanted on sites like Wayfair and AllModern. Once I purchased an area rug and some nightstands, a customized email from the seller hit my inbox with bookshelves and dressers in matching finishes to the furniture I had already bought. So convenient!
And while scrolling my Instagram feed, I saw the perfect couch on an influencer's account — with a clickable link to the ecommerce platform that sold it and a discount code provided for her loyal followers. Score!
Before I knew it, I had a fully furnished apartment, complete with stylish pieces sourced online and all delivered for free. And I did it all on a budget and without stepping foot inside a furniture showroom.
This is just one example that shows how millennials have reshaped how people shop for and buy furniture. The rise of the internet and ecommerce has had a massive effect on the furniture industry, and millennials have embraced those changes wholeheartedly.
And retailers who don't adapt to fit millennials' new ways of shopping risk being left behind by the age group that currently holds the largest share of buying power in the country — hundreds of billions of dollars worth. If your ecommerce store sells furniture, these are the changes and trends you need to know about to stay competitive in a fast-changing industry.
Why Furniture Retailers Should Pay Attention to Millennial Buyers
Gen Z is up and coming, but for now, millennials are the age group that currently lead buying power. According to Money Inc., millennials account for $600 billion in purchasing power. Millennials also currently make up 37 percent of all households that buy furniture, and in 2014, millennials alone spent $27 billion on home furnishings.
Simply put, millennials are the biggest market furniture retailers can capture right now. They also come with some new challenges compared to prior generations.
What Makes Millennial Furniture Buyers Different From Past Generations
In order to understand how millennials have changed the furniture buying game, you have to understand the big ways that millennial furniture buyers are different from past generations.
Millennials Shop for Furniture (and Most Other Things) Online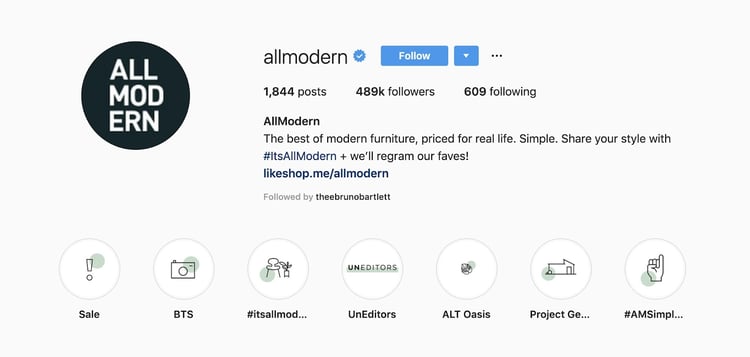 The biggest way that millennials differ from past generations is in their online shopping habits. According to research firm Coresight, 47 percent of millennials buy furniture online, compared to 40 percent of Gen X and just 36 percent of Boomers. That's not to say millennials don't buy furniture from brick-and-mortar locations — 63 percent of millennial furniture purchases are currently made from physical stores. But their furniture shopping habits are following the same trend as their overall shopping habits and shifting online more year after year.
Because they tend to do so much shopping online, millennials also tend to be big comparison shoppers. Half of all millenials spend 2 to 3 weeks researching furniture before they actually buy a product, and 75 percent of millennials check prices and other information at 2 to 4 different retailers before making a purchase. And 60 percent of millennials use social media as a shopping tool when they're looking for furniture, meaning omnichannel strategies are extremely important to capturing millennial shoppers.
What this means for retailers: Even if you're primarily a brick-and-mortar store, having an ecommerce arm is essential to bringing in millennial shoppers. It's also more important than ever to go omnichannel, creating a consistent shopping experience for millennials who want to shop in stores, online, on social media, and via other channels.
Millennials Aren't Big Spenders on Furniture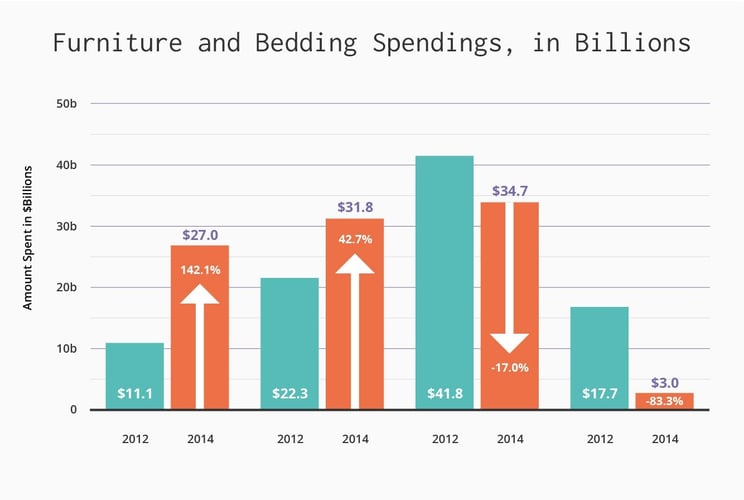 Furniture and bedding account for just 4.5 percent of millennials' total spending, compared to 7.3 percent for Gen X and 10 percent for Boomers.
Compared to past generations, millennials tend to have less disposable income, and tend to be more mobile, moving their households more often than Gen X or Boomers did. Because of that, they tend to look for furniture items that are smaller and less expensive, and treat furniture items as disposable rather than long-term investments, like generations before them.
Millennials also tend to favor furniture pieces that are compact, multifunctional, or integrated with technology.
What this means for retailers: When marketing to millennials, smaller and less expensive items are likely to be more appealing. Marketing urban and apartment friendly pieces that are compact and multifunctional will also attract millennial shoppers.
Millennials Use Less Credit
Compared to their parents and grandparents, millennials have and use less credit. The average millennial carried just 2.5 credit cards, compared to 3.2 for Gen X and 3.5 for Boomers. And millennials carry an average credit card balance of $4,315, compared to $7,750 for Gen X and $7,550 for Boomers.
What this means for retailers: Store credit cards won't be an appealing financing option for many millennials. To truly capture the millennial furniture buying market, you should try to offer other kinds of financing for large purchases.
Millennials Expect Free Shipping
From Amazon Prime to Target to Wayfair, major ecommerce retailers that millennials frequent offer a big perk: Free shipping on most (if not all) orders. And in a lot of cases, that free shipping is expedited, so purchases arrive in two days — or less.
Millennials expect free shipping on all their purchases now, including furniture. And that's whether they buy it online or in a showroom.
What this means for retailers: If free shipping isn't a viable offer your company can make, you'll have to entice millennials some other way.
Strategies to Help Furniture Retailers Attract Millennials
In order to capture the millennial market, it's important for retailers to meet these shoppers where they are, which often means embracing new technologies and marketing strategies that have less appeal to past generations. Try these strategies.
Experiment With Visual Content
One of the top rising trends in the furniture industry (driven mostly by younger shoppers) is the use of augmented reality in marketing and sales. Major brands across industries are starting to see the power of AR, but no one in the furniture industry has embraced it like IKEA has. The Swedish brand rolled out its IKEA Place app in 2017, which allows shoppers to use their smartphones' camera view to see what actual IKEA products will look like, at scale, in their space. With just a swipe of a finger, users can change fabric colors, rotate couches, and look for accent pieces that will fit their style.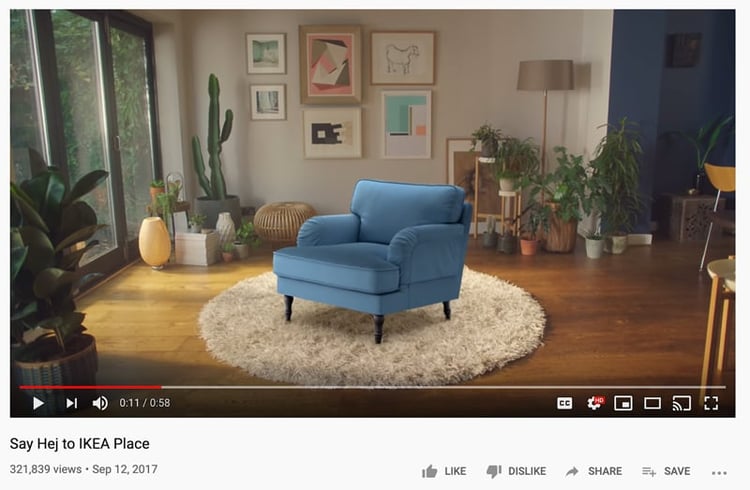 An app like IKEA Place is a pretty major investment that's likely out of reach for most smaller ecommerce retailers. But the point isn't marketing with AR — it's giving millennials highly visual content when you market to them. There are many other ways retailers can embrace this trend, from partnering with social media influencers to spread video reviews of your products, to creating 3D product views for your website that allow shoppers to see furniture pieces from every possible angle.
Help Shoppers Personalize Their Experiences
Furniture retailers have a unique ability to use personalized marketing to upsell their customers. After all, almost all rooms require multiple different pieces of furniture, and many shoppers will want all those pieces to fit a similar style to create a cohesive look for the whole room. Using product recommendations like "You might also like," "Visitors who viewed this product also viewed," "Recently viewed," etc., furniture retailers can suggest products in similar styles or finishes to pieces they've already purchased. Salesforce research shows people spend 10 minutes more on pages when they get their by following these kinds of product recommendations.
Optimize Everything for Mobile
For millennials, there are few things as annoying as a website that isn't mobile optimized, and if they try to visit your site on a smartphone and find they can't, they're likely to abandon ship.
According to Google, 50 percent of all web traffic now comes from smartphones and tablets. At the very least, all retailers should have a mobile optimized website. You might also consider a mobile app that allows you to give your tech-savvy shoppers a more immersive experience that could include features like custom product recommendations, push notifications, shipping alerts and updates, and more.
Create As Much Content As Possible… And Then Create Some More
Remember when furniture sellers used to market to past generations by sending giant catalogs to entice them to come into furniture showrooms? Those days may be gone, but creating an online catalog that includes plenty of content about the products you offer is still key to attracting all shoppers, but especially millennials.
When it comes to online purchases, shoppers like to have as much information about the products they're buying as possible — from fabrics, colors, and patterns available, to exact product dimensions, to manufacturing information, to shipping options, to related products. One of the keys to capturing millennial shoppers is giving them all the information they need to make informed purchasing decisions, even when they're buying online.
And if you're going to keep all that product information up-to-date and accurate across your entire catalog and all your sales platforms, you're going to need a product information management solution. It will help with your omnichannel strategy, too, but more on that below.
Embrace Omnichannel Retail
The current ecommerce landscape is all about omnichannel marketing and sales, and for good reason. Shoppers expect to be able to have seamless, integrated experiences across multiple platforms and channels, and the retailers who are able to provide that are reaping the benefits in increased sales and customer loyalty. Simply put, if you want to stay competitive as furniture shopping trends tip more and more toward being majority online, you'll need a solid omnichannel strategy.
This is the other reason why furniture retailers need a good PIM solution. In addition to keeping centralized product information that's always up-to-date, you need to be able to push it to all possible sales channels instantly, where it can be found by millennials who are shopping your products at the store, on your website, on Amazon, and on social media. Going omnichannel is essential for ecommerce retailers in 2020, and there's a lot to learn. That's why you need our ebook to see how an omnichannel strategy is the key to increasing furniture sales in the new year.
Changes to the Furniture Industry Don't Stop With Millennials
Sure, millennials have reshaped the way we buy furniture, and they're the largest shopping and buying population — for now. New generations are up and coming all the time, though, and change doesn't stop here. Embracing the ways millennials have reshaped this industry will position furniture sellers to be ready for new technologies, new marketing strategies, and new changes that will come with each new generation.
Frequently Asked Questions
Millennials shopping for furniture typically seek out pieces that combine modern design with practical functionality, often preferring minimalist and multipurpose items suitable for smaller, flexible living spaces. They place a high value on sustainability and ethical production, with an increasing demand for brands that demonstrate environmental stewardship and social responsibility. Additionally, millennials appreciate furniture that integrates technology and offers customization options to align with their individual preferences. The convenience of a streamlined online shopping experience with transparent customer service and an engaging brand story also significantly influences their purchasing decisions.
47 Percent of millennials buy furniture online, according to a study by research firm Coresight. This leaves 53% of millennials buying from physical stores and other alternatives.
Retail Industry & Trends