Ecommerce presents an interesting problem.
It is convenient and opens up a global marketplace for products. But let's face it - this means your customers are far away. They are unable to interact with tangible products before they buy them.
This can leave them full of doubt and might put them off from making the purchase - abandoning their cart, dropping out at checkout, or simply looking elsewhere. One of the best ways to combat this problem is by crafting outstanding, visually tantalizing product descriptions.
Here we have collected some great examples of outstanding product descriptions that answer the question every customer is asking themselves when they arrive at your online store: "Why should I buy this instead of X?"
Their strength? Jump starting your imagination.
MooseJaw is a testament to how simple products can be transformed by their product descriptions. The team behind the brand know how to tell a story that connect you with the product.
They tell you exactly how you can use it, and how you should use it. Not just any blanket will do. They list their features with fun explanations. You may not know what a Polyester Oxford grid is, but you know it is resistant to "water, dirt and sideways looks from jealous neighbors".
To top it off they add this silly but effective low-budget video that drives it home:
Pencil - FiftyThree
FiftyThree has a very cool way to show off Pencil - an interactive digital stylus. As you scroll down the page, they show still shots of the stylus in use to get the creative juices flowing. Then the canvas turns black and the inner workings of Pencil are revealed as you scroll. As the elements come into view, so do explanations of their purpose and benefits. It is elegant, interesting, and memorable.
Bellroy has straight forward, informative product descriptions. Where they shine is in the visual representation of their products. They show off this wallet with a mesmerizing stop motion video and a gallery of detailed product images that get down to the nitty-gritty of the product's features. The images show exactly how much you can put inside of it and how.
The product page has more hiding below the fold, with a further gallery of "insights". At the bottom of the page, you are greeted with user generated content from #mybellroy that subtly lets you know that the wallet is in demand, and trendy enough to be Instagrammable.
Check out the whole page here.
The Ellie Black - White Faux Taxidermy - Fab (Exclusive)
This retailer not only stores great products, they also know how to craft equally great product descriptions. For example, when browsing their home section, I came across the Taxidermy section. Already I am curious. Then I see a T-Rex mount. Now I am wondering to myself….why would someone want this thing?
Take a closer look:

Yes I can imagine myself hunting a T-Rex. Yes, I do need a conversation piece for my living room.....and I am pulling out my credit card. Can you do that all in 51 words?
Helpful how-tos that show you what to do with their product. BeardBrand has acknowledged that their target market may need some assistance when it comes to hair care. Luckily, they are insanely good at educating their consumers on how to use their products.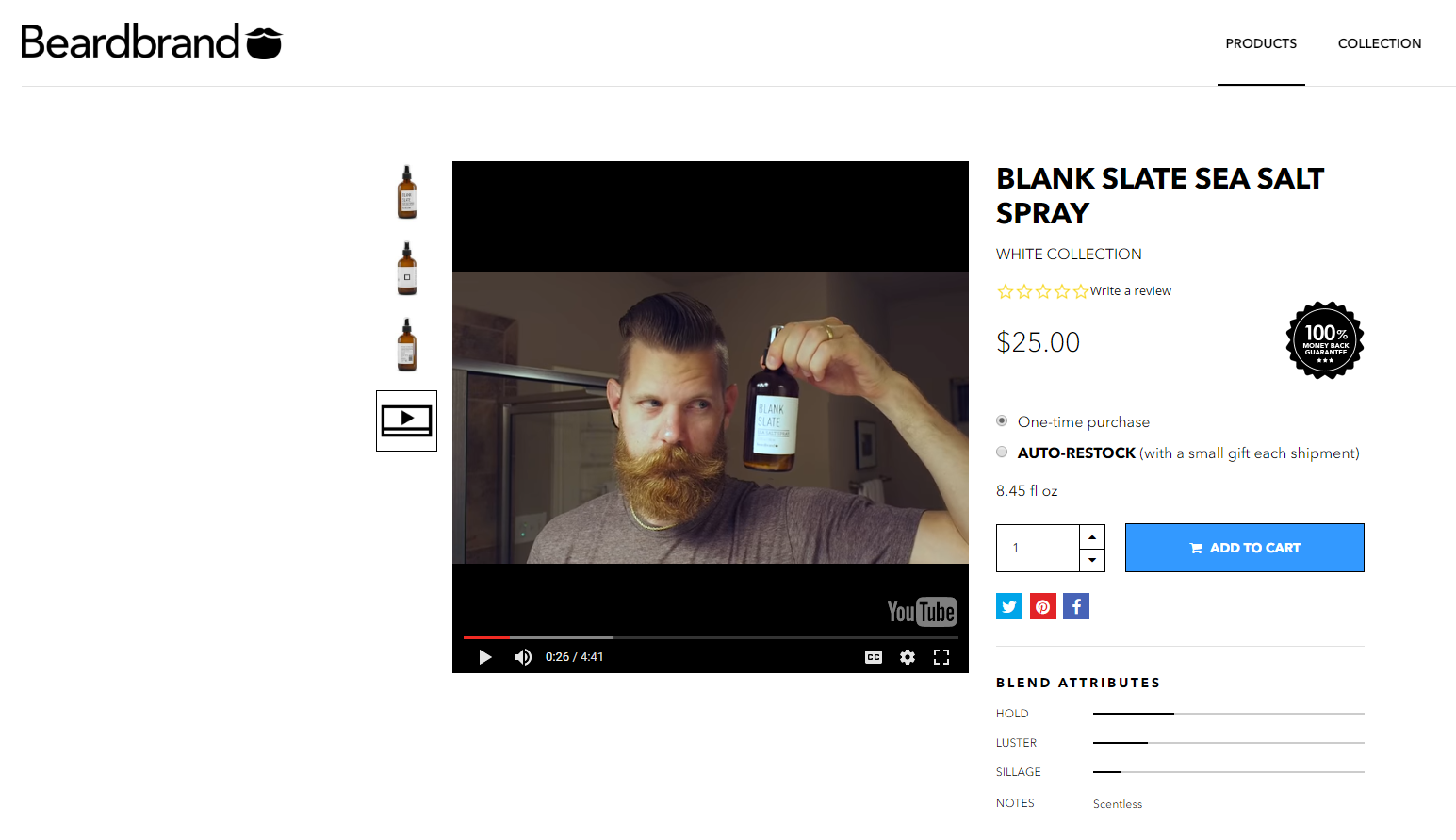 As you scroll down you are met with a debonair man with a fantastic beard and then this product description: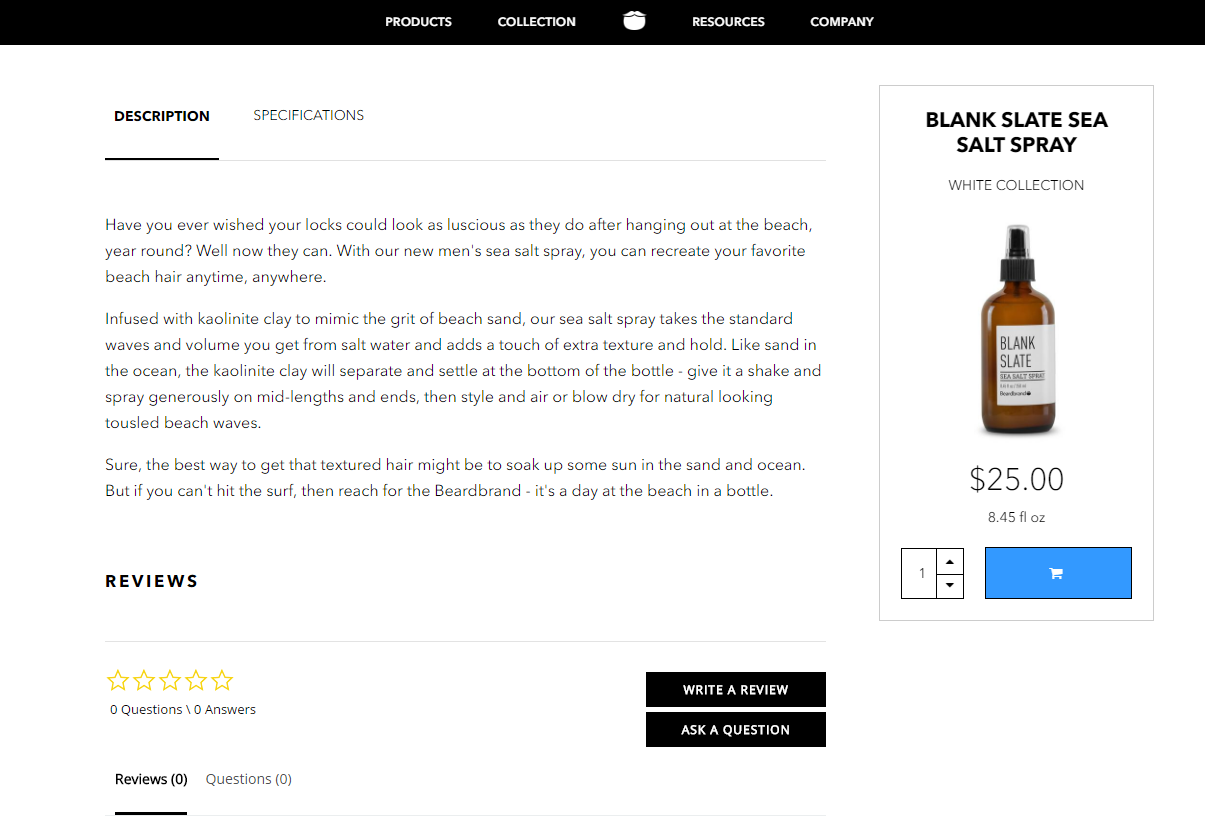 It answers the questions
Why would I want Sea Salt Spray?
How can I use it?
What's in it?
Why is it better than the alternative?
All without boring you to tears.
Crafting Captivating Product Descriptions
Product descriptions help push the customer to conversion. It helps them remove buyer's doubt, and get closer to your brand. Here are some ways to make your product descriptions outstanding:
Leave just enough to your customers imagination, give your product real context to get them thinking about how they can use it

Add a video or interactive feature to further engage your target customer and show the product in action - this also gives them a reason (and means if you use YouTube...etc) to share it with friends

Answer all the questions you would have when buying a product by talking naturally and directly to your target buyer
---
Need some more help writing product descriptions? Check this out: