In April, J on the Beach held a big three-day event from 27th to 29th, dedicated to bringing developers and devOps together around big data. This Málaga-based event takes place annually. But this year, they pulled out all the stops, and it was an honor to be a part of it.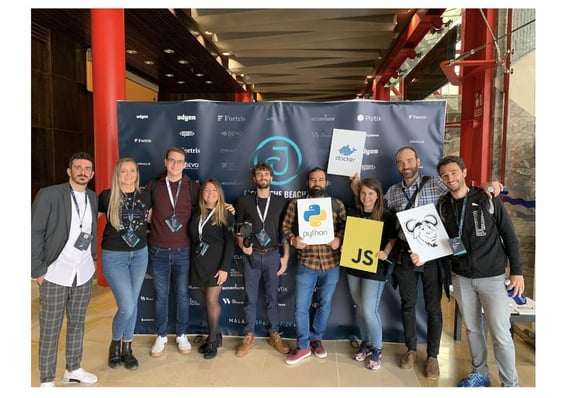 Plytix was a proud host with other well-known tech names such as Accenture, EPAM Systems, and Oracle. To add, they had a long list of sponsors, including Fortris, Adyen, Devo, The Hotels Network, InterSystems, The Workshop - Inventors of Play, Ciklum, Idealista, Sysdig, Malt, Globant, Twilio, William Hill, Verisk, Wunderdog, Polar Squad and, the Junta de Andalucía.
This experience attracted hundreds of developers from around the world, and it was filled with talks from guest speakers and fun activities put together by the JOTB organizers. Every day, members of the Plytix team showed up to volunteer and assisted with the event. They had a great time networking with like-minded people, learning about tech, and eating all the SNACKS!
Our very own Fran Guerrero, QA Manager at Plytix PIM, took the stage on day-2. With more than a decade of experience under his belt, he shared his knowledge on "Continuous Testing: Transcending CI/CD Pipelines" and how to improve them using data-driven decisions.
Fran shares his thoughts on the 2022 event:
"J on the Beach has managed to take tech networking and the conversation around Big Data (and its future) to another level in Málaga. Proud to have been there, and I look forward to participating next year."
It's great to see where technology is going, and it's even more exciting to be a part of it!
'Till next year!
*Read more about JOTB initiatives here
About Plytix:
Plytix is one of the leading Product Information Management (PIM) tools. It is a single source of truth designed to help you manage content at scale and get your products to market faster.
---
Product Information Management