Product information plays a key role in conversions, customer satisfaction, and returns. On average, 2.42% of e-commerce site visits convert. Often, poorly designed product pages are to blame for the nearly 98% that leave without making a purchase, and for the portion of purchased items that end up getting returned.
As it is, more than 20% of products returned are due to product images and descriptions being misleading, miscommunicated, or not matching the delivery. Sure, some returns are inevitable—but you can reduce the percentage of returns by improving accuracy in content, search convenience, and return offerings.
In order to reduce returns linked to inaccurate information, you need to provide customers with the detail that makes it easier for them to make confident decisions. However, handling large volumes of data in your web store leads to loading issues and poor site performance. Both are a nightmare, but for customers specifically, slow loading can be a deal breaker when shopping online.
By using a third-party integration such as Plytix Product Information Management (PIM), you can overcome these issues without having to worry about content restrictions. Everything is stored, managed, and optimized in a central source of truth that syndicates directly to your web store.
Ingredients for better conversions
As ecommerce changes and becomes more competitive, it becomes easier to fail.
There is no plug-and-play solution to ecommerce success today; it's a constant battle for first-page rankings. Not only are you competing against other brands' SEO efforts but third-party algorithms as well. It truly doesn't matter how affordable your products are or how great your remarketing ads are. Without optimized product pages and listings, your customers' carts are staying empty.
To ramp up your sales, you need to improve your product pages.
Here's what to focus on:
Descriptive page title
Strong visual assets
Rich product descriptions
Calls-to-action and pricing
Simplicity in design
Loading time
Trust and confidence signals
Shopping costs
Mobile-friendliness
Page title
When you search on Google, you'll notice that it tends to show the first 50-60 characters of a title tag. This, of course, will change on third-party marketplaces and channels, but as far as your ranking potential goes in search engines, stick to this limit as best practice. Make sure your product page title (or product listing title) is as descriptive as possible. Google uses contextual signals to help crawlers understand what your page is about, so keep it as specific as possible while including a primary keyword. Avoid using your brand name in your title tag unless it's a well-known brand that would take precedence for your customers' interests.
Visual assets
You can say what you want, but an image is more likely to catch your eye before the written content next to it. In fact, more than 75% of shoppers agree and rely on product photos to make a decision. The quality of these images can also increase your conversion rate by 30%.
Plytix allows unlimited file storage and digital asset management on our Standard PIM plan. This means you can upload as many high-resolution images as you want, to really give customers an idea of your product. You can even include videos and how-to guides. For instance, if you're selling leather boots, you can incorporate a video on how to style these boots for summer or how to clean them to last longer. In a business-to-business (B2B) situation, you can leverage rich visual assets to answer common questions, demonstrate benefits, and more!
Most ecommerce platforms limit your file storage, or they simply don't have the place to showcase extra content on your site. And so, when your ecommerce platform is your only product information management approach, you're limiting your sales opportunities on all your channels.
Descriptions
It's not rocket science that your product description is the most important part of your entire product page. Why? It contains all the information your prospects need to become a customer. Brands (should) know that customers cannot enjoy the same customer experience as they would in-store, but yet they still struggle to provide a good one without driving people away.
Focus on informing, creating trust, and motivating your customers.
Provide the most valuable, important information without waffling on.
Include keywords in a natural way that doesn't take away from the detail.
Incorporate features and benefits in a way that is quick to read, skim and digest.
Don't forget about pricing, sizing, material, availability, colors, shipping information, etc.
Any information that could encourage an add-to-cart reaction should be included.
The great thing about storing your product database in a PIM system is that you can access real-time analytics on how pages are performing and edit product content in the same place. If you notice that products need to be optimized or tweaked according to customer behavior, you can do so in the tool immediately. Any changes that you make will automatically transfer to your site or channel.
Calls-to-action (CTAs) and pricing
By now, you've probably tried and tested a variety of call-to-action phrases to see what works. For example, "add to cart" or "buy now." Perhaps you've even tried to personalize them by getting specific with something like "buy your red dress now."
As much as words can push customers to take action, so can the placement of these words. Always incorporate your CTAs in a big, bold color that is placed below or to the right of the image but above the fold. Keep this copy in a different font size to the rest of your content to help it stand out. Make sure it cannot be missed.
Simplicity
Think about how you structure your product pages. When a customer is in buying mode, they're already eager to spend their hard-earned cash. So, make it worth their while. Avoid adding any information or pop-up content that could become distracting and prevent the customer from following through on their purchase. All they need is a sleek, clean page with visually appealing and informative content. The goal is always to help people make a decision fast without disruption.
Loading time
Humans have a short tolerance for slow-loading pages. More than 40% of people abandon a website that takes more than 3 seconds to load, switching to competitors in an instant. According to a recent study, some websites have a shocking 8-11 second loading time which, if we're being honest, is absolutely killing your store's potential. So, in order to decrease these loading times and keep customers from jumping ship, you can do the following:
Upgrade to the latest version of your CMS or ecommerce platform.
Reduce HTTP requests on your current website to increase page speed.
Compress the size of visual assets, which you can do automatically in Plytix PIM software.
Fix broken links and redirect chains on your website.
Optimize your product information for mobile.
Continuously test your site speed to find the root cause.
Trust and confidence
Referrals and customer reviews speak for themselves in ecommerce. According to this article, online shoppers are willing to spend 31% more on a company with great reviews. And what does it cost you? Nothing. Better your product pages and start adding trust signals that can build confidence. Be it customer reviews, success badges, or user-generated content, show potential customers how happy you've made previous customers feel in the past. This type of approach will instill trust and reduce add-to-cart anxiety—leading to increased conversions.
Speaking of customer confidence, take a look at how we helped Allé Designs get 45% more sales in one year just from organized product information.
Shipping costs
The average cart abandonment rate across all Industries is 69.57%, and a large reason why is due to unexpected or miscommunicated shipping costs. This point goes hand-in-hand with the need for transparency. Customers expect free shipping on a certain order amount, and if you cannot provide that, be prepared for them to look elsewhere. The least you can do is communicate conditions upfront to avoid cart abandonment at a later stage in the funnel.
Mobile-friendliness
Mobile-friendliness is still a red flag for many websites—and more so in ecommerce. It's such a pity since 63% of traffic to retailers and 53% of sales happen via mobile. More and more consumers are purchasing on their mobile devices, and if you're one of those frustrating brands that A.) provide content that is not optimized for mobile or B.) are yet to consider mobile as a core shopping device, you're giving a ton of customers an excuse to go to your competitors.
Get more sales with the best PIM for ecommerce
Your product information is the driving force of your ecommerce success.
Your sales are only as limited as the content you provide, so turn your site into a lead-generating machine with these tips. You can even take it one step further and use Plytix PIM as your channel management system for marketplaces. Everything remains in one place and gets formatted and distributed from the PIM tool.
Ready to find out more about Plytix?
Sign up for FREE and explore our PIM for 14-days!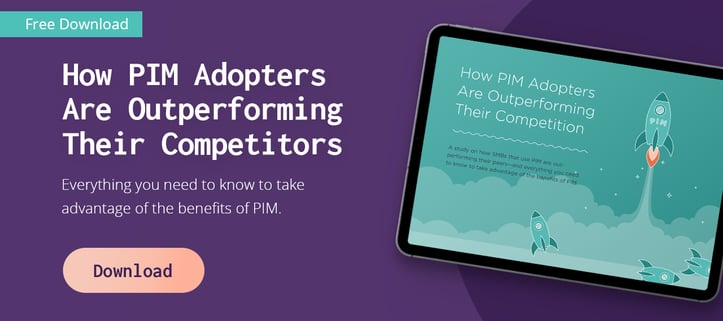 Ecommerce
,
Product Information Management