Cosmetics brands have a real advantage in the digital age: They have products that just naturally translate into stunning, eye-catching visuals.
That's great for building websites that pop, for crafting social media posts that make users stop in the middle of their scroll. And it's a characteristic that gives ecommerce cosmetics brands a secret weapon: Sell sheets.
Sell sheets are how online brands secure retail placement, increase their product distribution, and build new partnerships. A great sell sheet is a foot in the door to placing your brand where it will demand customers' attention. But many brands struggle to craft sell sheets that showcase all the right details about their products in just the right ways to catch a retailer's or potential partner's eye.
Sell sheets for cosmetics are a powerful tool if they're made and used correctly, and if you want to ensure that your brand is maximizing the potential of its sell sheets, read on.
What Is a Product Sell Sheet?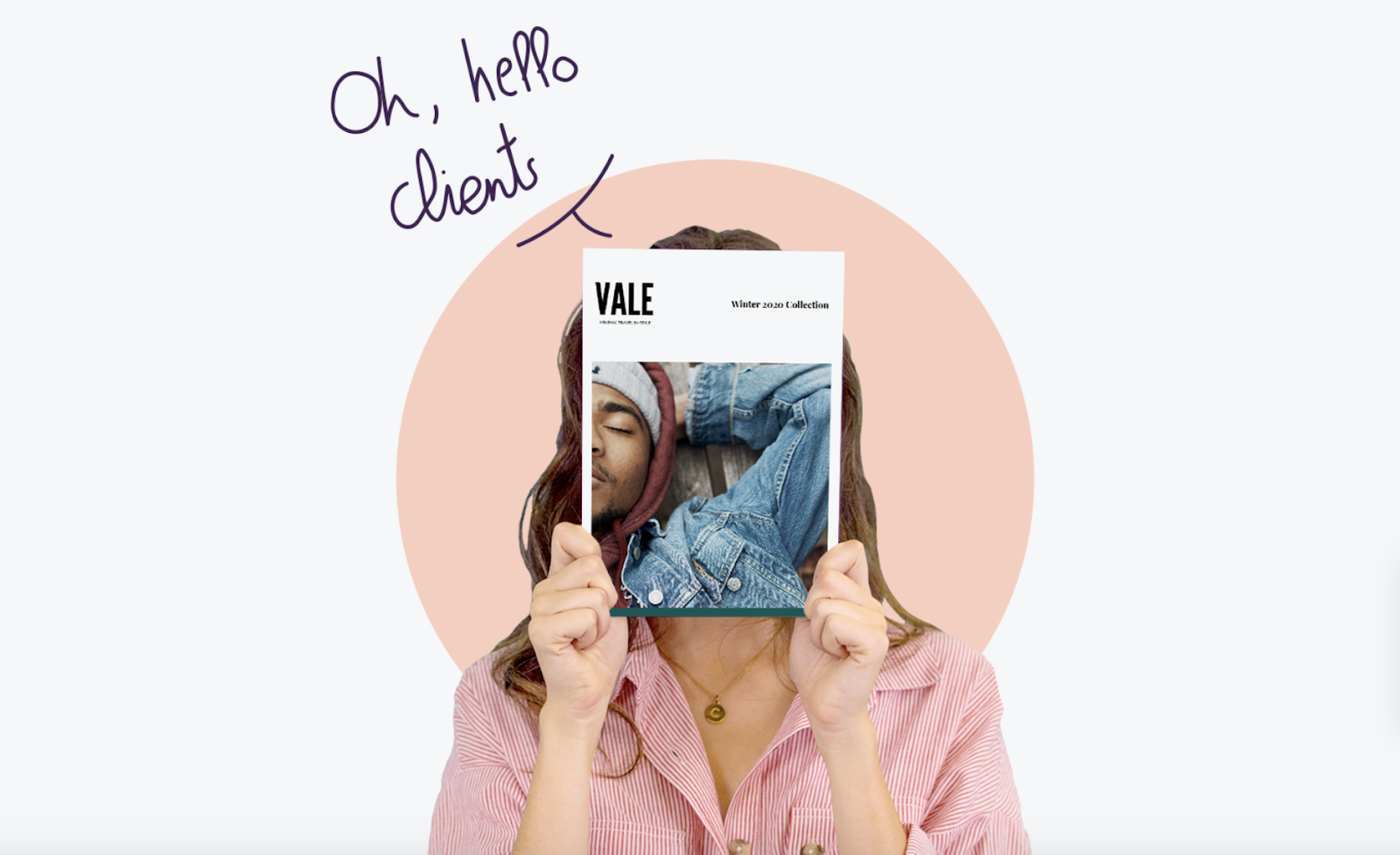 Think about the last time you walked into an important job interview.
You probably dressed your best. Put on a welcoming smile. Walked confidently into the room and greeted the interviewer with a firm handshake.
Why? Because you wanted to make a great first impression.
So what does that have to do with product sell sheets? Well, they're sort of like a first impression for your products. Sell sheets are how you introduce your product offerings to potential partners and retailers. They're how you show off what you have on offer and entice retailers to place an order.
Why Are Sell Sheets for Cosmetics So Effective?
Cosmetics brands are uniquely positioned to take advantage of sell sheets for one big reason: Sell sheets are highly visual, and so are cosmetics.
The cosmetics industry is inherently able to create some truly stunning visuals, and that's the kind of thing you want to include on a sell sheet to really make your products stand out to retailers and potential partners.
We'll get into some examples of great sell sheets for cosmetics below, but first, let's talk about all the elements (both visual and not) that need to be included on a sell sheet to maximize its success.
How To Create Successful Sell Sheets for Cosmetics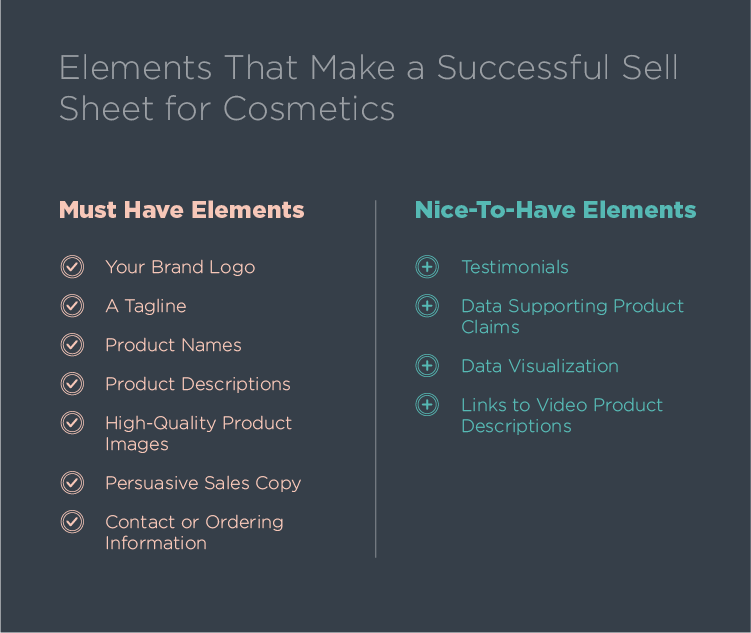 The most important thing to know about creating successful sell sheets for cosmetics is all the elements that need to be included to help catch a retailer's interest and seal the deal for a sale.
Here are all the elements you might consider, sorted into must-haves, and elements that can enhance your sell sheets even further if they work with your products and design.
Must-Have Elements for Sell Sheets for Cosmetics
Some features are just non-negotiable. These are the things a successful cosmetics sell sheet must have.
Your Logo, Product Names, Tagline, and Product Details
The entire point of the sell sheet is to persuade someone to place an order for your products. To do that, they need to know the important details: The who, what, where, and why of your products. Identify your brand with a logo, then be sure to include an eye-catching tagline, and names and relevant product details for every product featured on the sheet.
Clear, High-Resolution Product Images
Sell sheets are visual, so this is a great chance to make your products shine. Use high-quality, high-resolution images that show off the best benefits of your products, whether that's a dewy finish for a skincare line, or packed pigmentation for makeup products.
Persuasive Sales Copy
The people seeing your sell sheets might need to be convinced that they should place an order for your products. Use the product descriptions, but also some extra persuasive sales copy to highlight the benefits of your products, show off why you're better than your competition, and convince retailers to place an order right away.
Contact or Ordering Information
And lastly, no one will be able to place an order without your brand's contact or ordering information. Use a clear call-to-action and include as much contact information as possible: your website, phone number, email, and social accounts.
Other Sell Sheet Elements to Consider
The elements listed below aren't strictly necessary, but when used correctly, can help take a cosmetics sell sheet to the next level.
Testimonials
According to BigCommerce, 72 percent of consumers say testimonials increase their trust in businesses. Testimonials can have a big, positive impact, so if you can include them on your sell sheets, they can help encourage sales.
Hard Data to Support Product Claims and Benefits
If your products make any claims of specific benefits (say, skincare products that are meant to clear acne or increase skin hydration), it can help to use your sell sheet to back up those claims. Include any data or scientific evidence you have that shows your products provide the benefits you say they do.
Creative Data Visualization
If possible, use that data in an eye-catching visualization that not only backs up your claims about your products, but also adds to the look of your sell sheet overall.
Links to Video
While sell sheets were traditionally meant to be printed and used as hard copies, in the digital age, they're transferred by email just as often (if not more so). That makes a PDF sell sheet the perfect place to link to a video product description that shows your products in action.
Customize Sell Sheets for Different Customers
Another tip to note when designing sell sheets is that it isn't a bad idea to customize them depending on who you're pitching. And yes, we know that asking a team of designers to create a new set of sell sheets for every product meeting you have is a tall order, but these days, that's not necessary — with the right tools, you can automate sell sheet creation and make visually stunning sheets without a designer (but more on that in a minute).
And Finally, Keep It Simple
It can be tough to strike just the right balance between including enough product information to answer a buyer's potential questions and pique their interest in your products, all while avoiding information overload.
But sell sheets have to hit that balance. Include all the necessary elements to get your products sold, but keep in mind that it's a good practice to keep the sheet as simple as possible.
Examples of Sell Sheets for Cosmetics
One of the best ways to learn how to craft a winning sell sheet is to look at what successful brands are doing.
So let's take a look at a sell sheet from YR Urth Mineral Cosmetics. Keeping the elements we listed above in mind, let's look at what works (and what doesn't) on this sell sheet.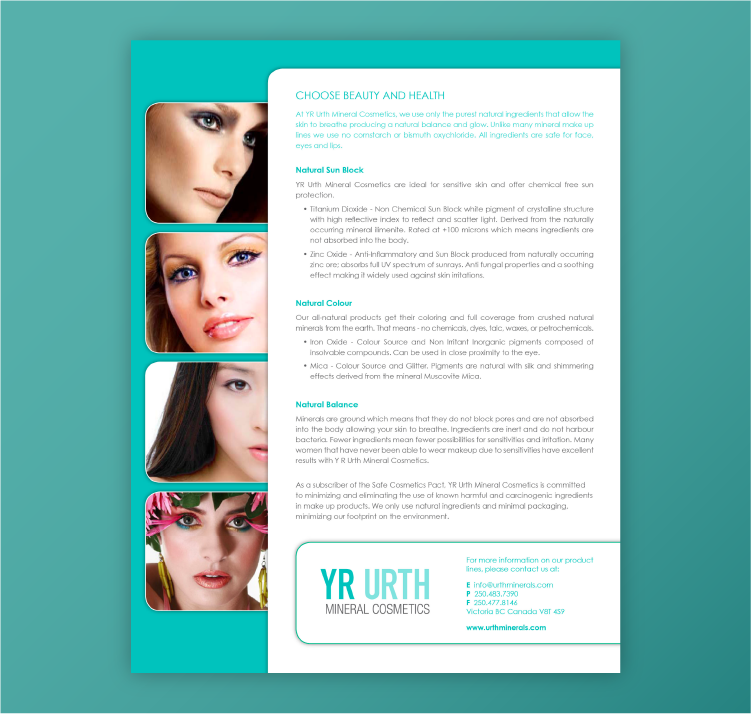 Source: https://www.barebonesmarketing.ca/web/sell-sheets-2/
At a glance? This sell sheet is simple, visually appealing, and seems like it packs in a lot of information. Let's start with the must-have elements, and see how it checks out.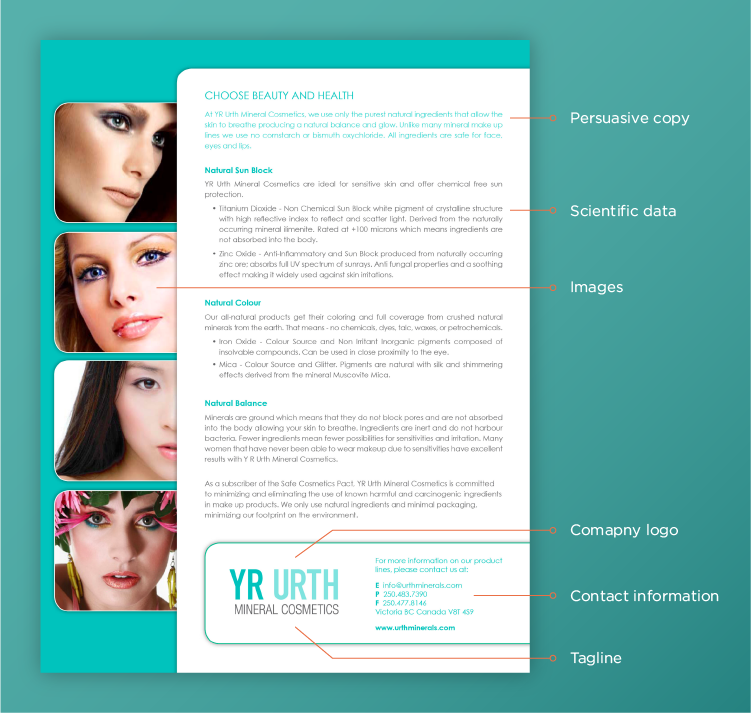 As you can see, this sell sheet hits most of the must-haves: The company logo, a catchy tagline, high-quality images, persuasive copy, and contact information. It also includes one of those nice-to-have elements: some data to back up claims about the benefits these products offer.
So what's missing? Products. This sell sheet does a really good job of selling the company, but it doesn't mention a single specific product. That's a problem, because retailers looking to fill shelf space need to know exactly how many products you offer.
Overall, though, this is an effective and eye-catching sell sheet for cosmetics. Your brand can create sell sheets that are just as effective — or even more so — with the right tools.
The Key to Creating Stunning Sell Sheets for Cosmetics Brands? Automation with PIM Software
Remember earlier when we mentioned the hassle of going to your team of designers every time you want to customize your sell sheets for a pitch?
You don't actually have to do that. In fact, you can create visually stunning, high quality sell sheets that include all the elements you need for sales success — and you can do it in just seconds without a designer.
That's the benefit of automating your sell sheet creation, something you can do with product information management (PIM) software like Plytix.
Plytix PIM takes product information and assets you already have stored within its platform and turns them into beautiful product sheets almost instantly. You can create your own templates that feature your brand colors, product layout, customizable fonts and covers, and more — no expensive software needed.
But automated sell sheets aren't the only way Plytix will give your brand an edge over the competition. Brands that use PIM software see improved sales, better operating margins, incredible market reach, and a truly satisfying customer experience. Ready to see how PIM can help your brand outperform its competition? Download our free ebook today.