We live in an omnichannel world, and online retailers who market and sell their products in as many of those channels as possible are the businesses that maintain an edge over their competition.
One channel that's becoming a major ecommerce player is Instagram, where changes to the app have caused it to transform from a photo-sharing platform, to a great place for retailers to place paid ads, to a platform where users can actually shop and make purchases without ever leaving the app.
Instagram is really leaning into being a place where ecommerce retailers can reach a lot of customers in increasingly new and exciting ways. Ready to embrace the 'Gram and all it has to offer your business? Read on to learn about the Instagram marketing and selling tactics top brands are using, plus the one tool you need to maximize your selling potential on Instagram.
Why Sell on Instagram?
Sure, retailers in the digital age should be racing to expand into as many channels as possible to give their customers the seamless, omnichannel experience shoppers now expect from retailers. But why should Instagram be on the forefront of your omnichannel strategy this year? What's so great about a photo-sharing app?
The reason retailers need to be taking a hard look at Instagram is because of the focus the app is putting on on-platform shopping. Instagram has fully realized its potential as a shopping platform, and it's leaning into that.
According to Facebook, which owns Instagram, 130 million people tap on a shopping-enabled post to learn about the products featured in it every month. 500 million Instagrammers watch Instagram Stories each day. And 36 percent of Instagrammers surveyed within the app said they love to shop.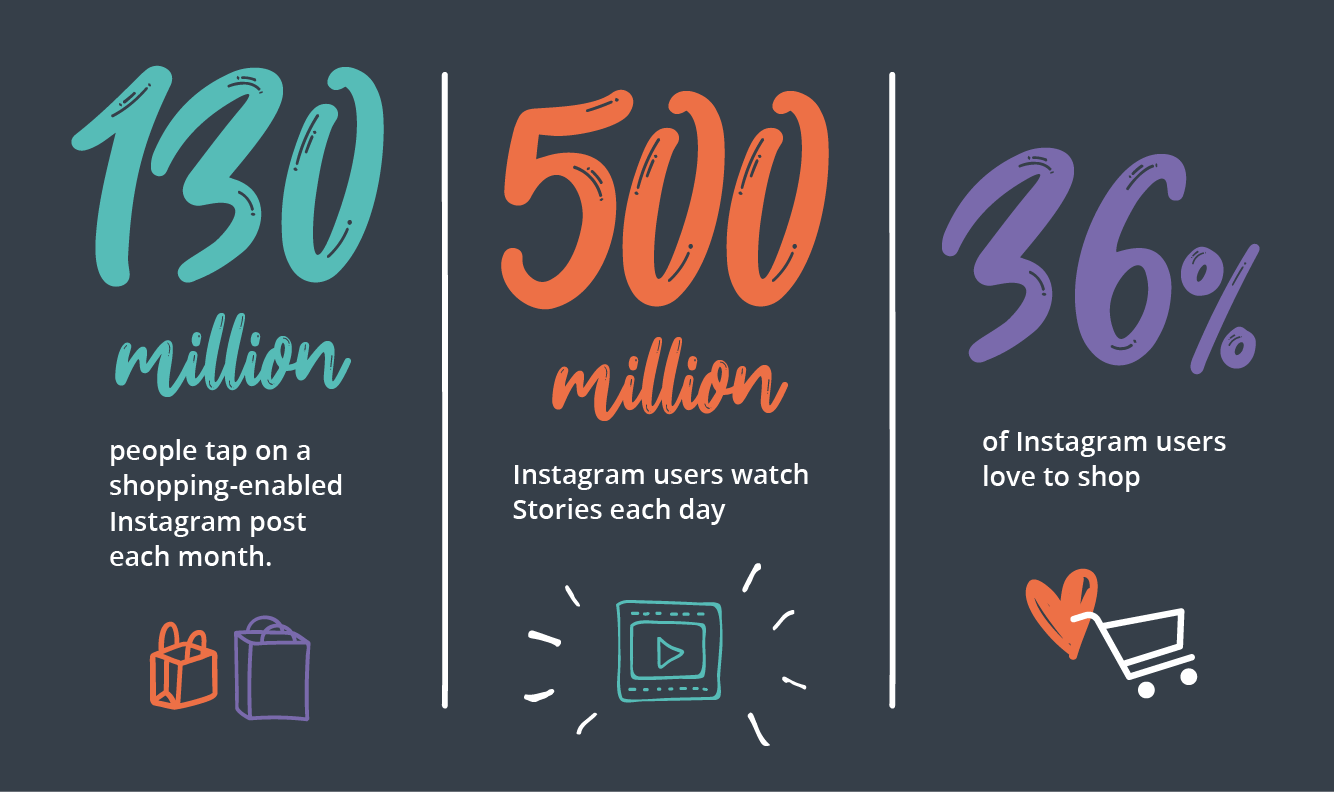 In other words, Instagram provides an audience of users who are eager to learn more about products they might love, and the highly visual nature of the app perfectly lends itself to ecommerce retailers who want to show off their products.
In 2020, you should already be using Instagram to market your products, build your brand, and interact with your customers. But Instagram's new shopping features mean retailers should be using the app as an ecommerce platform, too. Read on to learn how.
How to Get Ready to Sell On Instagram
You probably won't be able to just create an Instagram account, toggle Instagram's shopping feature and be off to the races. A little prep work will make your journey to selling products on Instagram easier and more effective. Here's how to make sure your feed is primed for Instagram selling success.
Know Your Target Audience
First and foremost, before you start selling on Instagram, you should know who you're trying to sell to. Knowing your target audience and their behavior is key to successful posts—it will inform what time you post, what hashtags you use, and how you partner with influencers and other Instagram users and brands.
Know How to Make Posts Look Natural
That is, know how to create content for Instagram that doesn't look like it's advertising (even though it totally is). Ad fatigue is real among users of all social media platforms, but on Instagram in particular, engagement tends to be highest for posts that look natural and authentic. One of the best ways to do this is by featuring people in your posts alongside products. Our brains are evolutionarily wired to notice human faces right away, so having a person in your post showcasing a product is a great way to grab users' attention as they scroll through their feeds. Your Instagram grid is also something to take into consideration at this point.
Optimize Your Business Profile
Social media profiles are the new websites. Stores that want to sell on Instagram will need a business profile, and it's important to make it well-crafted and complete so shoppers can get all the information they need.
Make sure your profile is completely filled out with a high-quality profile picture, a well-crafted bio, and a link to your store's website. Keep in mind that your business profile on Instagram is likely to be the first point of contact that new customers from the app have with your brand, so you need to make a good impression.
Find the Right Hashtags
Your shoppable posts will reach a lot more people if you master the art of the hashtag, which is actually trickier than it seems. Using the right hashtags will help shoppers find posts with products that are relevant to their interests. Using too many hashtags will make your posts look spammy. It's a delicate balance.
The key to hashtagging is to find a small number of targeted, high-traffic tags that relate to your brand and your products. Start by looking at posts by influencers in your niche and copying some of their hashtags. Finding the right tags requires some trial and error, though, so experiment by mixing up hashtags on different posts.
Make Content As High Quality As Possible
Remember that Instagram is, first and foremost, a visual platform. Don't ever compromise on the quality of your photos and videos, and if you're not equipped to create excellent imagery, you need to hire a professional photographer or videographer to help out.To avoid such issues, you can post to Instagram from PC or use other enhancing tools.
Keep in mind though, that your Instagram feed isn't a product catalog—it's a way to showcase your brand's creativity while showing potential customers a new side to your products. Product shots are fine, but photos and videos that show your products in action in fun and unexpected ways are much, much better.
Boost Your Following with Instagram-Only Promotions
Before you start creating shoppable Instagram content, you need a following on Instagram. Ideally, you should already have that, because your brand should have a presence on every social media platform it can. But it won't hurt to try to boost your following and engagement just a little bit before you begin selling on Instagram.
An Instagram-only promotion is a great way to do this. In all the channels your business uses to communicate with its customers—other social media, email, your website—direct shoppers to Instagram for a contest, a giveaway, or a sneak peek at new merchandise that's coming when you launch your shoppable Instagram content.
How Top Brands Use Instagram to Boost Their Sales
Once your account and feed are prepped, you're ready to start selling. These are some of the newest features and strategies Instagram offers that are helping top brands sell products straight from the app.
Create Shoppable Posts and Feeds
One of the newest tools Instagram offers that's a huge win for businesses on the platform is the ability to make your posts and feeds "shoppable." What that means is that photos and videos featuring your products can be outfitted with product tags. When a user taps on one of those tags, they're able to view product information or purchase the product without ever leaving the Instagram app.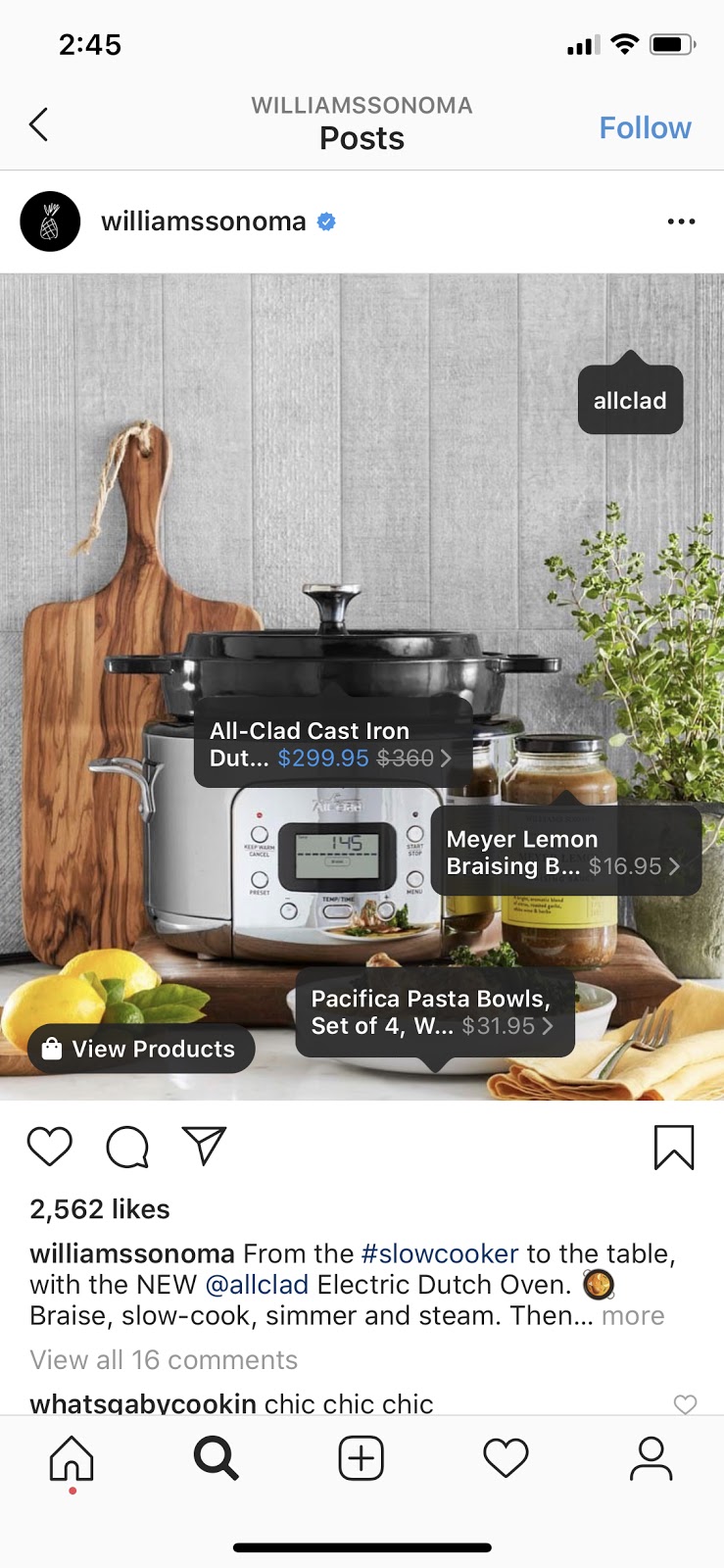 There's one big reason why this feature is already so successful: The customer experience. Being able to purchase products without leaving the Instagram app streamlines the buying process, and customers love when things are made quick and easy for them.
Once your Instagram business profile is active, you'll be able to add shoppable tags to your posts and you'll be on your way to making those Instagram sales.
Use Stories to Boost Sales Engagement
One of the keys to boosting engagement on Instagram is utilizing stories, which are temporary video carousels that users can access from the top of their feeds. Because of Instagram's feed algorithms, users are more likely to see your stories than your posts, which is why you need to be using them to direct users to your newly shoppable feed.
If your account has 10,000 followers or more, you have the ability to add links to your stories, something you should absolutely do, to link to places like your website, product pages, special offers, and more.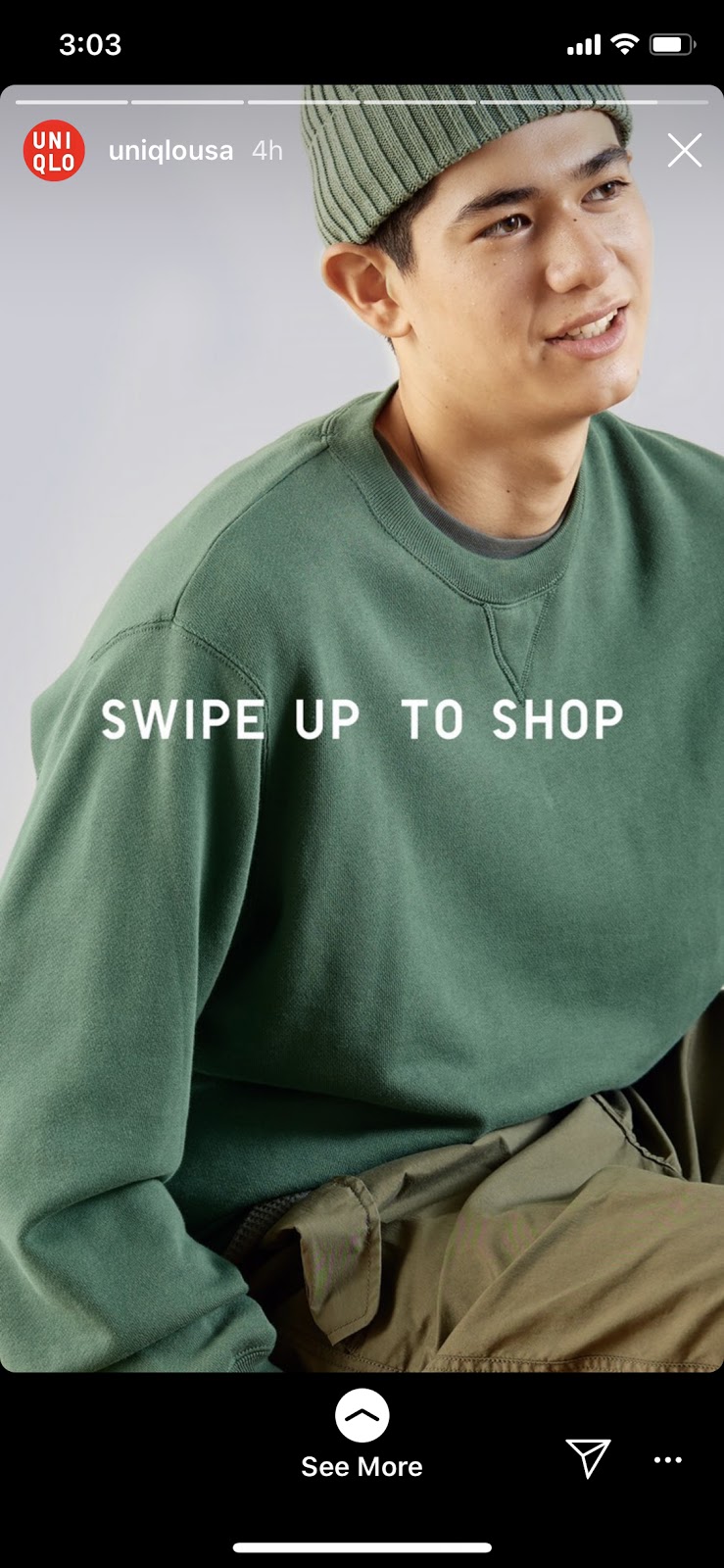 Add a Shopping Tab for Easy Navigation
Want fans of your brand to be able to find all your shoppable posts, quickly and in one place? Instagram allows businesses to add a shopping tab to their profiles, where all their shoppable posts are curated in a separate feed.
As a bonus, this will help new followers and fans browse every product you've promoted on Instagram in the past without having to go digging through months or years of social posts.
Make Your Ads Shoppable
Odds are that if you haven't already placed paid ads on Instagram, you've considered it. Placing Instagram ads allows you to target the types of users that fit your brand's best demographics and make sure your posts get in front of their eyes.
But now, Instagram has made paid ads even more beneficial for ecommerce retailers—you can turn your shoppable posts into ads. That means new users discovering your brand, plus, if they see a product they love, they can purchase it straight from the ad in their feed.
Partner With Influencers
One of the fastest-rising marketing strategies on Instagram is influencer marketing, where brands partner with power users, who have high follower counts and a lot of engagement, to post natural-looking ads on their own feeds. Take your influencer marketing strategy to the next level by seeking out influencers who have the ability to create shoppable posts. Then, the influencers' followers can buy your products straight from the posts of the accounts they love to follow.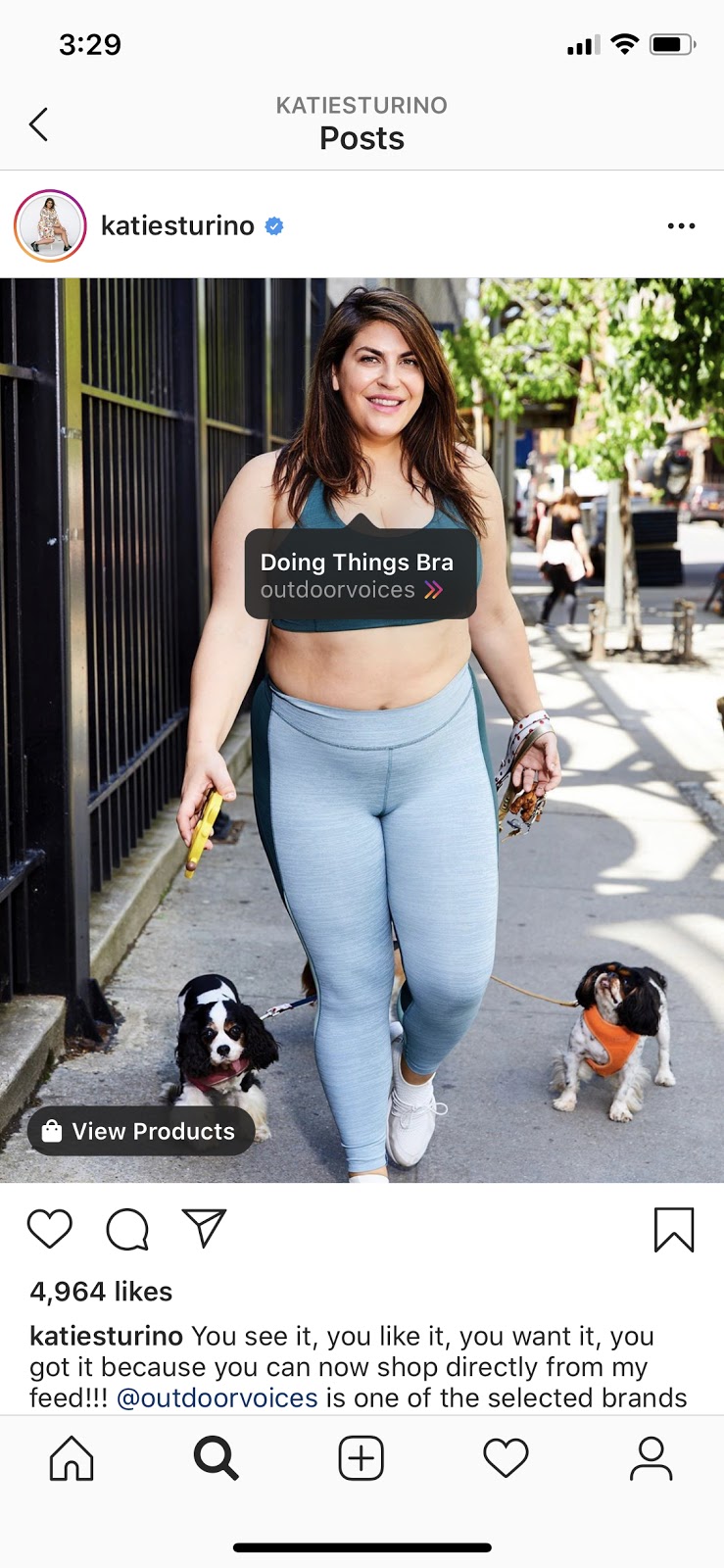 The Real Key to Selling on Instagram Lies In How You Manage Product Information
You may already be dreaming of dollar signs after seeing all these ways Instagram selling tools can help boost your bottom line. But the key to maximizing your Instagram selling potential is in how you manage your product information.
Product information management (PIM) software is a necessary component of any Instagram selling strategy, because it ensures that all your product information is centralized, optimized, and always up-to-date, ready to push to new channels (like Instagram) at a moment's notice. Ready to explore how PIM can help you launch a game-changing Instagram selling strategy? Grab your free download of our Going Omnichannel ebook today.