We've witnessed Shopify's rise to success and how it's helped businesses sell online with an affordable, diverse, and easy-to-use platform. The proof is in the pudding, as there are so many brands killing it on Shopify right now.
But there are still many other businesses that don't make it. In fact, 95% of Shopify stores fail, and that's because they make the mistake of thinking that it's all a plug-and-play approach. This is a flawed approach that can lead to issues such as high traffic and low sales (and worse, a damaged reputation and a failed store.)
That's why in this article, we'll go over nine common mistakes every Shopify seller needs to avoid. We'll also share some tips on what to do instead.
Mistake 1: Not knowing your ideal customer
Entrepreneurs still start business ventures without having a clear understanding of who their target audience is, what the ideal customer profile looks like, and how their brand can appeal to a modern buyer. So, what do you do instead? You define your audience.
Define your audience instead
You have to know who you're hoping to sell to if you want your product to succeed. This is also important for your customer experience and marketing efforts. You need to be able to direct the message to the right audience. That's what will make you stand out in a cut-throat market. Without a straightforward idea of your customer, it will become much harder to engage customers, analyze the value of those interactions, or improve the customer journey.. So, take the time to learn, learn, and learn your target audience. Start by creating a buyer persona, which is a detailed description of who your ideal customer is. Once you have that down, you should be set to start implementing that information into your strategies.
Here are buyer persona starter questions that can help you get started.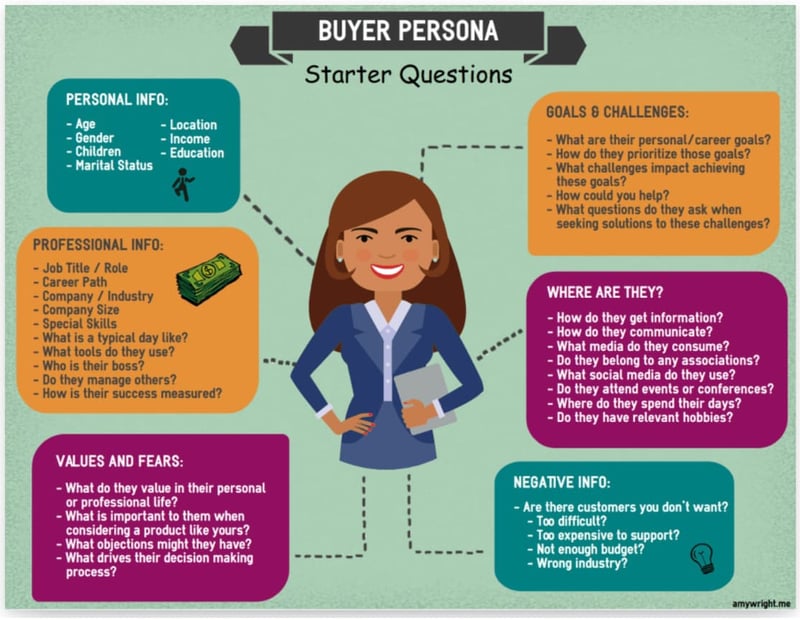 Mistake 2: Not spending time on the design
It can be easy to overlook the need to pay attention to design because the goal is to put the products on the digital shelf and start selling. But that's a mistake! Your website is the face of your online shopping business, so you need to make the right first impression to convince visitors to spend more time engaging with your webshop and end up buying your products.
Design your store instead
It's important to spend time designing your webshop to make sure that it's captivating, uses the right colors, and offers an easy shopping experience. Take time to research the market, and the different Shopify themes, and make sure that your store design is competitive and complementary to your business objectives. Aim for as few disruptive elements as possible, and focus on making the path to purchase is seamless.
Also, think about the colors you've used and how they make your customers feel. Consider your visuals and how they interact with your copy. Does your content tell the story you want your customers to see? Take a look at your ideal customers and think about what colors and content will resonate with them.
Here are two different Shopify store examples of practical and aesthetically pleasing designs that fit the brands below.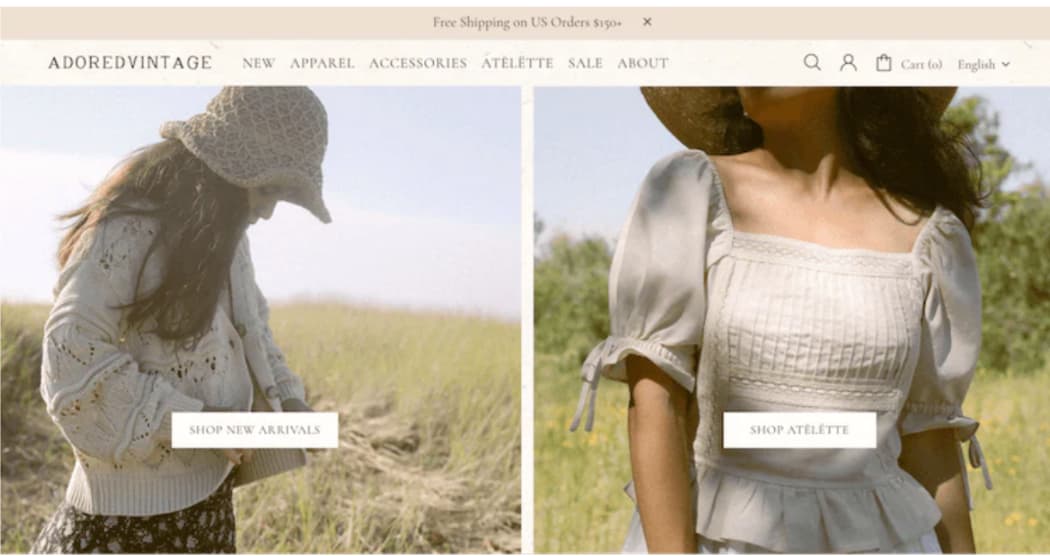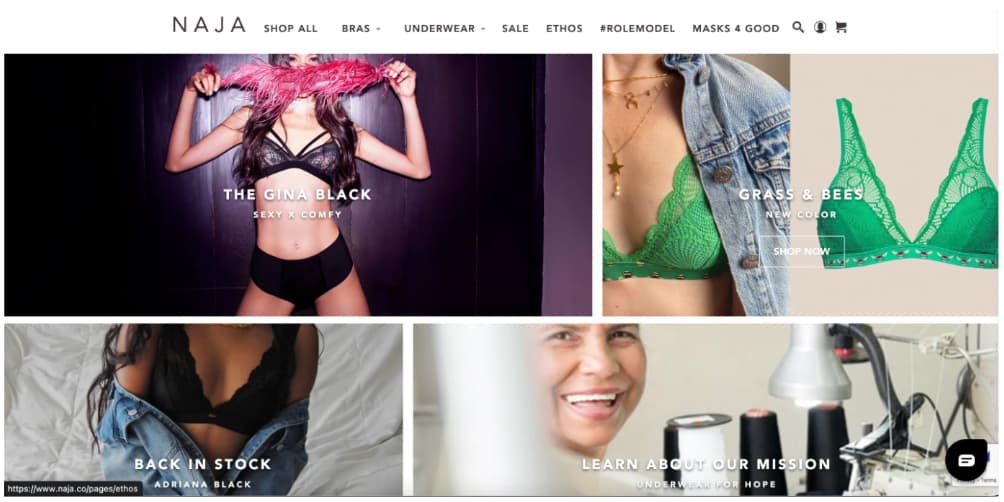 Pro tip: Shopify has a range of themes to choose from so be sure to look for popular themes and see if you can make them work for your brand.
Mistake 3: Not focusing on the user experience
We've just mentioned paying attention to the look of your webstore, and now we'll talk about how equally important it is to also focus on the functionality of your website. Having poor user experience will put shoppers off and make it difficult for them to navigate your website while trying to find the products to buy.
Add functionality and experience elements instead
High-converting Shopify stores have the following functionality and experience elements in common:
a fast-loading storefront
a safe and secure checkout process
relevant product information that is error-free, accurate, and up-to-date
Consumers are also becoming more vigilant about shipping and delivery costs that secretly waddle their way into the total amount. It is suggested that a product's price is in relation to the shipping cost before another customer abandons your website due to inconvenience.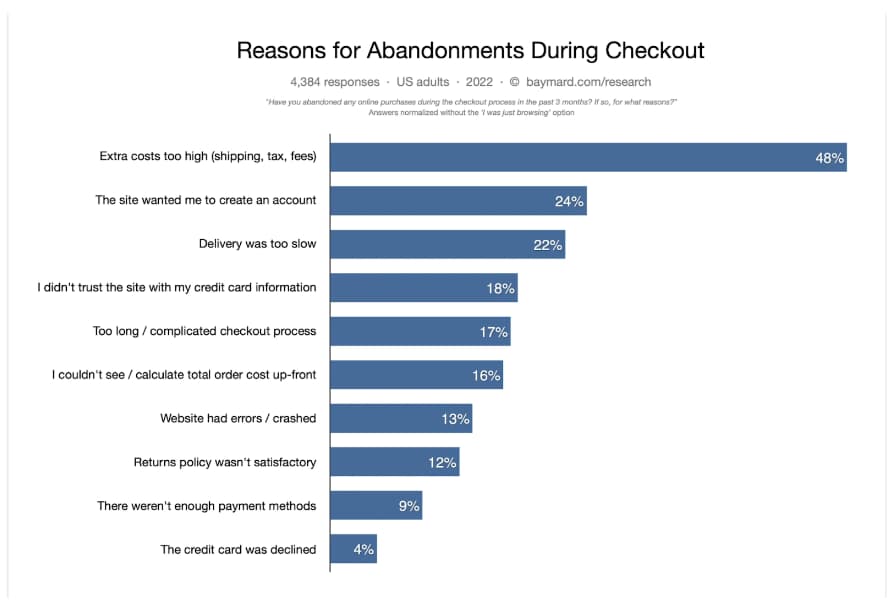 Mistake 4: Not optimizing high-quality images
Having high-quality product images is half the battle. When you don't optimize them, you're risking issues such as page loading speed and the search engine not fully understanding what the image is about.
Make image optimization a priority instead
Did you know that images in ecommerce build trust? According to this article, it does. A high-quality image helps a customer envision the product, how it looks, and how it would fit into their life.
When you have a variety of high-quality images, customers can feel more confident about your product and your brand, especially if you're a small business or just starting out online. But, apart from the trust it brings and how it adds a flare to your webshop, it's also important to optimize those high-quality images because if you don't, you'll deal with a slow website speed—which in turn, will reduce traffic and engagement on your store.
Image optimization can help improve this, and it can help improve site speed, SEO, and make sure that customers have a better browsing experience.
We wrote a step-by-step guide on how to optimize your images that you can check out.
Mistake 5: Not streamlining manual tasks
If you were thinking of doing everything manually, we'd like to stop you right there. It's an inefficient way to manage day-to-day tasks that can hinder productivity (which is a no-no in the always-on world of ecommerce).
Use the right ecommerce tools instead
Customers have the privilege of shopping wherever and whenever they want. With so many new ecommerce businesses (12 million to 24 million ecommerce sites across the entire globe, to be exact), it's essential that you invest in an ecommerce tech stack that helps you streamline manual tasks such as:
Product information management
Inventory management
Customer management and more
These ecommerce tools can help improve efficiency and handle some of the tiresome tasks that come with ecommerce so that you can focus on scaling up and your marketing strategy to bring in customers.
Mistake 6: Not implementing a marketing strategy
Not having a marketing plan is a big Shopify store mistake, but not having a multichannel marketing strategy is even bigger. Why? Because customers aren't only shopping on webshops anymore, and you need to be wherever they are. And this is essentially what multichannel marketing is all about. Customers are on marketplaces, comparison shopping engines, and social media throughout the day. Being on those platforms can help you bring more traffic to your store, increase brand awareness, and bring in more sales. So, make sure you create a multichannel marketing strategy.
Create a multichannel marketing strategy instead
Nowadays, more than 73% of customers shop across multiple channels, and those who do, are worth 30% more in lifetime value. It's a no-brainer to sell on more channels, but it can be overwhelming if you're doing manual tasks, which is why we recommend using ecommerce tools.
For instance, manually formatting content outside of Shopify for these channels can be a lot of work. But, by connecting a product information management (PIM) system to your Shopify account, you can manage, edit and share accurate, optimized information to new channels in minutes. Plytix has a Shopify connector that allows you to sync data between Plytix and Shopify with ease and quickness. All of this simplifies the way you create and run marketing campaigns as you'll be pulling information in a centralized location and tweaking it according to the needs of each campaign.
Mistake 7: Not tracking product performance
Digital data is the telltale sign of your Shopify store's health. Without monitoring, tracking, or analyzing product performance frequently, you'll never know what works, what doesn't, and how you can improve.
Identify and track important metrics instead
Start identifying and tracking important metrics such as; website traffic, bounce rate, average session duration,, cart abandonment rate, and more can help you see how your site is performing.
You can see who your customers are, what they're searching for (based on keywords), and how they search when they access your store. The feedback from these insights will enable you to update your strategy in real-time and guide your actions before it's too late.
Mistake 8: Not using the right amount of Shopify apps
Shopify has a lot of apps, and when used well, they can help increase sales, improve customer experience, and streamline customer support. But, not using the right amount of Shopify apps can harm your business.
Strategize your use of apps instead
There are frontend and backend apps, and each one plays a different role for your business. For instance, front-end apps, such as an app that loads a widget onto your site to notify customers about out-of-stock items.
Another example is an app that embeds a shoppable quiz that asks for more customer details for product recommendations. These apps can slow down your site and make it clunky.So, to combat this you should stick to a maximum of five apps. Backend apps for reporting, inventory, and software integrations aren't a problem as they don't make any calls to external servers when your website loads. So they won't affect the speed of your website.
So, play around with apps and choose ones that enhance the customer experience and make the management of your business easier. And remember that sometimes less is more.
Mistake 9: Not using social proof on your pages
Studies show that 88% of online shoppers trust user reviews as much as personal recommendations. They use them to make buying decisions. So, if you don't have them, you're depriving them of a valuable tool that helps them in their shopping journey, and you're missing out on an opportunity to build brand trust.
Use testimonials, reviews, and certificates instead
With that knowledge, you can use social proof such as testimonials, reviews, and certificates as a tool for conversions. So, make sure you add a section where customers can leave reviews, be more active on social media, include trust badges, and display customer testimonials on your website as we did below.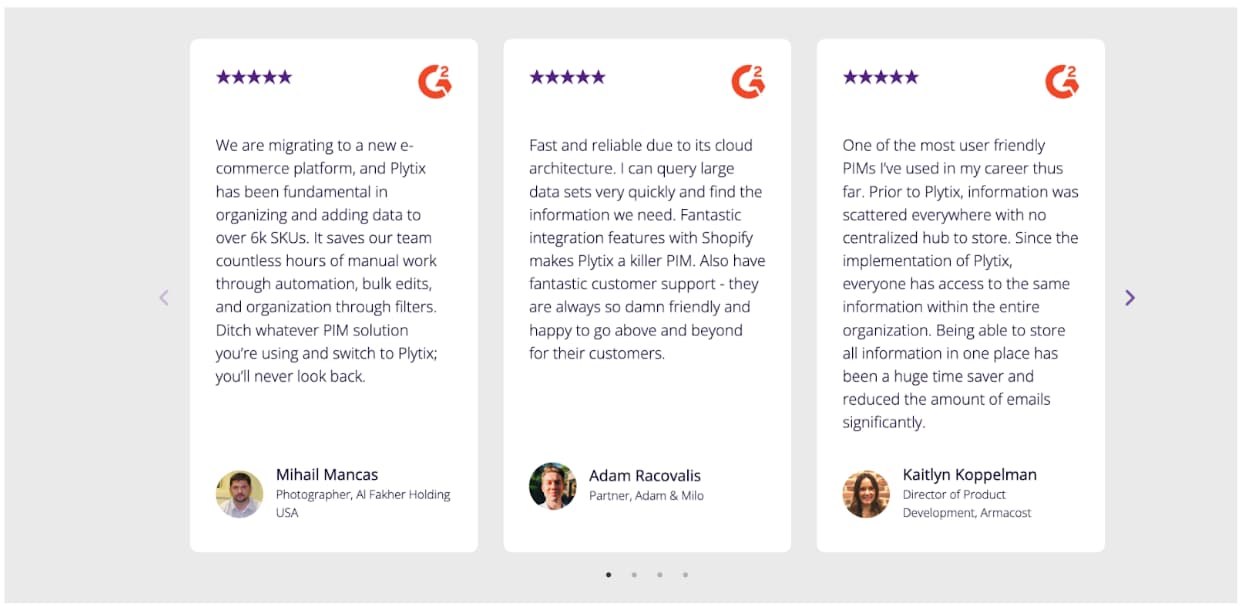 Selling products on Shopify and succeeding is achievable
It isn't hard to sell on Shopify—it's all about knowing what works and what doesn't. By avoiding these mistakes, you can ensure you have a website that brings enough traffic to grow your business. To learn more about Shopify, take a moment to check out our blog as we cover various topics, including Shopify.
You can also learn more about Shopify limitations and how they can be managed with the help of a PIM solution by downloading our free ebook.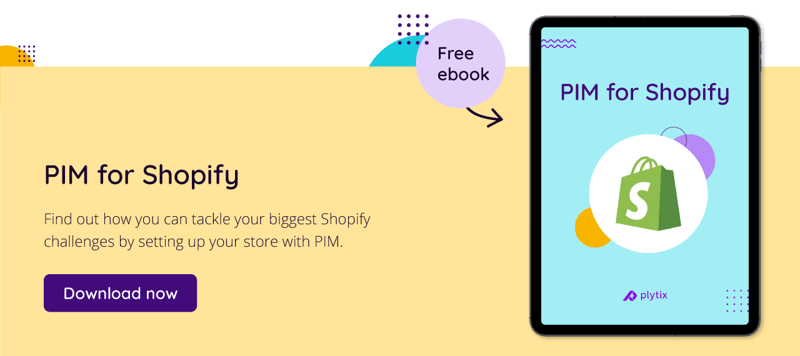 Editor's Note: This article was originally published in February 2021 and has been updated for accuracy and comprehensiveness.
Shopify