Online shopping has become a huge part of our lives.
Just last year, over two billion people bought their goods or services online, and e-retail sales exceeded 4.2 trillion U.S. dollars worldwide. And, while we thought e-retail sales would be the only thing to see such positive growth, the new kid on the block, social commerce, is making huge waves in the ecommerce industry.
According to this article, the global social commerce market is expected to reach 3,369.8 billion USD by 2028, which is an impressive growth as it's currently at 36.09 billion USD. For example, Shopify, home to over 1 million store owners, supports this new shopping trend. If you have a Shopify store, you can connect your store to Facebook and Instagram and allow customers to shop through these apps.
This will ensure you're a part of the exciting growth that's already happening.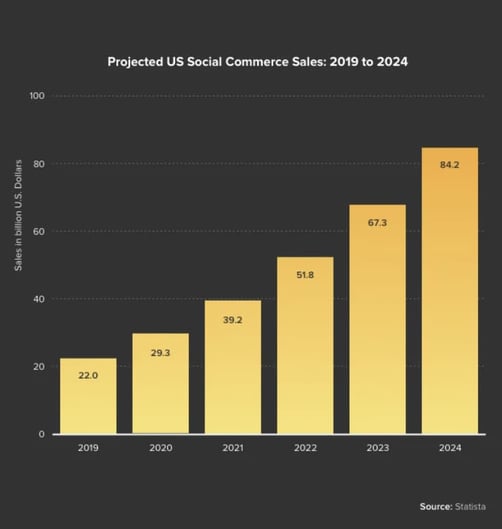 But, social commerce is a complex landscape. Not knowing exactly what it entails can stop you from leveraging the opportunities that come with it.
So, what are the opportunities in social commerce?
It makes no sense for us to just tell you to hop on the social commerce bandwagon without highlighting its opportunities and challenges. Let's get into it.
1. It can reduce cart abandonment from mobile users
Ecommerce does have its shortcomings. And for most, it's cart abandonment, especially on smaller devices such as tablets and smartphones. According to this article, the average cart abandonment rate across all industries is 69.57%.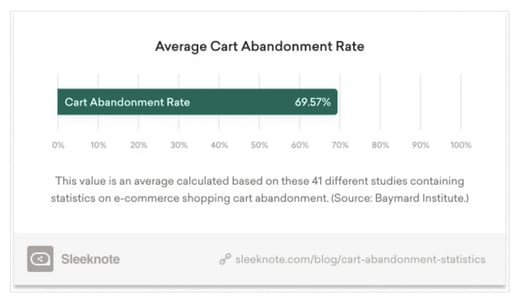 Mobile users are known for the highest cart abandonment rate compared to desktop users, so this is where social commerce can be a game-changer.
"People spend a majority of their time on their phones, and they will leave if your website isn't mobile-friendly. During a customer's journey, it's important to ensure that it's frictionless, as this is what results in them abandoning their cart" - says Harry Johns White, Marketing Specialist at NBAblast.
People spend a majority of their time on their phones, and they will leave if your website isn't mobile-friendly. During a customer's journey, it's important to ensure that it's frictionless, as this is what results in them abandoning their cart.
By creating a buying experience through social media, you're allowing your customers to see an item they're interested in while scrolling, click on it, review it, read the comments, and purchase it without leaving the app. This makes their shopping journey easier, and it can provide a higher chance of a conversion.
Think about it, if your customer has to first see your product on their feed, go to your website using their mobile device, only for it to have a slow loading speed, they will leave. Before they even have the chance to scroll through your web store, add it to their cart, and then proceed to fill in their payment and shopping details.
Looking at it from this angle, a lot can unwillingly distract them from completing their purchase. The point is to eliminate those distractions, especially on mobile.
2. It creates a "social" experience for your customers
Let's be honest, online shopping isn't social at all.
According to this article, 66% of European shoppers are looking for convenience and a shopping experience when they choose where to shop. While the pandemic has made it impossible to experience the social side of shopping, social commerce can replicate the social experience that comes from shopping at traditional stores.
With social commerce, customers can:
Utilize

tools like visual galleries to see your product in a real-life setting.

See their favorite influencers and other customers who have tagged your brand, giving them an idea of how your product can fit their lifestyles.

Have direct access to reviews through the comment section.

Engage with their friends regarding a purchase on social media.
Overall, it creates a better relationship with your brand on a personal level.
3. It's a lucrative business opportunity
As mentioned, ecommerce has seen immense growth in the last few years. But, for you to benefit, you need to be where your customers are. Did you know that 81% of consumers first research a product on social media apps like Instagram and Facebook? This is especially beneficial if your target market is Millenials and Gen Z because they use the app to see what new products are on the market.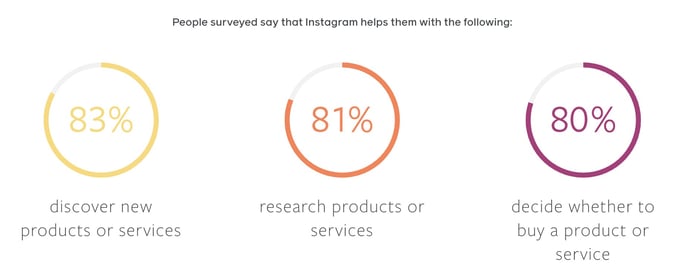 If the global social commerce market will reach 3,369.8 billion USD by 2028, you want your business to be a part of that growth. Apps like Instagram, Facebook Shops, and Pinterest are seen as powerhouses for social commerce, and where you can get the best opportunities. TikTok is also slowly becoming a go-to app for social commerce, especially now that they've partnered with Shopify. The famous video platform has an integration that allows brands and content creators to monetize through an integrated shopping experience whilst on the app.
But, what are the challenges you should expect?
Nothing comes without challenges, and social commerce is no exception.
1. Some customers will still choose marketplaces
When a customer thinks of online shopping, their first thought is Amazon or any other popular marketplace. And, truth be told, they may opt to stick with what they know and trust. But, this doesn't mean you shouldn't focus on social commerce but instead, it highlights the importance of omnichannel distribution.
You shouldn't choose between one or the other but rather do both. Different platforms cater to various customers, and selling on all those platforms can bring in more sales and grab a customer's attention regardless of where they are.
To effectively do that, you need the appropriate content for all of those channels. But, where do you keep that content? Spreadsheets? What about your digital assets like images? Are they in a Dropbox folder? That's a very old-school way of managing product data! The answer should be, in a data management tool.
Using Plytix, the best PIM for your Shopify, you can create and store content, data, and media assets that you want to post on various channels. This ensures you create an omnipresence wherever your potential customers are, making sure nothing hinders their experience and makes them jump ship to your competitor.
2. The reach on social media is limited
One of the social media challenges, according to Pew Research Center, is that seven in 10 Americans, especially young adults, use social media to connect, engage, share and entertain themselves. While most people are on social media, it still has a limited reach and is very saturated. To ensure business growth on social channels, you'd need to ensure you create rich and engaging content.
Moreover, you should care about social media product reviews. Don't lose customers to your competitors because you're providing them with the information they need to make the purchase decision. By using a product content management system, you can create rich product information that will keep your customers informed, create credibility and trust, and help you rank better. This will make it easier to attract your target audience to these platforms.
Tip: Email marketing is a great way to share your newly-created content with your target audience and the proof is in the pudding, as they say.
3. Choosing the wrong social platform for your needs
While you want to influence various platforms to attract customers, it is a waste of time and resources if you don't do your research and see which social media platforms work for your target audience. For instance, if you want to attract Millennials and Gen Z, then your best bet is to ensure a seamless shopping online experience on Instagram, Snapchat, and Tiktok as they spend most of their time on those social media platforms. Whereas Baby Boomers and Seniors prefer Facebook. Although those are the stats, you need to ask yourself:
Is your target audience on these platforms?

Do you currently have an engaging audience on those platforms?

Would it make sense for your brand to sell there?

Do you have the means to create meaningful content there that will get your customers to purchase there?
One of the biggest social commerce challenges is selling where it does not make sense. Make sure you take note of your audience's demographics, such as age and gender, to see where you'll get the best response on social commerce platforms.
Growth in social commerce comes with a PIM
If you know that social commerce has opportunities for your business that you can't miss, go for it! It is, after all, the future of selling online. But, as your business grows on these various platforms so does your data management.
Cut back on your data management time with a Plytix PIM.
A PIM system can help you create high-quality content that will not only bring your customers to your social platform but also inform them of your product, which can ultimately turn into a sale. You won't have to worry about scattered data as you'll have a single source of truth that can efficiently manage your data for various channels and ensure a consistent brand tone regardless of the platform!
Talk about omnichannel success made easier!
To see how Plytix can help you enter the social commerce market successfully. Or download The Ultimate Guide to Facebook Shops and take it from there!
Frequently Asked Questions
Social commerce involves selling products directly within social media platforms, enabling a seamless path from product discovery to purchase without leaving the app. It leverages user-generated content, like reviews and shares, to build trust and facilitate word-of-mouth marketing. With integrated payment systems, customers can complete purchases easily, influenced by the targeted advertising and interactive features that are native to social networks. This approach combines the immediacy of social media engagement with the convenience of online shopping.
Facebook is the largest social commerce market worldwide, as of 2023.