The future of retail is multichannel commerce, even for B2B organizations.
A decade ago, this might have been impossible. But considering that 73% of today's B2B customers are millennials and grew up in the era of technology, it makes sense why the B2B ecommerce market was valued at $6.64 trillion in 2020. The expected compound annual growth rate (CAGR) from 2021 to 2028 is 18.7%.
But, truth be told, multichannel ecommerce can mean a number of things, and it shouldn't be a one-size-fits-all approach. For instance, you may be a B2B brick-and-mortar store that isn't quite ready to have a full-blown ecommerce store. And that's okay. You can still reap the benefits of online selling through marketplaces.
What should you look for when selling on B2B marketplaces?
When it comes to multichannel commerce, you need to know where your business fits best; otherwise, you're wasting time, resources, and money.
So, when you look for an online marketplace, consider the following:
Does it have multi-vendor capabilities, meaning you have control and have access to manage your profile, information, contact details, and more?
Does it enable self-service functions?

86% of B2B consumers

prefer using self-service tools rather than speaking to a sales rep. So, make sure to choose one that is highly responsive to provide a good customer experience
Does the marketplace have

easy-to-use search functions

for your customers? They need to be able to filter by brand, price, and availability fast
Here are the top marketplaces we've found to be ideal for B2B businesses.
1. Alibaba
Alibaba has been around for 18-years and continues to be a trusted and leading platform for the wholesale of goods. It has 41 million active buyers and is known for being one of the most seamless platforms for B2B, B2C, and C2C businesses.
This platform is ideal for dry food, construction materials, manufacturing of machinery, garden products, electronic components, as well as beauty.
A few of their benefits include;
Product verification. This allows products to get inspected for their quality and can get a "Verified Main Product" designation, which can be appealing
Trade assurance, which ensures businesses are given refunds in the event that there is delayed shipping, or to cover you if the wrong item was sent
Customers can access many payment methods such as Alipay, which is similar to PayPal, bank transfers, letter of credit, Western Union, and Escrow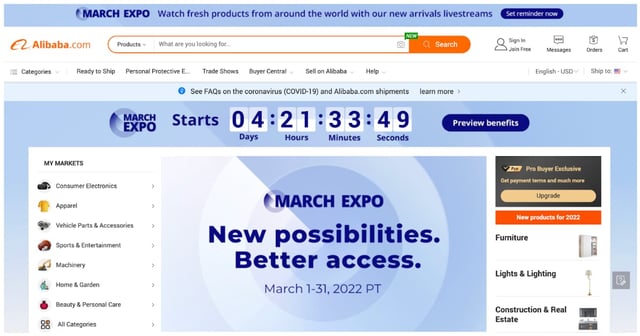 2. Amazon Business
Amazon is the leading e-retailer in the United States, but it's not just for B2C businesses only. Amazon Business accounts for 1.4% of B2B product sales in the U.S and is expected to see 2.4% market share growth by 2025. But what is Amazon Business? It's a platform for B2B businesses to sell their products, whether it's once-off or in bulk. This is a sales opportunity for B2B businesses of all sizes, as they can sell through one of the most popular platforms in the world.
The benefits of Amazon Business include:
Spending visibility, which shows you where your money is being spent
Efficient shipping as Amazon has four fulfillment options such as; same day, one-day, two-day shipping, free shipping, and dock or doorstep delivery
You customers can purchase products with their card or a line of credit
You can create sponsored ads that will help customers find your brand regardless of the stage they're in on their customer journey
You can have rich content such as CAD files, user guides, and manuals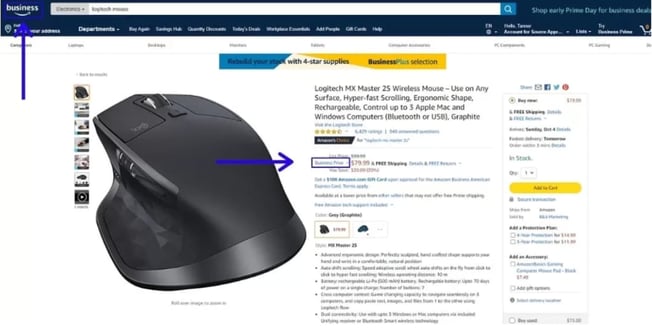 3. eWorldTrade
eWorldTrade is a widely known business-to-business ecommerce platform that brings sellers and buyers across the globe together. B2B customers can find manufacturers, wholesalers, suppliers, and companies all on one platform.
With eWorldTrade being around for 10-years, it has become a reputable platform where B2B shoppers come to shop online. They have a wide range of categories for businesses such as beauty, cosmetics, personal care, household appliances, security and protection, clothes, machinery, dry food, beverages, and chemicals such as paint coatings, fertilizer, and pharmaceuticals. Their key features include:
A mobile-friendly website, which is great considering that

80% of B2B customers

say that mobile played a significant role in a recent purchase
They give 10 free leads to sellers when they sign up
Many payment options: Alipay, WeChat Pay, American Express, and more
One of the lowest wholesale rates and the fastest delivery services available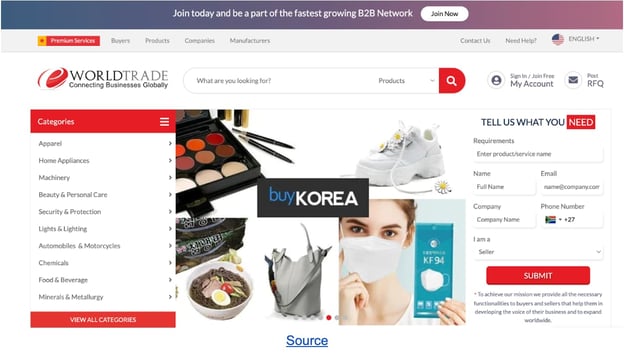 4. Global Source
Global Source was founded in 1995, and today, it has over 10 million registered international buyers. This marketplace platform works by connecting companies with suppliers from all around the world. Sellers on Global Source have to be a part of a global marketplace with unique media possibilities, and online trade events that allow vendors to showcase their products. Global Source is ideal for businesses selling auto parts and accessories, electronics, electronic components, furniture, hardware, industrial suppliers, and machinery and equipment.
Their key benefits include:
Verified supplier system that works to help suppliers create a trustworthy image by running their registration details through independent third parties
Buyers can audit suppliers based on facilities, capabilities, and quality
An easy-to-use interface and customers can compare various suppliers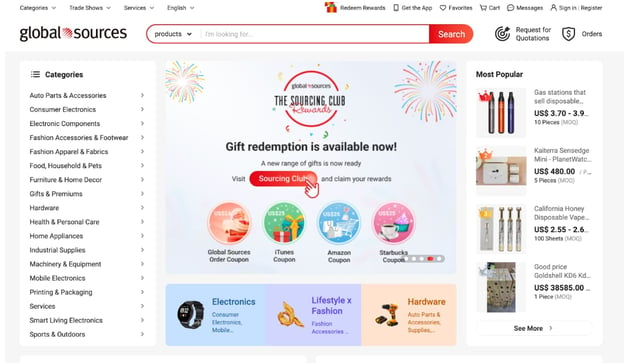 How to successfully sell on B2B marketplaces
It's one thing to be on marketplaces, but it's another thing to excel and generate sales. B2B marketplaces are hot right now, and they aren't losing momentum.
In fact, B2B marketplace sales are projected to grow 130% year over year in 2021 to $56 billion, which is significant growth from the $24.34 billion projection in 2020. But, to truly reap the benefits of this growing market, you need to:
Focus on understanding your clients' needs ( fast delivery, product samples, branded goods, white-label products, or private-label goods), and offer them exactly that so that you can stand out against your competitors

Professional imagery

. Videos and images are vital, as it showcases your product and is key in converting a browser into a customer

Have well-written product descriptions that have keywords to help your product rank better. Provide rich product information that gives a customer the right information to help them make a confident purchase. Also, have a range of

sales material

that you can send to them once they place an order

Ask questions when they place an order to help you understand which products sell the most and which don't. This will help you to truly succeed online, and constantly focus your efforts on what your customers need
Product listing optimization

is how you'll get your products to rank. Read the seller's guidelines for each platform so that you can tailor your product listing to fit the platform and help you succeed using their requirements
Plytix can make selling on marketplaces easier
Right, so by now, you know what to look out for when choosing the right marketplace, where to sell your products, and how to ensure your products appear on these various marketplaces. But where do you store this information?
Not in your Dropbox or Microsoft Excel spreadsheets, that's for sure!
You'll need product information software. A PIM tool allows you to store your product data, as well as manage, edit and share it directly with the marketplace.
Plytix is the best PIM for small businesses; you get everything you need for multichannel commerce in one tool. You can store digital assets, optimize product information for various channels, check the ecommerce product analytics tool to see which products are selling well and where, and lastly, syndicate products to your chosen marketplace with ease. Our PIM solution doesn't only work as a repository but also as a multichannel listing tool with its marketplace connector.
Pretty nifty? We think so too!
Cut back the costs of having an extensive ecommerce tech stack with Plytix!
Ecommerce
,
Product Information Management