Google has evolved from a basic search engine that answers people's questions, to a platform where people can read up on current events, book flights, check out product reviews, and even research or discover new products online.
It's no surprise that it's become THEE hub for advertising, as retailers saw its potential to drive more sales to their stores. But, now, Google Shopping has moved past only being a paid ad-driven environment and has a free option.
According to this article, it's been in the works for a long time, but like so many other things in ecommerce, COVID-19 fast-tracked its plans and here we are.
(We're not complaining, that's for sure!)
What is a free Google shopping listing?
Well, first of all, it's a free resource from Google. Retailers can use it as an affordable option to gain exposure to nearly four billion users across the globe.
With Google's free shopping listing tool, customers can see your product results from your store across the entire Google search platform at no charge to you.
How does a "free" listing work?
You can either choose a standard or enhanced listing. With the standard listing, you allowed fewer product data attributes. This listing can either be submitted in the Merchant Center or via structured data markup, and it will appear across Google Search, Google Images, Google Lens, etc. However, the enhanced listing requires more product data attributes and higher data quality standards. This will also be submitted in the Merchant Center, but it will appear in more places: the Shopping tab, YouTube, Google Search, Google Images, Google Lens, etc.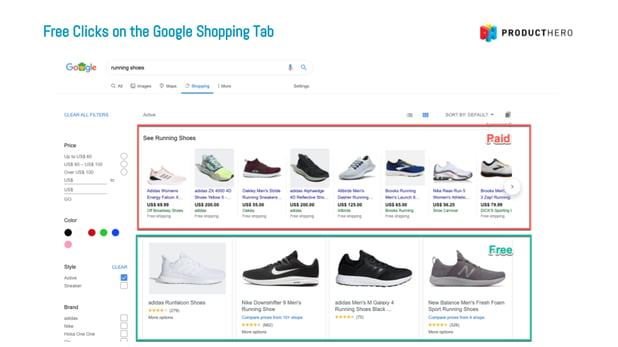 The benefits of a free Google shopping listing
Organic Google shopping lists can be a great monetary opportunity for small businesses. Free listings have many benefits, whether you're a local store or have already expanded into multichannel commerce. Let's dive into them here.
1. An affordable way for SMBs to stand out
Let's be frank; the digital space lacks brand diversity.
Whenever you search for something like "white sneakers," Nike or adidas will be the first to pop up. And that's because (despite the global names they've made for themselves), they also have huge budgets and resources to pay for shopping ads.
But did you know that 43% of ecommerce traffic comes from organic search? Well, according to this article, it does. You don't always need to pay to bring traffic to your store—if you do it right, you can bring in traffic organically, too, for free!
So, now that there is a free listing option, you no longer have to solely depend on your local SEO or your website's SEO. You can use that, and the free Google listing, to drive more traffic and make your brand stand out among your competitors.
2. Customers have a wider product selection
The purpose of a multichannel strategy is to be where your customers are.
A total of 63% of customers chose online shopping because you can browse a range of items and the latest trends. To add, 40% of shoppers say it's because they save time in comparison to going to a store. So, if more customers are going to shop online, it only makes sense for more of your products to appear online. Now, add having an optimized Google Business Profile into the mix, and you'll make your business even more visible and thus helping to bring more customers to your local store, show off your local inventory, and more.
Do you need free
and

paid options?

Now that you know what a free google shopping list is, the question is: do you need both? In an ideal world, the answer is yes. Having both is the best solution.

With a paid ad you can:
Get more visibility as products are placed at the top of Google search results, ensuring that customers see them first before anything else

Get a better click-through rate, as a recent

report

found that Google search ad clicks hit an all-time high of 63%. Customers are almost twice as likely to choose a shopping ad compared to a text ad

Get a broader reach such as the Shopping tab, Google Images, Google Search Partner websites, and Google Display Network such as YouTube and Gmail, making it easier for a customer to visit your website

Get qualified leads as your ads are shown to people with clear intent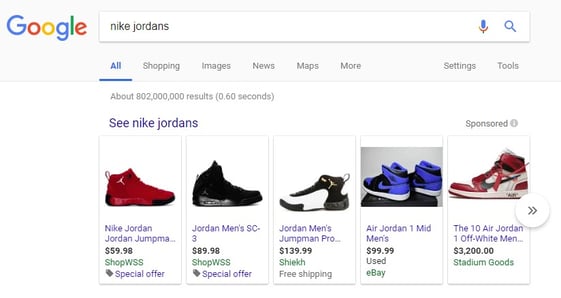 This is something you won't get for free.
So, whichever option you choose, maximize your efforts. Either by ensuring you rank well for the free version, or you get your money's worth on ads.
And to rank well, you need product listing optimization.
Why do you need product listing optimization?
Product listing optimization (PLO) is about ensuring your product pages are optimized for the particular platform, and in this case, it's Google. You want your product/s to be visible when a customer is searching or browsing online. In fact, many retailers have lost sales as they didn't prioritize PLO for their listings.
When you optimize your product listing for Google, you focus on:
Using the right keywords
Take advantage of customer reviews
Only using high-quality images
Include product attributes/information in your title e.g strong brand names, age group, gender, size, color, size, etc
Provide accurate product data such as up-to-date pricing, availability, GTIN, and more
All of this can be daunting to achieve without software like a PIM system.
A PIM for Google shopping can help you manage your listings easier, letting you store all your product content and assets in a centralized product information tool.
But, it doesn't end there. Once you have stored the product content in PIM, you can edit within the PIM platform whenever there is an update, and you can seamlessly syndicate your product listing to the chosen ecommerce platform.
A PIM solution is perfect for SMBs selling on Google
Plytix, a PIM for small businesses, can help organize and streamline data management. It gives businesses the time to focus on getting accurate product information out there to drive more sales, which is exactly what a small business needs in this competitive space. Many small to medium-sized businesses that have adopted PIMs in the last two years have seen great results, and you can too.
Start by seeing the difference with your Google shopping listings today!
Ecommerce
,
Product Information Management