ETIM stands for European Technical Information Model and is used worldwide to classify and share product information. We know this sounds a bit vague, so we are going to get to the bottom of what ETIM is and why it matters for manufacturers. We spoke with Marc Habets, the technical director at ETIM International to learn more about this standardization model for product information.
So what is ETIM?
Well ETIM (pronounced ay-tum) is a classification standard for describing technical products, and it is especially popular in the electronics industry.
The idea behind it is to make sure that there are no ambiguities or misunderstandings when it comes to sharing the important technical characteristics of products (which, if miscommunicated, misunderstood, or misrepresented could cause some serious issues in the supply chain).
ETIM provides one record of product information from one source, the manufacturer.
So ETIM helps manufacturers send product information to their wholesalers in a streamlined way. Wholesalers lose time and money when they deal with incomplete or inconsistent product information that makes it more difficult for them to manage.
By having a supplier-neutral method of collecting this data makes them vastly more efficient. Plus ,if manufacturers can save time by using a single model for supplying this product information, both parties win and everyone is happier for it.
The wholesalers' business is not gathering product information, it is selling products. They want to keep this process as efficient as possible so they can do just that. - Marc Habets
Other benefits of ETIM include:
Reduces the risk of errors in product data by limiting the input to one source which saves lots of time and money across the supply chain
The model is multi-lingual and translations are provided automatically for international markets.
Information can be sent either digitally or in print
Wholesalers can more easily translate standardized data into sales-driving content
Consumers get better, more accurate product information
Manufacturers and wholesalers are both better equipped to deal with new compliance and regulation data
The supply chain as a whole becomes more agile and able to manage the shortened lifecycles of high-tech products
The model is a reusable template, so it can be used for multiple purposes without having to duplicate content manually
Standardization of product information makes it easier to analyze products and publish reports with reliable statistics
This video does a great job of putting ETIM into context:
What does the ETIM model look like?
The ETIM model consists of unique identifiers for specific classes, features, values, and units. This is what allows it to be multi-lingual and automatically translatable. The one thing that does not get an identifier is, logically, the description which cannot be standardized in that way.
The model uses six entities to describe a product:
Product groups
Product classes (categories)
Synonyms (alternative keywords)
Features (product attributes)
Values
Units
The information is represented in different ways including unique identifiers and descriptions.
The unique identifiers are a group of 8 characters. Check out the example below: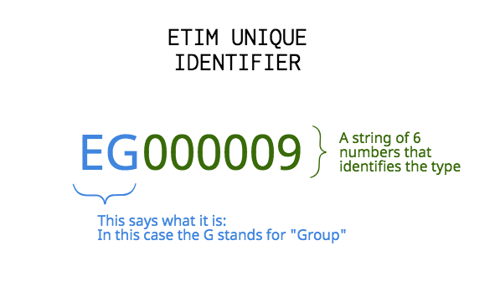 To see a full example and get the newest version of the model format visit ETIM International here.
One of the most common ways the information is supplied is through a BMEcat XML feed. The BMEcat is a separate standard for the exchange of the data, but ETIM recommends it.
Where did ETIM come from?
It was first introduced about 25 years ago in the early 1990's for Dutch industrial markets. When it started out it was created in the electrical manufacturing sector, which is why it remains very popular there today.
They found they needed uniform information for optimized supply chain communication that could be used globally. And so the ETIM was born.
Who uses ETIM?
ETIM International, the managing association of the standard, was founded in 2008. And although ETIM stands for "European Technical Information Model", the classification standard has gained acceptance worldwide.
ETIM has been adopted in at least 19 countries including much of Europe and North America. Each country has a local presence to ensure that ETIM is easily and appropriately adapted for local markets.
These are the industries that are adopting and getting real value out of ETIM:
Electro-technical
HVAC & Sanitary
Building & Construction
Ship Building
ETIM is a standard anyone can use and of the other standardization initiatives, it is one of the simplest. This makes it easily accessible to small businesses as well as large corporations.
As mentioned before, ETIM is a free and open standard. However, ETIM International allows companies to become influencing members of the association that allows them to vote on changes and improvements to the ETIM standard.
Some of the biggest manufacturers in Europe are committed to using the ETIM standard including:
3M
ABB
Draka
Eaton Electric
Felio Sylvania
GE Consumer & Industrial
Gewiss
Hager
Hellermann Tyton
Legrand
OSRAM
Phillips Lighting
Phoenix Contact
Siemens
Scheider
Thomas & Betts
Wago
Weidmuller
Want to learn more about ETIM?
Visit ETIM International's website for guidelines, membership information and more: