As a business owner, I'm sure you have first-hand experience of how draining (and time-consuming) managing your data can be? Whether you're a retail giant or an SMB, product information management doesn't have to be a full-time job. Instead, deploy reliable systems to help you effectively manage your product data.
Yes, we know that you have an ERP system, and it's working for your ecommerce business right now. But we also know that it is putting further pressure on your team to manage your data manually, and it's limiting your content potential.
So why not integrate a product information management (PIM) system? The benefits that come with having a PIM for small businesses and big enterprises are hard to ignore. While an ERP can work alone, PIM software is the missing piece to your ecommerce puzzle. But how can it enrich your ERP and web store, you ask?
1. Makes tracking your inventory easier
One of the primary uses of an ERP system is to track your inventory and order management. Well, a PIM solution can do that too. PIM software isn't only designed to help keep track of your inventory—it can help you centralize all your data in one place. It will help keep your data organized and updated, allowing you to syndicate content to other sales channels automatically. This helps streamline mundane tasks and ensure all your information is updated for your customers. You won't need to manually change it and risk your information being incorrect.
2. PIM tools complement CRMs
Customer relationship management (CRM) is vital in growing your web store. If your ERP has a CRM component, then a PIM can complement it further.
While CRM functions help you manage interaction with existing and potential customers, a PIM drives these interactions from a marketing perspective.
Product database software is designed to help your ecommerce reap the benefits of attracting and improving your customer experience through good content. It can also help you create automated processes that build lasting relationships, increase sales, and improve customer experiences on every digital touchpoint.
According to the 2017 Gartner Customer Experience in Marketing Survey, companies compete mostly based on customer experience. Your customers want the best experience and nothing less, so you need to ensure your omnichannel brand offers the best experience with the following product content:
Basic product identifiers

High-resolution product images or videos

Long and short product descriptions

Any other additional product data specifications or guides
In an ideal world, your business would be the only business to offer your products. However, in the real world, there are thousands of other businesses that are trying to get the same customers. Your CRM is trying to attract and retain customers, and that's exactly what a product data management tool will help you achieve.
3. Keeps your data in check, so you don't have to
Aren't you tired of having a bunch of spreadsheets with data? You're running a business, and that is hard enough. Why not remove spreadsheet data management from your plate and let a PIM system do the work for you.
Most people don't like working with data, and that's understandable. But, apart from it being the "not so fun" task to do, it leaves a lot of room for mistakes. With product information management software, you can keep track of your data and ensure that all your website's, marketplace listings, product catalogs, and brochure content are correct. This is not only going to give you peace of mind, but it will also ensure that your customers have access to accurate information across all your channels, all while ensuring you're consistent in your marketing messaging.
4. Channel integration is simplified
As your web store continues to grow, you want to have your products sold on different platforms such as Facebook and Amazon. And, you want customers to choose your product over your competitors. As you know, each platform has its own rules and regulations, and only having an ERP with all your data won't be enough. A PIM system can help you manage, update and modify content to meet the channels' requirements. Instead of having to manually do this for various channels, PIM will simplify syndication and distribution. This saves your team a ton of time while ensuring you are driving customers to your product regardless of whether they go to your web store or the various channels you've chosen.
What's the verdict? You need a PIM for sure!
Your ERP has been doing a good job, but now it is time to take the next step.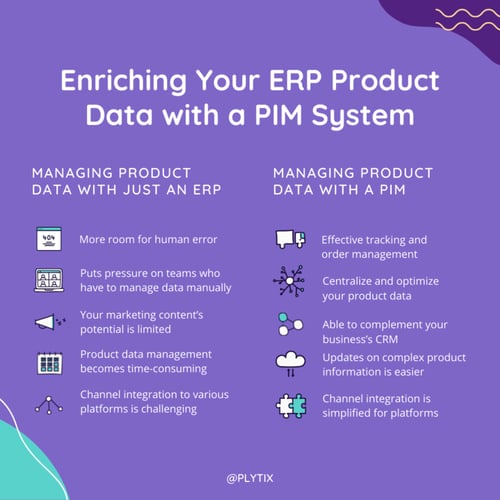 With your ERP and our product information tool working together, you can save time and money, and ensure your product data quality is top-notch. Give your customers what they want while you enjoy the perks of a system that manages product data for you, and lets you make time for other product responsibilities.
Download our features and pricing guide to see what we offer.

Product Information Management