If you want to start an ecommerce business, you're in luck. In 2021, retail ecommerce in the US was estimated at roughly 768 billion dollars—a figure that's set to exceed 1.3 trillion by 2025.
Jaw to the floor? Ours too.
But despite what the hype might tell you, starting a successful ecommerce business doesn't happen overnight. To build a thriving business, you need a strategy, a plan, and the right tools.
In this article, we're going to show you how to start an ecommerce business from scratch.
Why start an ecommerce business?
Looking for the next great business idea? Look no further than ecommerce.
Not only can an ecommerce store be a fantastic form of passive income, but it's also a great solution for entrepreneurs interested in remote or hybrid business models.
Talk about pandemic-proofing your business, are we right?
Here are some benefits of starting an ecommerce business:
Enjoy the freedom to scale your business or keep it small for some extra income on the side
Skip the massive expenses that come from office rent, utilities, and warehouse management with a dropshipping supplier if you decide to dropship.
Overcome geographical limitations and sell to international audiences
Easily adjust your business approach as your goals change
Enjoy the potential to reach wider audiences
Launch a business with lower startup costs
Sell your business for a profit when you're ready to make an exit for personal or business reasons
Plus, you know, those figures we mentioned earlier.
1. Choose an ecommerce business model
And speaking of dropshipping, before you can get into the nitty-gritty of your business plan, you need to decide on an ecommerce business model.
So, to start, choose from one of the following options:
Digital products: Best for ecommerce store owners looking to capitalize on the e-learning industry
Dropshipping: Best for ecommerce business owners who don't want to hold or stock products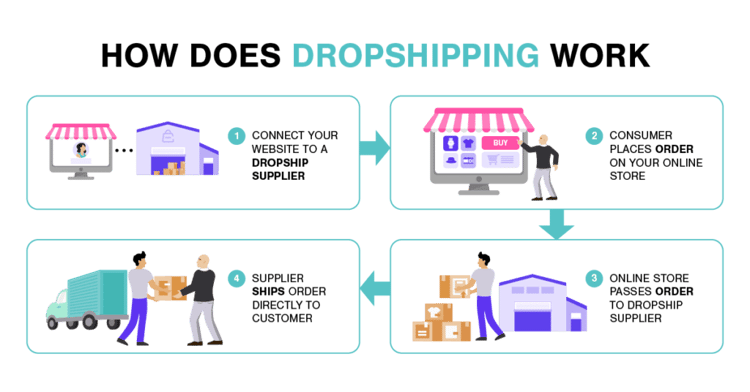 Source
Direct-to-consumer: for ecommerce business owners that want to interact with their customers directly and retain control of their products and performance
Makers: do-it-yourself businesses that can physically produce goods themselves
Manufacturing: for ecommerce entrepreneurs that want to manufacture their own products to reap the greatest margin potential in their own capacity
Subscription: for entrepreneurs that want to capitalize on customer relationships


Wholesale: store owners that want to sell a variety of products and brands
Need more info? Check out this resource for more information about each business model.
2. Pick a name and legalize your business
In step number two, it's time to pick a business name.
While it's important to choose a name you align with, don't overstress it. Remember, even big-time businesses like Apple and Amazon started as simple names. Even if they chose names like Peach and Markets, would it have mattered? No. Business choices supersede anything else. You could use a business name generator as a brainstorming tool.
After landing on a name, decide on a business entity and formally register your new store. Your entity will determine specific obligations, such as personal liabilities and how you'll pay taxes, so choose carefully. Register your business with a lawyer or register with an online service.
3. Conduct market research
Never solidify your business plan without conducting ample research first.
When conducting research, keep a firm eye on:
In-demand and best-selling products
Ecommerce business fails to avoid
Top ecommerce industries and why they're successful
Top competitors and what they're doing right (and wrong)
Top market trends and why they work
Helpful process ideas that can streamline your workflows
Ecommerce tools that can help you automate mundane tasks
What ecommerce audiences are looking for and why
Ecommerce audience pain points and how you can potentially solve them
Sales and outreach strategies
Shortcuts and top tips
4. Choose your products
Refer to the research you conducted previously to finalize the products you'd like to sell. Pay special attention to in-demand products and underserved markets. For example, Eric Even Haim, CEO of the upsell and cross-sell app, ReConvert, says: Products don't need to be the "next big thing." Instead, you should "look for growing trends and markets where customers are underserved. Then step in with an excellent product and give them what they want!"
Still, stuck on which products to pick?
Check out these 12 strategies for finding a profitable product from Shopify.
You can also find market demand by conducting research on Google Trends and Trends.co.
5. Solidify your target audience and brand mission
Your research should help you pinpoint your target audience and how you can serve them.
In this step, hone in on your target audience and brand mission.
Start by deciding on an audience type, such as
Business to consumer (B2C)
Business to business (B2B)
Consumer to consumer (C2C)
Consumer to business (C2B)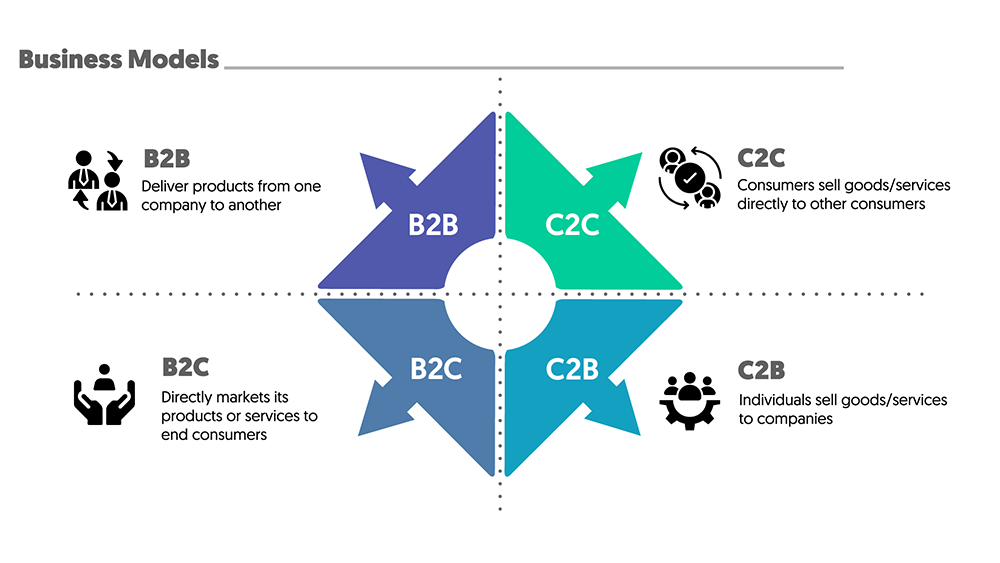 Then, get even more specific.
For instance, if your audience type is B2B, break that down.
Ask yourself questions like:
What kinds of businesses will I serve and why?
How can I help these businesses solve a problem?
What's my target audience's business size and who do they serve?
What kind of revenue does my target audience make?
What products and solutions do these businesses find most valuable?
Then, solidify your brand vision and mission. Where do you want your business to be in a year from now? Two years from now? Five years? 10 years? Finally, set micro-goals and long-term goals that can help you track your efforts as you begin your new business journey.
6. Create your brand identity and unique value proposition
Now that you know what your business is and what it stands for, create your brand identity and solidify your value proposition. Your brand identity includes all of the visual cues your audience and stakeholders will remember about your brand. That includes elements such as:
Your logo
Your digital illustrations and graphics
Your color palettes
Your social profiles
The photography, videography, and other images you'll use
After creating your elements, write your value statement.
Ask yourself, what sets you apart from other businesses in your niche. Why should your audience choose you? What unique value do you bring to the table?
Use the template who + what + how to create your value proposition.
Here's an example:
"We help SaaS brands streamline accounting processes with our flagship virtual tracker."
7. Choose a Product Information Management (PIM) system
Now that you've positioned your brand for success, it's time to get into the more technical aspects of setting up your new business. One of the most important tools you'll need to run your ecommerce store is something called a Product Information Management system.
It may sound fancy, but a PIM system is simply a tool you use to track your product tags, titles, descriptions, pricing, and other key product information.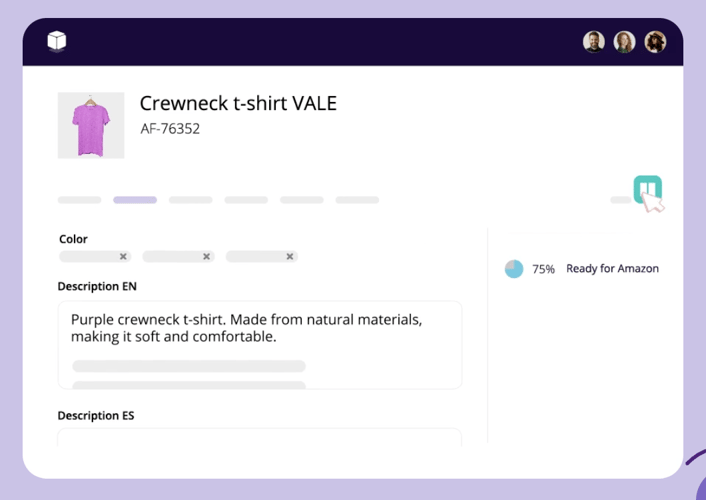 You'll need specific product information to set up your store on Shopify, so be sure not to skip this step. Once you've chosen your PIM system, add your products, set your pricing, write your descriptions, and fill in other pertinent details listed in the link above.
8. Hire your team
While you might be able to run your ecommerce store relatively solo at first, you'll eventually need a team if you want to scale—or, you, know, take a day off. To help you build out your business, consider hiring for roles like a sales outreach coordinator, a product manager, a copywriter, marketers, and virtual assistants. You can also hire for part-time roles or freelance roles if you don't have a need for a full staff yet.
9. Create your online store with Shopify
You're almost done! In this step, it's time to set up your online store with Shopify. And bonus! You can upload your product data from PIM service to your Shopify store, too. Cool right? With the Shopify website builder, you can edit free design themes, add products and copy, and choose from thousands of apps to customize your store. You can hire a Shopify Expert to help build your website or dig through Shopify's educational resources if you're a do-it-yourselfer.
10. Outline your processes
And finally, to create a business that runs like a well-oiled machine, you need to create efficient processes that can carry you through all aspects of your operations.
Here are the top processes we recommend outlining and setting up:
Daily operations: What business activities will you perform that you can streamline?
Sales process: what sales or funnel systems, and outreach strategies will you use?
SEO process: what's your plan for boosting your brand's online authority?
Marketing process: what kind of marketing strategies will you use? Ads? Organic marketing? Email marketing? Social media marketing? Make a list of marketing and social media management tools that'll help you set up a workflow
Shipping process: how can you ensure timely and stress-free shipping for stakeholders and customers?
Financial processes: how will you handle product costs, marketing costs, budgeting, taxes, and employee payouts?
Wrap up
And that's it. You're officially ready to launch your new business and serve your audience.
That wasn't so bad, was it? Remember, all you need is a plan, a strategy, and the right tools.
Download this free white paper on how to find the best PIM for your business needs!
Product Information Management
,
Shopify