Having a good quality product offering is not enough to attract, engage and retain ecommerce customers. By today's standards, you need to deliver an overall great customer experience that stands out against your competitors. As a multichannel commerce brand, that also means providing a consistently good experience across all of your sales channels and markets.
It's important to know that a customer experience starts way before your customers buy your products, and it continues long after they've purchased. So, your marketing department has to step up their game and develop consistent multichannel customer experiences that your customers will enjoy throughout their customer journey.
And, this is where a product information management (PIM) system comes to the rescue. But what is PIM? It's a product database software that centralizes any product information that gets pushed to your web store, marketplaces, social media platforms and other channels.
Here's a video that provides a PIM software definition in more detail
PIM software can help marketers make customers happy and satisfied in many different ways. In this article, we'll discuss four of the top ways your marketing team can create consistent customer experiences.
1. Access to accurate rich product information
According to this research, 76% of customers believe that e-tail brands should understand, anticipate, and meet their expectations and needs. One expectation customers don't play around with is quality product information. It helps them make confident buying decisions. If and when customers encounter errors, inaccurate or lacking information, they won't bother engaging with the brand any further.
A product information tool enables marketers to push marketing communications that include rich product information. And, most importantly, this is information that is consistent across all platforms as it's pulled from a single source of truth. For instance, say your marketing team sends out an email campaign that highlights the season's top products and the product information that's included in the campaign doesn't match the information on the brand's website or other sales platform.
This is a quick way to frustrate a customer as it creates a friction where they're unsure which information is correct to use to make a buying decision. They'll have to do the labor of actively connecting with the brand to find out the correct information. In most cases, customers will simply leave without taking any action. But when the information is pulled from the same location, it will be exactly the same which then enables marketers to send out the right marketing information at the right time. In the end, your marketing department will deliver on customer expectations.
2. Creating and delivering marketing assets
Speaking of marketing campaigns, marketers are challenged with the task of creating visually appealing marketing assets such as product catalogs. In a scenario where the team doesn't have access to PIM software, product information lives in multiple spreadsheets and digital assets live in a Dropbox folder somewhere else. Because product content lives in various places, your team ends up spending more time searching for the right folder, making sure it's the correct and updated information rather than doing what's required of them. Whether they have to send the information to the design team for the creation of a product catalog or they have to DIY the task, having siloed information makes the task even harder.
Having a PIM tool ensures that the team has access to all of the information at once, which saves time and effort. To take it further, a next-generation PIM tool like Plytix has Brand Portals and Products Sheet features that eliminate the need for designers. These come with tons of templates that can be used whenever needed, to create customer-facing marketing assets. These are customizable templates you can tweak with fonts, colors and other aspects for brand consistency. It's all a plug and play effort, where you simply choose all of the information you need for the products you want to highlight in your marketing.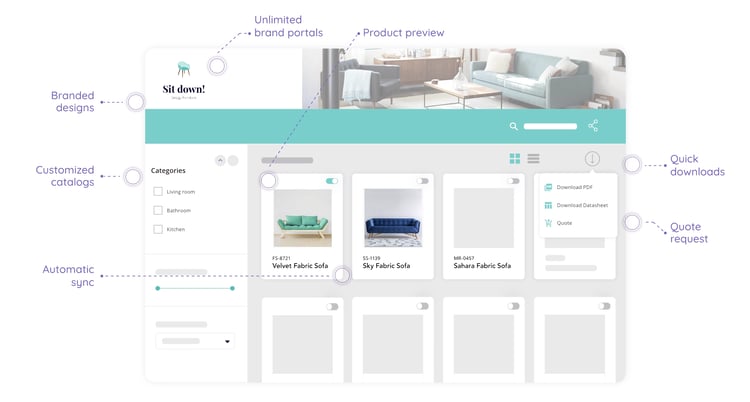 3. Collaboration
The saying; "team work makes the dream work" may be very cliché but it does ring true for marketing teams (as it does for other departments in your organization). Working together seamlessly towards a common goal ensures that the team is better equipped to bring the projects to fruition. It also ensures that they're better equipped to maintain good relationships with customers and serve them without any hiccups. For instance, when customers need to know information about the availability of stock, colors, sizes, etc. the team can quickly provide these answers without any issues or friction.
Ultimately, collaboration ensures that your team can better serve your customers by ensuring that accurate and up-to-date information and messaging lands in front of them at the right time. But to do so, they need to all have access to the same rich product information. Not only that, they need a PIM built for collaboration. This means a PIM that provides access to multiple users at the same time so that no one needs to go through the frustrating process of asking for access permission. Plytix is the best PIM for collaboration as you can give access to unlimited users across your departments without having to pay a hefty price per user. At Plytix, we don't roll like that, we know small businesses already have a lot of charges to deal with, which is why we make sure you don't need to worry about paying unnecessary user fees too.
4. Faster time to market
Launching new products is challenging on its own, getting the new products to the market doesn't need to be a nightmare. Having a product information tool ensures that you can fast track the time to market. This is because PIM streamlines the onboarding process, which means you're able to quickly add a new product to your system, enrich it with titles, descriptions, digital assets and other product attributes. You're able to assign the right relationships, validate, and track for completion much quicker.
Once that's done, your marketing team can ensure that your customers get access to your new trendy products faster. This will result in customer satisfaction, leading to sales and conversions.
As you can see, a PIM is a huge asset for your marketing team and overall business. With PIM, you can provide customer experiences that meet industry standards. In doing so, you're going to make your customers happy. More often than not, happy customers end up buying.

So, why not implement PIM using this guide today? Or if you haven't got yourself Plytix, Book a demo so a real person can get you started!
Product Information Management