Making it in the age of multichannel ecommerce takes more than simply having a presence in different sales channels. It also requires you to create consistent shopping experiences across all of your sales platforms.
Remember that customers of today use shopping channels simultaneously. They can start their shopping journey on a marketplace or social media and complete it on your webshop. However, if there are consistency gaps, their journey down the sales funnel will be interrupted and you may lose them for good.
Generating successful product feeds isn't easy. Whether you're working with basic feeds that only include simple details such as product identifiers, titles, descriptions, sizes, etc, or complex feeds with information like languages, and currencies— it's no walk in the park!
The good news is that you can choose an effective method for creating and managing your product feeds. And, you can make a decision on the most efficient way to send those feeds to your chosen channels. Lastly, you can decide on the best file format that will make the process easier for you (more on this later).
Let's first talk about the three common ways etailers like yourself use to create and manage product feeds.
Three ways to create and manage product feeds
1. Manual product feed management
This is self-explanatory. It's a manual data entry and management system done by using a spreadsheet such as Excel, Google Sheets, etc. This means that whenever you need to do updates (i.e. price changes or discounts), you have to make the change on the spreadsheet, export, and reimport the file to each of your online sales channels.
When you manage product data for feeds this way, it's inevitable that you will run into issues that will cause inconsistency. It's not an efficient way if we're being completely real with you. Let's say you sell via Shopify, Facebook Shop, Google Shopping, and Amazon marketplace, which means that you have to juggle four different files. This can be a tedious and laborious task that comes with a higher chance of resulting in lots of data errors and inaccuracies. That's how inconsistencies are born.
2. API product feed management
APIs (Application Programming Interfaces) are designed to transfer data between different applications. They provide two-way communication between platforms, which removes a ton of manual work and enables access to real-time data. Product feed management with APIs is possible, for instance, when you have a direct connection between your ecommerce platform and other sales channels. It's a fast way to get your products onto your additional online shopping channels as it takes the product information as it is from your online store.

An example of this is Shopify's Facebook channel and Google channel plug-ins. Another good example is our direct Shopify API Integration.
3. Automated product feed management
As the name suggests, this option helps you streamline the process of creating and managing product content through automation. There are tons of product feed automation tools available on the market. Product information management (PIM) software is a great example. While PIM is not a product feed management system, it can help you maximize your efforts in creating high-quality and consistent product data that speaks to customers' needs, while still meeting the feed format specifications of each shopping channel.
The next part can be the hardest, depending on which of the product data feed management systems mentioned above you have set up. We're, of course, referring to product content syndication. Specifically, the submission part of it as it is important to choose the right file format to send your products.
Common feed file formats popular sales channels support
In the same way that different channels have different feed specifications requirements, they also have different submission requirements. So, let's take you through the most common file formats that popular distribution platforms accept, and we'll also show you some examples of what these file types look like.
1. TSV
TSV, fully known as tab-separated values, is a file format that uses the ".tsv" extension. It's formatted in a way that showcases plain text in data columns that are separated by the tab key. It is designed to enable an easy transfer of data between databases and a large number of applications.
Miinto marketplace accepts TSV files and we'd recommend submitting your products in this format if it's one of your distribution destinations.
Here's an example of what a TSV file looks.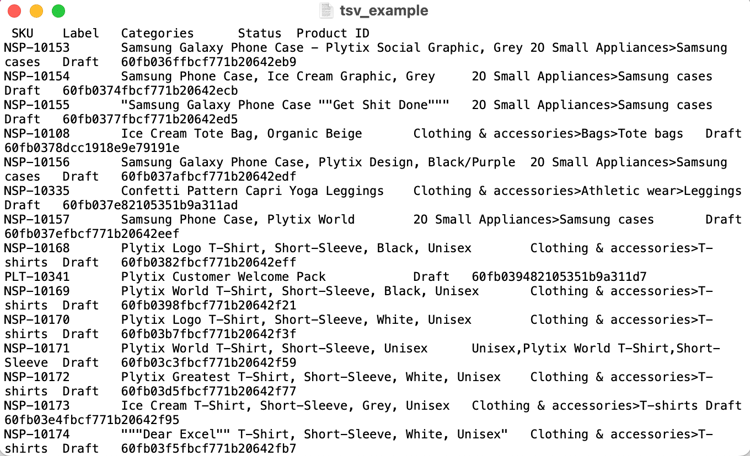 2. TXT
Commonly used the same way as the TSV above, A TXT (text or tab-delimited) file is a basic type of file that only contains text with no specified formatting. This type of file uses .txt extension and can be opened and edited in any kind of text editor. A good example would be Microsoft Word or Notepad.
Google Shopping supports TXT files, and they recommend saving the files from Microsoft Excel or Google Sheets as it is easy to create, edit, and view multiple products. But the one disadvantage they note is that it's easier to make formatting mistakes.
3. CSV
Similar to the above file type, a CSV, which is short for Comma-Separated Values, is formatted to record content that is separated by commas. This type of file is saved with the ".csv" extension and it doesn't keep any complex formats such as columns, cells, rows, formulas, etc.
You can import your product information into Shopify using a CSV file as an alternative to an API. The same can be said for Magento 2, Amazon marketplace, eBay, Wish, and Target Plus.
Here's an example of what a CSV file looks like.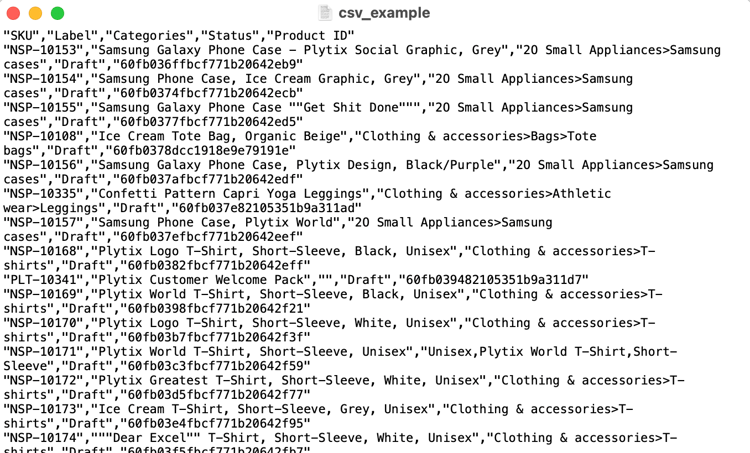 4. XML
XML stands for Extensible Markup Language, as you have probably guessed, it uses the ".xml" extension. This file type is designed using text and tags that define how the data hierarchy structure should be transferred and stored at the destination source.
Marketplaces such as eBay also accept XML files if you follow their template guideline. They do, however, recommend the CSV format because the XML can be a bit complicated for their platform. This file format is also supported by WooCommerce, PriceRunner, and Google Shopping via the Google Merchant Center, including the compressed extensions of this format.
Here's an example of an XML file.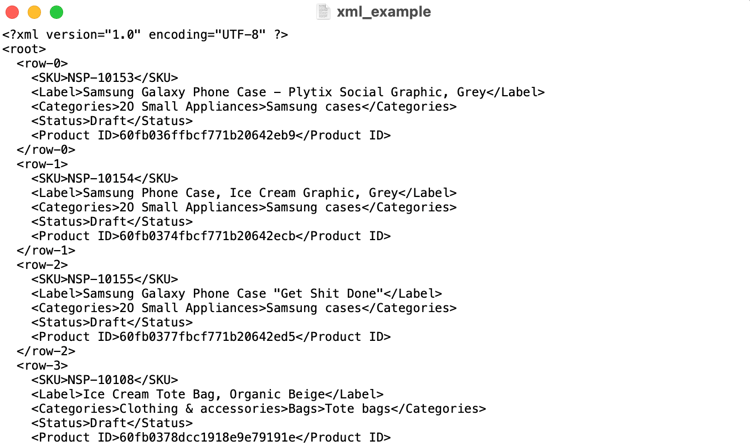 5. XLS
XLS (Microsoft Excel Spreadsheet) is designed to record a lot of complex data and more than one worksheet that's displayed in a tabular format. It's one of the most commonly used file types by merchants to manage product data as it can save text, and formatting styles, such as charts, fonts, colors, and images.
Amazon, Etsy, Walmart, Wayfair, and Leroy Merlin are examples of channels that accept XLS files.
Here's an example of an XLS file.
As you may know, social commerce is booming right now and etail businesses are trying to get a slice of this growing pie. There are various ways to submit product feeds to social media platforms like Facebook Shop and Instagram Shopping etc. If you don't use API to connect to your hosted website, you can also submit an XLSX (which is a compressed format of XLS) to these platforms.
Effectively create, manage and distribute product feeds with Plytix
Remember when we said PIM is one of the best options for creating, managing, and distributing product data feeds? Yes? So, Plytix is a next-generation product information tool that does more than store and centralize enriched product information.
With our PIM for ecommerce tool, you can submit your feeds to desired online shops via the Channels feature in two simple ways;
Product feed URLs
Product feed files
The process works like this, you:
Download the CSV template of your channel's required fields from the sales channel
Upload your sales channel's CSV template to Plytix and map or match the requirements with your product information. Plytix even identifies the template headers to make it easier for you!
Decide if you want to send the information as a feed URL or feed file in the format your sales channel requires
It's important to mention that some of the distribution platforms like WooCommerce and Magento require a third-party plugin for automatic updates of the URL feeds.
We understand that it's easy to get lost in these format terms—multichannel management is already hard enough. You don't need to cause yourself another headache trying to wrap your head around all of these terms.
When you book a demo session with us, we can go into more detail so you can fully understand how it all works. So, make your booking here! But just because you book a demo with us does not mean you're tied to our PIM, you're still able to shop to see what option best works for you.
You can also download and read our FREE Ultimate PIM Buyer's Guide to learn more.
Multichannel Commerce