Move over, Amazon, Walmart, and Etsy.
More and more brands are taking note of the fact that there's big business in online marketplaces that give even the smallest retailers easy infrastructure to sell their products on the web. And with millions of businesses already using its platform for social media, Facebook has been rolling out ecommerce features for years now.
With the social media giant's newest tool, Facebook Shops, ecommerce retailers have more features and options than ever for connecting with customers, displaying their products, and making sales on Facebook. But the tool is still new, and many businesses haven't yet set up shop on Facebook.
For any retailer with an omnichannel strategy and growth in mind, Facebook Shops is just too powerful a tool to ignore. Read on to learn why you should be taking advantage of Facebook's newest ecommerce tool, a step-by-step guide to getting started on Facebook Shops, and some best practices for getting the most out of the channel.
What Is Facebook Shops?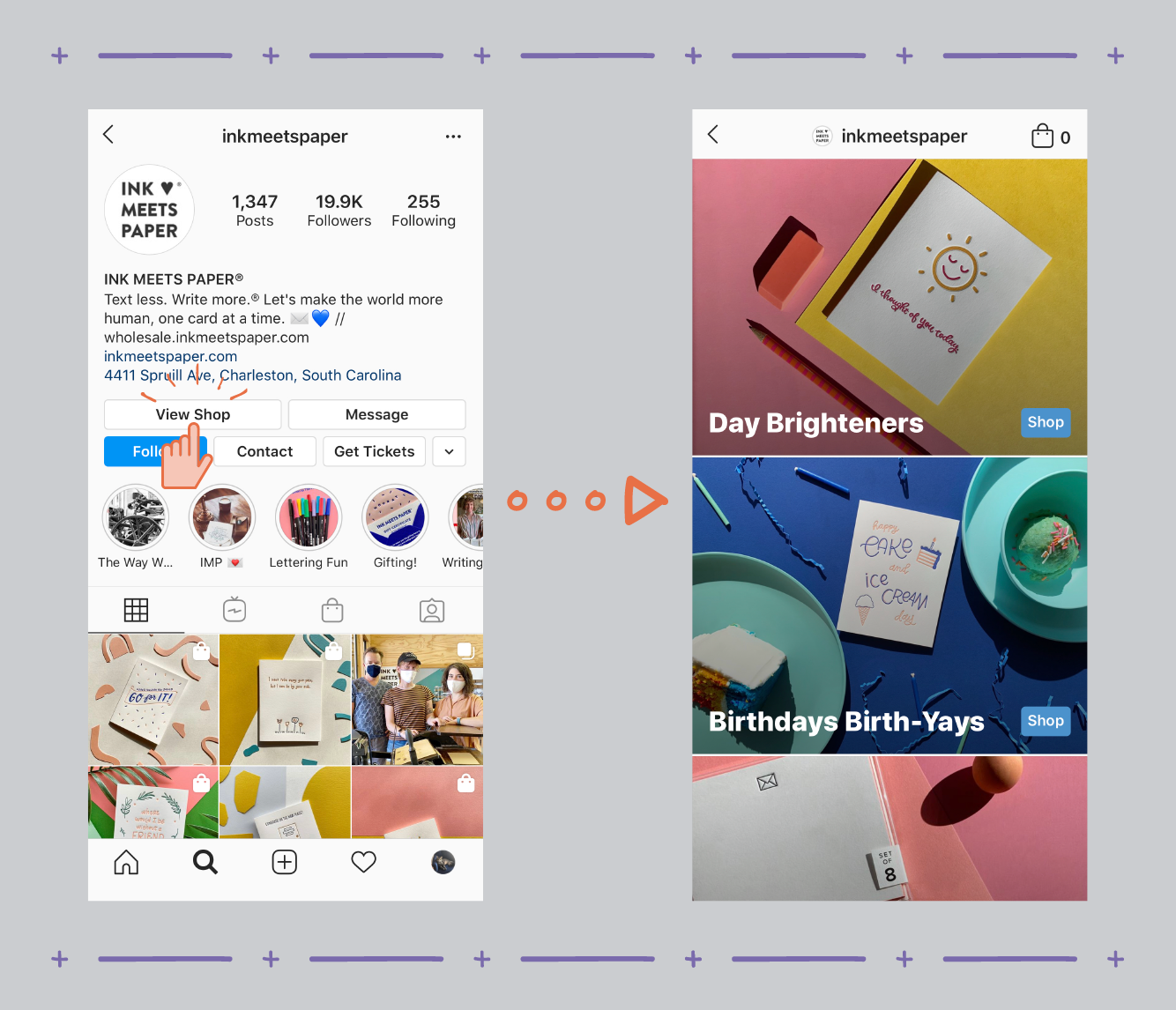 When Facebook revealed Facebook Shops in May, its announcement billed the new tool as, "a mobile-first shopping experience where businesses can easily create an online store on Facebook and Instagram for free."
"Shops let you choose which of your items you want to feature, merchandise with product collections and tell your brand story with customizable fonts and colors," the announcement continued. "In Facebook Shops, you'll be able to connect with customers through WhatsApp, Messenger or Instagram Direct to answer questions, offer support and more."
What we learned as we started working with Facebook Shops, though, is that it's really a way for Facebook to consolidate all the ecommerce features it's been slowly rolling out over the last few years. That, plus some new features that came with the rollout of Facebook Shops, means this is a tool that's powerful for ecommerce retailers of any size, but should be familiar enough to use without a huge learning curve.
"Facebook Shops" is also a little bit of a misnomer — these tools are available across all Facebook-owned platforms, which includes Instagram and WhatsApp.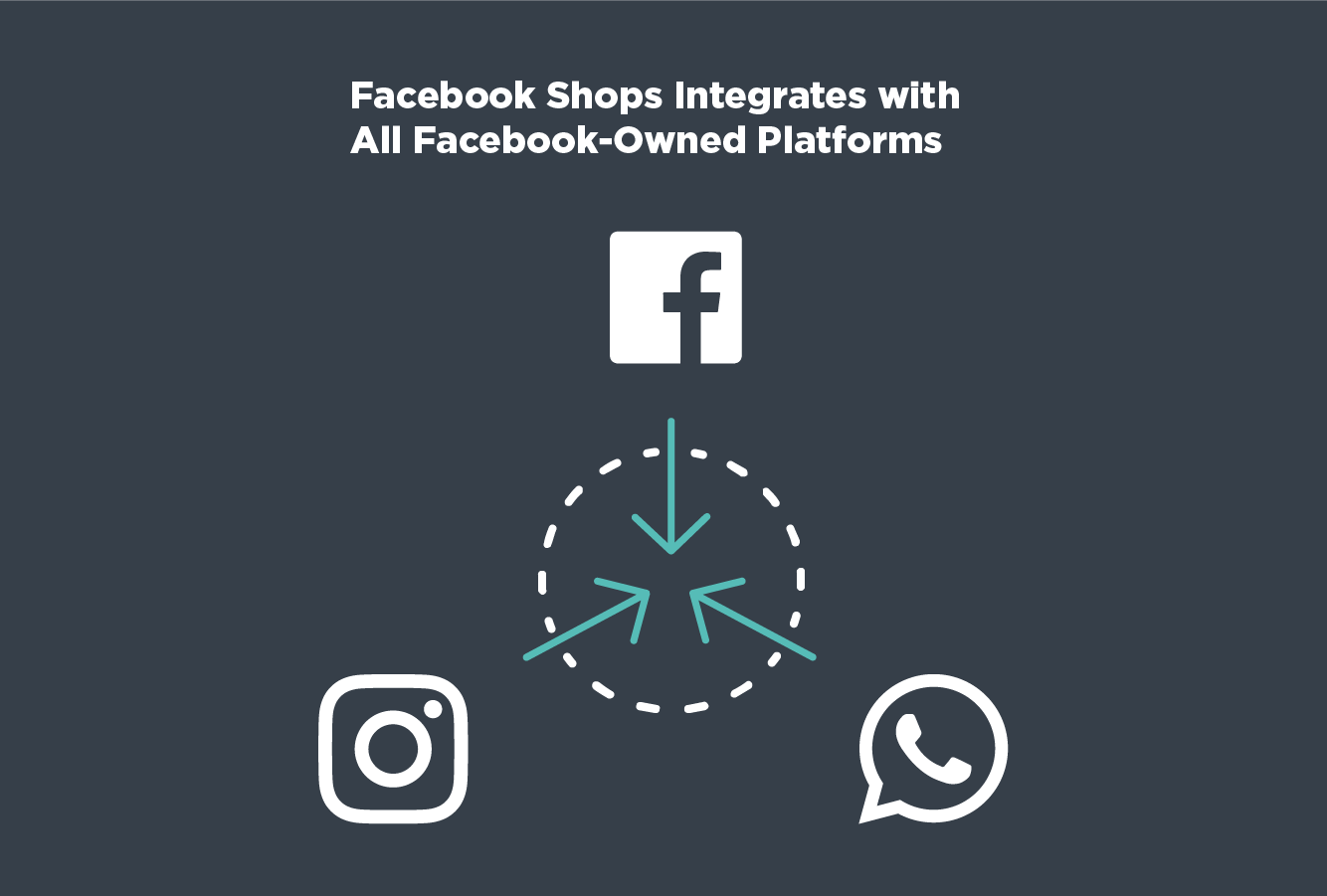 Since the launch in mid-May, Facebook has been leaning into the state of the world and the economy as a reason businesses might want to explore a new tool like Facebook Shops. In a livestream soon after the official launch, Facebook founder Mark Zuckerberg explained how, even as the coronavirus pandemic was forcing stores to close their physical doors, there was still opportunity to make online sales and ship products to customers.
"If you can't physically open your store or restaurant, you can still take orders online and ship them to people," he said. "We're seeing a lot of small businesses that never had online businesses get online for the first time."
What Do Retailers Need to Know About Facebook Shops?
Facebook Shops allows retailers to set up their own ecommerce pages directly on Facebook and Instagram. These pages are similar to an individual website, in that they can list your products, run promotions, and be customized to fit your store's branding.
But because they live within a social media platform, they have some other benefits: They exist inside the platform where many of your customers are already living online, and they integrate easily with Facebook's other tools for things like paid promotions and advertisements, and communication.

Source: https://www.facebook.com/business/shops
What might be the best feature in Facebook Shops is how it streamlines customer support — it integrates your store with Facebook's existing communication features like Facebook chat, Instagram direct messages, and WhatsApp.
Will Facebook Shops Cost My Business Money?
One thing at the top of many retailers' minds is whether Facebook Shops will cost them. Setting up a Facebook Shops page is actually free for any business. The cost comes when you actually sell your products via your Shops page — then, Facebook takes a small percentage of the sale as a commission. Facebook has said that it intends to keep Shops as affordable as possible, and plans to focus on profiting from paid ads, not commissions from Shops.
Are More Features Coming to Facebook Shops?
Yes! Even though Facebook Shops was already a powerful and very useful tool at its launch, Facebook was upfront about its plans to add more features over time.
The platform has already announced its plans for deeper integrations with chat, even allowing customers to make purchases directly from chat and WhatsApp conversations with Shops. There are also plans in the works to make live Facebook videos shoppable, which would allow shop owners to show off and demonstrate their products in a live video that has shoppable tags, so viewers can make purchases without ever leaving the broadcast.
And finally, answering calls from existing business users, Facebook plans to implement loyalty programs for Facebook Shops, allowing for special promotions for return shoppers.
How to Set Up Facebook Shops
Ready to get started with your own Facebook Shop? Here's what you need to do.
Step 1: Create Your Shop
To create a Facebook Shop, you will need to:
Have a Facebook commerce account;
Be a Business Manager admin;
Own your Facebook page and product catalog;
Have Manage Page and Manage Catalog permissions in Business Manager.
In other words, you need to create a business Facebook page for your brand, and you need to have the correct permissions; if you're the one who created the page, you'll have those permissions by default.
Once all those requirements are satisfied, you just need to head to Commerce Manager, click "Get Started," and follow the prompts to set up your Facebook Shop.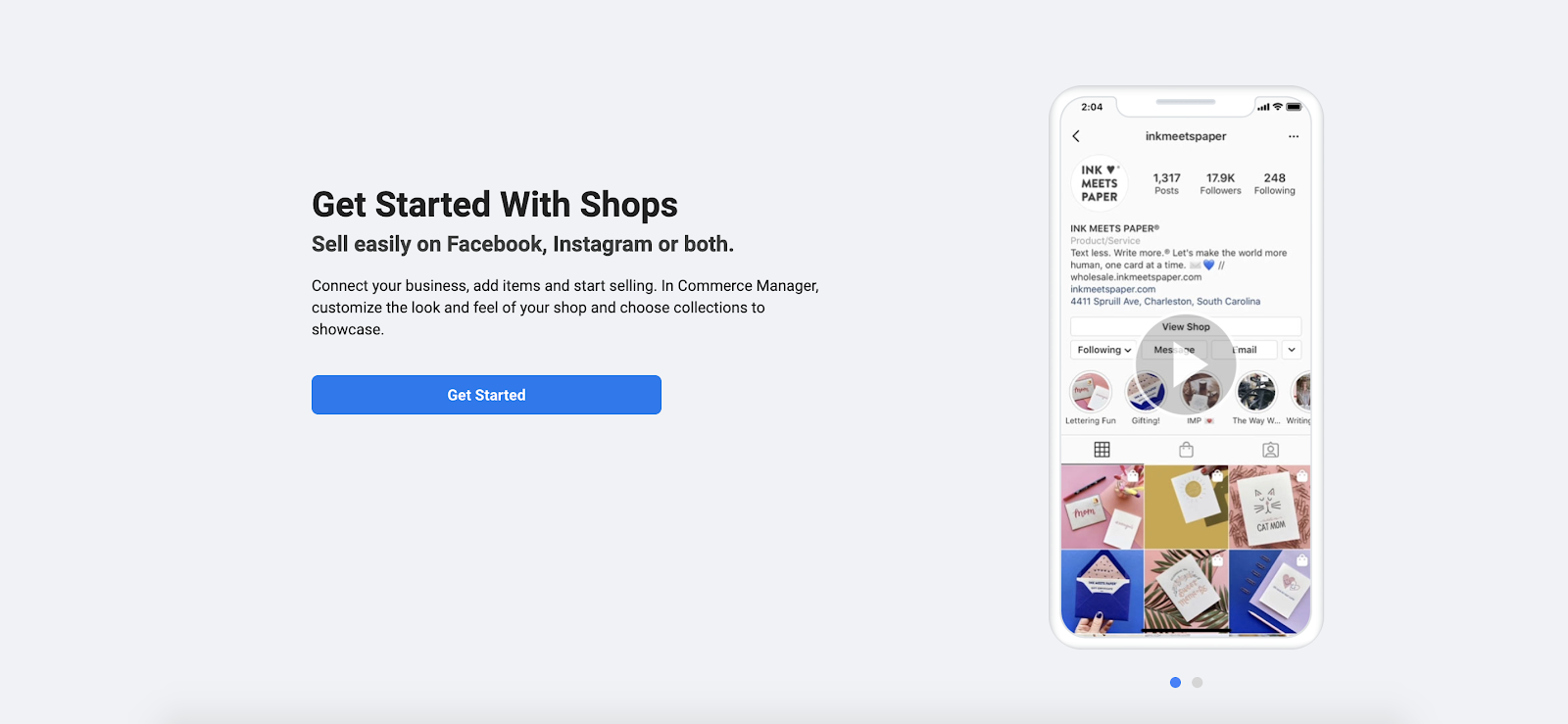 Source: https://www.facebook.com/commerce_manager
Step 2: Add Products
Once your page is set up, it's time to add the products you want to market and sell in your Facebook Shop.
Facebook makes this process simple and straightforward, too — just you need to use Commerce Manager to import the required product details.
Facebook Shops allows retailers to import their products in collections, which can contain six to 30 products each.
Step 3: Customize Your Shop
Once you have a shop and products, it's time to make Facebook Shops your own. One of the great things about Facebook Shops is that it offers a variety of colors, fonts, and other customization features that allow you to bring your brand's look to the platform. Brand consistency is an important marketing tool, so take the time to perfect the look of your new Shop.
Step 4: Take Advantage of Facebook Tools
The last step is to publish your shop so customers can find it. Facebook will review and approve it first, usually within about 24 hours.
Then it's time to build your audience, invest in sponsored posts and paid ads, and employ other strategies that take advantage of Facebook's features and tools. More on that below.
Facebook Shops Best Practices
To take full advantage of everything Facebook Shops has to offer online retailers, there's some work involved — you need to optimize your shop. These are a few tricks (using Facebook's tools as well as other ecommerce secret weapons) to ensure you get the most value possible out of your new Facebook Shop.
Optimize Your Shop with Facebook Ads
A feature we love about Facebook Shops is how easy it makes it to integrate with Facebook ads — another powerful marketing tool that many retailers have been using for years now. Facebook Shops makes it easier than ever to create, target, and optimize paid ads on Facebook, which means you can reach more potential new customers than ever before. And since Facebook Shops aren't currently set up for search engine optimization, paid ads are the best way you can drive traffic to your new Shop page, for now.
Get the Most Out of Facebook Shops with This Ecommerce Secret Weapon
The top ecommerce brands have a secret weapon: Product information management (PIM) software.
PIM is an essential tool for any online retailer who wants to expand into a new channel like Facebook Shops. That's because PIM software doesn't just keep your product information organized and centralized, so anyone across your organization can access it and always know they're getting the most accurate and up-to-date data — it also allows you to seamlessly distribute product information to new marketing and sales channels as they emerge, including Facebook Shops.
Plytix PIM is already able to seamlessly integrate with Facebook's catalog manager, making it super simple to set up your product collections before you launch your Shop. And the best part is that you know the data you're importing to Facebook is accurate and complete, meaning your customers will have all the information they need to make informed purchasing decisions. That cuts down on customer queries and returns for you, and makes the customer journey better for your shoppers.
In the digital age, new channels are emerging all the time. Online retailers need a way to easily expand into these channels as they arise. PIM is that way.
Make Facebook Shops Part of a Forward-Thinking Omnichannel Strategy
Facebook Shops is the latest and greatest channel for ecommerce retailers, but it won't be the last. New channels are constantly emerging, and you need to be ready to take advantage of them at all times.
For that, you need a strong omnichannel strategy and the right tools to support it. Ready to see how other brands are beating out their competition by going omnichannel? Download our free ebook today.