In the digital age, every retailer needs to be omnichannel.
But that need has presented a huge new challenge: Retail channel management.
In other words, as more and more new channels emerge, and retailers race to expand into them to stay ahead of (or even just keep up with) their competition, how do they manage all those different channels? How do they consistently deliver a great customer experience across all of them? How do they ensure their products are accurately represented on different devices and platforms?
If you're a retailer who has struggled with these kinds of questions, you're far from alone.
The truth is that ecommerce retailing has changed, and is continuing to change, at a seriously fast pace. It's a struggle for even the biggest, most powerhouse retailers (think Amazon and Walmart) to keep up.
If you're wondering why it's gotten so hard to keep up with retail channel management — and what secret-weapon tool you can use to boost your omnichannel success — you've come to the right place. Retail channel management is only going to get more complex as we move forward in the digital age, so read on to learn about the strategies you need to keep up with the omnichannel revolution.
How the Buyer's Journey Has Changed Retail Channel Management
A big part of what makes the retail landscape so complex is that the internet has fundamentally changed the way that people shop.
More specifically, consumers now use more retail channels than they ever have before.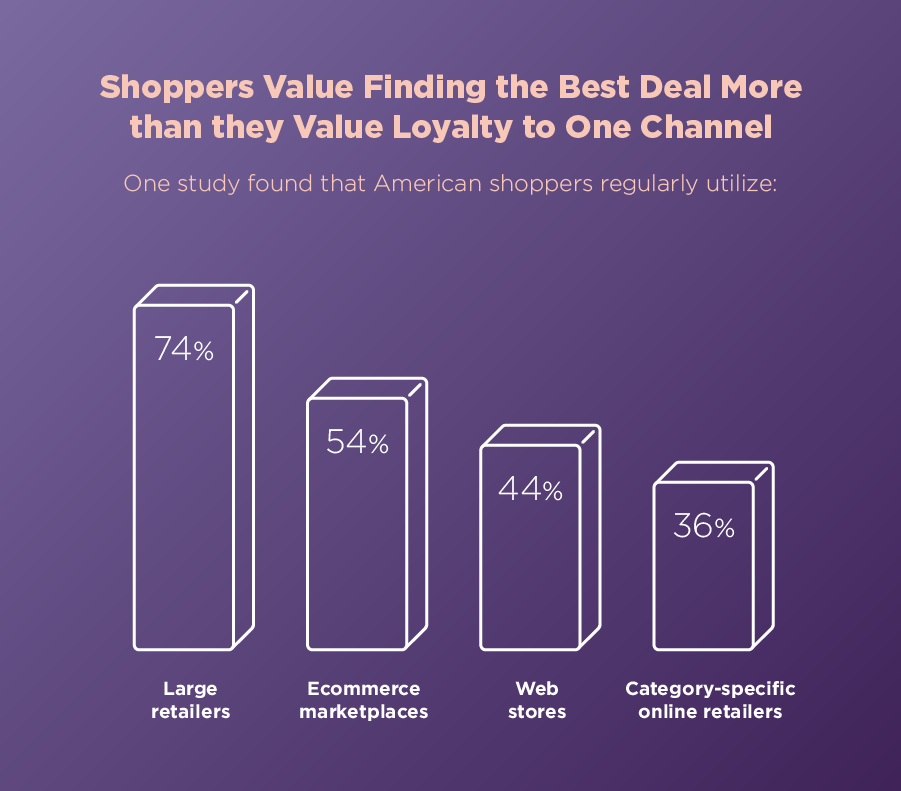 A recent report by BigCommerce found that shoppers across almost all age groups are likely to regularly shop in a number of different channels. For example, they found that:
74 percent of American shoppers visit large retailers;
54 percent use ecommerce marketplaces, like Amazon;
44 percent shop at individual web stores;
36 percent shop at online retailers that specialize in a certain category of goods or services.
What's more than that is shoppers value getting the best deal far more than they value loyalty to one channel. Take Amazon Prime Day, for example. According to a study by BazaarVoice, 76 percent of shoppers who took part in Prime Day 2017 browsed other retailers like Walmart and Target to compare prices and offerings, rather than just blindly taking advantage of Prime Day deals. BazaarVoice found that,
46 percent of Amazon shoppers also checked Walmart;
45 percent checked consumer electronic websites;
40 percent checked Target;
39 percent checked home improvement websites; and
30 percent went straight to brand websites to compare prices and deals.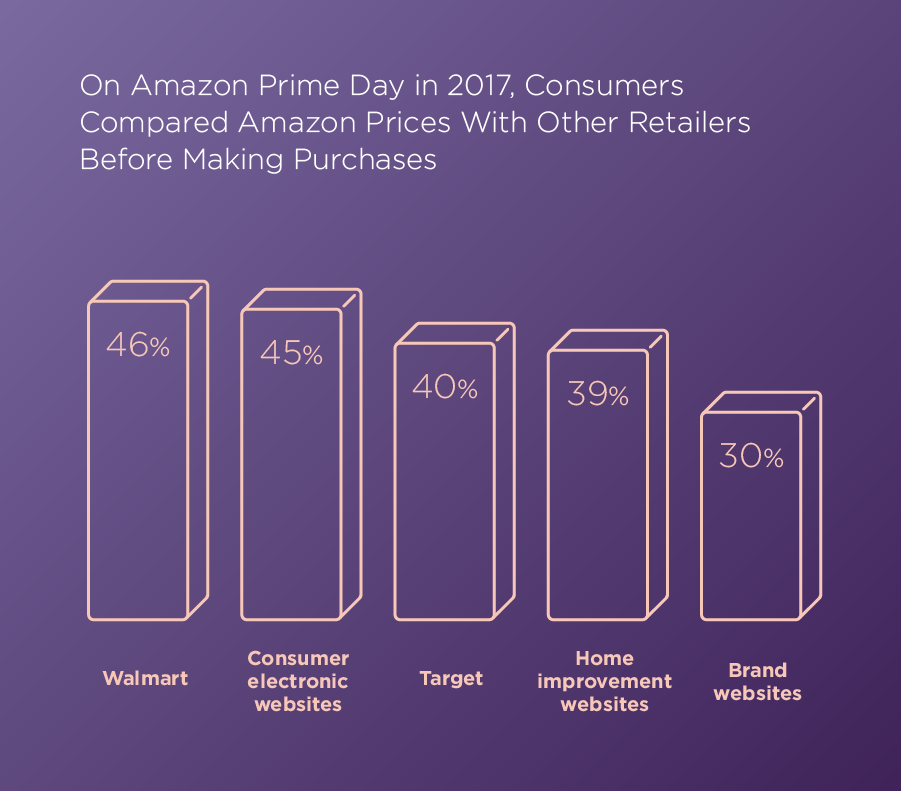 The challenge for ecommerce retailers now is that they need to adapt to this new kind of buyer journey. That means that retailers who expand into as many channels as possible — not just their own websites, but also social media, apps, marketplaces, category-specific online stores, and more — will not only get the most eyes on their products, but will be able to capture more consumers who are visiting multiple channels before making a purchase.
But as many retailers already know, that's getting more difficult to do — for a lot of different reasons.
Retail Channel Management Is Getting Harder and Harder
The main reason it's so much harder now for retailers to expand into all the channels they need to be in is simply this: There are so many channels, and new ones are emerging every day.
The digital age has given rise to countless new sales and marketing channels, and brands are constantly racing to expand into them as they arise. This includes social media, marketplaces, websites and apps, and even internet-connected devices, like wearables and IoT home goods.
In just the last few years, we've seen retail expand from traditional brick-and-mortar to all of these and more.
Brand websites and online storefronts.
Social media channels, including in-app shopping features like buyable pins on Pinterest, payment features on Facebook Messenger, and Instagram Shops.
Marketplaces. To compete with Amazon, other retailers including Walmart and Target have expanded their websites to include marketplace listings from retailers all over the world.
IoT devices, from wearables, like smartwatches, to connected home devices, like smart speakers, connected appliances, and reorder buttons.
Even the largest and most established online retailers have limited resources, and that's even more true for smaller retailers. We're at a point where there are simply so many channels available, managing them all manually is impossible. It would take too much time, too many resources, and too much money to be within the grasp of any but the biggest retailers in the game.
So for a small, independent online retailer, what's the key to retail channel management? How do you stay on top of so many channels that already exist, while staying constantly prepared to quickly expand into new ones as they arise?
The brands that are best at retail channel management have a secret weapon. And regardless of the size of your online business, you can use it too.
How to Simplify Retail Channel Management in the Digital Age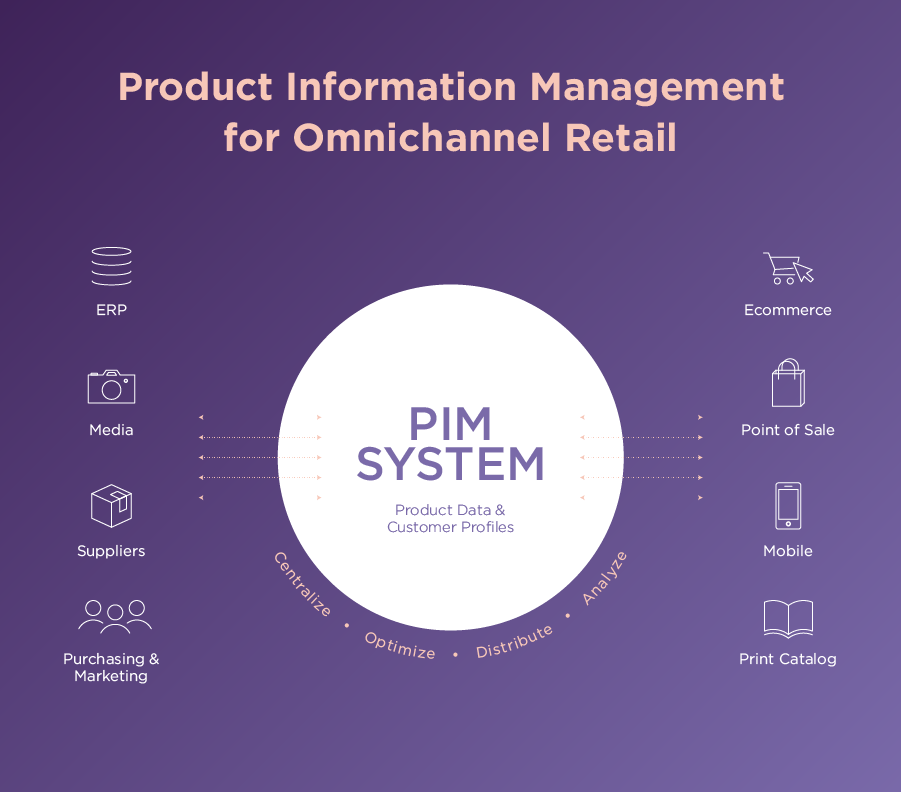 The biggest challenge about how many channels exist already is that when expanding into a new one, retailers need to alter and optimize their product information for the new channel. Doing so manually is not only extremely time-consuming, but it opens your brand up to product information errors that can have a hugely negative effect on your customer experience.
So what's the magic bullet retailers use to solve this problem? It's a product information management (PIM) platform, and if you don't already have one, it's time to get one.
Many retailers are already aware of some of the benefits a PIM system offers: A single source of truth where you can centralize your product data, keep it accurate and up-to-date, and allow it to be accessed by any member of your team, across the organization, as needed.
But where a PIM system really shines for retailers in the digital age is how it helps you distribute that product information. Rather than having to manually alter and optimize product information to push to every new channel as it arises, a good PIM can automate that process and distribute accurate, up-to-date product data via API almost as soon as a new channel arises. That means faster time to market and faster expansion into new channels. What more could a retailer want?
Ready to Learn More About PIM and Omnichannel Success?
You already know that ecommerce success means expanding far beyond just your website. But how?
Omnichannel best practices (including retail channel management) can drive increased revenue, boost your margins, and increase your sales. But even best practices can fall short without the right tools and know-how behind them.
The best way to achieve omnichannel success is to learn from the companies that have already taken that leap. Ready to see how your brand can improve its omnichannel strategy for better success in the digital age? Download our free ebook today.