Omnichannel retailers create a unified shopping experience across every single device and channel that a consumer uses to interact with their business.
A truly integrated, omnichannel approach covers all the online and offline channels a consumer may use during their research and shopping journey—including brick-and-mortar stores, mobile shopping, marketplaces, ecommerce websites, social media, advertising, and more.
Omnichannel is absolutely the future of ecommerce because it provides retailers with an opportunity to place conversion points everywhere—which is exactly where shoppers are today.
So, you've got two options as a modern brand or retailer: Be omnichannel, or be nothing.
It's Time to Go Omnichannel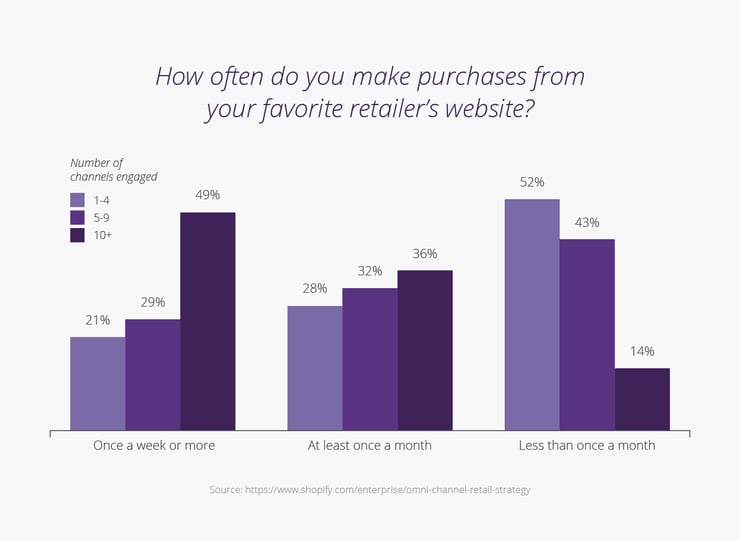 For retailers who are still wondering why it's time to grow beyond their ecommerce websites and other singular sales and marketing techniques, here's your answer: ROI.
In a year-long study of nearly 50 thousand shoppers, 20 percent reported only shopping in stores while 7 percent were online-only. But the other 73 percent? They were shopping in multiple physical and digital channels.
Over the course of the study, researchers uncovered several ways in which investing in those omnichannel customers resulted in higher ROI than their single-channel counterparts.
Omnichannel shoppers spent an average of 4 percent more on every in-store shopping trip and 10 percent more online. With every additional channel they used, shoppers spent more money in the store.
Contrary to the popular belief that omnichannel retail promotes "showrooming" (which is the practice of visiting a store to try a product just to end up purchasing it online), consumers who researched online first actually ended up spending 13 percent more in store! This practice of conducting research online before going into the store for a final evaluation and purchase is called "webrooming."
On top of spending more up front, omnichannel shoppers were also more loyal than single-channel ones. Within six months of an omnichannel shopping experience, these consumers visited the retailer's stores 23 percent more times and were more likely to recommend the brand to others.
Benefits of Omnichannel Retail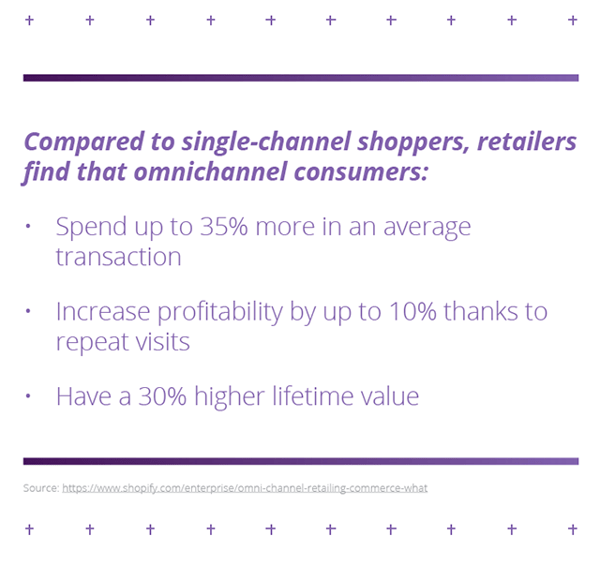 Going omnichannel has some major benefits (aside from ROI, of course) for retailers and consumers alike. Not only does it provide personalization to make the consumer experience more delightful, omnichannel ecommerce also allows retailers to build customer loyalty and market more effectively.
Providing a Personalized Shopping Experience
In a 2018 study of trends in personalization, Evergage and Researchscape International found that 87 percent of the marketers who responded reported a measurable lift thanks to personalization in the marketing process.
Half of the respondents enjoyed a lift of more than 10 percent while 13 percent enjoyed a more than 30 percent lift. Because of this success, nearly every organization surveyed confirmed that they would be maintaining or increasing their personalization efforts in the coming year.
Consumers reward personalization. By using an omnichannel strategy to personalize the customer journey, shoppers get a positive impression of your brand and you get more opportunities to put related products, upsells, and other valuable conversion points in front of them.
Gathering Powerful Customer Behavior Data
Consumers can take a whole host of avenues to research, purchase from, and otherwise interact with your brand. That's why it's getting more and more important to understand their behavior so you can adjust your strategy to meet them where they are.
How does a shopper first make contact with your brand? When do they finally convert? By collecting data on all these pathways, you can provide a seamless experience all the way to the checkout counter as well as use your marketing dollars more wisely.
In an omnichannel world, understanding and optimizing the point at which consumers convert will save you tons of time, effort, and, of course, cash.
Driving Profit with Customer Loyalty
Whether they're clicking on your website or walking into your brick-and-mortar location, your brand needs to provide a consistent experience during each and every visit. Why? Because it inspires loyalty. And loyalty pays.
Market intelligence firm Aberdeen found that top omnichannel performers retain an average of 89 percent of their customers while those with a weak omnichannel strategy only retain 33 percent. In addition, retailers with a strong omnichannel presence average a 9.5 percent YOY increase in annual revenue (compared to 3.4) and a 7.5 percent YOY decrease in cost per customer (versus .2 percent).

If your customer experience is effective and easy every single time, you're instilling buy-in that leads to repeat business and recommendations.
Case Study: Disney Curates the Happiest Omnichannel Experience on Earth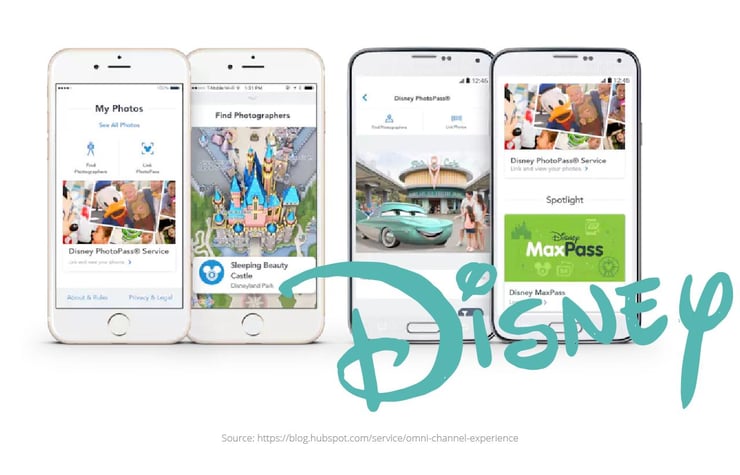 Whether you're on a desktop computer or a mobile device, the moment you land on Disney's responsive website you'll have access to everything you need to plan your trip to one of their parks. After creating a personalized profile, you'll be able to start linking your travel plans, setting up daily itineraries, and inviting travel companions to view and collaborate on your trip.
Once your Disney profile is created, you'll be prompted to download their mobile app where you can view and update all the plans you already made as well as access searchable maps, real-time wait estimates, and other useful content based on your specific itinerary.
Disney even takes things offline to truly immerse you in their omnichannel universe with the MagicBand. The smart bracelet, which resembles a wearable fitness tracker, makes your trip (and separating you from your money) much more convenient by acting as a room key, admission ticket, FastPass, and—of course—a way to charge food and merchandise purchases directly to your room.
Disney's personalized touchpoints are so comprehensive that the customer experience doesn't end until the trip is over. And neither do the sales. They've built a brand experience that gets to the root of what omnichannel is and why it works: A customized journey that allows customers to interact with multiple conversion points across various devices and platforms in a way that's so delightful they'd literally pay to do it again.
Need Some Help Keeping Up with Omnichannel?
An omnichannel strategy takes a ton of creativity, nurturing, and time to grow. As the marketing, content, or product person in your organization—when was the last time you had more than a consecutive hour or two to create or nurture anything?
Chances are, you're spending most of your time just keeping up with manually creating, updating, distributing, and optimizing product content.
But you shouldn't be. Because you're capable of so much more.
That's why we built Plytix, the only smart product information management (PIM) software that's created by content people for content people.
Our entire methodology is designed to make the centralization, optimization, distribution, and analysis of product content streamlined and effective—without costing you your sanity, the majority of your workday, or the tens of thousands of dollars that most PIM tools cost.
With multichannel syndication, surprisingly affordable pricing, and ecommerce analytics features that hold their own against some pretty tough competition; Plytix is standing by to help you get shit done and get back to those big, creative projects you were meant to lead.
Visit Plytix.com today to chat with a PIM expert or sign up to start enjoying our smart PIM right away.
---
Free Download: Going Omnichannel [Ebook]
Learn how the top brands are transforming their shopping experience—and their business—by investing in an omnichannel strategy.