According to current estimates, there are more than 3 billion products for sale on Amazon. That's including 606 million products on offer in the U.S. marketplace alone. Unless your products are literally one-in-3-billion, you have competition.
In order to get those sweet, sweet sales, you first have to get people to skip over all those other listings and click on yours. But how? One of the best ways to drive traffic to your product pages on Amazon is to optimize them for search engines, which means using all the right keywords in all the right places to make sure your listing shows up at the top of shoppers' search results. But to an ecommerce seller who isn't super savvy when it comes to digital marketing, terms like "SEO" and "keyword research" might be a little intimidating. That's where we come in.
Welcome to the ultimate guide to Amazon keyword research, where we'll teach you everything from the basics — what keyword research is and why you should be doing it — to the advanced — how to use keywords properly to drive traffic to your listings and get conversions. We'll break it all down into simple steps and layman's terms, making Amazon keyword research accessible for all brands, no matter how familiar you might be with digital marketing best practices.
Amazon Keyword Research: What Is It and Why Is It Important?
First things first: what is Amazon keyword research, and why is it something you need to know about? Amazon is, first and foremost, a place where people buy things, it's also something else: a search engine. And since Amazon makes money when people find products they like and buy them, Amazon wants people to buy things. That means that its search engine's first and foremost goal is this: Return search results full of products that are relevant and high-converting.
Amazon keyword research is finding the right keywords to use in your product pages that are relevant to your products and what shoppers search for when they're looking for products like yours. Once you do the research and have the right keywords, you can add them to your listings so their SEO ranks higher.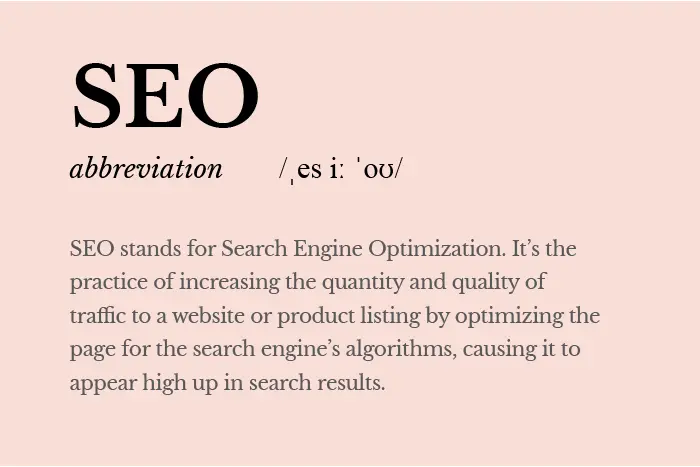 And that's why keyword research is so important: Because with good Amazon SEO, your products will be high up in search results, which makes them the first products shoppers see after submitting a search query. Instead of having to dig through pages of competing products before reaching yours, shoppers will be able to find your products almost instantly, which should result in more conversions.
How to Research Keywords for Amazon: A Step-By-Step Guide
There's no better way to learn Amazon keyword research than to just dive in, so here's a step-by-step guide to get you started.
Step 1: Find Your Seed Keywords
The first step is pretty simple: Generate 4-5 seed keywords, which are keywords that just describe exactly what your product is. For example, if you're selling a laptop sleeve, you first keyword would be "laptop sleeve".
For the others, think of synonymous search terms that people might use to describe your item. A good trick is to think about how you would describe your product if you only had a few words to do so. In this case, keywords like "computer sleeve," "laptop case," "laptop protector," and "laptop bag" would work.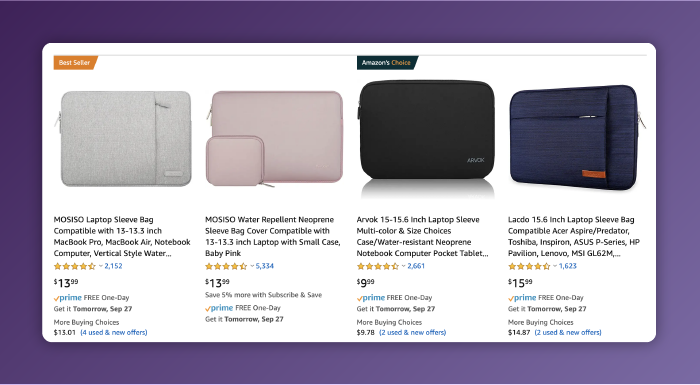 Source: www.amazon.com
Another good way to put together seed keywords is to look at the top five or so highest-ranking products that come up when you search for your first seed keyword. You can do a reverse ASIN search on those products to see what keywords they're ranking for, which will give you an idea of the most relevant and high-traffic keywords you might want to use for your own product. There are tons of online tools, many of them free, that allow you to do reverse ASIN searches.
Step 2: Expand Your Keyword Reach
Once you've decided on your seed keywords, you can use them to build out a longer list of potential keywords you might want to use in your listings. There are a few different ways you can do this.
Use Amazon's Search Suggestions
Start with Amazon's own search bar, which is an excellent free keyword research tool. If you type in your seed keyword, Amazon will provide you with a list of related keywords. Do this for all your seed keywords, and take note of all the suggested searches Amazon provides as potential keywords.
Look At Your Google Rankings
Another good place to look is your website's Google rankings. While more online shoppers start their search on Amazon than on Google, 35 percent still Google a product first, before they search Amazon. That's a huge number of shoppers — millions. If your website is ranking page one on Google for any specific keywords, you should be incorporating those keywords into other selling channels as well, including Amazon. That's just good omnichannel strategy.
Use Complementary Products
Every Amazon listing has that section toward the bottom where it shows what other products shoppers often purchase along with the one the listing is for.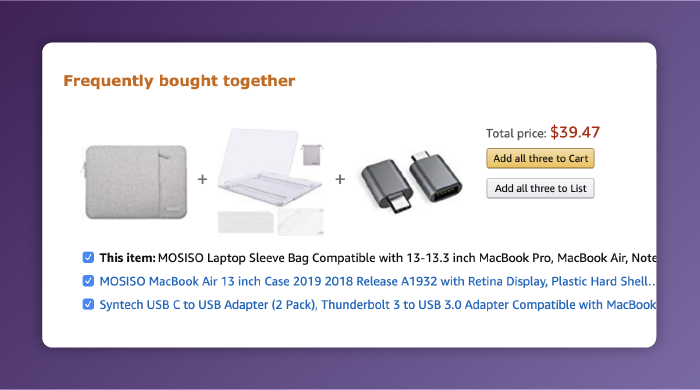 Source: www.amazon.com
Use keywords related to complementary products in your bullet points, product description, or hidden keywords. That will bring customers to you who may not be directly looking for your product, but whose searches show they might be interested in it.
Use a Keyword Tool
While all this manual research can get you started, you really should be using a good keyword research tool. The benefit of a tool is that it not only generates a long list of related keywords you might want to use, but also a lot of useful data on all those keywords. For example, a keyword research tool will tell you how many people are searching for each keyword, and how difficult it's going to be for you to rank for it. When using your search tool, try and note keywords that have:
High traffic and high competition
High traffic and moderate or low competition
Medium traffic and low competition
Those are the keywords you'll want to focus your efforts on because they'll give you the best return on traffic to your listing. There are tons of keyword research tools, both free and paid, that you can choose from. Some to check out include:
AMZDataStudio
MerchantWords
Google Keyword Planner
Sonar
Scientific Seller
Keywordtool.io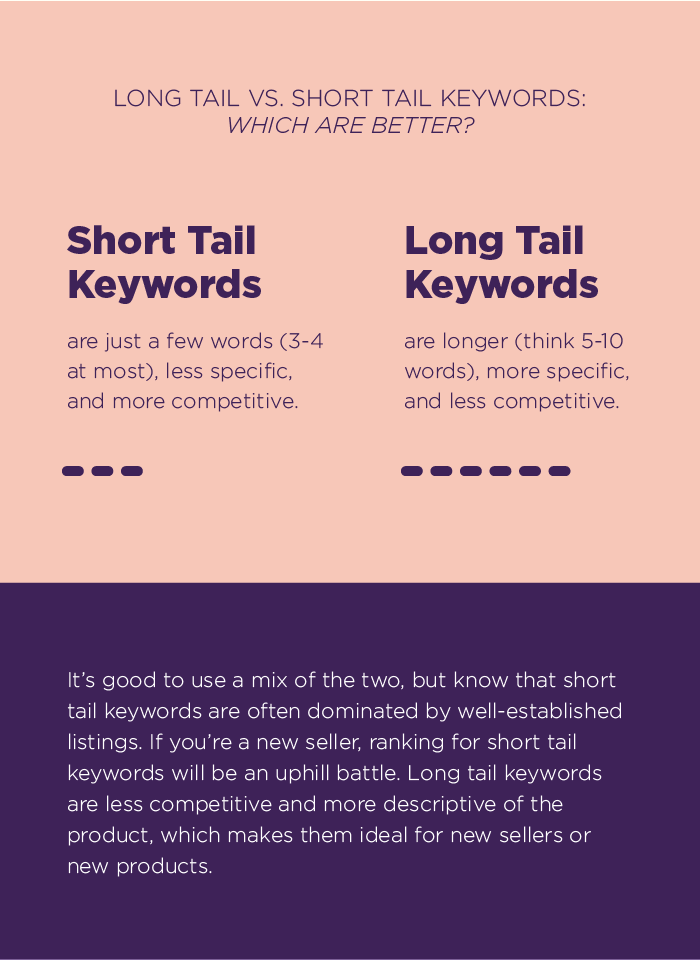 Step 3: Insert Keywords Into Your Product Listings
When you start to include keywords you want to rank for in your product listings, you have to be mindful of where you put them. There are a number of high-impact places that will help you rank higher.
Using Keywords In Your Product Title
The first place you'll want keywords to go is the product title, but keep in mind that on Amazon, titles have to stay under 200 characters. That means you can only include the most relevant keywords.
Amazon recommends including the brand name, size, color, material, and key feature in the title. It's not a bad idea to stick to that formula, because any keywords you can't fit in the title can be used elsewhere.
Using Keywords In Your Product Description and Bullet Points
Incorporating keywords into your product description and bullet points is a little bit of an art. You want to use as many keywords as possible, but don't stuff the descriptions with so many keywords they don't make sense or confuse readers.
There's a balance here — getting lots of keywords into your bullet points and descriptions will help your listing rank, but it will need to sound like it was written by a human (and not a keyword stuffing robot) to convert.
Using Keywords In Amazon's Backend Field
Another important place to use keywords is Amazon's backend keywords field. This is where you put keywords that won't be seen by customers, but that Amazon will still index, so they'll still impact your search rankings.
This is a good place to put keyword variations (including misspellings) so your product copy isn't too repetitive, but people searching for synonyms to your keywords (or spelling your product name wrong) can still find your listing.
Step 4: Keep Updating, Analyzing, and Improving Your Keywords
Keyword research isn't a one-and-done project. You should do new keyword research periodically to see if there are new keywords getting traffic for items similar to yours. You should also test different keywords and placements to see what gets you more traffic and conversions.
Having a tool in place that lets you collect multi-channel data will help you see how your traffic is changing over time, where traffic is coming from, and whether changes to your keywords or SEO strategy are bringing in more traffic. In other words, you can see if your keyword research strategy is working, and tweak it if it's not.
Key Considerations For Doing the Best Possible Keyword Research
You can follow all these steps and still not see great results, because keyword research and Amazon SEO is a complex, nuanced subject. If you're still struggling, these considerations might help you up your keyword research game.
Are You Getting Quality Keyword Data?
There are a lot of tools that can help you, but they're not all equal.
Think of online shopping like walking down the street of a busy shopping district. When someone searches for something on Google, it's like they're window shopping. They're just browsing for interest. But when someone searches for something on Amazon, it's like they're inside the store. They're specifically looking for products they can purchase, which makes them much more likely to buy something. Those are the customers you want to attract to your listing.
That's why the keyword data you use should be specific to Amazon. While there are plenty of tools out there that can analyze SEO for all search engines, Amazon-specific information will give you better results for your Amazon SEO.
What Are Your Competitors Doing That You're Not?
You don't have to reinvent the wheel here — if you need some guidance about your Amazon keyword strategy, look to the people who are doing it best: Your competitors who have the top selling products for your keywords.
This is just another reason to make sure you're using a keyword tool that's tailored to Amazon — it will allow you to run reverse ASIN searches on your competitors to get an inside look at their keyword strategy.
Are People Searching For Products Like Yours?
Even if you have the highest ranking listing for all your keywords, it won't help you much if those keywords don't get a lot of traffic. Analyzing keyword data can help you choose keywords that are relevant to your product, but also have high search volumes. It's a balancing act.
If you sell a particularly niche product, this can be tricky. Doing more research is the only way you can find the keywords that are still related to your obscure product, but that will get shoppers' eyes on your listing.
Are Your Keywords Limiting You to a Specific Marketplace?
Amazon operates with multiple global marketplaces, which opens the door for sellers to get their products to customers all over the world, not just in their own country.
But selling in a marketplace outside of your home country means you need keyword research that's specific to that country. You can't just copy and paste your keywords that work in the American marketplace into a listing for the Canadian or U.K. marketplace and expect that to work. Even though those countries are primarily English-speaking, regional differences mean the most-searched keywords there are likely different.
Amazon SEO: Coming Out On Top
More and more, ecommerce is becoming a pay-to-play industry. But SEO is the most powerful tool you have to drive organic traffic to your product pages.
Amazon SEO isn't simple to master, but improving it will attract shoppers to your product pages — and since those shoppers are coming from Amazon's own search engine, you know they're ready to buy. It's a great way to up your conversions.
Following these steps and implementing these strategies will get you on your way to rising through Amazon's rankings, so don't wait. Start your Amazon keyword research today to bring more traffic and conversions to your product pages.
Amazon