In a study of shoppers ranging from age 18 to 72, BigCommerce found that the top three buying destinations are Amazon, branded ecommerce websites, and brick-and-mortar stores. But here's the catch—the mix and the reasoning varies by generation and by channel.
74 percent of consumers shop at big-box retail locations, 54 percent on marketplaces, 44 percent from web stores, and 36 percent from category-specific online retailers. It's clear that channel loyalty no longer matters—what matters now is price and convenience.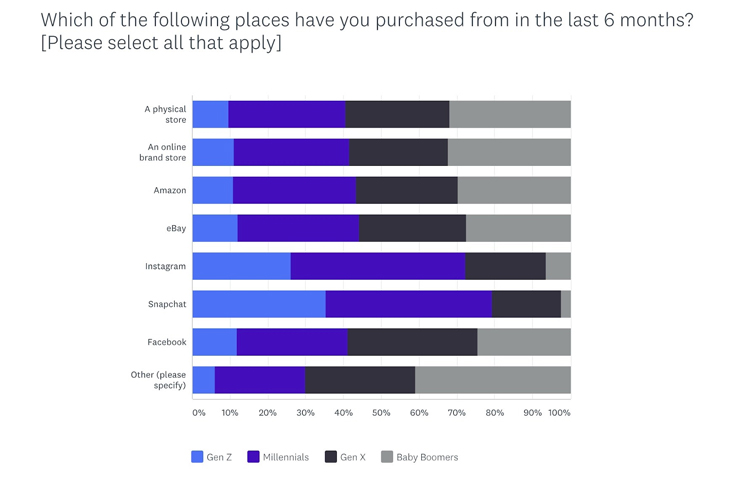 What can we take away from these findings? That the need for multi-channel management will continue to grow right along with consumer expectations and the number of shopping channels.
As a product content manager, here's everything you need to know about multi-channel management as well as a four-part toolkit that will help you keep up with the demands of modern ecommerce.
What is Multi-Channel Management and Why Should I Care?
Multi-channel retailing, also called "omnichannel" retailing, is the practice of moving beyond your webstore to sell products via multiple sales channels like marketplaces (Amazon), social media (Instagram), and comparison shopping engines (Google Shopping).
You know what that kind of strategy requires? A whole lotta management.
Multi-channel management is a multi-faceted discipline in which product content managers analyze the who, what, where, when, and why of your sales so they can optimize each individual selling channel to improve the customer experience and maximize marketing bucks.
Advantages of Multi-Channel Management
Multi-channel management gives you an opportunity to reach your audience on their preferred channels and at various points throughout the buyer journey.
Reaching Consumers Throughout Their Buying Journey
Today, consumers hold the power in transactions. There are a plethora of competing products across a variety of channels where they can take their time shopping around, asking questions, and checking out reviews.
They can afford to wait. Can you?
Multi-channel management gives you the tools to understand and manage all the touchpoints where a shopper interacts with your brand so you can meet them where they are with exactly the product they're looking for.
Taking Advantage of Powerful Search Engines
Over half of consumers start their shopping journey on Amazon. And according to Statista, in 2016 Amazon was the most popular online store with net sales reaching 136 billion dollars.
According to these stats, it's really likely your shoppers are using a marketplace. And the top marketplaces (Etsy, eBay, Amazon, Jet, Alibaba, etc.) are pouring millions of dollars into creating personalized shopping experiences. If you want your products to be part of this delightful experience, you have to take advantage of multi-channel retail management to develop a presence on all the right marketplaces.
Disadvantages of Multi-Channel Management
If you aren't careful, it's easy to spread yourself too thin and lose the positive impact multi-channel management could be making.
The Temptation to Pursue Irrelevant Channels
"Spray and pray" has never been more detrimental to brands and retailers than it is today.
If a product content manager isn't careful to conduct a cost-benefit analysis and do the other research required to prove that a certain channel is worthwhile, they could end up launching campaigns that cost a lot but return little.
While it's tempting to diversify into every available channel, it's important to exercise some educated restraint. Research your audience and ecommerce channels to optimize your time and resource spending on things that actually convert.
There's a Lot of Infrastructure Required
One of the biggest roadblocks to multi-channel management is the infrastructure that's required to make it effective.
Creating and managing listings, maintaining inventory, processing orders, and providing great customer service only gets harder the more channels and SKUs a business takes on. And if you can't keep up; backlogs of complaints, return requests, and late orders will only hurt your reputation for customers, marketplaces, and redistributors.
If you want to have the time to do the creative and thoughtful work that comes with being a product content manager, you have to devise the right processes and infrastructure to keep everything else running smoothly.
Interested? keep reading to learn how to build the perfect multi-channel management toolkit.
4 Tools Every Online Retailer Needs in Their Multi-Channel Management Toolkit
Customers don't care about your struggles with order fulfillment, branding assets, product information, shipping logistics, and inventory management. All they care about is that they have a consistent, pleasant experience every time they interact with your brand.
But you, you know how hard it can be to keep that up. These four tools with help ecommerce brands and retailers stay on top of multi-channel management.
Product Information Management Software
Product information management (PIM) is the practice of collecting, centralizing, refining, maintaining, and distributing all the consumer-facing information and data needed to successfully market and sell products.
It's not just a mouthful—it's also a handful.
In fact, for many product content managers, just creating, entering, and maintaining product content can become a full-time job. As you expand into multiple channels, the lift only gets heavier as you need to make endless tweaks to get the formatting and messaging just right.
And here's the thing—a lot of companies are trying to manage all of this from spreadsheet programs like Excel. But Excel is not a product info management database. Not only do spreadsheets lead to tons of information being lost or overwritten with the wrong data; they simply can't manage important product assets like visual content, they have weak search capabilities, and we don't even want to know what you're hacking together for version control.
Which is exactly why specific PIM software exists. It serves as a single source of truth to keep your variations of product content organized across channels. In addition to centralizing your product data, many PIM platforms are also helpful in connecting to your channels to help automate distribution. However, it's in the ongoing analysis and optimization where the PIM from Plytix really shines.
Instead of just dumping the same product content into every webshop, catalog, and marketplace; Plytix incorporates tools that help you make fast work of optimizing your products by customizing data, descriptions, and pricing for each individual product on every individual channel.
Plytix is also one of the few PIM tools with an easy-to-use dashboard that feeds you the exact data you need to know how your products are performing. No more logging in and out of 10 different confusing analysis tools every day.
Inventory Management Software
Thanks to more and more orders coming in from more and more channels, multi-channel inventory tracking, forecasting, and management can get overwhelming fast. The time to get that in tip-top shape is now.
Your real-time inventory synching needs to be on point because strong fulfillment rates mean loyal customers and a great reputation among resellers and marketplaces. And all of those things mean—better sales!
Just like with PIM, putting the success and reputation of your business in the hands of messy spreadsheets and other outdated, manual "systems" leads to tons of issues. Overselling, understocking, piles of backorders, and angry customer reviews lead to an overall negative customer experience.
You've got a few options here: Stop making as many sales, reinvest all your earnings right back into hiring more staff, or add multi-channel inventory management software to your toolkit and actually keep some of that revenue you're generating.

Be sure to choose an inventory management software that connects with your channels and partners using an API or EDI so your stock levels stay updated in real time for every channel, warehouse, and fulfillment provider.
Comparison Shopping Engine Feeds
As we mentioned early, today's multi-channel shoppers are motivated by how affordably and easily they can get a product.
Comparison shopping engines (CSEs) like Google Shopping, Shopzilla, NexTag, PriceGrabber, and others answer this need by displaying a variety of different merchants' products side by side so shoppers can make quick, educated purchasing decisions.
CSEs usually come in two flavors: Free and pay-to-play (check out a bunch of providers here). Once you've chosen your service, to "feed the beast" all you need to do is hook them up with a product feed—which is another channel PIM software should be able to help you manage and optimize.
If you choose to use CSEs as part of your multi-channel management workflow, please be aware that they can bring in a lot of eyeballs but that the only way to compete is to be extremely affordable and/or extremely unique. However, if you know this going in, you may be able to use loss leaders and other strategies to your advantage to attract and retain great customers.
Customer Support Tools
Nothing says "we don't want your business!" like choosing not to provide customer support.
And displeased customers are happy to air your dirty laundry. While happy customers tell an average of nine people about a good experience, unhappy ones will tell sixteen others about your shoddy customer support.
Add that to the fact that the probability of selling to an existing (happy!) customer can be 14x higher than the probability of selling to a new customer and what you've got is a serious need to step your customer support game up.
But as channels outnumber your support staff, it's understandably difficult to keep up when comments, questions, and concerns seem to be bombarding you from every direction. That's why we highly recommend incorporating a powerful customer support platform into your multi-channel management workflow.
Look for one that allows you to manage as many channels as possible (think email, phone, live chat, social media integrations, and such) from one user-friendly dashboard.
Customers are people, too. They want to feel valued and heard. Include customer support tools in your multi-channel management toolkit and you'll be well on your way to that lucrative, raving fan base.
Start Building Your Multi-Channel Management Toolkit Right Now
Multi-channel retail is a rocket ship for ecommerce growth, but only if you have the tools you need to manage it effectively.
By adopting product information management software, an inventory management platform, a comparison shopping engine integration, and a customer support process; your multi-channel management strategy will help you not only grow but keep a lot of that extra revenue.
Ready to start today? Rad, us too! Get started with Plytix—an all-in-one, user-friendly product information management solution that will empower you and your team to get shit done.