Selling on various sales channels is no longer a nice-to-have business strategy but a must-have. When you take a closer look at the shopping behaviors of modern-day customers, you'll notice that they hop between different channels simultaneously. Where their shopping journey begins, may not be where it ends.
Hubspot's State of Consumer Trends Survey found that 71% of Generation Z and 51% of Millennials admit to typically discovering new products on social media, while some of the Millennials and Generation X group head on over to the store or search engines for product discovery. But what's interesting is that 55% of the Generation Z demographic agree that they prefer to actually buy the products in a physical store.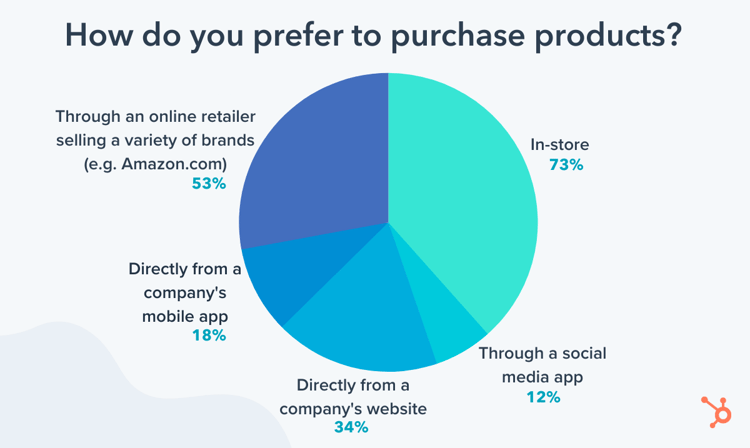 What's clear from this survey (and many other similar ones) is that customers use different channels throughout their shopping journeys. So, if your products don't show up on their chosen shopping channels, you're already losing the sales battle.
For instance, if they decide to do their product research via a comparison shopping engine, like Google Shopping, or choose to complete their shopping on a marketplace like Amazon, but you're only available on your Shopify webshop, it's game over for you.
And, this is why you're here, right? You're looking for a guide on how to get started with multichannel selling. But first, let's define what it is.
What is multichannel selling?
Multichannel selling refers to listing products available for sale on more than one sales channel. This means that your products could be available to buy on your ecommerce platform, Facebook Shops, eBay, and a mobile app. It's a selling method that ensures you're not leaving money on the table. Most importantly, it helps you meet one of the most basic customer expectations—being wherever they are.
But don't go into panic mode, "being wherever they are" doesn't necessarily mean that you have to be on all of the different types of sales channels. That would be a chaotic endeavor. Channel expansion is not an overnight process. It takes time and a well-planned multichannel strategy.
With all of this in mind, you're probably thinking, "Is it really worth the effort?" That's up to you to decide. But let us tell you a bit about the benefits before we head on to how you can get started.
What does selling from various channels do for your business?
When you understand what benefits there are from selling on various channels, you're likely to get through the tough times during your journey. It's not an easy one but, you're looking at:
Meeting customer expectations
As we've mentioned before, customers have a long list of expectations for retailers. One of them is having a presence everywhere they shop. That gives customers the control and convenience they crave for when shopping. Reaching them on the platforms they prefer to shop from can lead to customer satisfaction, which leads to sales, customer retention, and loyalty. These are the essential elements you need to keep your business running.
Maximizing marketing effectiveness
Your marketing for your current sales channels may be really good and working the way that it should. However, expanding to other channels gives you the opportunity to maximize your marketing strategy by using new marketing resources and techniques that come with the new channels.
Boosting sales
Going multichannel opens you up to new audiences. These are potential new customers that you can successfully woo over to your side.
For example, if you list your products on the eBay marketplace, you're going to reach customers who have never heard about your brand before. When they see your products, they are most likely to be interested. And, if you've done the work to create quality products and quality product information that engages and educates customers about the product, you're almost guaranteed to make sales. So, between your current and the new prospects, your sales efforts have a higher chance of increasing.
Now that you're all set on what your future might look like, let's get into where to start.
Where do you start with your multiple channels selling strategy?
Creating a winning strategy that will reach and resonate with your exact target audience starts with research, followed by planning, and then careful execution.
1. Understand your target customers
The first place to start is understanding your target customers. If you already have a buyer's persona, that's a good resource to start your research. From there, you can start combing through any data you have on your existing customers. For instance, your webshop analytics, previous surveys, email communication, and product reviews. You should identify:
Who are you targeting
What demographics do they fall under
Where are they located
How did they find your brand
What are their pain points
How do they shop
What products do they buy, add to their wishlist, and abandon
Take it a step further by doing more customer interviews to find out which sales channels they use to research and purchase products. Don't be afraid to be direct and ask your existing customers which channels they'd be happy to see your products listed on. You can use surveys and social media to do this research.
2. Identify the sales channels to expand to
Take a thorough look at all of the existing sales channels. Dig into what they offer, how selling from each platform works, and what features are available to help you market and promote your products via the platform.
Keep in mind that some channels have specific rules on the type of products they allow sellers to sell through them. So, be sure to look into the channels where your products can be sold on. The information you gather from the above point will be useful in helping you choose new channels to sell from.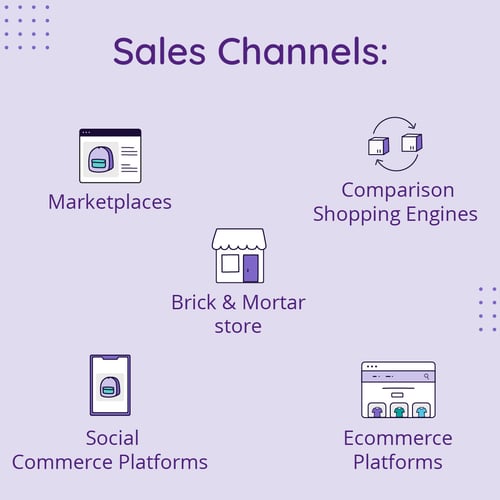 Some businesses expand to more than one channel at once, but that doesn't mean you should do the same thing. You don't want to bite more than you can chew, so maybe add one or two and gradually add more channels.
For example, if you have a physical store and you're looking to get online, you can start with an ecommerce platform (there are plenty to choose from: Shopify, Magento, BigCommerce, WooCommerce, and more) and a marketplace (Amazon, Walmart, eBay, Wish, Etsy, Alibaba, and more). Or if you have an ecommerce store already, you can then look into a marketplace and a social commerce platform like Facebook Shops, Instagram Shops, or TikTok Shop.
3. Look into the implementation requirements
This is an important step in your research as you don't want to be stuck in legal battles or fulfillment nightmares when all you wanted was to grow your business. So, look into what set of requirements are expected out of you should you sell through the channels you're interested in. Found out about: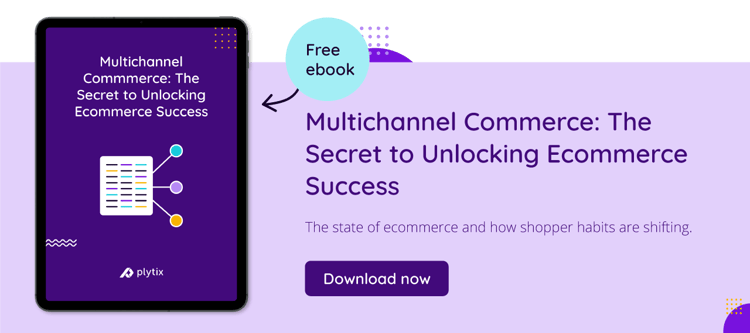 How a PIM can help you with fast track your multichannel selling
A PIM tool is designed to store and centralize all kinds of product information. We're talking SKUs to product titles, descriptions, images, videos, pdfs, and so much more. It's a tool that helps you enrich and optimize your product data for better visibility across sales channels and search engines.
What's more is this type of software can integrate well with other tools, such as Customer Relationship Management (CRM), Inventory Management Software, Enterprise Resource Planning (ERP), and other tools, so you can have everything in one place. Safe to say that it saves you a lot of time and effort that you'd typically put in for data management through manual systems. A next-generation PIM will also act as a great product content syndication tool as it lets you easily send product data to your chosen channels.
Plytix is a good example of a PIM tool for ecommerce businesses. Particularly designed for small to medium businesses so that they too can thrive in their multichannel ecommerce journeys.
To learn more about PIMs and Plytix, download this free PIM Buyer's Guide. If you have specific questions about PIM or Plytix, feel free to book a demo with us so we can provide you with the necessary information you need to make an informed decision.
Multichannel Commerce