Efficiency is pivotal in a highly competitive space like ecommerce. However, a lot of online shopping players find it difficult to achieve the level of efficiency they need to effectively manage and improve the quality of all of their data.
When dealing with complex data — that ranges from SKUs and product descriptions to inventory, supply chain, and human resources— you need to have the right combination of software in your ecommerce tech stack. It's not enough to just have an enterprise resource planning (ERP) system, while still managing product information through manual systems like Excel spreadsheets. So, this is where the need for a product information management (PIM) tool becomes clear.
Let's dive into what each system excels at and how they work together.
What is ERP software?
Of course, you have ERP software, so you already know what it is. An enterprise planning resource (ERP) system manages all data that's related to day-to-day business operations. However, the real question here is what is at the heart of any ERP system? Because understanding the core functionalities of ERP software will help you see just how similar and different it is from PIM, and why working together can improve efficiency within your business. So, yes, an ERP contains data that companies use to manage day-to-day business operations, inventory, and customer relationship activities. Here's a list of the kind of data an ERP can store:
Finance
Human resources
Manufacturing and production
Warehouse, logistics, and supply chain
Inventory and order management
Customer relationships
Sales
Analytics
As you can see and probably know from your experience using ERP, its strength lies in its ability to centralize these large sets of data. That way, the information flow is accessible and transparent across all departments of an organization. But it's not equipped to handle customer-facing data, and this is where a PIM tool comes in, but more on this later. Let's expand on the benefits of ERP.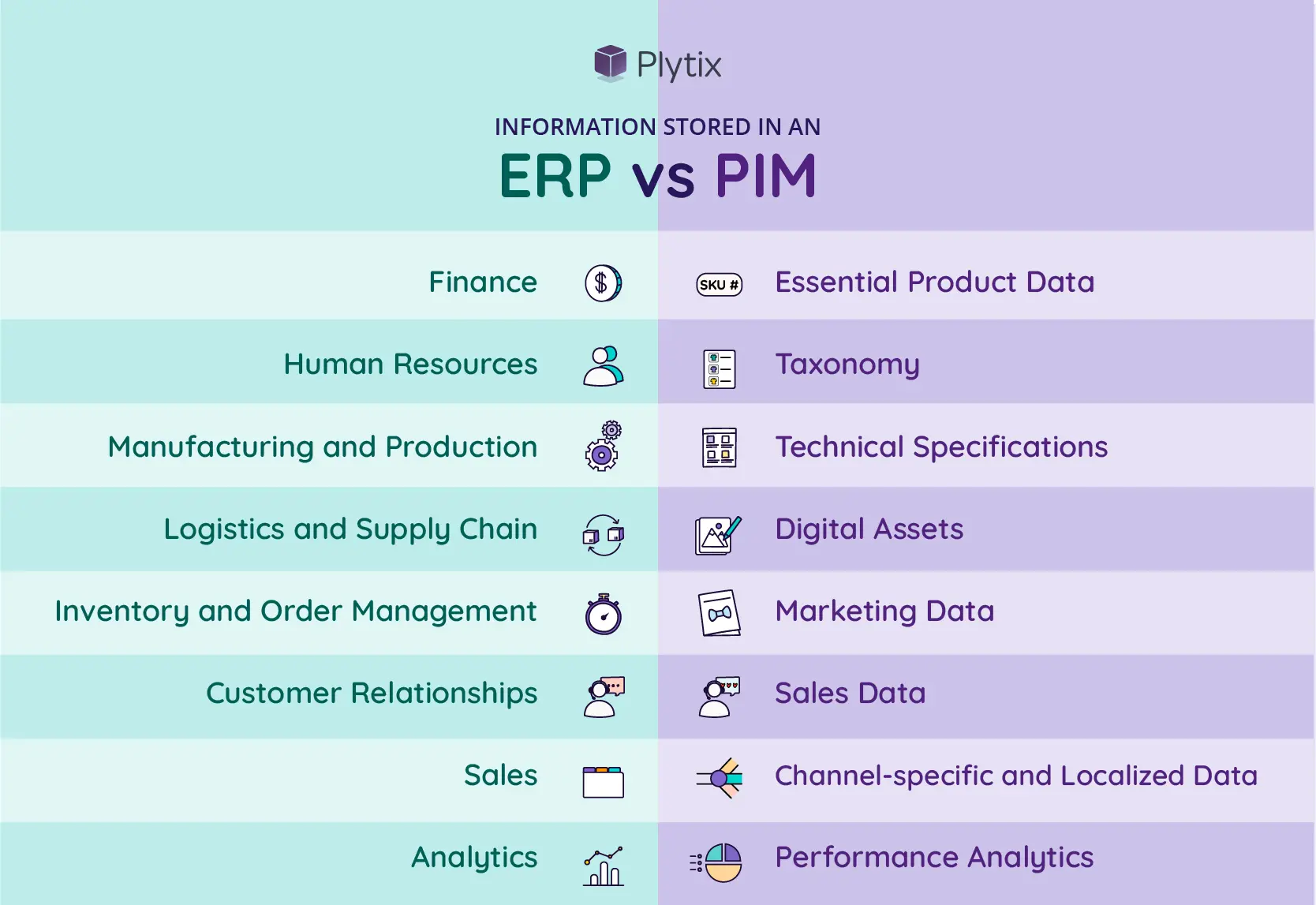 The benefits of ERP
Having an ERP is beneficial for numerous reasons, and we'll break down a few important ones.
Creates efficiency and collaboration— an ERP enables easy access and total visibility of all of the above data points. This means that all team members across departments can quickly find and share necessary information to business partners and clients.
Provides data accuracy— inaccurate data can be a costly mistake for any business. But with ERP software, organizations no longer deal with repetitive manual tasks, which is the typical cause of data inaccuracy.
Strengthens customer relationships— access to customer data gives organizations the power to respond to customer queries faster and improve order accuracy and delivery. This can lead to fewer returns and customer retention.
Enhances business reporting— a good ERP system comes with analytic functionalities that businesses can use to access real-time insights, which improves decision-making.
The challenges of ERP
As promised above, we'll now talk about how ERP doesn't have the ability to handle customer-facing data. When we're talking about customer-facing data, we're referring to multi-language data and visual assets that help influence a customer's buying decision.
While an ERP has some sales data such as order placements and invoicing, it doesn't offer sales enablement materials like product catalogs, product sheets, and more. This is a huge bottleneck to your sales potential and is the reason why a PIM integration can maximize your efforts. But before we tell you all about how PIM can do that, let's give you an understanding of PIM.
What is PIM
PIM, also known as a catalog management system, is a product database that helps offline and online retailers, manufacturers, and suppliers store all customer-facing product information in a centralized location. To get a full breakdown of what is PIM, read this article.
The list of information you can store in PIM includes:
SKUs
Product titles
Product stock availability
Product prices
Product variants (i.e. sizes, colors, and features)
Product visuals (i.e. images and videos)
Perhaps, the greatest strength of a PIM tool is how it enables you to enrich and optimize your product information. It does this through search engine optimization (SEO) and product listing optimization (PLO) for better visibility and product performance on any of your sales platforms. When you sell via marketplaces, for example, it's in your business' interest to do data optimization.
And, since we're talking about different sales channels, a good PIM for ecommerce should ensure that you can easily create, manage, and distribute data to all of your platforms. At least, ours does all of these things!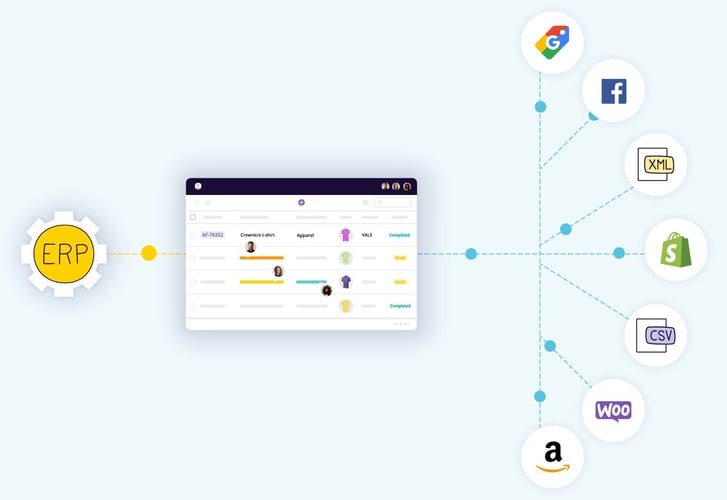 On top of that, Plytix gives you access to marketing and sales materials templates that you can customize and fill with your high quality data to send to business partners and customers. Our Brand Portals and Product Sheets features can help you close deals, even if you don't have the technical graphic designer skills.
Finally, PIM gives you access to product analytics, where you can collect product performance insights that you can study and use to improve your offering.
What you get out of a PIM and ERP integration
Integrating these two complementary systems streamlines your data management processes. With all of the above mentioned data living in a single location, you're able to:
Remove data silos
Save time on management of large sets of data
Have your teams collaborate more effectively
Instantly correct errors, duplications, and inaccuracies across systems to create consistency
Instantly tweak or update descriptions, prices, stock availability, order data, etc.
Bulk edit and optimize data to improve its quality
Easily share accurate and updated data with stakeholders and customers
Create tailored marketing and sales campaigns using customer and product performance insights
As you can see, when used together, these technologies give you a better chance at meeting the demands of effective data management.
Read our detailed eBook on PIM and ERP For Ecommerce to understand further how these systems complement each other. If you need more information on how PIM, particularly Plytix, and how it can help enhance your ERP, connect with us by booking a demo. Our experts are available to share all of the information you need to make an informed decision for the benefit of your business.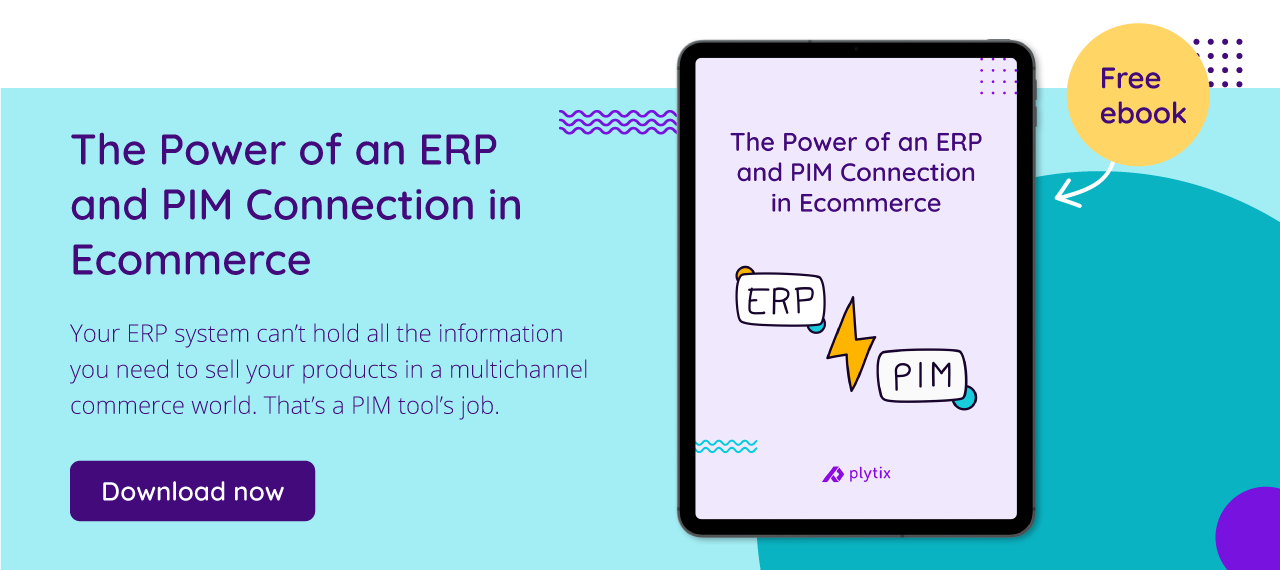 Product Information Management
,
ERP