Your alarm is blaring, but it's too early to open your eyes just yet, so you say from bed, "Hey Siri, turn off my alarm." Oh good, it's quiet now.
Good morning! It's 6:30 a.m. and time to start the day, and, since it's winter, not light out yet. So before even getting out of bed, you say, "Alexa, turn on the lights." She does.
You head to the shower, and on the way, ask Alexa for a weather report. It's cold, like always. While you're soaping up, you ask Alexa for the day's headlines. How would you ever stay informed without her?
You head to the coffee machine and get your morning brew started, and in the process, notice you're a little low on the caffeinated beverage you need to get going on these chilly winter days. So you say, "Alexa, order more coffee."
"I'm sorry," she replies. She doesn't know what kind of coffee to order for you, because your favorite brand isn't optimized for voice search. It's too early to be looking into the glaring light of a phone or computer screen, but that's what you're going to have to do if you want that coffee… or you can order a different brand that is optimized for voice search. Uh oh—your usual coffee brand just lost a customer.
Don't let this be your online store. In the age of smart devices and voice assistants like Siri and Alexa, voice is becoming more and more commonly the way consumers search for and discover products. But if your products aren't optimized for voice search, this growing group of consumers isn't finding them, and you're missing out on sales. You might even be losing loyal customers if they find that they can't search for your products by voice.
Lucky for you, voice is still a pretty new channel for marketing and sales. If you're not up to speed, there's still time. Read on to learn about the best practices you need to implement for voice search—before it's too late.
Why Should Businesses Be Worried About Voice Search Optimization Right Now?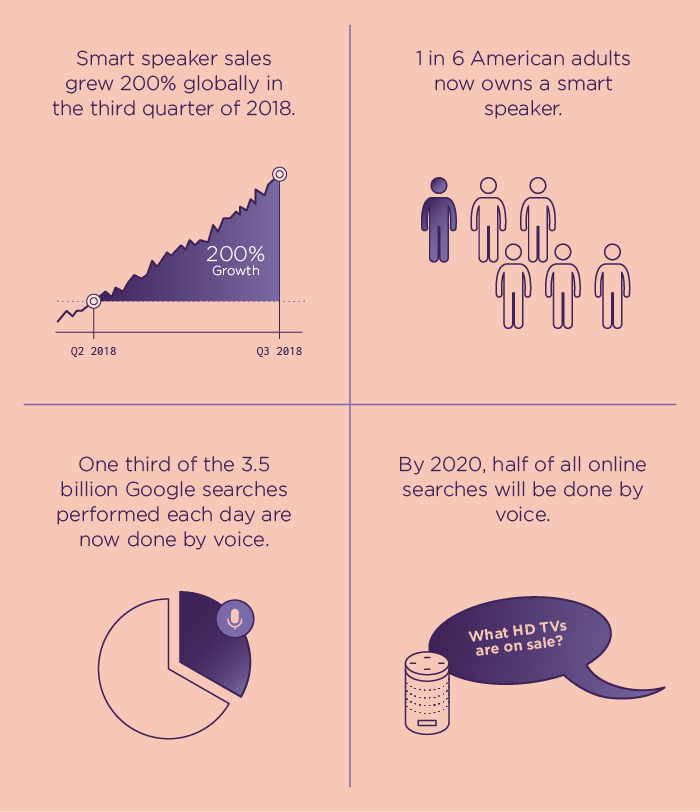 Voice search may be one of the newer considerations for ecommerce retailers, but it's growing so rapidly, you really need to be paying attention to it right now. Here's why.
Globally, sales of smart speakers grew by 200 percent in the third quarter of 2018. Throughout 2019, experts think growth has continued ever more. 1 in 6 Americans owns a smart speaker as of 2019.
Of the 3.5 billion Google searches that are performed each day, nearly a third are voice searches. That's another number that's expected to keep going up—by 2020, 50 percent of all searches are expected to be voice searches.
This doesn't only go for customers who have and use smart speakers. Voice assistants have long been available on phones (like Siri and Google Assistant) for years. They're becoming more commonly used on laptops and tablets. And people who use wearable technology like Apple Watch or Google smartwatches are able to do voice searches on-the-go no matter where they are. Considering this, you know it's only a matter of time before Amazon comes out with a product that allows you to access Alexa even outside the range of your Echo device. Voice-based technologies are believed to be the next big wave of technology that makes our lives easier.
The good news is that so far, most of the search volume we're seeing for voice search is for general queries and information, not products. But that doesn't mean you can waste any more time before considering how voice search growth will fit into your business plan.
Recent research shows that nearly 20 percent of people who make purchases of $500 or more do so by searching for products by voice. Plus, retailers who are embracing the growth of voice searches now have an advantage over their competition. Products that are optimized for voice search right now are the ones consumers are finding, which means voice search is an opportunity to influence consumers' choices and gently nudge them toward discovering (and buying) your products over your competitors'.
What Do Retailers Need to Know About Optimizing for Voice?
The sad reality is that many ecommerce retailers don't even have their products optimized for text search, let alone voice.
But as voice searches continue to grow in volume, optimizing your product pages for voice is emerging as the #1 way you can increase traffic, rank higher for your keywords, and identify new keywords you should be optimizing for to help potential customers find your products.
Because it's such a new area of interest, there's not a lot of research about what works and what doesn't when it comes to voice SEO. But with the understanding we have of text SEO, we can identify some best practices that retailers can be trying now to keep their listings on the cutting edge. This is also a great time for retailers to experiment with different voice SEO tactics to see what works. Keep in mind, though, that like any emerging marketing tactic, this is going to change as technology gets better and algorithms grow and change.
How to Optimize for Voice Search
Ready to start getting your product pages voice-search-friendly? Here are some good first steps to take.
Step 1: Understand the Questions Consumers Are Asking
Probably the biggest difference between text search and voice search is how questions are phrased for each. A consumer might make a text search like this: "used clothing stores river north Chicago." But that same consumer will approach that query differently when voice searching. For one, voice searches tend to be more conversational. And when searching with a smart device, there's no need to include location information, since the device is already set up to give answers tailored to your profile, which includes where you live. So that search is more likely to sound like this: "Alexa, where can I buy a vintage jacket?"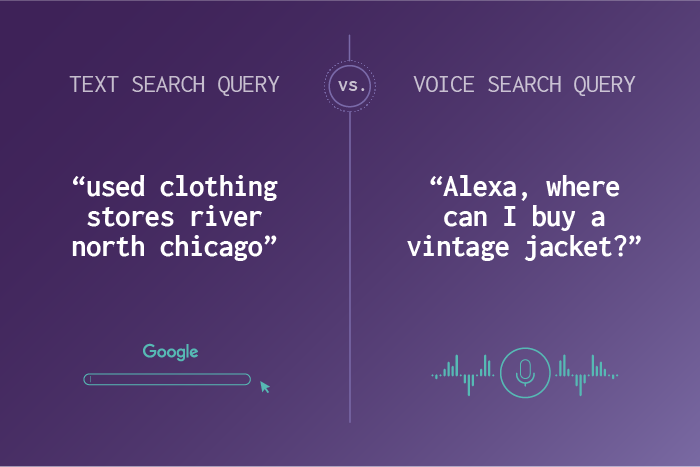 Those two searches are done by the same consumer with the same intent, but don't include a single matching keyword. And this is the most important thing for retailers to understand as they start to shift their thinking from the SEO best practices that we know work for text, to the SEO best practices we think will capture users who voice search.
So step one in optimizing for voice search is considering the kinds of questions people might be asking about your products. A great tool for getting some ideas is Answer the Public, which will create a series of questions searchers are asking based on a keyword, which can be one of the primary keywords you use for your product.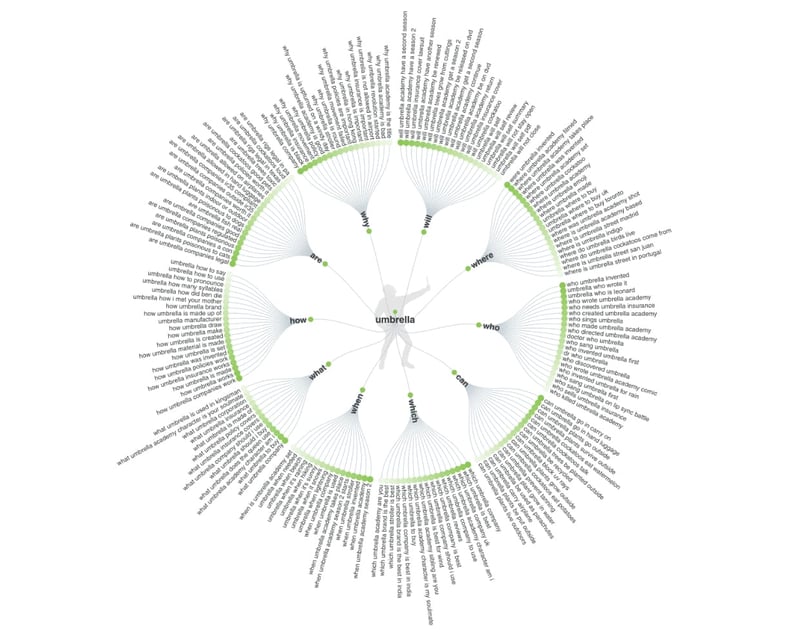 Generally, while text searches tend to be short and packed with keywords, voice searches tend to be full-sentence questions that begin with "Who," "What," "Where," "When," or "Why." Identifying those types of searches that relate to your products means you can find ways to include them in your product copy (naturally, of course), which makes your products more likely to come up in the results of a voice search. One great way to do this is by creating a FAQ section for your product listings that allows you to incorporate the full text of common questions, along with answers that can be used for a voice search answer.
Step 2: Make Sure Your Text SEO Is Rock Solid
This is where your text SEO and voice SEO really overlap. In order to optimize your product pages for voice, you need to have excellent text SEO. Your products need to be the highest-ranking ones for text searches for keywords your customers might use in their voice search queries. You should also start expanding your SEO strategy to try to rank higher for the voice queries people use—longer, more conversational questions, like we described in the section before this one.
Here's what we mean.
When you do ask a question via voice search, the results you get aren't the same as when you do a text search. With a text search, your results come in the form of a list of links. You get to look over them and choose the one that seems to best answer your search. Sure, the results are influenced by their SEO, and the search engine's algorithm is feeding you a ranked list of results in which it believes the top result best fits your search. But you still have the list, and you can look over the page titles and meta descriptions to choose the best one, which isn't necessarily the top.
A search for "best gluten free flour" returns an excerpt from an article entitled "The 14 Best Gluten-Free Flours," followed by links to several other resources, gluten-free recipes, some products, and more.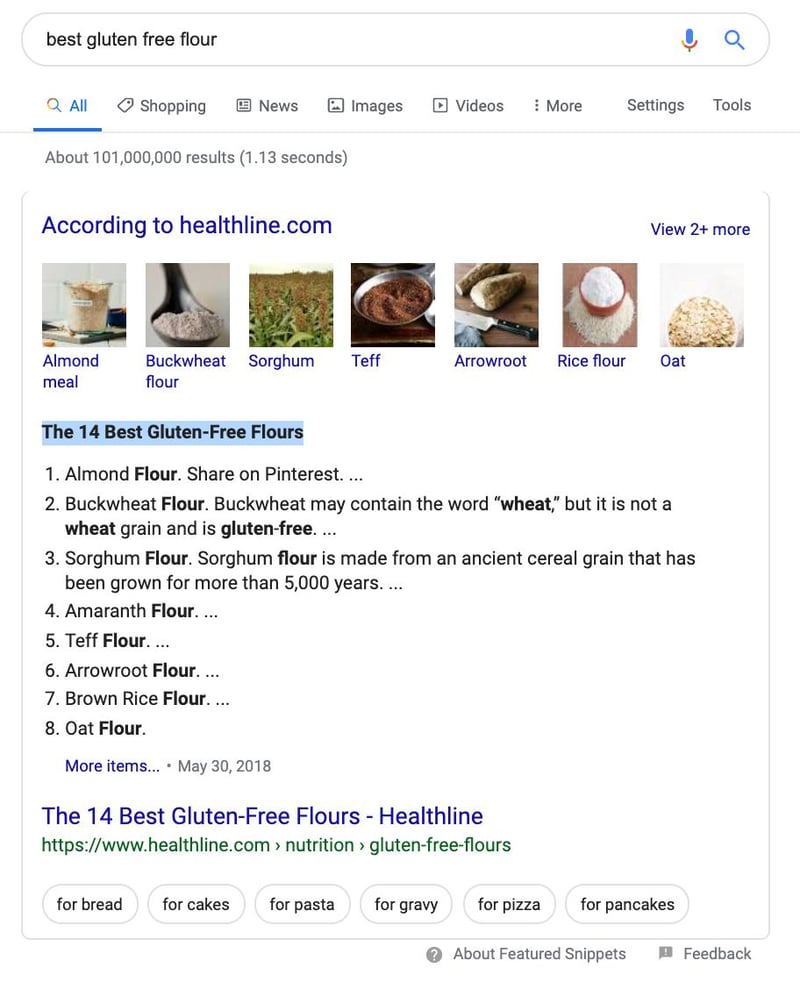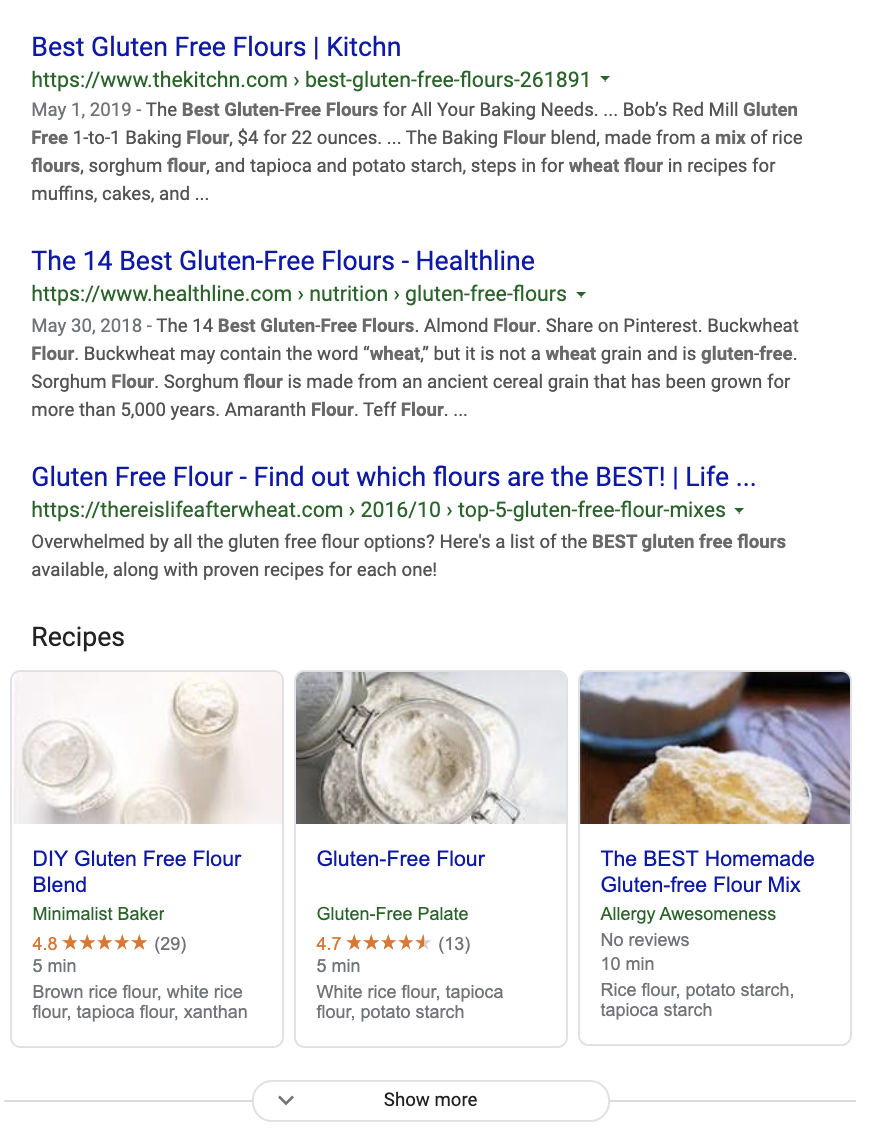 How does that differ from a voice search? A voice search doesn't return a list of websites that you can look through. It gives you one answer, using a combination of SEO, search algorithms, and artificial intelligence to give you what it thinks is the best answer.
When I ask my Echo Dot, "Alexa, what's the best gluten free flour?" here's what it has to say:
"The top-rated choice for gluten-free flour on Amazon is King Aurthur Gluten-Free Flour, three pounds. It's rated 4.6 stars by more than 525 customers, and is Amazon's Choice. Its price on Amazon is $7.99."
If I'm a shopper doing a text search, I'm likely to put a little research in before choosing a flour brand. But if I'm doing a voice search? The next words out of my mouth are likely to be, "OK, Alexa, place an order for that."
This happens because King Arthur has rock-solid text SEO that makes its products the top-ranking search results on Amazon for gluten-free flour and related keywords. This is why optimizing for voice search can't happen until you've optimized for text search.
Step 3: Create Great, Informative Content
Another way to drive voice traffic to your site is by focusing some of your SEO attention on "snippets." These are small sections of text that Google and other search engines pull from sites to feature at the top of results pages when they answer questions. They're also where most smart speakers and voice assistants get the answers to the questions you ask them.
For an example of this, let's look at King Arthur again.
When you ask Google Assistant, "What is the best gluten-free flour?" this is the answer you get.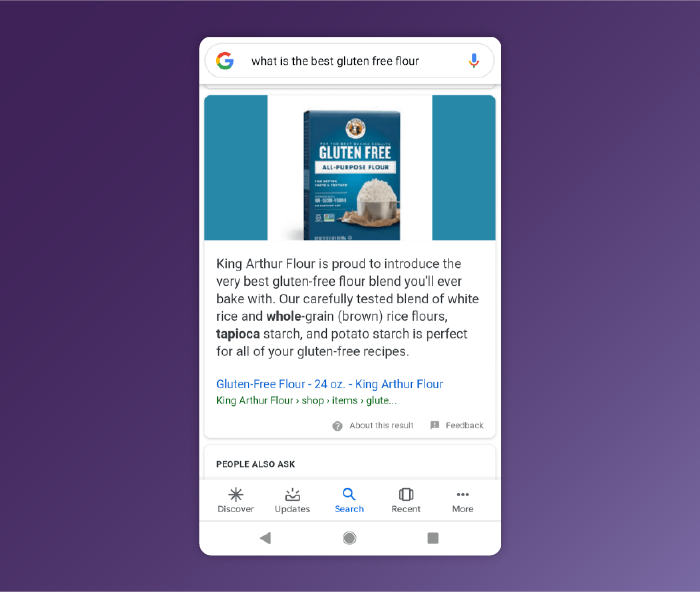 Why is that the answer to the voice search? Because King Arthur has already created the kind of good, informative content that lends itself to answering voice queries, added that content to its product descriptions, and nabbed the top snippet spot for this search.
A study by Milestone, Inc. suggests that 80 percent of the content you create should be informational, because the best thing retailers can do right now to capture voice search results is to try to have the top snippets for keywords related to their brands, services, and products.
That means that you should be creating guides, how-tos, services lists, videos, product information, comparisons, product stories—whatever content you can use to become and authority on your products and gain trust from both customers and search engines.
Step 4: Keep Your Business Listings Up-to-Date
When you ask Siri, "Where can I get a burger right now," she's not going to answer with places that don't have their addresses or hours listed. That's why it's so important to optimize your website and product pages with complete and up-to-date information about your business, including location, contact information, website, accurate hours, and more. You also need to claim all your listings on Google Businesses, Yelp, Facebook, and other sites.
This is good general SEO practice, but will also give you a boost when trying to land in the results for voice searches.
Step 5: Have a Plan for Expanding Into New Channels All the Time
Omnichannel retail is the standard for ecommerce right now, and if you sell more than a small handful of products, there's no way to keep all your product information up-to-date and optimized for multiple different channels manually. That's why you need product information management (PIM) software.
Software like Plytix is designed to give ecommerce retailers a single source of truth for all their product information, which means when you make all these changes to beef up your SEO for both text and voice, your product information will update for everyone on your team in all departments and across all your sales and marketing channels. That means that no matter how customers are searching, they'll get accurate and up-to-date product information on all your pages.
And when new channels, like voice search, emerge, a solution like Plytix means your business is primed to expand seamlessly into those channels.
The Future Is Now, and It's Hands-Free
Voice search is a relatively new technology, especially as it pertains to online shopping. But it's growing, and if your business isn't leaning into that now, it should start.
But while voice search is the big change for ecommerce retailers in 2019-2020, we can't even predict yet what the next, newest, and biggest change will be for online shoppers. All we know is that new channels will happen in the future, and the best way for you to future-proof your marketing and sales strategy is by having a tool built to distribute and manage product info across a broad range of channels and sites.