If there's one name that every ecommerce retailer knows, it's Bonobos.
Bonobos was a pioneer in online sales of men's clothing and accessories, and since launching in 2007 with just one product on offer, has expanded its product line, reached hundreds of millions of dollars in sales, and built one of the most successful direct-to-consumer brands of the digital age.
Many other online retailers and marketers are in awe of Bonobos and the brand's success, and for good reason. But instead of just watching Bonobos from the sidelines, brands can take away some important lessons that can help their online businesses grow, too. Here's how the Bonobos model can help retailers to find success in the online D2C industry.
From Clicks to Bricks: The Bonobos Story
When Bonobos launched in 2007, buying clothes online wasn't new, but it wasn't as common as it is today. Many people were still hesitant to order clothing items onlines, especially clothing items like pants, which can have extremely fickle fits and generally require trying on before you buy.
But that was the entire reason co-founders Andy Dunn and Brian Spaly founded Bonobos to begin with. They were fed up with how hard it was to find pants that fit them well and looked great, and after asking around, they found that a lot of their friends and classmates were, too. They set out to design a better-fitting pair of pants, and then launched Bonobos to sell it.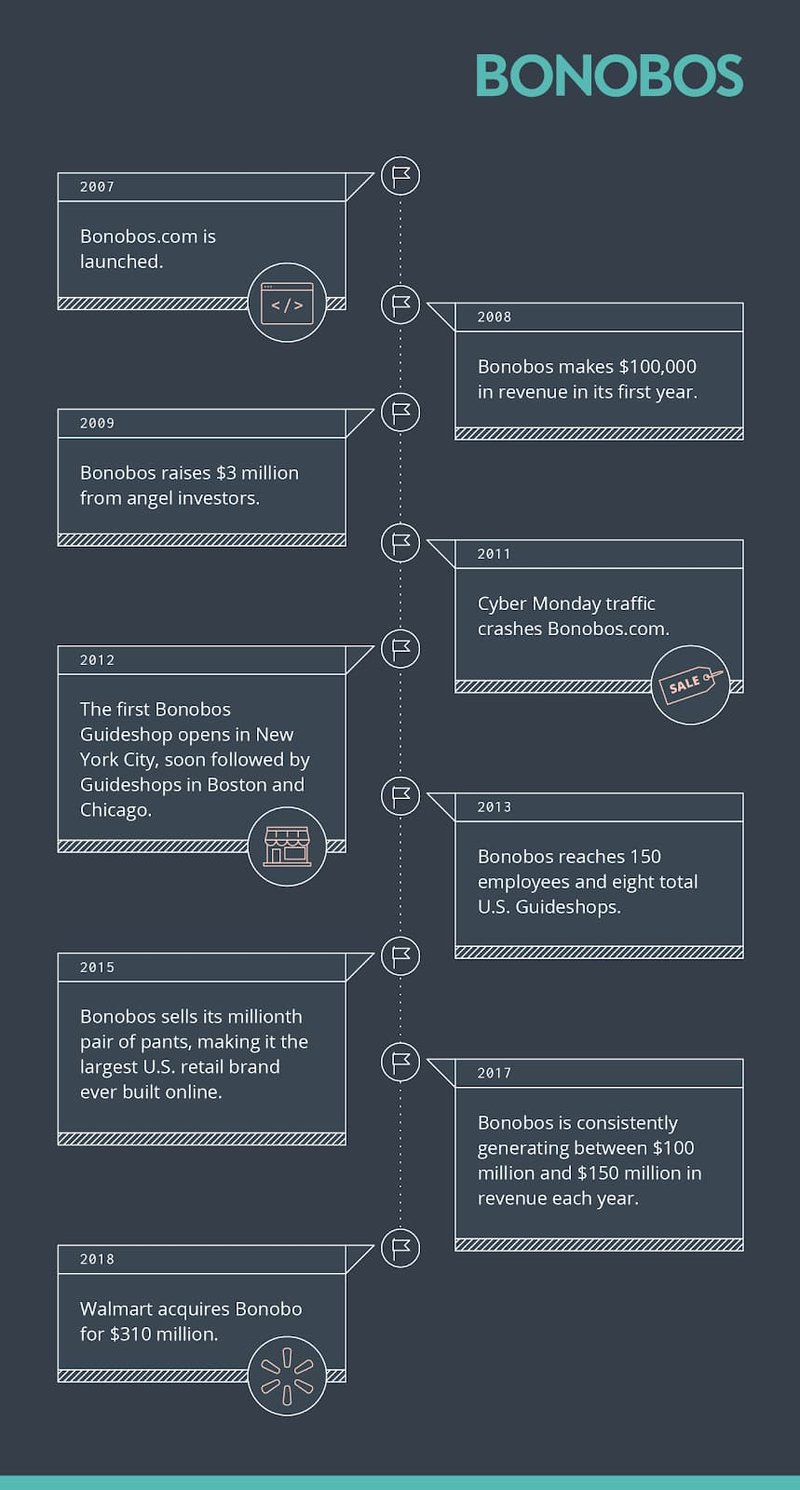 Within the first year, it was clear Dunn and Spaly were on to something—90 percent of people who tried on a pair of Bonobos pants made a purchase, and 25 percent of buyers purchased three or more pairs, despite a somewhat hefty price tag. Investors wanted in, and Bonobos raised more than $124 million in funding.
Today, after 13 years of steady growth, Bonobos offers more than just pants—the website boasts a wide range of apparel and accessories for men. But what's been really revolutionary about Bonobos' growth is the company's move from solely online retail, to brick-and-mortar "guideshops" that blur the lines between ecommerce and IRL shopping. But more on that later.
What Differentiates Bonobos from Its Competition?
There are plenty of men's retailers out there, both in ecommerce and traditional retail. So why has Bonobos consistently stood out from the sea of options?
In the beginning, Dunn explained to Racked in 2015, it was simply about the fit. He and his friends found American pants to be too boxy, and European pants to be too tight. They wanted something in between, and that was the feedback that inspired the geometry of the original pair of Bonobos corduroys, which were an immediate hit.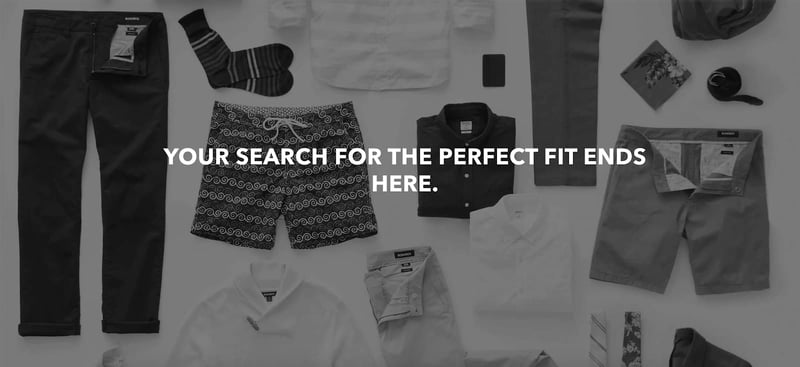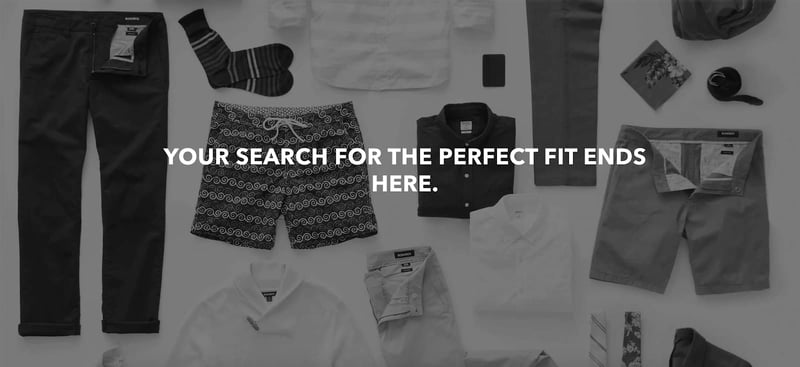 Source
Since then, Bonobos has innovated in different ways. Early on, the company offered buyers the chance to return (with free shipping) anything that didn't fit, and actually encouraged their customers to buy multiple styles and sizes to find the best fit. That's nothing too unique today, but in the aughts, it was pretty revolutionary.
And following its success as a digital native retailer, Bonobos has gracefully expanded into select brick-and-mortar concepts, all while still doing the bulk of its business in the ecommerce world. Bonobos was one of the first brands to make the move from clicks to bricks, and now other companies are following that model, also successfully.
Lessons Brands Can Learn from Bonobos' Success
Bonobos' success certainly involved a little luck. But there were also a lot of smart, innovative business decisions made along the way. Here's what other ecommerce brands can (and should) take away from Bonobos' success story.
Bonobos Tapped Into the Digital First Mindset
Bonobos' founders seemed to have an innate understanding of a concept many companies struggle with: The best way to build a brand is to build a better physical product. But what Bonobos figured out before anyone else is that the way to market and sell that product isn't in stores—it's with a digital-first experience.
That model has now proven successful with many products across different industries—not just menswear—but Bonobos was the pioneer that leaned into building a digital native brand before anyone knew how big a success a solely online retailer could become.
Bonobos Shows the Importance of Getting One Thing Right
That better physical product was also a key part of Bonobos' strategy and success. As Dunn wrote in his viral Medium post about the company's philosophy:
"Consumers don't need many things from your company —they just need one thing from your company. You may want them to need everything from your company, but guess what: consumers don't care what you want. Your job is to care about what they want, not what you want them to want… Make one thing great. Get one thing right."
That should be the first step for any brand, Dunn argued, adding, "[This] earns you the right to go from product one to product two. Take as much time as you need to get product one right, and to prove it—because if you don't, no one is going to be waiting on pins and needles for product two."
Bonobos Showed Us the Power of Word-of-Mouth Marketing Online
Long before Bonobos launched its website, Dunn and the company's other co-founders were selling handmade pants out of Trader Joe's bags on their college campus, capitalizing on their networks of friends and classmates who had already expressed a desire for better-fitting pants. As word spread, they started holding trunk shows there, and on other campuses. By the time the site launched, Bonobos already had a following, and word-of-mouth referrals kept the site's growth steady.
Ecommerce retailers don't need a massive marketing budget; they just need a product that's so good, people can't stop talking about it. Bonobos was one of the first retailers to prove that.
Bonobos' Leadership Helped Spread the Message, Too
From Bonobos' early days, its co-founders were more than that. They saw how the cult of personality had elevated startup personalities—think Steve Jobs, Mark Zuckerberg, Jeff Bezos, and Elon Musk.
So Bonobos' leadership started to build their own personal brands and presences online, through social media, personal blogs, and widely-circulated thinkpieces. This was a particularly smart move for a company like Bonobos, which was relying heavily on word-of-mouth marketing to increase awareness of its brand and products. By turning themselves into niche celebrities, the founders of Bonobos took their online menswear store and turned it into a culture that men—especially the young, stylish ones that Bonobos targeted as its main customer base—wanted to be a part of.
Bonobos Made Online Shopping Convenient and Stress-Free
In 2007, when Bonobos got its start, some of the biggest problems people had with online shopping—especially for clothes—had to do with the logistics of it all. What if the pants didn't fit? Why pay for shipping when I can go to the store for free? And then wait for items to arrive instead of taking them home that day? No thanks.
Bonobos set out to remove some of those barriers. With their fast checkout and free shipping, they made online shopping more convenient than it had ever been before. And by offering completely free returns, Bonobos was able to promise customers that they could try on any style and size to find their best fit, risk-free.
Today, those perks are a lot more common in ecommerce. But Bonobos is still the model that laid the groundwork for uber-convenient features like Amazon Prime's free two-day shipping.
Bonobos Was the First Retailer to Go From Clicks to Bricks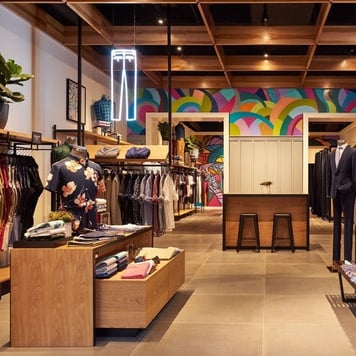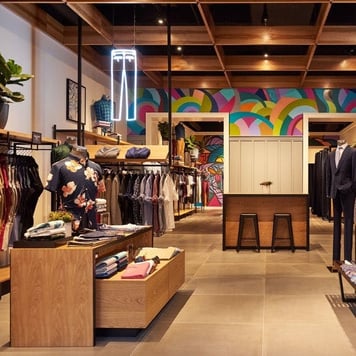 When Bonobos was getting its start, no one really knew how powerful ecommerce would become. What they did know is that it was tough for new businesses to get their start in brick-and-mortar stores, and many of them failed.
Today, we see more and more businesses start out with ecommerce sites, and, once they have brand recognition and a loyal following of customers, move into brick-and-mortar stores. They're following the Bonobos model—the menswear store built its brand online where overhead was low, and as demand grew, started opening up stores. But the stores it opened operated with a digital-first model in mind. Bonobos' first "Guideshops" didn't carry any inventory, but just held appointment-only fittings to help shoppers pick out the size and style clothes that would suit them best, delivering them to their home or office the following day.
Though Bonobos does have more traditional retail stores today, those initial Guideshops required less square footage (thus keeping overhead costs manageable), and provided a personal experience that Bonobos has become known for. That brings us to the last strategy Bonobos used that other brands should try to emulate.
Bonobos Made Retail More Personal
When Bonobos was still online-only, the company committed to providing a top-tier customer service experience, employing what it called "Customer Service Ninjas" who were available to provide personalized support around the clock. The company had one goal for its customer experience: Make things as easy as possible for shoppers.
That online service philosophy was later extended to Bonobos' Guideshops, where shoppers received one-on-one support and attention from a "Ninja Guide," as well as other perks that made the experience feel hyper-personalize, like a complementary beer on arrival.
The takeaway here is that providing an elevated customer experience has a lot to do with making the entire customer journey feel personal. To do that in today's competitive ecommerce landscape, you have to have the right tools, like good product information management (PIM) software. It's the only way to provide the personalized, omnichannel experience today's shoppers expect. Check out our free ebook to see the many ways the PIM adopters are able to outperform their ecommerce competition.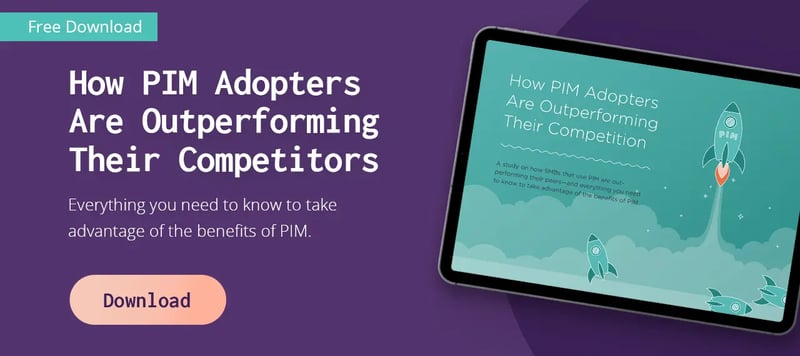 The Bonobos Model Isn't a Surefire Key to Ecommerce Success
The Bonobos model was wildly successful for one company, but that doesn't mean other retailers can copy it exactly and expect to achieve the same success. There are lessons other retailers can take from the strategies Bonobos used to grow and succeed. But in the competitive ecommerce landscape of the digital age, a brand's best strategy is to arm itself with the tools it takes—like PIM—to succeed.
Frequently Asked Questions
The Bonobos strategy was to focus on customer support and feedback. This way they could give customers the best shopping experience possible, which was especially successful at a time when online shopping for clothing wasn't the norm.

Bonobos stores, known as Guideshops, operate as showrooms where customers can try on various styles and sizes with the assistance of a guide who provides style advice and measurements. Instead of walking out with their purchases, customers place orders in the store, which are then shipped directly to their homes. This model allows for a personalized fitting experience and convenience, keeping inventory costs low and ensuring customers receive the right fit. Guideshops have become a central part of Bonobos' strategy to combine the benefits of both in-person shopping and e-commerce.