We've been working hard to deliver a beautiful, intuitive platform, and we've finally built it.
---
One of the greatest challenges in ecommerce today is the behind the scenes operations that customers don't see but are deeply affected by. When you have to juggle thousands of images, descriptions, specifications, and devices, your productivity suffers. Things disappear, you start making mistakes, and you end up making deadlines with minimum viable information - not the enriched, authentic content your customers expect.
Worse yet, being a small business means you are limited in choices when it comes to product management.
Retail product management in the cloud
Small retail businesses no longer have to deal with inferior tools that are unscalable simply because of their budget. At Plytix, we have been working hard to deliver a beautiful, intuitive product content enrichment hub that is both affordable and scalable. Introducing the Plytix Product Information Manager (PIM) built and tested for SMB ecommerce.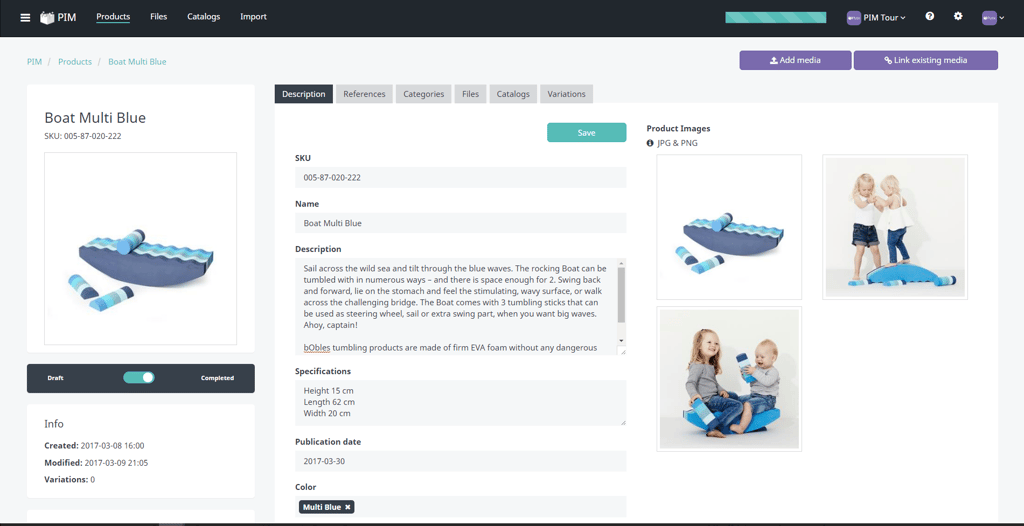 Powerfully simple
Our platform is built with the features and functionality that are essential for small business owners with a lot of product information to get under control. What makes our PIM different is that it is beautifully designed to be easy to use.
Key PIM Features:
Drag and drop import
Import data mapping and verification
Unlimited custom attributes
Attribute groups
Personalized product views
Interactive product catalogs
Category management
Channel management
Digital asset management
Product feed export (XML templates)
Unlimited variations
Simply affordable
Our pricing is a straightforward pay-as-you-grow model starting at $49/month. We only charge based on number of products - that's it. Use our price calculator to get a quote.