New decade, new ecommerce landscape.
The way people shop has been undergoing some seriously huge changes in recent years, and as we enter into 2020, that rate of change shows no signs of slowing down. In the internet age, ecommerce is here to stay, but the way ecommerce retailers market and sell their wares is still changing at warp speed.
Each year, there are new ecommerce trends that retailers can take advantage of, and 2020 is no different. If your 2020 goals for your ecommerce store include adding value, giving customers an amazing experience, and growing your business' bottom line, these are the trends you should pay attention to this year.
Ecommerce Itself Is Not a Trend
Trends come and go, but ecommerce is here to stay.
Global retail ecommerce sales have been on the rise for years, and will continue to increase in 2020 and beyond. It's predicted ecommerce sales will surpass $6.5 trillion globally by 2023.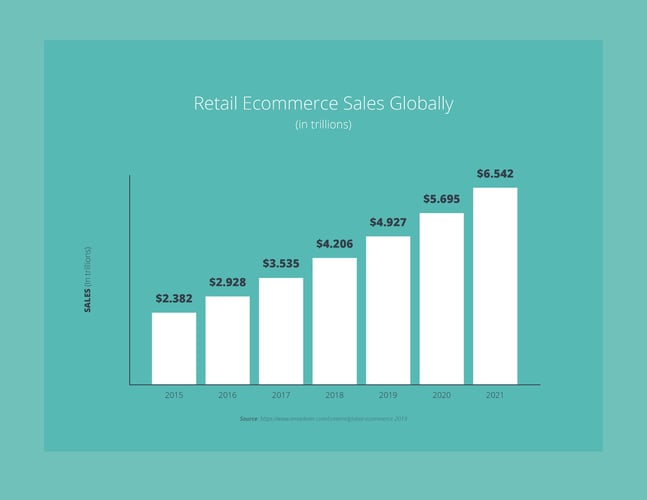 Ecommerce revenue now accounts for 10.7 percent of all retail sales in the U.S., and 16.4 percent of total retail sales worldwide. With no signs that ecommerce growth will be slowing down any time soon, 2020 is a great year to lean into industry trends and tackle some of these to keep your business competitive in this ever-changing landscape.
The Top 9 Ecommerce Trends For 2020
From voice search optimization to an escalation in the shipping wars, these are the trends that will drive ecommerce retail into the new decade.
Amazon Reigns Supreme… Or Does It?
In 2019, Amazon surpassed Walmart and became the world's largest retailer. But cracks are finally beginning to show in the ecommerce giant's armor as anti-Amazon sentiment builds across industries.
In 2020, more brands are likely to realize they don't need Amazon and move away from the platform, like Nike did in 2019. With every new Amazon product or service, antitrust issues are coming to the forefront, and the days of Amazon breaking into industries free from oversight may be drawing to a close as brands question the cost and value of selling on this particular platform.
Omnichannel Is the New Standard
In 2020 and beyond, retailers and manufacturers who have not yet enabled seamless omnichannel syndication are seriously behind their competition. Modern consumers demand the ability to shop from and interact with businesses when and where it's convenient for them—and that means on every device and channel they frequent.
This is a good thing for business, too—omnichannel shoppers spend more per transaction, generate more overall profit, and have greater lifetime value to retailers than single-channel shoppers.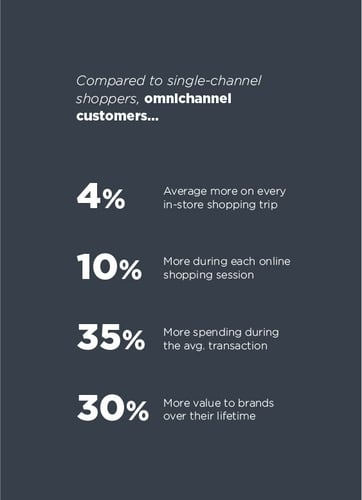 The need for a seamless omnichannel strategy is driving more and more businesses to cloud-based PIM software, which allows them to centralize all their product data and push it to all their sales and marketing channels seamlessly, all while ensuring that data is accurate across every channel.
Personalization Is Going Deeper and Deeper
In 2019, we predicted that businesses would be collecting more and more data on their ecommerce shoppers—including online searches, demographics, location, purchase history, social media behavior, items that are currently in or were previously added to their shopping cart, and more—and use that to show shoppers hyper-relevant content and product recommendations.
In 2020, businesses are taking personalization even further, and beginning to blur the lines between shopping online and IRL. Using technologies like facial recognition and device tracking, retailers can now link on-store behavior to online data, coming closer and closer to providing shoppers with a truly omnichannel experience.
In-store data like high traffic areas and dwell time can be combined with online data to give businesses clearer pictures of their customers and help them create even more personalized experiences.
The Shipping Wars Will Escalate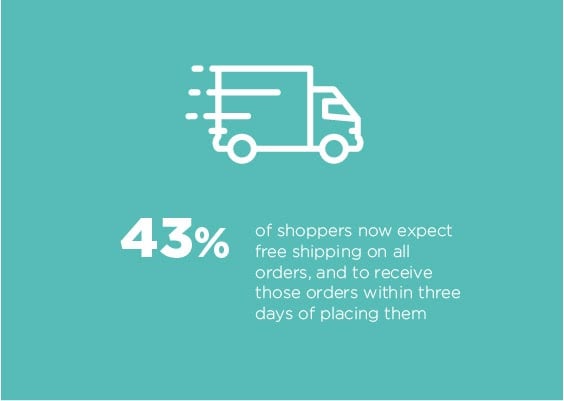 2020 is likely to be a tipping point in the shipping wars, as customers expect free, fast shipping from all online retailers. Amazon, the company that first offered free shipping, then free two-day shipping, then free one-day shipping, and now, in many markets, free same-day shipping, will be instrumental in helping other retailers become the same when it launches its logistics and shipping arm, which will become an instant competitor for the US Postal Service, UPS, FedEx, and virtually every other carrier on Earth.
As lightning-fast shipping becomes the norm, distribution centers will grow in numbers, allowing more retailers to rapidly fulfill orders.
And the battle to offer the next best thing in convenient delivery is in full swing. Some retailers are using technology like wearable cameras and smart-entry devices to deliver orders into the trunks or their customers' cars or even inside their homes. Not only does this up the convenience factor, but it cuts down on package theft, a rising problem in the ecommerce age.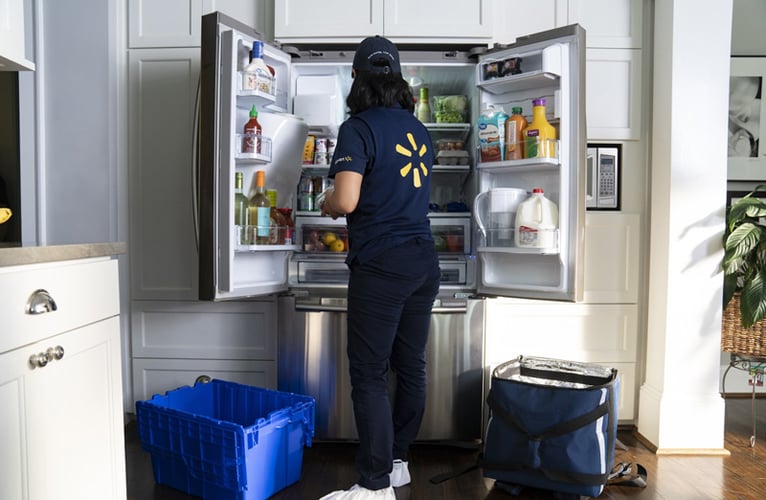 Image source: https://corporate.walmart.com/newsroom/2019/06/07/were-taking-walmart-grocery-delivery-one-step-further
Ecommerce Globalization Will Require Localizing Product Content
Ecommerce is creating an increasingly globalized shopping landscape, and that's unlikely to change in 2020. In fact, 57 percent of online shoppers already engage in "cross-border" shopping, making purchases from businesses that are based in a different country than their own.
Here's the challenge that creates for retailers: Those cross-border shoppers expect product information that's contextualized for where they live. That means retailers need to be creating content that's specific to different languages (including slang), cultures, currencies, measurement units, and more factors that are unique to different locations.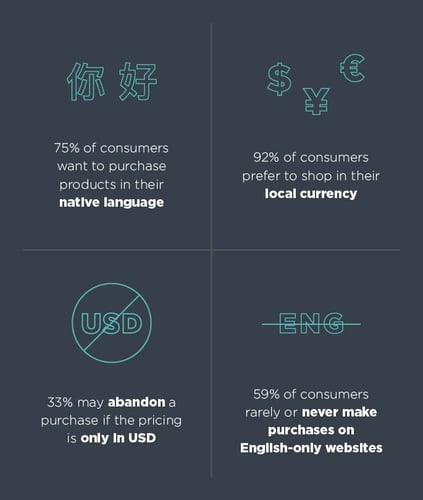 This is another trend that will require good PIM, as retailers will find themselves needing to store individual, location-specific content about each product they offer and push it to the right locational channels.
Artificial Intelligence Will Continue to Shape Ecommerce Opportunities
Artificial intelligence isn't new in the ecommerce industry, but it's becoming a bigger player as we head into 2020 and beyond. A $17 billion industry this year, global spending on AI technology is expected to hit 118 billion by 2025, if growth continues at its current rate.
In 2019, we saw AI emerge as one of the top ways retailers could provide engagement to their customers at scale. In 2020, we expect to see AI's role in creating valuable, customer-driven content to expand even further.
This year, we expect to see more retailers embracing automated content planning and creation, which means using AI to assist with the planning and creation of everything from product descriptions to marketing emails.
We also think this is the year that AI will make content personalization a whole lot smarter. AI technology can collect consumer data and analyze it quickly and at scale, enabling retailers to inform and create personalized product recommendations, content, products, and more. AI is the key to anticipating consumers' needs and providing the customer experience shoppers are looking for in 2020. You can take AI courses to learn how it can take you one step ahead of your competition and help you thrive in ecommerce.
Inboxes Will Become the New Browsers
Interactive email will be hugely on the rise in 2020. Inboxes are becoming more dynamic, allowing users to open menus, browse carousels, leave ratings and reviews, and check shipping updates, all without ever leaving their inbox. Emails are becoming increasingly browsable, interactive, and actionable, and that trend will be huge in 2020.
As this technology continues to develop, interactive emails will be dynamically updated, meaning even in old emails, information like tracking updates will stay up-to-date.
Voice Search Optimization Will Be More Important than Ever
With voice-based search assistants like Siri, Amazon Alexa, and Google Assistant becoming more popular and widespread, voice search optimization will be an important trend for online retailers in 2020.
What's challenging about optimizing for voice search as opposed to traditional text- and keyword-based queries is its conversational nature. Retailers are using machine learning technology to deliver product data like attributes, classifications, location, and availability in response to voice queries that are spoken in complete sentences, not types in keywords.
This requires retailers to have all their product data clean, organized, and easy-to-find, another reason PIM is so vital to adopting 2020's ecommerce trends.
Reality Will Become Even More Subjective
In 2019, one of the biggest trends in ecommerce was product visualization—high-fidelity zoom, demonstration videos, and 3-D views that allow customers to better visualize products before making a purchase. In 2020, add virtual reality and augmented reality to that list.
A number of retailers are already using AR and VR technologies to improve their product visualization, like IKEA with their Place app that lets customers see how furniture spaces will look in their home via the camera view on their smartphones, or Zenni Optical, with an AR-powered tool that allows customers to see how glasses will look on a 180-degree video of their face.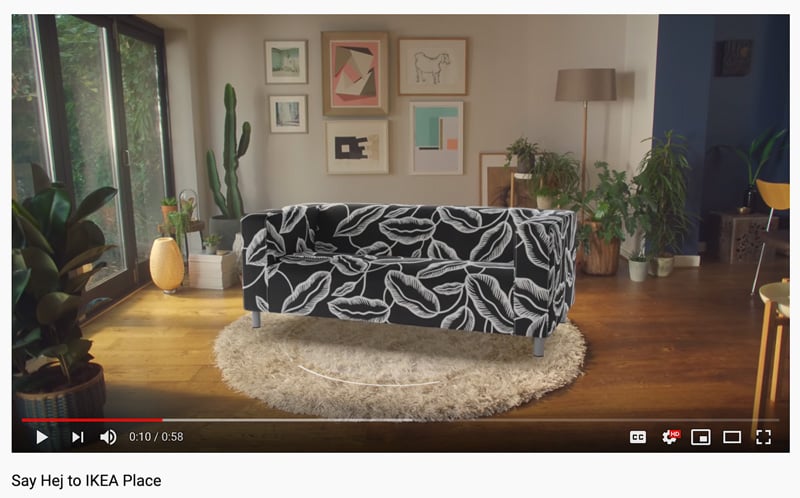 Image source: https://www.youtube.com/watch?v=UudV1VdFtuQ
2020's Top Ecommerce Trends Require PIM Solutions
If there's one thing many of these trends have in common, it's that retailers won't be able to tackle them without a good PIM solution in place. PIM adoption in 2020 will be driven by these trends, and without PIM, your business could be left behind the competition.
Ready to explore the PIM market and find the right solution to help grow your business this year? Our Transforming Ecommerce: PIM Market 2019 and Beyond ebook can help with that.