Gone are the days when headless things only belonged in spooky movies.
https://media.giphy.com/media/p4TDSv2F1SUso/giphy.gif
As online shoppers' needs and behavior rapidly and continuously changes, some of the top ecommerce retailers in the game are finding new ways to keep up. Industry leaders like Amazon are embracing a new strategy that helps them innovate on the fly and experiment with new ways to meet consumers' needs: Headless commerce.
It's not as spooky as it sounds, we promise.
Is headless retail something your ecommerce store should be considering? If you've ever wondered about this new trend in online retail, you've come to the right place. Read on to learn all about headless commerce — what it is, why it's so popular now, who should use it, and how to go headless with your online business.
What Is Headless Commerce?
First things first: Why is this kind of commerce headless, and what happened to its head?!
Yes, the name is a little abstract. But headless commerce is actually a pretty straightforward concept.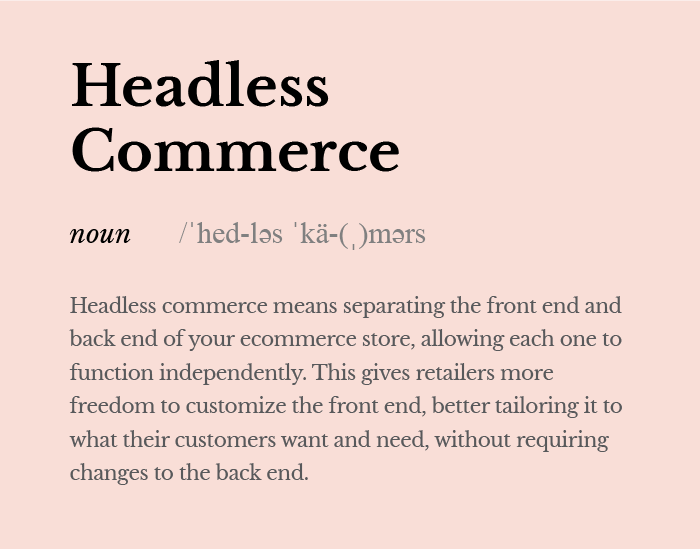 In more technical terms, it means you have a CMS or other solution that can store, manage, and deliver all your product information and content, but the front end (or the "head") has been decoupled and removed. Using APIs, retailers with a headless commerce architecture can then deliver all that content to any screen or device, and front-end developers can present it to customers within any framework they want.
The result is an ecommerce retailer who's more agile and flexible, who can make changes to the customer experience on the fly, and who can experiment and test out new ways to customize customer journeys.
Why Is Everyone Talking About Headless Commerce Right Now?
All that flexibility means headless commerce is a natural fit for the IoT age. In the past, ecommerce platforms had front ends that were designed alongside their back ends, meaning that no matter how many customization features existed, they were made to deliver content to websites and, maybe, apps.
In the IoT age, when ecommerce retailers need to be able to deliver that content to things like smart watches, smart speakers, and even smart appliances, headless commerce architecture allows them to adapt to those changes and push content to all kinds of new platforms via APIs. Instead of waiting for CMS architecture to catch up to our rapidly changing technology landscape, we can just remove the head (front end) architecture and use APIs to move into those new channels right away.
There are a few different ecommerce trends that have contributed to the rise of headless commerce.
Customers Have High Expectations of Retailers
We live in an age of convenience, especially for consumers. Online shoppers expect to be able to find and buy products with nothing more than a few clicks or taps. That puts a lot of pressure on retailers to be able to deliver the experience customers are looking for to all kinds of shopping platforms as soon as possible, and headless commerce helps them to achieve that.
There Are More Sales Channels Now Than There Have Ever Been
We already know that ecommerce retailers have to employ an omnichannel strategy to stay competitive. But trying to reach every possible sales channel that consumers are using now can make your head spin. Since headless commerce allows retailers to deliver the content from their back end via API, it's able to reach all those different channels without having to make major architecture changes. To be truly omnichannel, you have to be headless.
Headless Commerce Is Necessary to Stay Ahead of Competition
All ecommerce retailers know that online sales is a competitive space. To stay ahead of your competition, you have to adopt new technologies as rapidly as possible. Having a headless commerce architecture in place provides the flexibility needed to do that.
Headless Commerce vs. Traditional Commerce
There are three main areas where headless commerce differs from its traditional counterparts.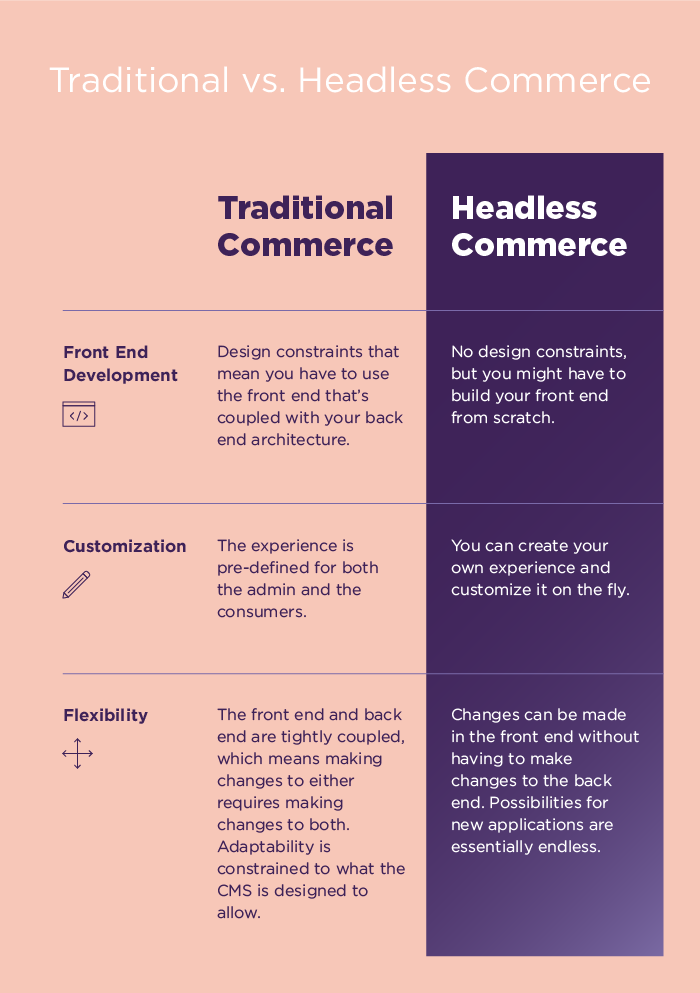 Why You Should Consider Going Headless… And Why You Shouldn't
Like any retail trend, headless commerce has both its benefits and its drawbacks. Before deciding if headless architecture is for you, here's what you should know.
Key Benefits to a Headless Commerce Architecture
For ecommerce retailers who want to stay on the cutting end of the industry, the benefits of a headless system outweigh the drawbacks.
Headless Commerce Is the Way To Go Truly Omnichannel
Headless architecture is future proof if that it will allow retailers to take advantage of all channels currently available (from Alexa skills to refrigerators with screens) and new channels that haven't even emerged yet. Seamless integrations……...
Headless Commerce Lets Retailers Customize and Personalize
Having the flexibility of a headless system means retailers can make quick changes to the front end as needed, without needing to involve IT or developers to make those changes on the back end.
Headless Commerce Means More Agile Marketing
With a headless commerce architecture, marketing teams can roll out campaigns and new products much more quickly — think in days rather than weeks.
Headless Commerce Means Faster Time to Market
Expanding to new channels with a traditional ecommerce platform can take a lot of time. And forget about scaling, which takes even more time and work. With headless architecture, content and product information are located centrally and can be pushed via API to any platform, which dramatically reduces the time it takes to get a new product to market.
Headless Commerce Can Increase Your Conversions and Lower CAC
The agility of a headless architecture allows retailers to experiment with different customer experiences, running A/B tests to see what results in the most conversions. It can also bring down customer acquisition costs, since content-based strategies bring in more organic traffic and can decrease a retailer's reliance on paid advertising.
Key Drawbacks to a Headless Commerce Architecture
Like any other tool, headless commerce isn't perfect. Here are the drawbacks you should be aware of.
Headless Commerce Comes with Ongoing Costs
One of the biggest drawbacks to a headless system is that because a front end is no longer provided, developers will have to create one for the retailer. That takes time and money. If a retailer has a development team building bespoke front ends for individual channels, costs can add up quickly.
It Takes Time to Implement A Headless Commerce System
Because of all that building, going headless takes some time. It is possible, however, to find suppliers of headless solutions who can quickly tailor an existing UI to fit a retailer's needs.
Headless Commerce Can Be Complex
While it's flexible and adaptable, those strengths also mean headless systems can become very complex. Retailers may find themselves in a position where they have to rely heavily on front-end developers to make changes to the system.
How To Know If You Should Go Headless
A major challenge for ecommerce retailers today is knowing whether a headless architecture is right for their business at this time. It's not always easy to know. Here are some ways to know it might be time to consider a headless system for your ecommerce brand.
You Want a Better Omnichannel Strategy
If your brand utilizes a lot of content, or is driven by customer experiences, a headless commerce architecture might be right for you. If you want better personalization, AI, or AR capabilities, or if you need a way to expand into other channels quickly and seamlessly, headless architecture can help.
You Sell Across Multiple Sites or Places
If you have multiple websites, or if you sell in different countries, a headless commerce architecture would allow you serve different front ends from one central back end where all your content and product information lives.
You've Already Invested in a CMS
If you have a CMS setup that you love and you're just looking to add commerce to your site, a headless system means you can keep your CMS and just create the decoupled front end to go with it.
You Want to Merge Commerce and Content
If you have an ecommerce site, but create content that lives on another site, a headless commerce system can help you merge the two, centralizing data in the back end and pushing it all to a customized front end.
How To Go Headless
Ready to take the leap into a headless commerce architecture? Here's how.
Know What You Need Before You Start Building
The first thing any retailer should do before starting work on a headless commerce solution is step back and view the business like a customer would. Analyze the customer experience. List what your current platform offers, what it's missing, and what you want it to be a priority to add to the experience. Knowing all of this will allow you to go to a supplier or front end engineer with a clear picture of what you want to build.
Choose Your Front End Solution
You have two options when deciding what front end solution you'd like to incorporate into your headless commerce architecture: You can build it, or you can buy it. The debate over which path is better overall has been raging for what feels like all of time, but this is what it boils down to: It depends on your business needs and expertise. If you have the IT know-how to run a system that's been made for you from scratch, then build. If you're less experienced, or need a system you can implement quickly, then buy.
Tweak or Replace the Back End From There
Once your front end is in place, you can make changes to the back end as needed without affecting your customers. If you already love your CMS, that's great. But you can also swap out systems or implement a completely new one with little-to-no front end impact, now that they're decoupled.
Have a Product Information Management Solution In Place
One thing that will be absolutely necessary as your business moves from a traditional ecommerce platform to a headless one is having a strong product information management strategy in place. Any serious ecommerce retailer needs PIM that will centralize, optimize, distribute, and analyze product data, preferably in a cloud-based platform. Once your headless commerce architecture is set up, your PIM will allow you to push product information via API to your new front end and any other channels quickly and seamlessly, allowing for the true omnichannel strategy that retailers need today.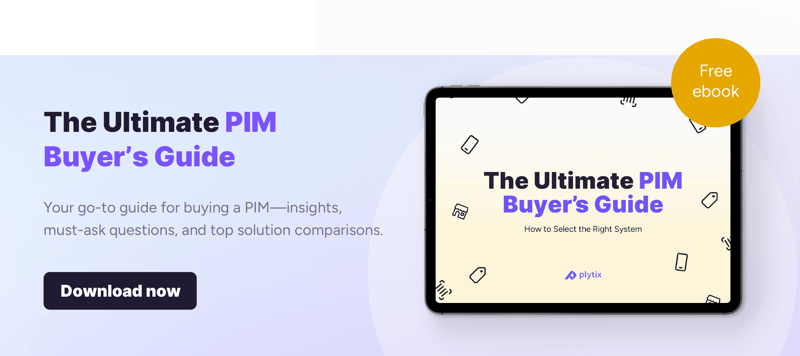 Headless Commerce Isn't the Future — It's Now
Connected devices and new digital touchpoints are taking over markets, and with all that explosive growth, ecommerce retailers need to be thinking strategically about how to access all those different channels while still providing high-quality and seamless experiences to their customers.
Headless commerce provides ecommerce retailers with a new standard for flexibility, adaptability, and customization that can be done quickly as needed to enhance the customer experience. If you haven't explored a headless solution yet, it's time to see what you've been missing and why this is the ecommerce innovation everyone's talking about.
Ecommerce