We live in a digital-first world. There's no denying that.
It doesn't matter where you go. When you take a look around, you'll find many people with bent necks, staring or pressing down their mobile devices—be it a tablet or a smartphone. And, your first guess might be that they're chatting with loved ones or watching videos on social media. But they could also be shopping?
Ever since the acceleration of smartphones and tablets, shopping on mobile has become a preferred way of, well, shopping. Statistics show that mobile commerce (m-commerce) has seen an average increase of 33.8% yearly since 2016. By the end of this year, it will account for 72.9% of all retail ecommerce.
Why is m-commerce becoming increasingly popular?
Business Insider suggests that there are two key devices driving the mobile commerce revolution; smartphones and tablets. Last year, the number of smartphone users worldwide surpassed six billion, meaning that 80.68% of the world's population now owns a smartphone. This number is expected to grow by several hundred million in the next few years. To add to that, worldwide tablet shipments exploded to 40.5 million units by the second quarter of 2021.
While the contribution of tablets to mobile commerce growth is not as large as that of smartphones, it's expected to reach $69 billion by 2024. This is a huge increase from the $29 billion we saw in 2019 before the COVID-19 pandemic.
People with these devices are connected to the internet, which gives them access to a wealth of information on the go. A Global Web Index Survey shows that tons of people all over the world use their mobile devices throughout their buying journey, from the product research phase right through to purchase. The same survey from the previous year indicated that 52% of people purchased a product using a mobile device, and 67% used mobile shopping apps to purchase products.
The reason for this rising adoption of m-commerce comes down to convenience. A Dynamic Yield Survey reveals that 76% of respondents shop on mobile because "it saves them time." That's because they can shop from anywhere, not really, anywhere! It could be while making food, taking a bath, doing a hair cut or laying on the couch watching their favorite shows; the possibilities are endless. Plus, the ease of transacting on a mobile device cannot be denied. In fact, the Global Payments' 2020 report suggested that smartphones are becoming the new wallet, and many customers are choosing to put their preferred cards in their phones instead of carrying physical cards. Mobile is truly an efficient way to shop.
As you can see, people use mobile devices for various reasons.
Whatever the reason is, business owners are presented with an opportunity to ensure that when consumers browse or search via their mobile devices, your products appear in front of them, at exactly the right time and without any friction.
And that's where product listing optimization (PLO) comes in.
What is listing optimization?
Product listing optimization is all about improving your product pages to scale your visibility on search engines, marketplaces, comparison shopping engine (CSE) sites, etc. It can help you boost your visibility, increase traffic, encourage conversions and sales. At this point, you're thinking "skip to the part where you tell me how to optimize my product listings for m-commerce," right? Okay, let's go!
How to optimize your product listings for m-commerce success
Mobile shopping can be profitable for online retailers that prioritize it in their multichannel commerce strategy. Now, let's go through the basic best practices:
1. Make your product page easy to navigate on mobile
Customers make use of swipe and zoom features on their mobile devices, which means it's not enough to ensure that your website is mobile-responsive or mobile-friendly. You need to ensure that your customers can swipe or zoom when they interact with your product pages. If they struggle to do so, they will be frustrated and leave your page for a competitor. For example, if you have variations of a product, when you give customers the ability to swipe through to view the other options, you're making their mobile shopping experience enjoyable.
2. Create compelling but concise product content
The way written content shows up on mobile will be different from how it shows on a desktop screen. It might look bulky on a small screen, and customers do not want to read a very long text on their small screens while shopping. In fact, they tend to skim to spot relevant information they can use to make the purchase decision, so help them out by making the content concise but still valuable.
You can summarize or bullet point the product information so that it is easily digestible for customers. The alternative would be to offer them an option to extend the product data should they want to learn more about the product.
With that said, you still need to follow the best search engine optimization (SEO) practices. That means you still need to use keywords in your content. If you don't use a language your customers use, they won't find your products at all.
3. Optimize visual assets such as images and videos
Mobile devices come with different screen sizes; some are bigger than others.
So, the first thing you need to consider is the file size, and the second thing is the file quality. The former factor impacts the loading speed of the product page on a mobile device, so it's in your best interest to ensure that you don't use a large image or video that will slow down the page loading time. According to Google, 40% of customers will leave a page that takes longer than three seconds to load on a mobile device. You can expect a high bounce rate if yours takes longer to load.
When it comes to image and video quality: the higher the resolution of the file, the better it appears. Images or videos are the first things customers will see when they land on your product listing. Why? they're a visual representation of what the product looks like. So, ensure that you optimize your product images and videos in a way that is responsive to all small devices without distorting the quality.
Finally, don't forget to optimize the files by adding captions, alt text, and title text for better chances of visibility on search.
4. Add user-generated reviews where possible
A total of 89% of online shoppers worldwide make an effort to read reviews before buying products. This is because reviews give them an insight into what other customers think about the products. They use reviews as a measure to assess whether the product is worth buying or not. If you don't have reviews, they will doubt their purchase decision, which could potentially result in a return.
Let's not forget that reviews can help you rank higher on search engines, which increases your chances of visibility.
Boost your mobile visibility with Plytix PIM
The above is proof that your product listing visibility depends on your product information. A product listing tool can ensure that your product information is mobile-ready and good enough to be visible in front of mobile shoppers. Of course, we're referring to a product information management (PIM) tool here.
A PIM tool organizes and stores enriched product information that can easily be shared on ecommerce websites. The software is also great for channel syndication, where you distribute content to all sales channels where your product listings live. With Plytix, you can easily tweak and resize your product information to ensure that it meets the requirements of a mobile ecommerce site.
Download our whitepaper to learn how Plytix can help you with your multichannel commerce efforts. Or book a demo to see the tool in action!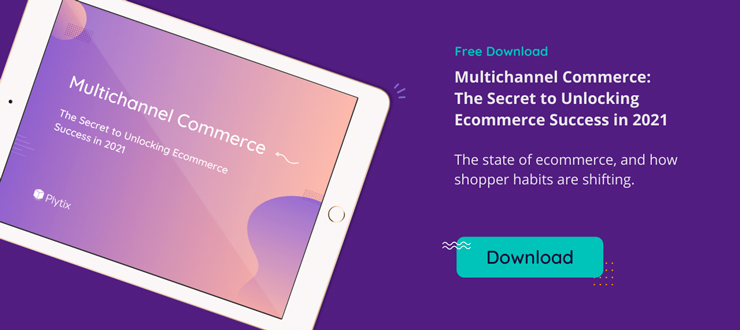 Ecommerce
,
Product Information Management