Multichannel commerce is the secret ingredient to running a successful ecommerce business in a society that is always seeking convenience.
This is why popular ecommerce platforms like Shopify are making sure that selling on different platforms is as seamless as possible for their users. A prime example is Gymshark, among others. They've managed to successfully run a multichannel ecommerce store in uncertain times. Since relaunching their store on Shopify Plus, they generated a turnover of approximately 261-million British pounds by the end of July 2020, despite the economic downfall caused by COVID.
Pretty impressive!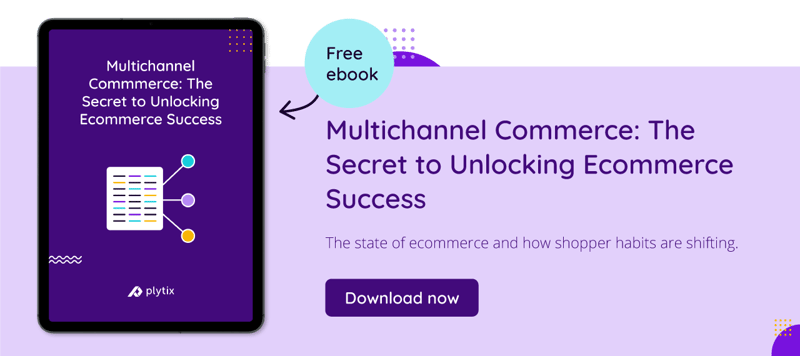 We've seen that being successful in multichannel commerce can pose a number of challenges. Many of these challenges stem from similar issues and can be solved by multichannel listing software. So, in your quest for the best multichannel listing software, you may have realized that there is a lot on the market. But fear no more! We're here to unpack the most popular product listings optimization tools.
What makes a multichannel listing software "good"?
Well, when sifting through software, you need to consider make or break features.
At the bare minimum, your tool should have the following under control:
Ability to track inventory, so you don't sell out on channels

Ability to automatically restock, relist, and automate order processing of products across channels when available

Ability to send consistent

product information

across all sales channels

Ability to save time on getting products to market on various platforms

Ability to view your inventory in real-time across multiple channels for easier and more efficient product management
Now, let's look at the best solutions for small to medium-sized businesses (SMBs).
The best multichannel listing software for SMBs
We've perused both G2 and Capterra to help narrow down your search to see which listing tool will be ideal for small businesses like yours. In no particular order, according to G2 and Capterra, multichannel listing software you should look out for are; CrazyLister, Zentail, Linnworks, Sellbrite, and Webgility.
These were seen as the best, as most customers are satisfied and have experienced the best customer support using them. But, let's take a deeper look at these tools and see if they're suitable for your strategy, pocket, and industry.
CrazyLister
CrazyLister sees itself as the multichannel listing software that makes selling on Amazon and eBay 100x easier. Their tool is designed to help retailers and manufacturers connect with customers on all online sales channels, smoothly.
They have over 100,000 users worldwide and have managed over 30,000,000 product listings. According to G2's review, more than 80% of their customers experienced ease using the platform. It met their requirements, and they had exceptional customer support. It's also seen as one of the top multichannel listing software for companies in industries such as; marketing and advertising, business supplies and equipment, arts and crafts, and computer hardware.
Their main features include;
Managing eBay and Amazon listings
Mobile sales optimization
Bulk revise
Designer templates made for various sales channels
Offers live support
CrazyListers has a free seven-day trial period, and once completed, you can choose between three plans where the price varies on active listings.
These plans are;
Starter plan for entrepreneurs and small businesses
Growing plan for businesses who want a competitive edge, and
Premium plan for businesses looking for an end-to-end premium solution
They also have two add-ons: inventory sync and CrazyLister's footer removal.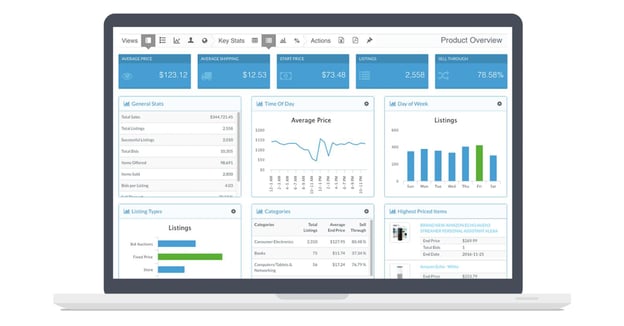 Zentail
Zentail's software is built to help multichannel sellers focus on growth. They achieve this by automating the boring yet essential part of multichannel distribution. Their AI-powered technology not only automates the process but also ensures your listing is compliant with various marketplace requirements.
But, this isn't the only reason they're popular among their customers; they make managing products for various listings easier by offering customers impressive tech, an easy-to-use interface, and a support team to assist with any queries.
According to G2, they're ideal for businesses in the consumer goods, retail, construction, and information technology and services industries.
Their main features include;
Marketplace integration
Order management
Multichannel publishing
Channel analytics
Inventory management
Data import and export
Third-party integration
Data synchronization
Customizable templates and reports
Content management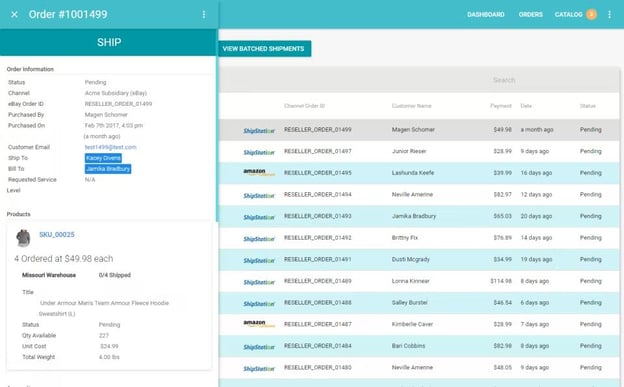 They have four plans;
New to multichannel for beginners
Growth for sellers doing $1 - $3 million per year looking to take their business to the next level
Amazon Unlimited for sellers looking to expand to Amazon
Enterprise, which is for multichannel businesses wanting to fully optimize their operations.
Sellbrite
Sellbrite is a cloud-based channel management platform that's designed for small to medium businesses. It's won over the hearts of many customers for its simple yet intuitive interface, scoring a very high user-feedback rating on the G2 platform.
Their main features include;
Optimization of business operations
Data synchronization
Catalog management for inventory
Product intelligence
Multichannel publishing
Marketplace integration
Order management
Sellbrite offers new users a free 30 day trial with unlimited access to all features. After the 30 days, customers can choose between;
The basic Sellbrite version with four plans, a free version for customers with only 30 orders per month, then there is a PRO 100, PRO 500, and PRO 2K, which depends on how many orders you have per month.
They also have a Sellbrite for Shopify with four plans exclusive to Shopify store owners. This plan also has a free version for 30 orders per month then three additional plans depending on how many orders you make per month.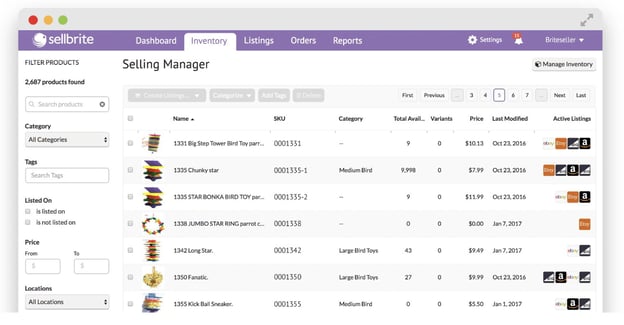 Linnworks
Linnworks is an inventory management software for ecommerce businesses.
Their software helps businesses scale up as it has advanced inventory management capabilities that allow users to sell and track their products across various sales channels from one location. You can connect to your Shopify and over 70 marketplaces such as Amazon, eBay, Walmart, and more.
This tool helps you streamline workflows to help reduce manual efforts to inventory management as well as ensure you and your team can make decisions based on data as you will have a central dashboard that gives you a real-time view of how your inventory is performing across different sales channels.
Their main features include;
Multichannel listing

Order management

Insights

Inventory management

Shipping management

Catalog creation
Linnworks's plans consist of the;
Standard plan
Advanced plan
Linnworks Business, which is ideal for medium-sized businesses needing impressive growth and customization.
Linnworks Enterprise package for companies seeking high-perforation customization and support.
They don't have a free plan or trial period.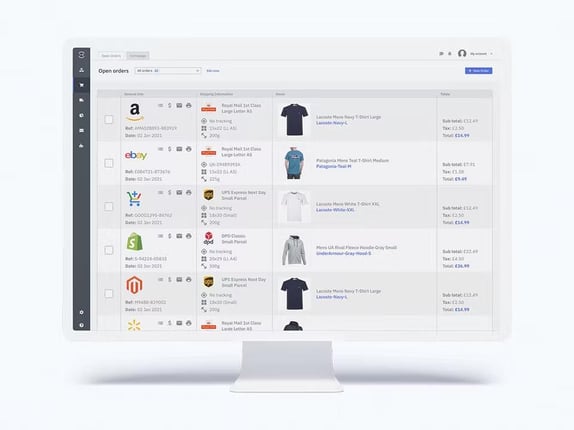 Webgility
Webgility started off as an ecommerce connector but has now become what they call a "modern commerce workspace." Their software is an all-rounder when it comes to managing your financial system. It ensures all your books are up to date, so you're on top of your cash flow. But, they also work as a multichannel listing software as they allow you to sell to various marketplaces easily. With Webgility, all your data is stored in one place, so you can track inventory across all channels.
They work with over 5000 SMBs and are ideal for customers in retail, apparel and fashion, consumer goods, and wholesales. Their main features include;
Centralized inventory database
Accounting integrations
Ecommerce integrations
Data exporting and importing
Stock history reporting
Marketplace integration
Data synchronization
Order management
Data management
They have a 15-day free trial and three different plans: PRO, Plus, and Advanced.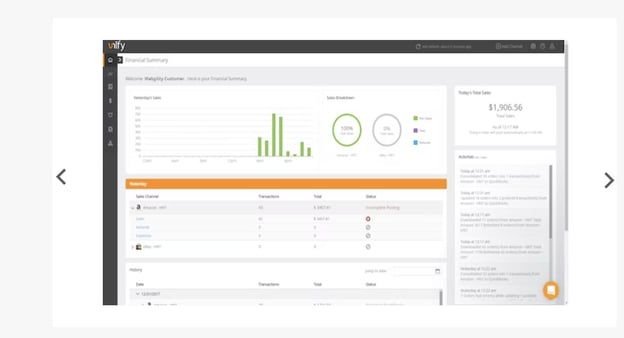 DataFeedWatch
DataFeedWatch is a leading feed marketing and PPC automation solution available in over 60 countries and across 2000+ eCommerce channels with the goal of helping agencies, retailers, and online merchants grow, both locally and globally.
Using a feed management solution like DataFeedWatch will allow you to create fully optimized product feeds based on your existing data. Optimized listings will then help you increase sales, easily sell on multiple channels, and prevent advertising out-of-stock products.
Their main features include:
Advanced feed optimization: Turn feeds into sales with accurate, up to date and enhanced data
Price watch: Leverage competitive insights to strengthen your market presence
Feed-driven search ads: Automate your Google Search Campaigns, Keywords, and Ads
Product level analytics: Identify best-sellers and underperformers. Shift focus to profitable products
DIY or managed feeds: We're flexible for you! DataFeedWatch offers both DIY and Managed options for data feed management
They have four plans:
For Shops (

1k products included)

For Merchants (

5k products included)

For Agencies (

30k products included)

For Enterprises (

Unlimited products included)
But, what about Plytix?
Sure, Plytix isn't a multichannel listing software. It's more than that.
Our product information management tool has digital asset management capabilities and allows you to easily manage your multichannel listings.
Imagine that; all three opportunities in one!
Our Channels module was specifically designed for distribution from your web store to marketplaces, social media, and comparison shopping engines (CSE's).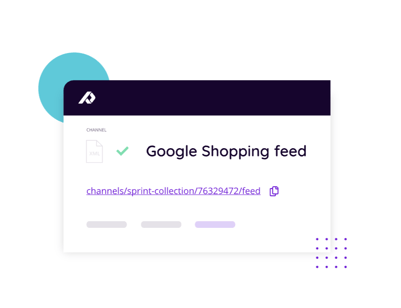 At Plytix, we know that when running an online store, your ecommerce tech stack can get out of hand. This is why we strongly believe that product information tools need to go beyond managing data in a centralized location but also allow you to use that product data and syndicate it to various channels.
With this next-gen PIM, you can see what true product syndication looks like.
You no longer will need to juggle software, spreadsheets, Dropbox folders, and more, because you can store all you need in PIM. This includes product descriptions, images, videos, marketing data for all these sales channels. We will generate your feeds for various channels in the format you need while also ensuring it is marketplace-friendly. This is truly the best PIM for small businesses as it allows you to store, manage, distribute, and enrich your product information.
Ready to win at multichannel selling with Plytix PIM?
Shopify
,
Multichannel Commerce