The covid-19 pandemic has helped define the future of ecommerce.
As much as we try to avoid the elephant in the room, it's a reality. Since the outbreak in 2020, global ecommerce has jumped to $26.7 trillion, and cross-border sales have sky-rocketed. Over the past six months, 57% of global customers have purchased from at least one international retailer, and of the retailers catering to these shoppers, 70% of them have confirmed that foreign expansion through multistore ecommerce has been a profitable venture.
In other news, McKinsey has estimated that 1.8 billion people will enter the consuming class by 2025, annually spending $30 trillion. Foreign expansion and customer expectations will rise, urging more businesses to create a global presence. According to this article, 54% of customers have higher expectations today when compared to one year ago. Bizarre! In just a matter of years, we've seen customer experience go from resolving complaints in a (reasonable) 24-hour loop to the dire need for personalized content and multistore ecommerce—among other things. This industry is forever changing, and you need to keep up!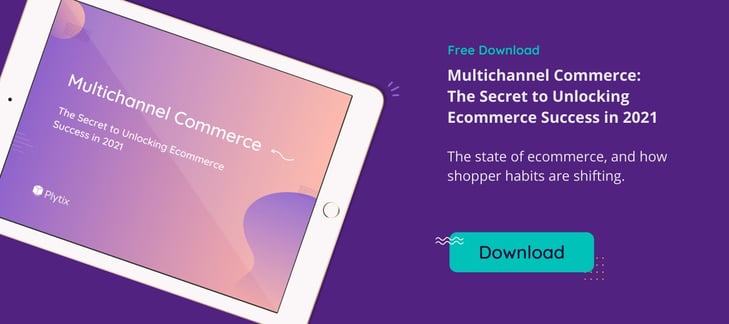 While international selling has bottom-line benefits, it also poses challenges.
If you're unfamiliar with the concept, you might assume that you can target new markets and multilingual customers through siloed marketing campaigns from one site. But that'll do more harm than good for your root store's performance.
Think about it: customers from different countries have unique cultural and social demands. Demographic elements such as item pricing, product availability, and payment options—among other things—will differ significantly between locations.
This creates an even bigger business case for multiple storefronts.
What is multistore ecommerce?
Multistore ecommerce refers to managing multiple stores through one platform, from one domain, and in one admin portal. It's a no-sweat marketing approach that enables you to reach foreign markets and grow your brand, everywhere.
Essentially, you will treat each storefront as its own website. In doing so, you can change the product information you publish, the product catalogs available, the currency you sell in, the language you communicate in, and much more!
Without even thinking about third-party marketplaces and sales channels to connect with, multistore ecommerce (alone) opens the door to greater visibility. These stores can then syndicate content to channels specific to each audience.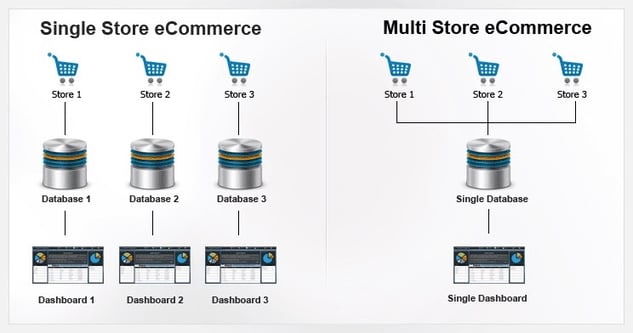 Whether you want to host several of the same brand's stores under one domain, or you want to manage different brands under one domain, it all works the same.
Here are some benefits of separating your stores with a multistore platform.
Enter into international markets with different languages and currencies
Generate greater brand visibility, traffic, and sales per audience
Tailor your business' brand and product messaging to the industry
Non-disruptive customer experience without overwhelming many audiences
Able to sell to businesses as well as direct to consumers (D2C)
Carry out more targeted search engine optimization (SEO) and product marketing
Multiple stores make shopping easier and more comfortable for foreign customers. They no longer have to browse items, only to be greeted with a disappointing message about shipping restrictions or product unavailability in their country. With a dedicated site, customers can shop their hearts out. Even if it's just a small group of customers, it can make a huge difference for your sales.
Why multistore ecommerce with BigCommerce?
BigCommerce, a hosted ecommerce platform, is designed for fast growth and scalability. This highly customer-centric platform has taken multichannel commerce by storm, growing at a staggering 600% per year! They offer 850 applications and the ability to integrate with third-party systems such as PIM.
Here are some benefits of a multistore approach with BigCommerce:
An SEO-ready platform with advanced capabilities
BigCommerce does not charge transaction fees
The website builder is straightforward with an easy set-up
Excellent solution for omnichannel and multichannel commerce
Able to connect with a list of payment gateways
Flexible product information management for your store/s
Hundreds of top apps and integrations available
More out-of-the-box features to scale your operations
When adding new web stores to the mix, you will likely run into difficulties with product catalog management (if you haven't already). As it is, maintaining one web store's product information in BigCommerce, or any ecommerce platform for that matter, can be a time-consuming nightmare. So, considering that employees already spend 90% of their week on data-related activities, they'll rather refrain from expanding their catalog altogether to avoid the effort that comes with it.
Yes, product information management can be daunting—but it doesn't have to be. Neither should your growth be dependent on resources. There's an ecommerce tool that can automate data management in the simplest way possible: Plytix.
By centralizing large volumes of custom data in PIM software, you can actively reduce content errors. You can manage each store individually, scale content fast, speed up time to market, and minimize the headaches of international selling.
3 tips for multistore management with BigCommerce
1.) Consider headless commerce architecture
At face value, BigCommerce offers everything you need to build and run an ecommerce store. However, it might not meet your growing business needs. Depending on the type of products you sell and the content you wish to share, you might experience that BigCommerce's existing features are too thin and restrictive for your store's scalable dream. You can continue adding plugins until you're blue in the face, or you can opt for headless architecture and do it yourself.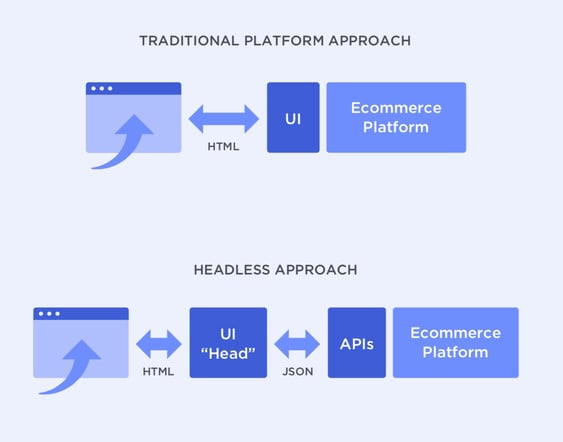 Businesses choose to go headless to further customize their store and increase performance. In the event of creating multiple stores, you can really tap into headless benefits. Separating the frontend from your site's backend means you can easily tweak each store as you generate insights, personalize each store's layouts per audience or country, integrate individual stores with different tools, and more. Together, these changes can really boost customer experience.
2.) Develop a multisite content strategy
There is no one-size-fits-all content strategy with multiple stores.
If you want to do it right, you need to deploy the correct resources and technology to assist you every step of the way. While it will certainly be challenging on the marketing front, due to the added complexities of search engine optimization (SEO) and digital assets, it's an opportunity for your business to develop a lead-generating machine. Fortunately, this data can be tweaked in bulk in PIM, allowing you to automate optimization and speed up the process.
As you do your homework, you will need to carefully perform market and keyword research for each of these sites. You will also need to gain insights into consumer personas and start analyzing their search behavior. It's important to note that each store's content will differ according to the market. You will need to optimize for each page, title, listing, and so forth. Be careful not to promote those web stores in a way that plays them up against each other—you don't want to compete against your stores. You want to rank above your competitors for each individual store.
3.) Manage data in a central source of truth
Forget trying to manage your product data or digital assets in the backend of BigCommerce. Not only can this limit the amount (and quality) of information presented on each storefront and how you syndicate with external channels, but it can also become a challenge for multiple staff members to access. With a dedicated product catalog system, you can standardize your content across stores, using certain attributes or system attributes to avoid content duplication.
You can also split your product lists in the system, and monitor the completeness status according to the store or channel you're selling on. To add, a PIM platform can easily be merged with an ERP or inventory management system, allowing you to enrich the data for marketing and sales purposes. These systems work together like a dream, boosting customer experience across every touchpoint.
Sell more with multiple stores
From multichannel to multistore, ecommerce never sleeps!
Get started with cross-boarding selling and extend your global footprint. BigCommerce's multistore solutions can help you tackle complex customer segmentation and fulfillment, and a next-gen PIM can help you manage all the details. Take your product information to the next level, no matter where you sell.
Book a demo to start using PIM for BigCommerce!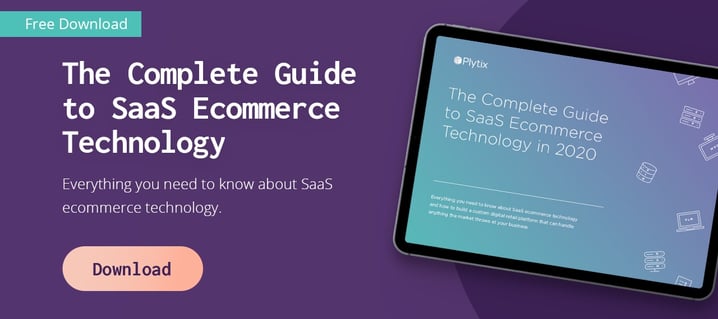 Multichannel Commerce