Worldwide ecommerce revenue has reached billions.
And more than 73 percent of the consumers who contribute to this ecommerce revenue are regularly shopping in multiple physical and digital channels—and spending more, more often, and for longer than their single-channel counterparts.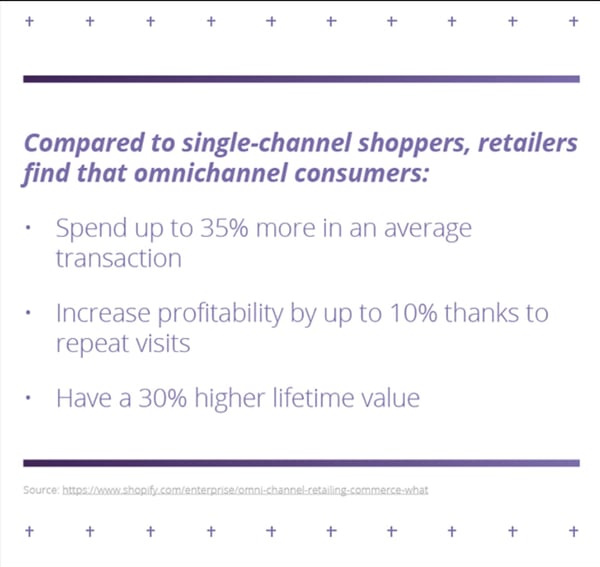 A tech-savvy ecommerce marketer, manager, or business owner like yourself already knows that omnichannel retail is the only way to conduct business in the modern world—the toughest part is figuring out where the heck to start!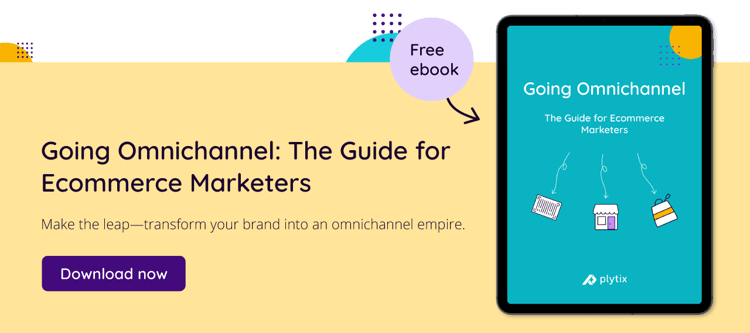 That's why we broke down what we think will be the most important omnichannel retail trends. Keep reading to learn about changing consumer expectations, what seems like AI-powered everything, and some surprising new retail channels that will help you outsell and outsmart your competitors.
9 Omnichannel Retail Trends Shaping the Industry
Ready to tackle some new trends? Here's where to start.
1. Omni-Device Consumers Are the New Norm
Google found that the majority—85 percent, in fact—of digital consumers start the purchasing workflow on one device yet finish it on another. There is no way to avoid the fact that shoppers who use multiple devices, and likely multiple channels as well, is what's normal today. If you aren't prepared to accommodate this fluid shopping experience, you risk losing shoppers to the brands who can.
2. Customers Prioritize Painless Checkouts
Now that you know a smooth omni-device shopping experience is what consumers have come to expect, the first thing you should consider is what that means for one of the most important, and often the most intensive, part of that experience—the checkout.
As it stands, three-quarters of all online shoppers abandon their carts without ever completing their purchase. And the reason is hardly ever about the price of goods. Instead, the reason usually relates to the experience—surprise fees, a time-consuming account creation process, a confusing checkout workflow, and so on.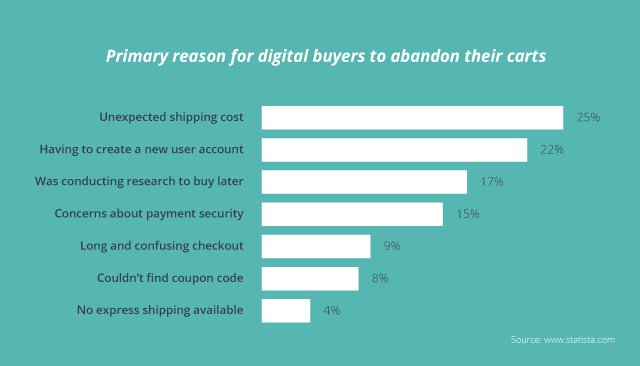 Cutting-edge brands and retailers are exploring mobile and tablet point of sale systems in-store, offering various payment options including Apple Pay and "buy now, pay later", and overall streamlining the entire digital checkout process.
Want to learn more about how to optimize the checkout process? Download our free ebook where we walk you through our proprietary four-step framework for optimizing the online shopping experience from start to finish.
3. Accessible AI Drives Cross-Channel Personalization
Personalizing the consumer experience across every channel and device will continue to be one of the biggest trends. And the growing accessibility of artificial intelligence, machine learning, and big-data processing tools only drives this trend that much further. Now, even the "average" product marketer can leverage high-tech solutions to deliver personalized on-site product recommendations based on browsing and purchasing behavior, retarget shoppers on social media with personalized ads, segment users into relevant email campaigns, and more.
When over half of consumers expect a personalized discount within a day of making themselves known to a brand, over 70 percent express frustration with an "impersonal" shopping experience, and 63 percent say they're willing to give up personal data in exchange for personalized perks and offers; there's never been a more rewarding trend to adopt.
4. Creative Yet Accurate Fulfillment Strategies Define Success
As it becomes more and more clear that the winning brands and retailers will be those who go above and beyond to offer personalized experiences, alternative fulfillment options will gain traction. This year, online sellers will continue to offer online purchasing with in-store pickup, shipping from a local store, super fast shipping, super affordable (or free!) shipping, and even return labels that simplify the process of sending an item back.
The trend toward more channels with more fulfillment option on each means way more moving parts for sellers. Retailers will need to double down on real-time, cross-channel inventory management and order fulfillment to make sure they're able to supply what shoppers want, when they want it, and do both without maxing out their cash on hand or storage space.
Luckily, technology trends like AI will greatly assist organizations in managing their supply and even analyzing sales data to stock more efficiently in the future.
5. Brick-and-Mortars That Pivot Will Thrive
As we explored in Top 10 Ecommerce Challenges to Look Out For, operating a brick-and-mortar shop will continue to prove challenging. However, there is a growing trend among retailers who are making it work by scaling down and focusing on something other than pure profit—the experience.
Shoppers no longer visit physical locations because they have to. They do it because they want to. Whether they desire to try out products or they just enjoy the social aspect of visiting your shop, the key here is to find out why shoppers visit your brick-and-mortar and zero in on doing more of that.
Experiences are a great way to compete on something other than price in the age of hyper-thin margins. Here are a few things you could try to do in your physical locations to blow your digital competition out of the water:
Have plenty of knowledgeable and passionate sales associates in-store to provide awesome customer service
Feature special in-store-only products and promotions
Keep your store design fresh so every visit feels like an adventure
Offer services that your shoppers would be interested in, whether that's a bike tune-up or a personal shopping experience
Host fun experiences that your products can enrich such as a cooking class, a pop-up food stand, a hands-on building workshop (like Home Depot), an interesting speaker who uses your product, etc.

6. Brands Are Experimenting with Augmented Reality
Remember when Google Glass didn't take off the way many of us thought it would?
While it's true that a product to augment reality in everyday life didn't catch on like wildfire, brands and retailers are reviving the concept to help with online sales.
Augmented reality is all about empowering the consumer to bring the shopping experience into their home, their car, and even their liquor cabinet! For instance, IKEA's Place app lets shoppers simulate how certain pieces of furniture will fit into a room, BMW has several apps that give consumers the wheel to view and design their very own vehicles, and The Macallan 12 AR Experience app invites consumers to take a (virtual) trip through the production process with a (real) drink in hand.
For brands and retailers in the right industries, augmented reality presents another channel from which to provide products as well as an excellent experience that encourages referrals and retention.
7. Voice-Powered Commerce is on the Rise
It's estimated that more than half of all internet searches will be conducted via voice-activated tools like Siri, Alexa, Google Home, and more this year. As for how that affects retail, more than half of Americans have already used a voice assistant to make a purchase and another reported they'd consider doing so.
If that isn't enough of a trend for you, consider that even Google is jumping on board by prioritizing content that's optimized for voice search. Brands and retailers would be wise to do the same and start thinking about and optimizing their listings and content based on the way people speak.
8. Chatbots Scale Customer Service Efforts
By 2020, it's thought that 85 percent of customer interactions will be handled without the need of a human agent. How? Chatbots.
For online retailers, chatbots are invaluable in providing personalized, on-demand customer service that removes friction from the purchasing process. What's even better is that chatbots and mobile messaging platforms (think Facebook Messenger) go hand in hand. With mobile messaging app users expected to reach a new high, online sellers will have the opportunity to convert and serve a whole new generation of consumers when they adopt chatbots.
9. Subscription-Based Ecommerce Introduces a Whole New Channel
Dollar Shave Club and Blue Apron are more than just the source of annoying podcasts and YouTube ads. They're a few of the hundreds of subscription services that represent a booming new channel for retailers to try.
The subscription-based ecommerce market has grown by more than 100 percent every single year for the past five years. The largest players generated over $2.6 billion in sales in 2016 alone. Even established retail giants are jumping on the trend in one way or another. P&G (Gillette on Demand), Sephora (Play!), and Walmart (Beauty Box) each have their own subscription services while Unilever acquired Dollar Shave Club for $1 billion and Albertsons the meal service Plated for over $200 million.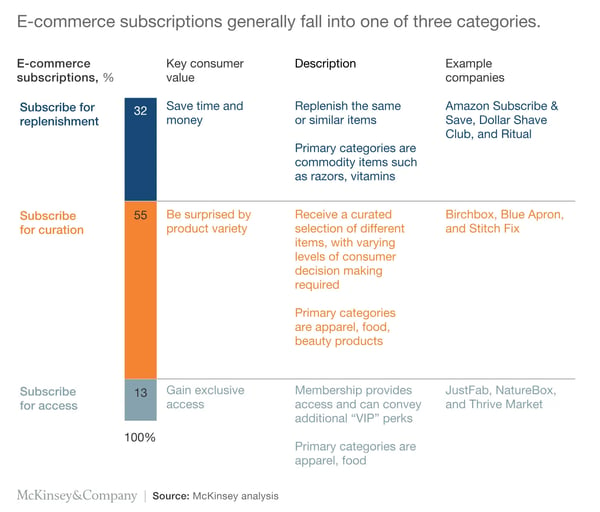 Spend More Time Keeping Up with Trends and Less with Stray Product Data
No amount of trendy tech is going to save you if you can't keep your product data up to date. Accurate product data doesn't just help shoppers find you online, it is the absolutely essential point around which all your omnichannel efforts pivot.
Can't get a product's availability, attributes, shipping info, price, or reviews right? You can kiss that shopper goodbye for good.
Don't squander all the effort you put into keeping up with omnichannel retail trends on poor product information. Save yourself the heartache, the overtime, and plenty of money with Plytix—a modern product information management (PIM) platform built by product folks for product folks.
Our simple yet powerful framework empowers businesses of any size to centralize, optimize, distribute, and analyze their product information and improve their revenue per employee.
Learn more about our methodology, set up your account in just minutes (no credit card required!), or get in touch with our awesome customer support team and get your questions answered.