Retailers already know how much the ecommerce industry has changed.
But this isn't even online retail's final form. Retail is continuing to evolve, especially when it comes to ecommerce and new digital touchpoints that are emerging all the time. The only way for retailers to keep up is if they keep evolving, too.
You've probably heard the word "omnichannel" — it's all the rage in the industry. Omnichannel ecommerce strategies have proven they're much more than a fad — they're the next evolution of online selling. And if your business hasn't adopted an omnichannel strategy yet, you're in danger of being left behind in this landscape.
If you're ready to explore some new strategies that will take your business to the next level of omnichannel retailing, you've come to the right place. Read on for the complete guide to evolving your retail strategy in the omnichannel age.
What Is Omnichannel Retail?
Omnichannel retail is the process of integrating all your business' sales and marketing channels to create an integrated, seamless experience for your customers, no matter what touchpoints they're using to access your business.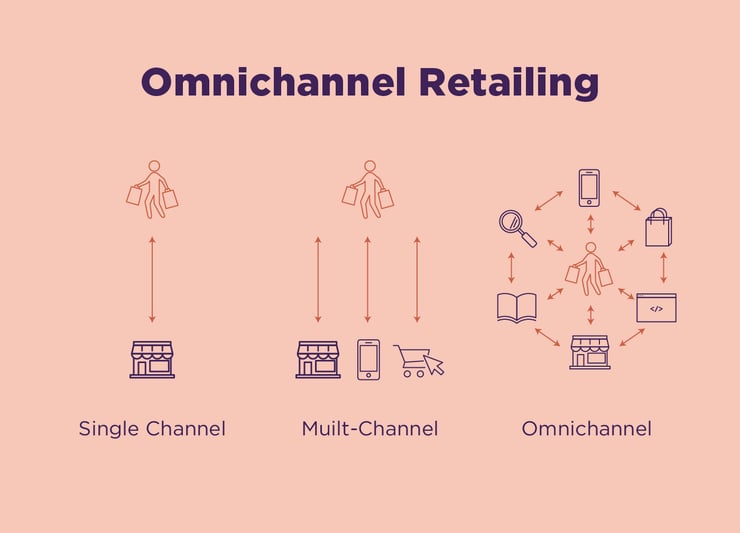 For example, say you buy a couch from an online furniture retailer. After you make that purchase, you start seeing ads in your social media feeds from the same retailer for other living room furniture you might need. You also receive a personalized email from the retailer, highlighting other pieces of living room furniture in finishes that would complement your new couch. That retailer has a solid omnichannel strategy — they're reaching their customer across multiple marketing channels, and offering products that go with past purchases.
Businesses with the best omnichannel strategies might take things even further when it comes to providing a seamless experience across all touchpoints. For example, say you see an Instagram ad for a coffee table recommended by that same furniture retailer to go with your new couch. You click through to their site within the Instagram app and add the table to your cart, but you don't complete the purchase. Later, you receive an email reminding you about the table in your cart. By clicking through the email, you're taken to the retailer's mobile app or desktop site, and there's that coffee table, in your cart and ready for you to buy.
The thing about that excellent omnichannel strategy is that it isn't uncommon in today's digital age. In fact, as more and more retailers implement omnichannel strategies, that's the kind of experience shoppers expect from all brands. A recent study by the Harvard Business Review found that 73 percent of shoppers prefer to access their favorite brands across multiple channels — both online and offline.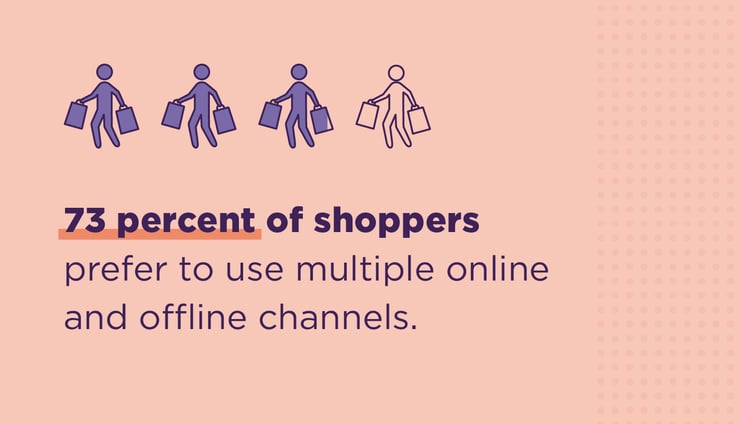 That's why, regardless of the size of your ecommerce business, omnichannel retailing is a must, and you need to make that evolution now if you haven't yet.
How to Develop an Omnichannel Retail Strategy
Getting an omnichannel strategy off the ground for the first time requires an investment of time, energy, and likely, the capital. If you're new to omnichannel retailing and building a strategy for the first time, the first step is to look at your business and think about how you can integrate three key areas:
Sales
Delivery and fulfillment
Returns
Every omnichannel retailing strategy will deliver an integrated, consistent customer experience in all three of those areas. With that in mind, follow these next steps to start building your omnichannel strategy.
Find Where Your Customers Already Are
A good omnichannel strategy doesn't mean flooding into as many channels as possible — at least, not yet. For now, you should focus your efforts on the channels, platforms, mediums, and devices your ideal customers use.
And in the digital age, you don't have to guess. There are a variety of tools that can help you figure this out, from Google Analytics to Shopify's Attribution Connector. If you don't have access (or room in the budget) for tools that deliver extensive analytics about your customer base, even basic demographics information can help — for example, if your target customers are in their 30s and older, you're more likely to reach them on Facebook than Snapchat or Tik Tok.
Make Every Possible Touchpoint Shoppable
As retailers already know, every interaction with a shopper is a potential sale — but only if you give your customers the right tools. That's why every touchpoint they use to interact with your business needs to be shoppable, if possible.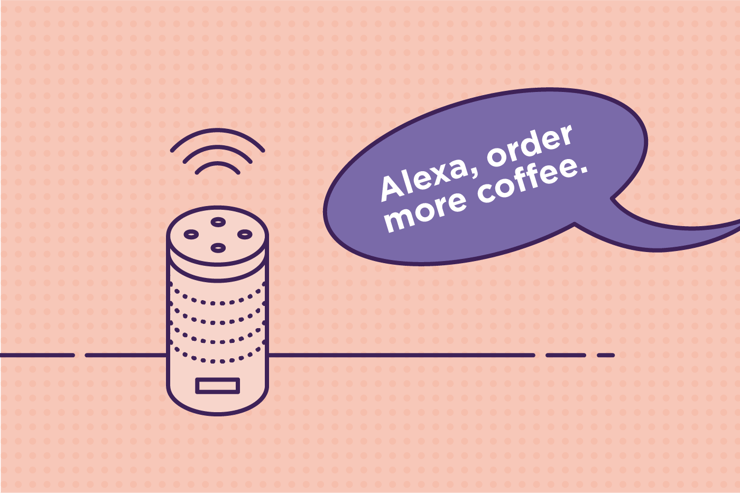 Some mediums are making this easier for retailers by making their own platforms shoppable, like Instagram. But for those that don't, make sure you include CTAs and link to product pages at all touchpoints.
Take Advantage of New Technology and Metrics
The advantage retailers have today is that omnichannel retailing is the only way to stay competitive, so there are a lot of tools available to help you create your omnichannel strategy. For instance, a good product information management (PIM) solution is important in many aspects of your omnichannel strategy. From having organized and up-to-date product information in a single, centralized source of truth, to be able to push product data to any sales channel at any time.
But one of the most important things a PIM tool can do for you as you build your omnichannel retailing strategy is analyze metrics and help you optimize your efforts as you move forward.
Omnichannel Trends the Best Brands Are Using
Once your omnichannel retailing strategy is off the ground, there are other trends you can implement to help it be as effective as possible.
Give Shoppers the Personalization they Want in 2020
More shoppers are expecting their retail experiences to be personalized.
Having a strong omnichannel strategy can help retailers deliver an ultra-personalized experience because they're able to collect and leverage data from more touchpoints than ever before. And when all your channels are connecting and integrated, providing a seamless omnichannel customer experience across all of them reinforces that personalized touch for your customers.
Offer Faster and More Efficient Buying Processes
Allowing customers to shop via more channels naturally gives them more ways to check out and pay. But you should also be making an effort to provide as many payment options as possible in all channels where you have control over what payment methods are accepted.
Nobody wants to have to manually enter credit card information in the digital age, so offering customers the opportunity to use things like PayPal and Apple Pay is becoming a more and more important part of a good omnichannel strategy.
Don't Just Be Omnichannel — Be Omni-Device
A 2019 Deloitte study found that the average American household owns 11 connected devices — and that number is only expected to get higher. That's why, in addition to utilizing more touchpoints and making them shoppable, businesses need to consider their omni-device strategies. Increasingly, shoppers are switching between devices at different points in their buying journeys, and they need to be able to pick up where they left off, not start at the beginning. Brands that enable that kind of seamless omni-device experience will stand out from other retailers.
Embrace Social Integration
When thinking about potential channels to utilize as part of an omnichannel strategy, social media platforms are some of the most obvious choices. Almost everyone who shops online will belong to at least one social network, making these platforms an excellent place to present customers with buying opportunities.
The brands with the best omnichannel strategies should be constantly looking for new and innovative ways to integrate social media with their customer experience, whether that's by offering in-app purchasing on social platforms, reposting social content on their websites, or another, more innovative strategy.
Offer Round-the-Clock Customer Service
One reason ecommerce has taken off as much as it has is its ability to "keep the doors open," so to speak, 24 hours a day. It's tough to keep a brick-and-mortar retail business open around the clock, but when it comes to ecommerce, customers can browse your products and place orders at any time of day.
With that, though, comes the expectation that customer service will be available around the clock, as well. More and more, this is what shoppers expect. Luckily, technology like AI chatbots and automated support tickets are making it easier for businesses to offer personalized support at all hours, only requiring a real person to follow up during the workday.
Use Augmented Reality for a "Try Before You Buy" Experience
Source: https://www.youtube.com/watch?v=UudV1VdFtuQ
While ecommerce offers shoppers a more convenient shopping experience in a lot of ways, one way that brick-and-mortar has always had an edge was its ability to let shoppers see, touch, and experience products first-hand before they buy.
Think about it: You might be tempted to buy a couch online, but wouldn't you rather see it in person to get a firsthand idea of the size and color first? Would you buy eyeglasses without trying them on to see how they look on your face?
Ecommerce is utilizing new and increasingly accessible technology to address these issues, and create that "try it before you buy it" experience online. One excellent tool for this is augmented reality. A prime example of this is IKEA's Place app, which allows users to see true-to-size furniture pieces in their homes through their device's camera. Another is the virtual try-on features that sites like EyeBuyDirect and Zenni Optical offer for online glasses shoppers.
Be Omnichannel or Be Nothing
It's clear that going omnichannel is the only path forward. If you're ready to dive into the deeper elements of building your omnichannel retailing strategy, download our free ebook and get started on your path toward retail evolution.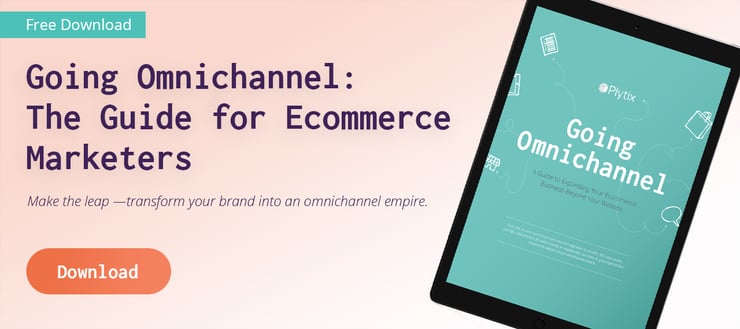 Omnichannel Commerce