Whether your ecommerce site sells 10 products or 10,000, you have a lot of product data to keep track of.
From SKUs to descriptions, images, videos, SEO elements, prices, assembly instructions, suppliers, shipping information, and so much more—digital retailers attach an average of 200 attributes to every single product they sell. And for good reason—64 percent of adult shoppers in the U.S. say they turn to online retail because they're able to find more product information than they can find in stores.
If it's product information the people want, then it's product information you should be giving them. So go ahead and open up your product information spreadsheet and make sure all that data is accurate. Oh, and make sure your marketing team is using the most recent version of that spreadsheet. And a few products now need updates, so change that information in your spreadsheet. And make sure to send that new, most recent (for now) file to everyone who needs up-to-date product information. Meanwhile, customers are returning items because they were listed to sales channels with old information. Your sales and loyalty are tanking. Is your head aching yet?
As digital retailers need to keep track of more and more product information, they need good, efficient solutions to do it. So it's good, efficient solutions we'll give you today.
What Is Product Information Management and PIM Software?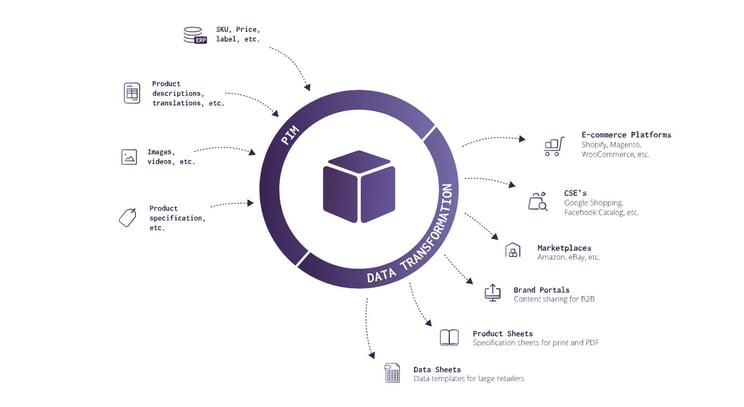 Product Information Management (PIM) is a process used to organize and handle all the data, content, and other information needed to market and sell products. If you haven't heard of PIM, you've probably at least heard of a similar solution, like master data management (MDM), product lifecycle management (PLM), or product resource management (PRM).
PIM software is a tool that gives online retailers a "single source of truth" where product information and assets are centrally stored. This allows the entire team, regardless of their department, to instantly access product information that's always up-to-date and accurate.
What information does PIM software store? There's not really any limit. Any product information—including descriptions, prices, configurations, shipping details, logistics, taxation, reviews, and more—can be organized and accessed via PIM software.
PIM software should also allow your team to organize all that product information into virtually any configuration, depending on their needs. Because of this, PIM software gives ecommerce retailers the ability to efficiently access vast amounts of product information across all necessary channels, while still knowing all the information is accurate.
If you're a digital retailer who doesn't have a PIM solution in place right now, this must be sounding pretty great. Ready to get started? Let's take a look at some PIM best practices that help the world's top brand manage products and growth.
What Are Some Product Information Management Best Practices for Brands?
No matter what product information management solution you choose for your needs, there are a few best practices PIM should definitely help you accomplish.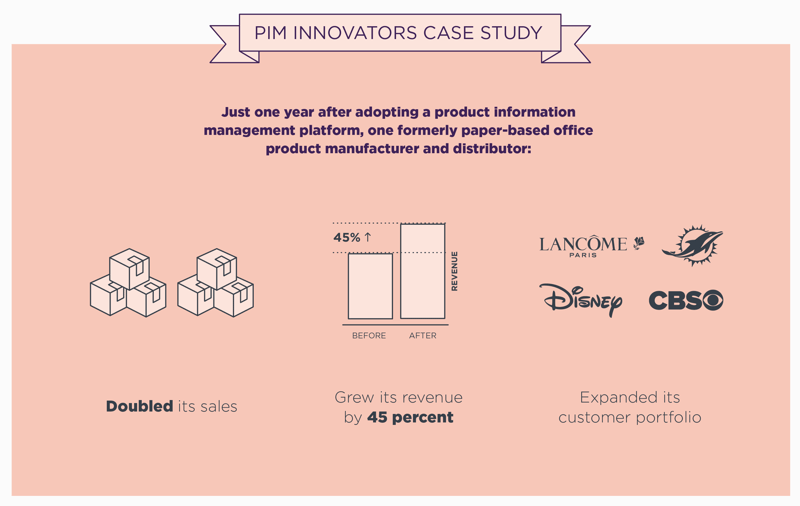 Product Information Management Should Consolidate Your Product Information In One Place
This may seem like a no-brainer, but the main goal of a PIM solution is to consolidate your product information to a single location, making sure all team members can then access, manage, and publish that information to multiple locations.
However and wherever product information gets consolidated, make sure you create a consistent way to format it to avoid redundancy and inaccuracy.
This best practice will give you better control over your products and how they're managed. It will increase your scalability and make it easier to add new marketing and sales channels.
Product Information Management Should Include Processes That Increase Your Speed and Efficiency
Every online retailer knows that bringing a new product to market can be a lengthy process. Your PIM solution should help reduce the amount of time spent managing product information, which should in turn allow you to get products to market faster. The same processes that create that speed and efficiency in new product rollouts should help cut down on time spent updating existing product information.
This best practice should boost revenue by getting products to market faster and cutting down on the time employees spend managing product information.

Product Information Management Should Optimize Your Products' Performance
While efficiently managing your product information should be your first goal in implement a PIM solution, it can and should do even more for you and your products—good PIM should optimize products' performance across any and all sales channels.
Use your PIM solution to enrich SEO information, increase traffic, and drive qualified shoppers to your store or product pages. Update product information according to A/B testing that shows what information drives the most conversions. Customize product information to cater to different marketing and sales channels. And then monitor performance and easily make updates to product information as needed.
This best practice should increase traffic and conversions, which ultimately leads to increased revenue, AKA ecommerce success.
Companies and retailers of every size need to practice good PIM. While any PIM is better than no PIM, a software solution may be the answer to nailing all of these best practices.
Product Information Management Should Help Enrich the Quality of Your Product Information
With all the time you save from having an effective PIM solution in place, you can dedicate more time to enriching your product information. Writing high-quality product descriptions, adding high-res images or videos, including accurate product dimensions and materials used, and disclosing production and supplier information are all steps you can take to make sure your customers are as informed about your products as possible.
This best practice improves the customer experience, which can lead to better engagement and loyalty. It helps differentiate your products from your competitors' products. It can also boost conversions and revenue, since customers will know exactly what they're getting if they purchase from you rather than another retailer.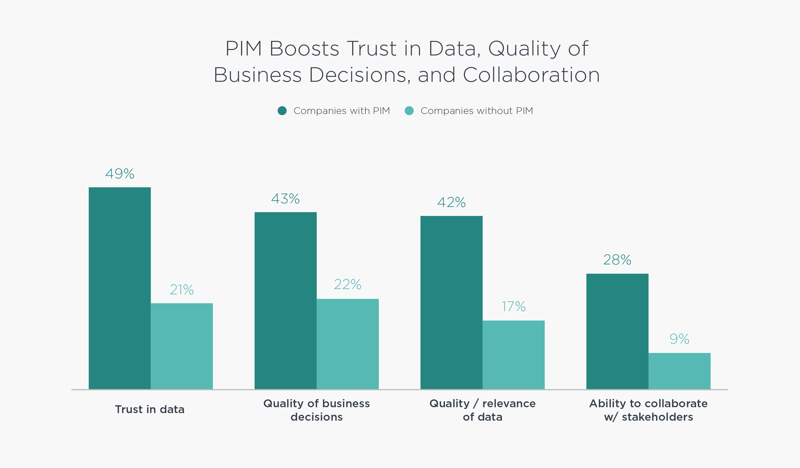 How Do I Know If I Need Product Information Management Software?
A PIM software solution will be a game changer for retailers who:
Want to stop relying on spreadsheets
Have scattered or conflicting product information across different departments or different team members
Need a centralized, scalable PIM solution
Have more SKUs than they can keep up-to date manually
Market and/or sell their products across multiple platforms or channels
Have multiple people or teams who all need access to accurate product information
Basically, if you want a place where all your product information can be centralized, optimized, distributed, and analyzed, you want a good PIM software solution.
What Are Product Information Management Software Features and Benefits?
We've already touched on some of the benefits your business can see if it implements good PIM software. But what do those benefits look like in practice?
Product information management statistics show how PIM software can benefit your entire team, from sales staff to ecommerce managers to customer service representatives to marketing teams. But most importantly, good PIM practices make for a better customer experience and can help increase your sales and customer loyalty. Here's how:
PIM software creates a "single source of truth," where accurate, up-to-date product information is available to anyone in the company at any time. This eliminates scattered and redundant product information and increases your data quality.
PIM software integrates data from multiple sources and channels—in multiple formats.
PIM software allows suppliers to provide your company with the product data they already have available, and automatically distributes that data throughout all of your systems.
Because data is automatically distributed, PIM software allows your company to enrich data faster—and get products to market faster than your competition.
PIM software increases the quality of your data and allows you to utilize more marketing and sales channels, which can increase your conversions and revenue.
With so much up-to-date and accurate product data, customers know exactly what they're getting. Their experience is then better, and you save time and money by dealing with fewer returns and reconciliations.
Ready to invest in PIM software? Make sure you choose the platform that's best for your needs. Our Ultimate PIM Buyer Guide will help you compare options and choose the right PIM software with confidence.
Whether you're taking the plunge and investing in product information management software or just looking for a solution that will help your small business manage product data more efficiently, product information management is a must for all online retailers.