There are many PIM tools that claim to have collaboration capabilities but don't.
In ecommerce, this isn't ideal for your pocket. An ecommerce tech stack for online retail success can be costly, especially when you jump into it blindly.
So, when looking for new PIM software, it's always important to find a system that is not only affordable but also allows you to do more than one thing at a time.
And that's exactly what our PIM software is.
Plytix PIM enables multiple users to handle product data from your ERP system, digital assets, multichannel listing management, product analytics, descriptions, translations, product specifications, and much more. Apart from that, Plytix PIM gives you the ability to easily distribute content to your website, sales channels, and clients. It's a highly collaborative software, which means you don't have to:
Manage a large number of product data in PIM alone because adding users is too expensive
Have one person access PIM at a time because multiple users can't work online at the same time
Have to decide who in your team gets permission to use the tool and who doesn't to cut down on costs
But we know we can't just tell you this without backing it up. So, let's get into why it's the best PIM for collaboration ...
No hidden fees—you get what you pay for
Have you ever heard of the term "bait-and-surcharge" in marketing?
Well, if you haven't, you may have been a victim of it. This term involves marketing an appealing price to pull in customer interest, only to be surprised with new surcharge fees the minute you go ahead with it. These hidden fees are referred to as additional services costs or administrative charges. This is considered an unethical business practice—it leaves your customers frustrated, and misleads them into paying additional costs for a product or service they didn't budget for.
As an SMB, you want to be able to save money and ensure you use it on things that bring your business value. At Plytix, we strongly believe in this. Pricing should be transparent at all times, and there should be no hidden costs or costly surprises. Our goal is to help small to medium-sized businesses flourish in the ecommerce space. And we do that by offering an affordable product information tool with free collaborative capabilities. This ensures businesses have access to a single source of truth to eliminate risks caused by siloed data.
Unlimited users are available on all plans
Apart from not having any hidden surprises, collaboration on our product information management tool is free. Yes, you read correctly, free.
With every pricing plan, whether you're on the free version, standard, or PRO, unlimited users can work together. It's a key feature of our software.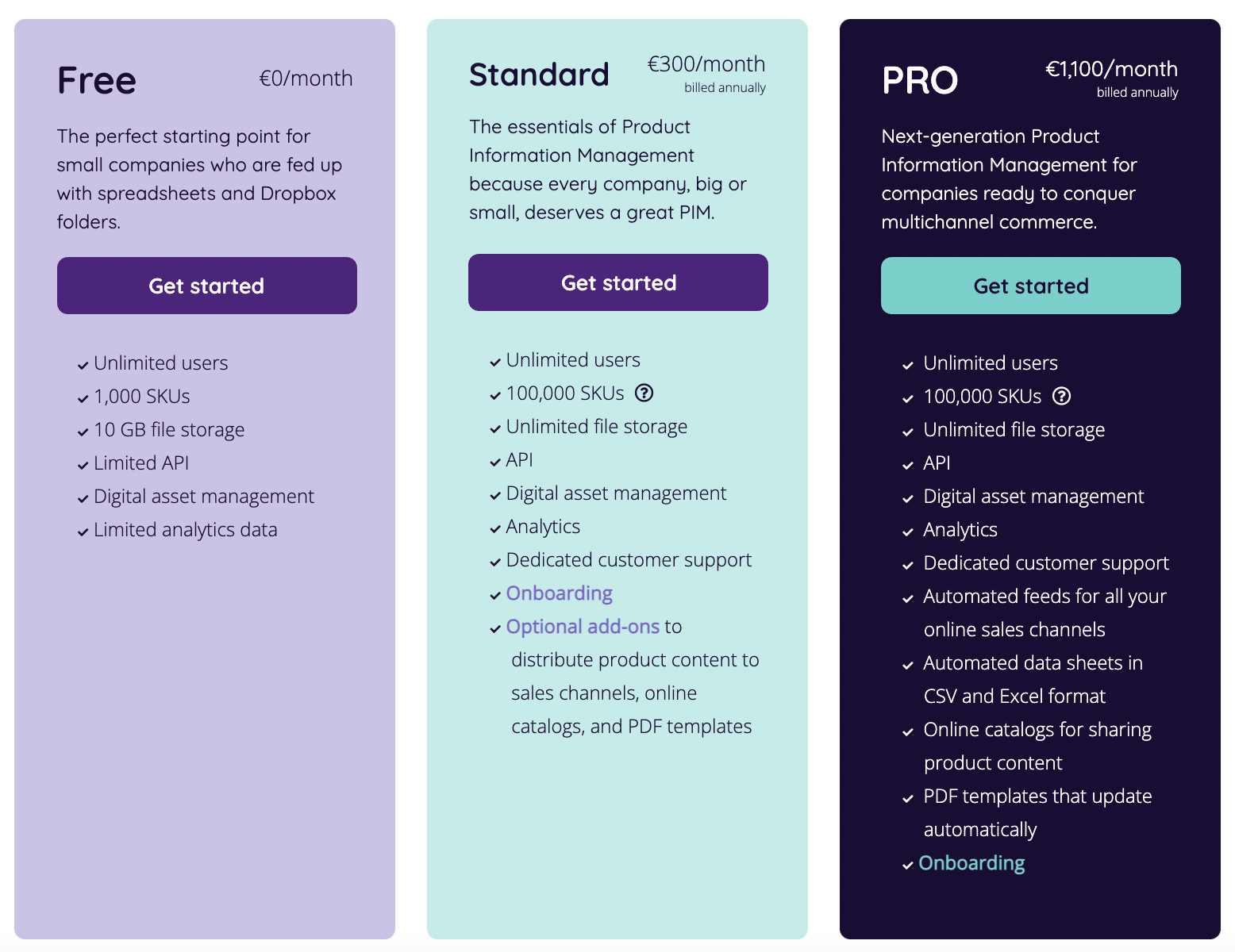 Our pricing is based on your product information, not how many people will be using this tool. Whether you're a team of 10 or 100, you can get a PIM tool and enjoy collaborating with your team no matter the department they're in.
From ecommerce to content, marketing or sales, everyone can work together in harmony. For us, selling online should be a painless collaborative effort; one where everyone can access, optimize, and manage product content to ensure teams are aligned and can drive sales for your business across all sales channels.
You'll get adequate tool training because it's important to us
Another reason why collaboration tools tend to be inefficient is the lack of training. We understand that not everyone is tech-savvy or will just miraculously know how to use a PIM system. Our product content management software doesn't require any technical skills or knowledge because it was built by content people for content people. It is easy, intuitive, and it is platform-agnostic, meaning you won't have to move mountains to ensure the PIM works for your data, instead, the PIM is designed to match your data structure, naming conventions, and so much more.
It also doesn't stop there. Each customer gets access to a dedicated Customer Success Manager who will guide you through navigating the PIM upon onboarding and throughout. It's part of our white-glove service. That way, if you have questions, you can easily contact your dedicated manager, and they'll be more than happy to help. Additionally, you can visit our Help Center or follow our Youtube channel to keep up with tips on everything PIM-related. Some of our video content that specifically supports collaboration efforts involves the following.
Tips on how to create custom team roles
How to invite new users
How to set up Plytix PIM tool for remote working
And, many more.
Finally, cross-functional teams can work together
A lot of tools say they're collaborative, but once you use them, it's only collaborative to a certain extent. Well, that's not the case with this next-generation PIM! Ours does not limit you. It is designed for collaboration across departments to ensure a streamlined workflow internally and externally.
Working in silos, using difficult-to-use systems, and not being on the same page can hinder business operations. According to research done by IDC, "companies lose 20 to 30 % in revenue every year due to inefficiencies." That isn't our goal.
A number of factors can cause inefficiencies, and that can be attributed to using a system that doesn't really work across departments. This product information management (PIM) software, however, is built for cross-functional teams. This means that you can create your own user permission and invite unlimited team members from various departments at no extra cost. You ensure that everyone has access to the most up-to-date information needed to do their job successfully.
Plus, you know the expression, "two pairs of eyes are better than one"? Now, imagine how easier it is to notice mistakes, redundancies, or outdated product information when everyone can see your data in real-time? This will save you plenty of time, improve data quality, and help you take control of your products.
There you have it—collaboration made easy with Plytix
Gone are the days where you experience lagging spreadsheets because you have too many SKUs or not being able to access a folder or spreadsheet because the owner of the sheet is away on holiday, stuck in a meeting, or unavailable for whatever reason. With Plytix PIM, each person in your team can have access on the go to update, optimize, manage, and more with this affordable PIM solution.
Get the best-priced PIM solution now. Request a demo!