Holiday shopping this year will be more messy than merry!
All thanks to the ongoing global supply chain issues that have online retailers, from large to small, scrambling for quick solutions to meet customers' holiday needs. Especially with Black Friday and Cyber Monday just around the corner too.
According to this, the costs across the retail supply chain will increase by $223 billion in the second half of 2021 due to challenges faced by logistics companies, manufacturers, and retail stores. Labor shortages, manufacturing delays, jammed ports, and a surge in online shopping will inevitably result in shortages, shipping delays, and price hikes. In fact, British customers have already felt the heat.
According to Morning Consult's report, UK customers have had it far worse compared to their European peers, as 39% of UK customers have already experienced trouble getting certain items, especially groceries, last month.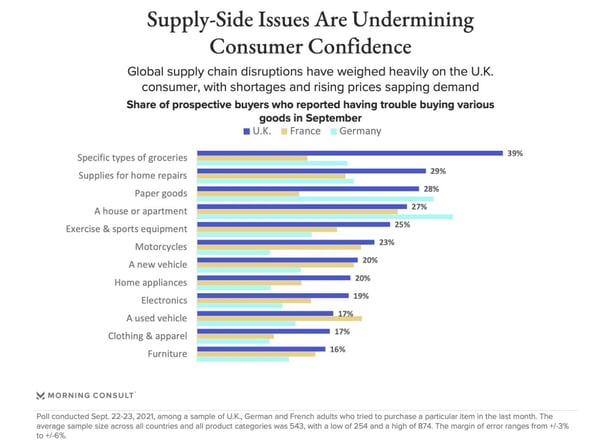 American shoppers can relate, as they too are already experiencing difficulty in finding certain products and the spike in prices of the products they do find. And, concerns are rising. Convey has recorded a total of 50.3% of US customers who are concerned about stock availability for typical holiday products. From the same study, 46.1% are concerned about longer shipping delays and product costs, and 40.6% are concerned about shipping costs for the upcoming holiday shopping.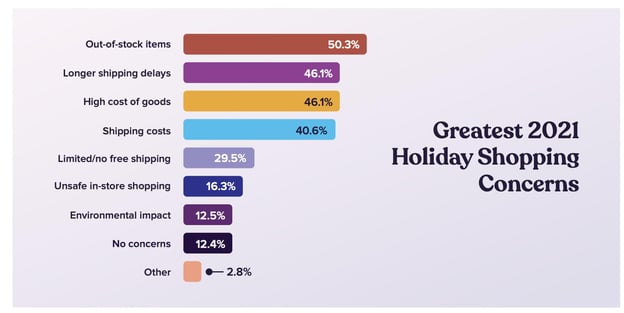 Despite all of these concerns, shoppers are expecting retailers to come to the party and be proactive in their approach to delivering their holiday product needs. Deloitte predicts that sales will increase between 7% to 9%, totaling approximately $1.3 trillion. In addition to that, ecommerce sales are expected to grow 11% to 15% year-over-year. This is a clear indication that the supply chain disruptions may be massive, but the growth potential may not be as bad as anticipated. As long as retailers get ready, fast, they can create a win-win situation for everyone involved.
Maybe you're wondering how to do that?
The answer is building a resilient supply chain before it's too late.
What is supply chain resilience?
Deloitte defines supply chain resilience as 'the processes that companies put in place to keep their supply chains from breaking and restore them quickly when they do.' Their study found that nine in 10 companies are making significant investments to improve their supply chain resilience, with 95% of executive panels indicating stronger supply chains as "important" or "very important."
"It's also how they can gain the nimbleness and scalability to power new go-to-market approaches and innovative business models." Building a resilient supply chain now before the holiday rush really kicks in will make sure that you don't end up disappointing your customers with out-of-stock notices and late deliveries.
Here's how...
1. Get a grip on inventory management
As you can tell from the UK and US markets, concerns for inventory issues are high. Having too little inventory means you won't meet customers expectations. You know what that means, right? When you don't meet customers' expectations, you lose sales to your competitors. The best holiday gift you could ever give them!
If that's not the outcome you want, you need to practice good inventory management. And, we hate to break it to you, but you won't see much success in that task if you manually manage inventory on spreadsheets. Perhaps, you already have an enterprise resource planner (ERP) system. But an ERP alone has its limitations—so to zone in on inventory management during these times, you need a complementary product information tool that will help you further automate for maximum efficiency and faster productivity. When ERP and PIM are combined, they make real magic that you can track and measure in real-time. They make inventory and data management as easy as writing down a holiday wishlist.
No, really, updating inventory reflects on all your sales channels automatically. That's a piece of retail channel management you can remove from your worries.
2. Ramp up your logistics, fulfillment, and shipping solutions
Shipping can be nightmarish under normal circumstances, but it's 10 times more frustrating during trying times such as these. When you develop a proper plan for shipping and fulfilling customers' holiday orders, ahead of time, you can weather the supply chain storm. If you haven't already, ramp up your solutions ASAP.
Marketplace giant Amazon is doubling its efforts by increasing container processing ability, expanding its delivery service partner program, and ramping up its warehouse investments. They're customer-centric in their approach because they understand that customers want their ugly Christmas sweaters, the gifts, the tree, and all the Christmas trimmings that make the festive celebrations worth it.
"Amazon is doing whatever it takes to minimize the impact on customers and selling partners this holiday season," an Amazon representative said.
And, even if you don't have an Amazon budget, what you do have are options to consider. If you handle fulfillment in-house, you can boost the capacity to ensure that it's ready for this holiday's mad shopping rush. Alternatively or as an addition, you can outsource to affordable third-party providers. For example, Amazon has its Fulfillment By Amazon (FBA) model, which could be very beneficial now that they're showing enhanced initiatives to make customers happy. Outsourcing can take the pressure off of your teams, and putting a task you have no true capacity for in the hands of experts is always the best decision.
If you have a traditional storefront, you can promote buy online, pick up in-store or curbside pick up to increase the convenience of product delivery.
3. Improve your product information management
Product information management may seem like a no-brainer, but it can fall through the cracks when operating in crisis mode. Hence, improving it now makes more sense so you don't have to cry about missed sales later. In fact, you won't just experience loss in sales but you could face financial loss. According to ​​Gartner, businesses lose an average of $15 million per year because of bad data.
So, get a strong handle on the product information before you put it in front of customers, who, might we add, are very informed and demand only the best. That's in addition to them having tons of options to choose from. You skimp on data; they go to the next retailer who will give them exactly what they need.
With a PIM database tool, you won't have product data worries because it will pick up the slack for you. It stores, and organizes product data in a single location.
Weather the storm with Plytix
Plytix is a next-generation PIM tool that does more than just product content management. Sure, you can centralize and update your product data such as SKUs, product descriptions, variants, images, videos, availability, and more.
But we take it to the next level with our sales enablement capabilities. So, yes, ours is also a product sheet software that lets you create product catalogs in minutes. It's more useful at a time like this where you need to encourage customers to shop as early as possible to avoid product availability disappointments and delivery delays. With the tool, you can create a catalog that showcases products you know for sure customers will want to buy this holiday.
That's a sure way to delight your customers, to remind them that you care about their needs and that you're prepared to weather the retail supply chain issues for them. Download our FREE white paper to find a PIM partner that suits you!
Product Information Management
,
Retail Industry & Trends