Note: Infographic at the bottom of this article.
Growing a retail brand happens in stages. And, unfortunately, what works to get a retail brand from stage "A" to "B" won't necessarily take it from "B" all the way to "C." For every growth stage, it's a different game and a different set of rules.
That's exactly why we put together this roadmap to every tool a retail brand will need to grow from ideation to their first million in revenue—and well beyond.

The Stages of Retail Brand Growth
Let's explore what the stages of retail brand growth look like before digging into the steps for moving through each on your way to the big bucks.
Stage 1: Validating your Retail Brand Idea
You came up with a great idea for a retail brand, you've launched it to the public, and now you're working to validate your idea by finding a market of loyal or high-traffic consumers.
In this stage, most teams are small—including maybe a few people outside the founder(s). And good thing, because if you're generating under $1 million in annual revenue, which is typical at this stage, you don't have a whole lot left for salaries!
The most important thing for you in this phase is pure energy and passion.
Stage 2: Generating Reliable Revenue
After you've validated that there's a market out there for what you're selling, it's time to focus on growing a solid—but still lean—business.
Start by building a strong core team of people who, like the founders, are highly motivated by the product and the brand. This should help get you from $1 to $10 million in annual revenue.
Step 3: Scaling Your Retail Brand
Congrats! Now that you've proven that your retail brand can consistently attract consumers and generate a healthy revenue, you're ready to scale up.
At this point, you'll want to continue building a team that supports your goals—one of which should be stealing market share away from competitors.
The sky is the limit for how high you're able to scale your annual revenue—as long as you choose the right tools to help you do it.
How to Move from Validation to Generating Revenue ($0 to $10M)
Going from early days to generating $10 million and beyond requires increasingly complex systems and formal structures.
To avoid stalling out on your journey through the stages of retail brand growth, you need to be able to adapt your strategies and your toolbox. When growth starts flattening, you know it is time to think differently. This part of the roadmap will show you how to change your toolbox and allow you to scale from $0 to $10 million.
1. Launch Your Retail Brand
The first step in going from validation to generating revenue is, well, having something to sell—and a way to sell it. Your main KPI at this stage should be getting as many customers as possible to buy your products.
If you're going the direct-to-consumer route, you probably want to start with a branded ecommerce platform from which to sell your products. And even if your strategy is to predominantly sell through online marketplaces (like Amazon), you still want to consider your own storefront as well. Consider it your showroom.
Key Technologies
Ecommerce platforms that are easy to use and optimized for SEO and mobile: BigCommerce and Shopify
2. Optimize Your Sales Workflow
Digital branding launched and goods up for sale? Great. At this stage you should still be focused on customer acquisition; but now you also want to start finding ways to improve repeat customers, increase basket size, and reduce shopping cart abandonment.
It's time to focus on setting up marketing automation and remarketing campaigns. Having the right customer relationship management (CRM) at this stage is also instrumental. You might want to consider if your current CRM is right for you at this stage or if it is time to switch to a new one.
Last but not least, you want to start thinking about multichannel marketing as a way to get your product in front of as many people as possible. Managing multiple channels effectively can be a tedious task, so you'll want to add product information management (PIM) software to your toolbox if you haven't already done so.
Having the right PIM will allow you to scale faster and produce fewer errors in the process. A few PIM platforms come with built-in syndication capabilities, but most of them don't. If you choose a PIM tool without syndication capabilities, make sure you choose a syndication provider as well. This will empower you to manage your webstore, your marketplaces, and your comparison shopping engines from one centralized location.
Whatever makes up your toolbox at this point, it should be scalable and dependable.
Key Technologies
(Intrigued by PIM? Learn more about that here!)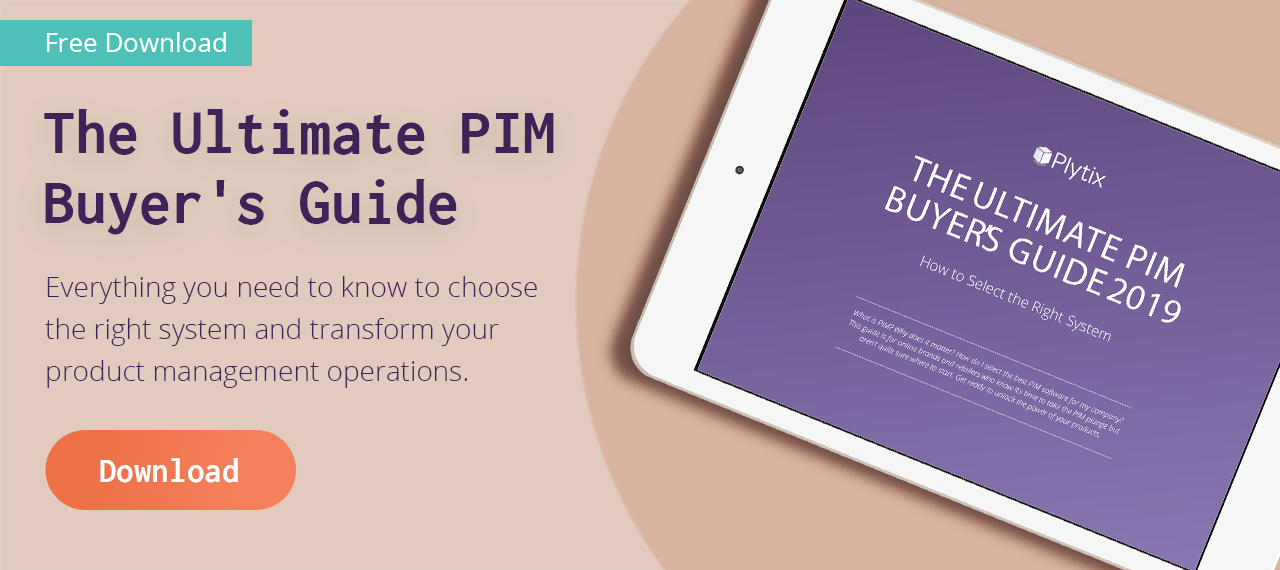 3. Improve Conversions Through a Focus on User Experience
With the heavy focus on generating revenue in this stage, you want to make it as easy as possible for consumers to purchase from your retail brand. Their experience needs to be as frictionless as possible on every channel.
Multichannel marketing is no longer the differentiator—it's table stakes.
If you can't accomplish this, it will be hard to remain profitable in the face of competition. At this stage it is not enough to syndicate your products to every channel—your product content needs to be optimized specifically for every channel.
For your website, you need to employ usability testing software to answer key questions about your ecommerce platform, such as:
Are there bottlenecks that are keeping shoppers from making it to the check out page?
What data points are preventing consumers from completing a purchase—price, too few pictures, not enough reviews, etc.?
What can you simplify?
With your website fixes in effect, it's time to turn your focus to securing the multichannel experience.
If you're stuck managing dozens of products (or more) with hundreds of data points across a handful of channels using spreadsheets, you're frankly going to have a really hard time growing past $1M in revenue. PIM software enables retail brands to collaborate on product data, organize it all in one place, and easily distribute it to a multitude of channels.
PIM is both a short-term and a long-term investment—which you'll see later—that should remain central to your marketing stack as your business grows.
Key Technologies
4. Build Your Team
The final critical factor in creating a powerful revenue-generation stage is building the right team.
It's key to form a solid leadership group that will help support your founders. These are the people who will make plenty of operational and hiring decisions as your retail brand starts to scale—so choose wisely.
Key Technologies
Growing from Revenue-Generation to Scaling Your Retail Brand ($10M and Beyond)
Now that reliable revenue is rollin' in, it's time to switch gears and start scaling.
In this part of the roadmap, we'll help you focus on replicating systems that are already working and strengthening your toolkit even further to scale beyond $10 million in revenue.
1. Dominate Adjacent Markets
Clearly your sales tactics are generating healthy revenue in your target market—so why not try 'em out elsewhere?
There are several strategies for breaking into new markets, such as:
Running a marketing campaign that targets your competitors' customers and markets
Optimizing (or expanding—which we'll visit later) your offerings to fill a gap in the market
Expanding your existing market by pivoting to a new demographic
Key Technologies
2. Retain Loyal Employees
If you've got your key high-level team members hired and are no longer worrying about turnover—or making payroll!—then lucky you. Now, it's time to pivot to thinking about managing loyal employees in a way that retains them throughout growth and changes.
Use an integrated employee experience and/or engagement management platform to streamline onboarding, improve employee-manager relationships, gather and share valuable feedback in real-time, keep engagement up, and ideally reduce turnover.
Key Technologies
3. Expand Your Retail Offerings
Retail brand growth usually comes from increasing market share (which we just explored), increasing the number of products sold (which we're about to explore), or increasing both.
Great tactics for growing your retail brand by growing your product offerings include:
Selling new sizes of an existing product
Adding new variations (such as color) to an existing product
Creating a brand new product that fits in with or complements your existing offerings
Producing a completely new line of offerings, but in the same vertical
Growing into a brand new vertical
With a catalog of items that are growing in number as well as variety across verticals, you're going to need some kind of product information management that integrates into the inventory system(s) you've already established.
This is where that investment in PIM comes in handy again.
PIM provides a single source of truth from which employees across the business can manage the early stages of inventory management—creating products, managing changing data across channels, and easily integrating with your other inventory management tools to create a flawless customer purchasing experience.
Key Technologies
Will You Follow This Map to Your Millions?
The journey to a million dollars starts with a single step.
Whether you're well on your way to scaling or you're still working on validating your retail brand idea—we encourage you to use the tips and tools found in this roadmap to grow your business and your dreams to the next level.
Any favorite tools that we forgot to add? We'd love to hear from you! You can reach our team with any of your retail technology questions or comments on our contact page or at hello@plytix.com.