Software as a Service (SaaS) has transformed the way companies operate.
This technology model has proven to be a more affordable pill to swallow than on-premise, self-hosted software. But not for businesses competing against ecommerce giants. Big(ger) PIM names have made it increasingly difficult for the smaller guys to serve—well—the smaller guys.
The misinformation about the cost of PIM has led to many small businesses abstaining from using this powerhouse tool because they think they can't afford it. (Not to mention the fact that other PIM providers aren't as transparent about PIM pricing as us doesn't help the cause.)
What you pay
At Plytix, we don't operate with hidden fees or unfair surprises.
You don't have to take our word for it—our customer success stories speak for themselves.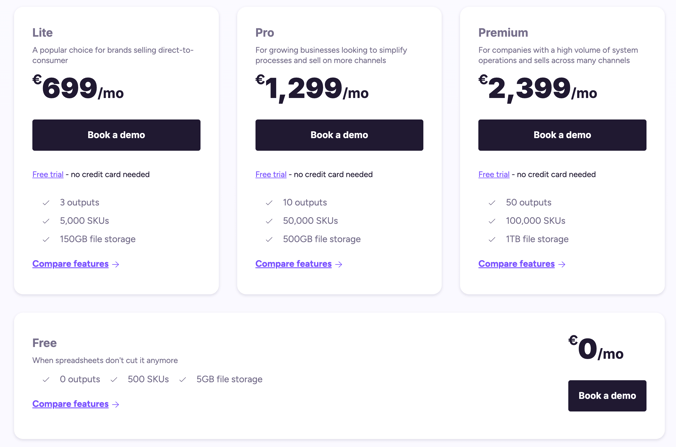 If you take a look at the current market, PIM pricing can go from $0 to $250,000 per year and anywhere in between. Product Information Management (PIM) systems come in all shapes and sizes and generally go by many names. But when it comes down to it, they all have similar features. You can download our Ultimate PIM Buyer's Guide for an analysis of the top PIMs.
G2, the popular business software and services review site, ranked Plytix as one of the top-5 PIMs alongside other cloud-based or open-source PIMs: Salsify, Akeneo, Sales Layer, and Syndigo. Many of these solutions have hefty price tags—the best fit for corporate companies.
*Please note, G2 scoring changes frequently.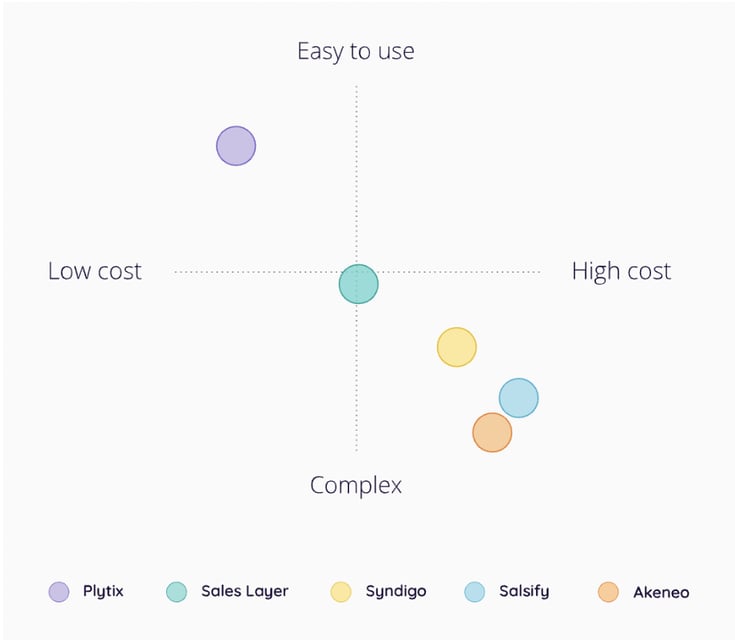 Some of these tools are more complex with a steep learning curve—you'll need a technical development team to implement them. Plytix, on the other hand, is clear-cut. We've designed our tool in a way that's easy to use and nice to look at.
It's built by content people for content people.
Download an explanation of our features and the implementation process.
Our product is just as powerful as others—if not more. Our pricing is designed for SMB companies with big enterprise dreams. Regardless of your turnover or SKU count, we'll make it our mission to help your business thrive. We'll also make it easy for you to keep telling unique stories through rich product information.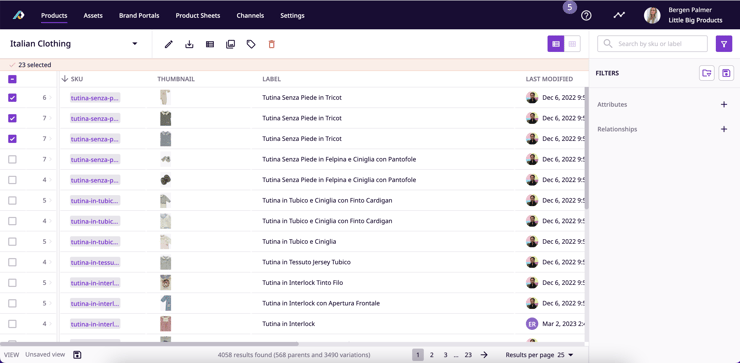 As of 2021, we introduced a modular pricing structure.
In doing so, our clients only pay for the features they need, and they're not obligated to pay for a plan that is out of their financial reach. For example, if you're not selling on multiple channels (although you should be!) and don't require an add-on that automates feeds, charging you for Channels wouldn't make sense.
The same goes for our Brand Portals and Product Sheets modules.
Apart from the cost associated with your preferred plan, and if you choose an add-on module, there is a once-off fee of €3,000 for the set-up of your account.
That's it.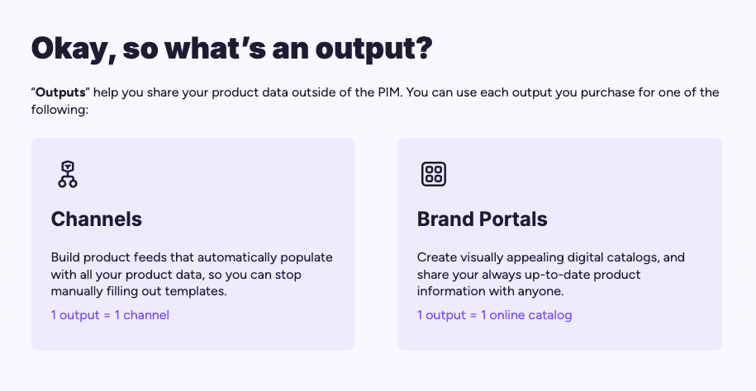 The price you pay doesn't break the bank, and it leaves your organization with room for growth. For us, it makes sense too. We prefer to keep our prices low as we're always investing in new technologies for your benefit. If we wanted to, we could charge more—but we don't. We're not here to maximize profit per client, we're here to make PIM for multichannel commerce accessible to every brand.
What you get
Ease of use for your whole team
Many believe that catalog management is too complex for non-technical people to grasp. The same people also believe that PIM takes too long to implement.
Both are incorrect.
Unless you're investing in advanced open-source software that requires a specialized development team to implement it, you've got nothing to worry about. With our cloud-based solution, no previous PIM knowledge is needed. It's a collaborative tool built for cross-functional teams to use together. When you break down silos, you'll get the job done with ease and improve accuracy in minutes.
When it comes to using the PIM, that's where the €3,000 cost comes in. From day one, you will have a dedicated onboarding account manager that will set you up with scheduled training. Thereafter, they will still be available free of charge.
We do not streamline customer support, as each brand differs and deserves 1:1 personalized service. As part of our approach, we've established a customer success metric called The Point of Minimum Churn. Using this white-glove metric, we assign values to different client behaviors, which in turn gives us the data we need to build satisfied, happy, loyal relationships. This distinctive process is done to make sure you get as much value as possible, as quickly as possible,
At the end of the day, your business's success is our success.
No limitations on what you get
Nobody likes to be sneaked up on—and that's why we're upfront with our service offerings. Our pricing and features are black and white, and we don't add or remove user limits as you go along. Simply choose the plan that works for your pocket and needs, and we promise to make sure that you get what you pay for.
Unlimited users and attributes for all accounts (even free PIM software users!)
Unlimited file storage and 100,000 SKUs in both paid plans
Unlimited output channels in our PRO plan
Plytix Product Information Management is all you need to take your ecommerce product data to the next level and succeed in a multichannel world. Our tool is loved by companies of all sizes across the globe, so we must be doing something right. We're here to make ecommerce easy again—not blindside you with unreasonable costs or contracts that make your (and your team's) life a misery.
Final say
So, if you're ready to reduce time to market by up to 400%, and increase your sales by up to 50% after the first year of using Plytix, get a personalized demo now!
Try any plan for free. No credit card needed.
Product Information Management