The product information management market is exploding.
Why?
Because as more and more ecommerce retailers start marketing and selling their products across multiple channels, they need better and better product information management (PIM) software to help them centralize, optimize, distribute, and analyze product data.
As shopping goes increasingly digital and omnichannel, the product information management revolution is sure to continue. Keep scrolling for all the charts you'll ever need to learn the what, the how, and the why behind the trends that are driving the need for PIM solutions.
The Retail Apocalypse is Picking Up Speed
The height of the Great Recession wasn't the worst we'd see for brick-and-mortar retail. Since 2015, annual store closings and bankruptcies have risen steadily year over year.
In fact, 2017 saw a record of retail closures by square footage at 102 million square feet over the course of the year. Then, 2018 smashed that record with 155 million square feet of retail closures. So far, 2019 is on track to be yet another record year. In the first quarter of 2019, retailers announced 5,279 store closures—compared to 5,726 during all of 2018.
Stores like Sears, Toys "R" Us, Claire's, Brookstone, Kmart, Shopko, and Payless have fallen victim to the retail apocalypse in recent years—each announcing major store closures and bankruptcies since 2017. However, retailers such as Target, Walmart, Warby Parker, and Amazon, which focus on online marketing and sales, are still thriving.
Yet Ecommerce Sales are Growing Steadily
Despite all those store closures, ecommerce-specific sales totals are seeing steady growth each year.
In 2014, global ecommerce sales reached over $1 billion. By 2018, they more than doubled to reach $2.8 billion. This year, global ecommerce sales are on track to hit $3.45 billion and by 2021 they're projected to total nearly $5 billion.
While global retail sales are also climbing, they're doing so much more slowly than the explosive growth we're seeing in ecommerce.
Ecommerce is Making Up More and More of Global Retail
The ecommerce share of total global retail sales has also been steadily climbing each year.
In 2015, ecommerce sales accounted for just 7.4 percent of total global retail. By 2018, that figure climbed to nearly 12 percent.
This year alone, ecommerce sales are expected to account for almost 14 percent of total global retail. And by 2021, they're projected to make up 17.5 percent of total global retail sales.
As ecommerce sales quickly overtake a larger percentage of the overall global retail market, sellers face new challenges. Online marketing and sales requires a lot more data than traditional, brick-and-mortar retail. From product descriptions to SKUs, pricing, images, shipping information, taxes, materials, dimensions, manufacturing information, and more—digital retailers must provide more product information to ensure shoppers know exactly what they're getting when they click "add to cart."
In fact, market research firm Forrester found that ecommerce retailers now attach as many as 200 attributes to every product they sell.
Digital retailers need a way to make sure all this data is up to date and available to every team member, in any department, at any given time.
That's where PIM makes all the difference.
Modern PIM software, such as Plytix, is absolutely necessary for retailers who want to store and manage all that product data efficiently and securely. Good PIM software gives retailers a single source of truth from which they can distribute to a variety of sales channels, create product catalogs, and analyze metrics that can help them improve their customer experience and increase sales.
The Market for PIM Software is Exploding
As ecommerce retail sales grow, so does the market for PIM solutions.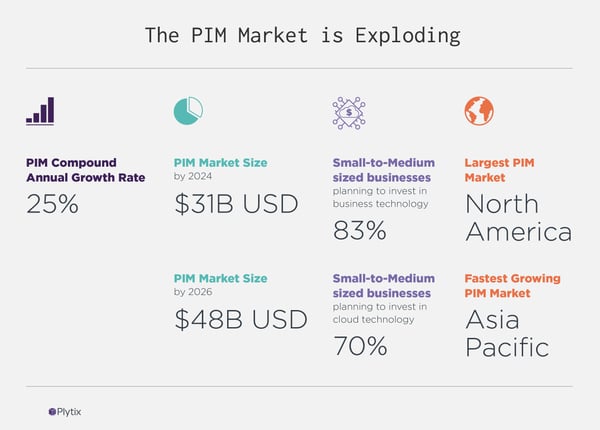 In 2019, 83 percent of small-to-medium sized businesses (SMBs) reported they had plans to invest in business technology and 70 percent planned on investing in cloud-based technologies specifically. The need for intuitive, affordable, and scalable cloud-based PIM solutions with features that appeal to small and medium businesses is clear.
So it's no surprise that the PIM market is experiencing a compound annual growth rate of more than 25 percent. The market is projected to be worth $31 billion by 2024 and $48 billion by 2026.
Omnichannel is Becoming the Standard
One of the drivers of that explosive growth in the PIM market is the need for omnichannel support for ecommerce retailers.
In 2019 and beyond, omnichannel is no longer just a trend—it's absolutely necessary for digital retailers who want to remain competitive.
More and more, we're seeing the value of omnichannel shoppers. Research has found that the most loyal customers who make repeat purchases are the ones who engage with a business across several channels.
For example, customers who engage with a retailer on between one to four channels are likely to make less than one purchase per month. Meanwhile, customers who engage on 10 or more channels are the most likely to make a purchase once a week or more.
Companies that have a solid omnichannel strategy see numerous benefits over companies with no omnichannel strategy; including better average annual revenue growth, average year-over-year customer cost savings, and average customer retention.
When marketing and selling across multiple channels, it's even more important for digital retailers to ensure their product data is consistent and up to date on every channel. PIM software that centralizes that data is the best way for businesses to rest assured that product data is always accurate—no matter what channel a customer engages with.
The PIM Market is Thriving Around the Globe
That 25 percent compound annual growth rate in the PIM market? It holds steady around the globe, even in regions with smaller markets (for now).
North America and Europe are currently the largest PIM markets globally, but Asia Pacific is growing most rapidly. While Latin American, Middle Eastern, and African markets are currently the smallest; they're seeing more rapid growth than North American and European markets.
The Product Information Management Revolution is Upon Us
If there's anything all these trends and charts show, it's that the PIM revolution is upon us—and online retailers are gonna need a great one if they want to keep up with their competition.
Looking for a software solution that's scalable and secure and allows you to centralize, optimize, distribute, and analyze product data to stay ahead of your competition? Good, you should be! Download The Ultimate PIM Buyer's Guide for free and learn everything you need to know to choose the PIM solution that best fits your business' needs.