Today, shoppers have so many options to choose from. If they aren't satisfied with your product/s or brand, they can find an alternative in a matter of minutes.
With that knowledge comes great power, which is why small ecommerce businesses need to focus on keeping customers satisfied through multiple sales channels. And one way to keep them happy is through rich product information.
Now, what do we mean by this? We mean that your product data needs to communicate every detail for customers to make confident purchases.
For example, unique product identifiers like global trade item numbers (GTINs) have the potential of giving ecommerce stores that follow Google's GTIN requirements a 40% increase in click-through rate and a 20% increase in conversions. But customer satisfaction doesn't have to end with unique identifiers. Product attributes can help further define your offering.
What are attributes?
Attributes help your product/s get noticed in the increasingly crowded online space. They give character to a product, which, in turn, improves the customer buying journey. There is a variety of product attributes to play with;
Tangible attributes are characteristics like height, size, smell, material, weight, quantity, or color. These attributes cater to physical characteristics that customers care about when browsing for or purchasing a product.
Intangible attributes are attributes that customers can't physically see or touch like prices, quality, style, model, and aesthetics of the product. While they can't physically see these attributes, it helps consumers determine if this is the product for them or if they should look elsewhere.
How can it impact customer satisfaction?
Customer satisfaction online is determined by several factors.
Based on this research, customer satisfaction comes from; information quality, system quality, service quality, product quality, delivery quality, and perceived price. Although product attributes can't help with all six factors, they can:
1. Replicate an in-store shopping experience
In a traditional shopping environment, a customer would touch, smell, or try on the item to see if it fits their needs. But, that can't be done online, which is why 61% of customers described it as the reason they prefer to shop in-store. While you can't give them the full in-store experience, you can replicate it. Provide customers with enough content to know what they are getting themselves into.
2. Improves the entire website experience
Based on the research mentioned above, system quality is an important factor when it comes to customer satisfaction. And, according to this article, 88% of online customers said they won't return to a website after experiencing a bad user experience. When you have a product hierarchy, you have products, attributes, attribute groups, and families. Product families are a set of product attributes that help you organize items and improve website search performance.
Being able to see various products that complement the original product also helps to boost user experience. This is because a customer won't have to search for and filter out products—they'll easily find information and perhaps even purchase more than one item. Not only do you get to upsell products, but you get to help a customer purchase an item they never knew they wanted or needed.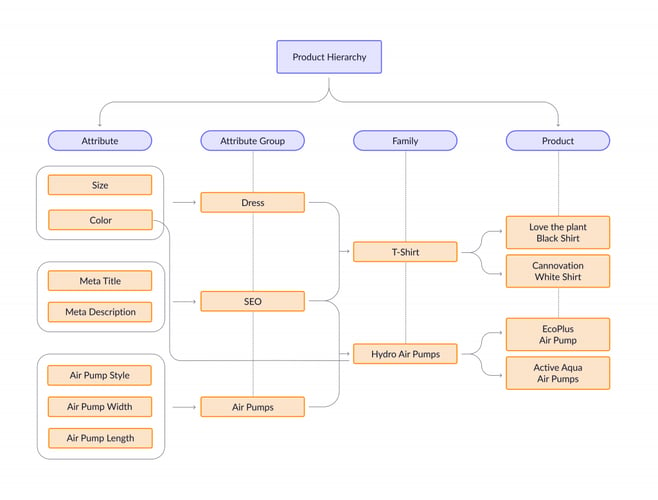 3. Provides customers with valuable information
For customers to shop online, they need quality information. If we look at how things have changed since 2016 when there was a drop in sales, which resulted in;
40% of returns
more than 90% of shopping carts were abandoned
87% of customers lacked trust because of inaccurate product information
The importance of product information is unmatched.
In fact, 20% of product purchases fail because of missing or unclear product attributes or information. This makes you understand the value customers place on rich product information. They want to know everything about a product so that they can make an informed buying decision. For instance, let's say a customer is looking for a dress and lands on your product, only to find a picture of dresses without any useful information about it. The customer wouldn't know whether;
Their size is available in stock or not

If it matches the material or style they want

There are other colors available in the same style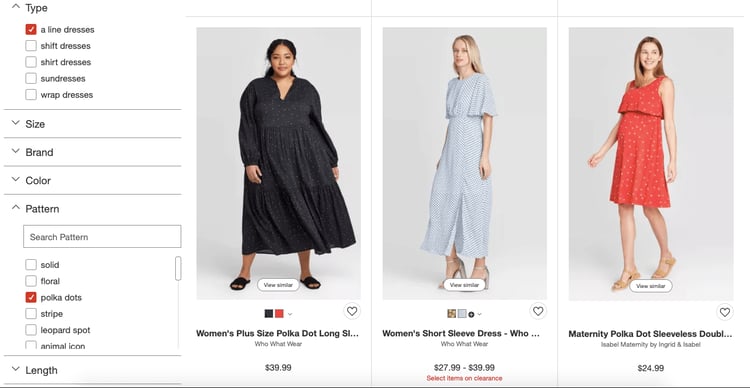 In ecommerce, many businesses aren't managing their product information efficiently. They use Google spreadsheets as a product information management tool, which is not made for this type of data. When you use spreadsheets as a product database, it becomes difficult to share, analyze, and create data that is optimized for a certain audience. But when you have a single source of truth, you can ensure that you clearly define attributes and deliver on customer satisfaction.
Get a PIM tool to help manage product information
PIM software allows you to store information such as SKUs, technical specifications that help you create product attributes, and more, that help to support a single product throughout its lifecycle. This information can then be modified and shared easily across departments and externally for streamlined processes and collaboration. A master product catalog is what ecommerce businesses need as customers need more information to make a purchase.
If you are interested in knowing more about our ecommerce product catalog management tools, read our free PIM Buyer's Guide white paper.
Product Information Management