At the peak of the pandemic, just the thought of going into a shopping mall to buy products was terrifying for many customers. With their health and safety threatened, many made the switch to online shopping. While some were already shopping online and offline, they were still as reluctant as first-time online shoppers as they would no longer have the safety net of traditional physical stores. Without a doubt, these were the people that contributed to the growth of ecommerce.
When we take a look at ecommerce, the global pandemic skyrocketed ecommerce sales and accelerated the shift to online shopping by five years.
But, here we are post-pandemic and things are slowing down a bit on the ecommerce side, slightly going back to how things were before or what most people call the "new" normal.
For example, Shopify had to lay people off because of the drop in ecommerce sales, while brick-and-mortar stores are slowly making a comeback. According to a Forbes article published last year, "brick-and-mortar sales grew at an annualized 3.0% rate since 2016, and rose a more robust 6.5% over the past 12 months."
It's become increasingly clear that while ecommerce is still a lucrative business move, you need to readapt. What do we mean by this? Continue reading to find out.
Match your online store with in-store and curbside pick up
While customers still enjoy shopping online, a large number prefer to get their items in-store, warehouse, or designated pick-up location. This was initially designed during the pandemic, but customers seem to prefer it. According to the National Retail Federation, almost half of customers have tried curbside pick up and a total of 81% of customers who haven't tried it, want to. More studies have shown that:
While there are a number of reasons why customers would prefer to shop online and pick up an order, convenience and fewer delivery hassles are the most important ones. And it will continue to be, even in the next coming years. If you don't have any pick up options, it's a good time to get started.
Leverage social media for product discovery
Social media usage is one of the most popular online activities of our time and it's projected to increase to almost six billion in 2027. It's in a business' best interest to take advantage of this because social media users don't just want to see what their family and friends are up to or stalk celebrities. They also use it to shop and discover products. A survey conducted by Hubspot found that 71% of people between the ages of 18 -24 (Gen Z's) usually discover new products on social media.
So, if this is your target audience, it would be imperative to focus more efforts on social commerce, as well as social media ads and sponsored content, to help them find what you offer in their search for the next product. It's also important to note that, while social media is where customers discover and shop, 73% of people (with 55% of them being Gen Zers) prefer to purchase the product in-store. So, investing in social media will help you get more leads rather than sales. This is why it's important to not only have a multichannel commerce approach but also omnichannel one so that there is a smooth transition from online to offline. The last thing you need is a customer seeing a product online and not finding it in-store.
Expert tip: It may also be time to consider influencer marketing as it will continue to grow and be one of the most popular ways to connect with customers. More customers look to influencers when it comes to product recommendations and inspiration.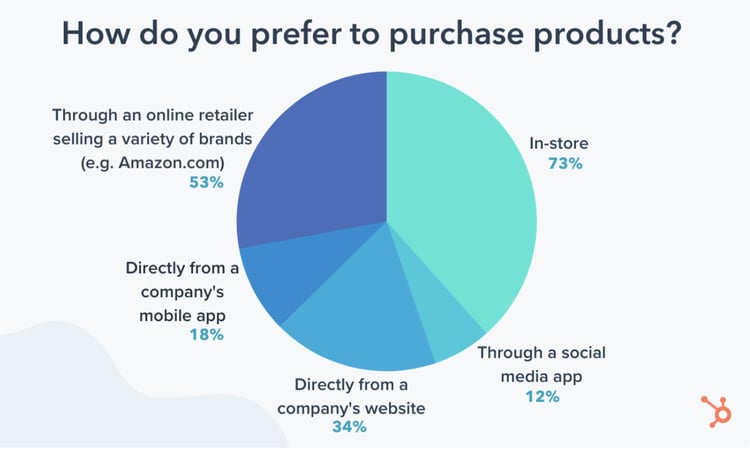 Improve the in-store shopping experience
We briefly mentioned the importance of giving customers an omnichannel shopping experience, but it goes beyond this. Not only should the transition between online and offline be frictionless, but you also need to improve the in-store shopping experience. What do we mean by this?
You can implement touch-free shipping which allows customers to self-scan products, have touch free payment options, curbside ordering and pick up management, and parking management. This can make shoppers enjoy the feeling of purchasing in-store while giving them the option to reduce physical interaction.
You can further improve your in-store experience by having a speedy checkout. There are a number of ways you can achieve this. For example, using an iPad as your POS. This is something The Borough Kitchen, a homeware retailer, has implemented to combat long lines that are frustrating for customers. Studies show that 49% of shoppers choose stores over online shopping because they want to take their new items home immediately. But beware of long lines at your store as studies show that 32% of customers will leave if a checkout line is too long. They'll search elsewhere, whether that's your online store or your competitor.
Another option to explore would be in-app checkout. Popular retailers such as Walmart and Target started incorporating in-store mobile checkout in 2018 to prepare for the busy holiday season. They allowed their customers to complete their checkout on their mobile app. Customers can also use a mobile self-checkout option where customers add a short URL on their phone, scan the product barcode, and pay through a variety of methods. With the process only takes a couple of minutes, your store will leave a good impression, and the customer will most likely return.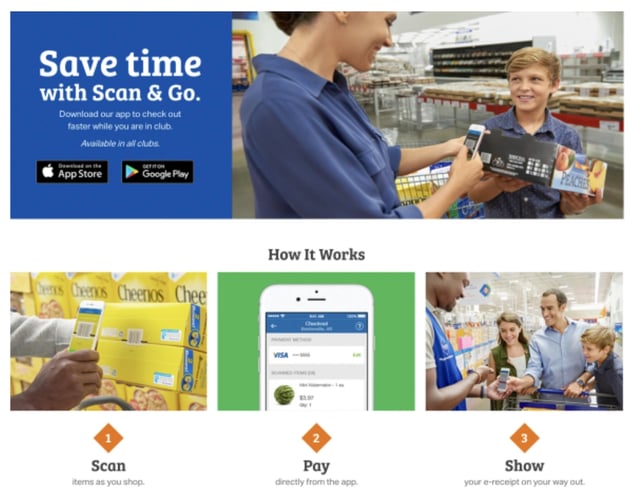 Invest in tools that make adapting to change easier
With retail and e-tail industries constantly changing, one thing that has remained the same in the last couple of years is that a multichannel strategy is vital for success. Customers search, discover, and shop for products wherever they see fit, and it's your job to be present wherever they are. But, to ensure effective multichannel management, you to have the right product data for each platform. This means having accurate offline and online product catalogs and product information in the right format for different channels. This can be achieved with a product information management tool.
Finding a PIM, particularly the best PIM for Shopify, or any other ecommerce platform you may be using, allows you to centralize your product information for your webstore, online marketplaces, social media, and mobile shopping app.
Plytix is that PIM tool. But, if you're still on the fence about how a PIM solution works and how it can help your multichannel strategy, download our free whitepaper for more information.
Ecommerce