When it comes to diversifying and selling on multiple platforms, Amazon is often the first choice for most sellers. Why? Well, it's not hard to see that Amazon is killing the game right now. In fact, Amazon is set to receive more than 213 million unique US visitors a month in 2022.
But anyone selling on Amazon knows that a simple presence on Amazon isn't the goal, nor can it help you reach even a fraction of the unique visitors that the Buy Box can. This is because 1.) the competition is tough as there are 1.9 million sellers actively selling on the platform, and 2.) you need to rank high to become visible enough to make a substantial amount of sales.
The true prize comes when you win the Amazon Buy Box.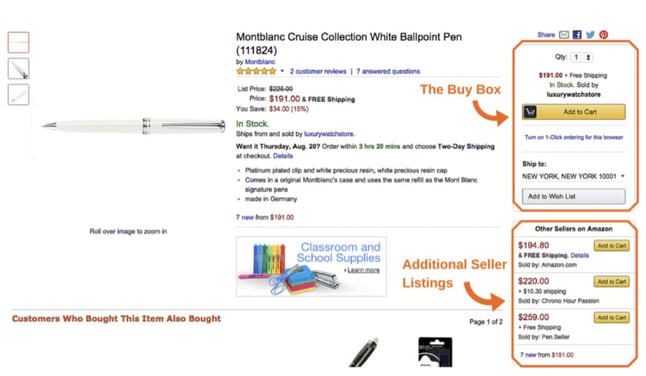 What is Amazon Buy Box?
The Buy Box is a white box on the right-hand side of the Amazon product page that features a specific product's price, shipping, seller information, and the "add to cart" button. Amazon uses its algorithm to rank sellers that are selling the same product against each other, and it rewards the seller with the highest overall ranking with the Buy Box. The Amazon Buy Box often rotates to give sellers a chance to win the Buy Box. It accounts for almost 85% of purchases and even more on mobile, whereas products just living on Amazon drive about 40% of online sales. This is because it's the quickest and easiest way for a customer to make a purchase.
While the Buy Box winner rotates, there are no shortcuts to ranking high. This marketplace giant is all about aligning with Amazon's A10 algorithm, which is highly customer-focused.
Here's how you can improve your products' ranking on Amazon
To stand a chance of winning the Buy Box, you need to have a professional account.
It will cost you $39.99 every month, and you need to be selling new products because used products cannot win the Buy Box. But when you have these, you need to ensure that you:
1. Fulfill via FBA
According to this latest study, 97% of consumers say same-day shipping is considered "fast," and 95% are okay with next-day shipping. This shows that customers aren't playing around when it comes to their purchases. Fast delivery is certainly a ranking factor for Amazon.
But that's not the only thing.
While you can ensure fast delivery with third-party logistic providers, to get closer to winning the Buy Box, you may want to consider using Fulfillment by Amazon (FBA). This is because Amazon still favors FBA and using it can be an effective way to improve your ranking.
2. Get more positive reviews
Reviews are everything online and they're even more important on Amazon.
Customer reviews, particularly the positive ones, provide customers with real-life validation for the quality of a product and its performance. This is especially important since customers can't touch or feel the product until it gets delivered. This is why 75% of US customers say that they look at product reviews and products with the best ratings when shopping online. Take the images down below, for example. These two products are similar, but most customers choose the product with the most reviews as it helps them get an idea of what they're purchasing.

This shows how valuable reviews are for customers and why sellers need to try and get more reviews. Almost half of all internet users across the globe say they post reviews about a product, company, or service each month. So, make sure you get feedback by doing:
Sending a personalized review request via email
Including an eye-catching insert that asks people to leave reviews in the delivery
Requesting reviews in your email newsletter
Asking your social media followers to leave reviews
Joining the Amazon Early Reviewer Program
Submitting your products to Amazon Vine
3. Be competitive with your pricing
When selling on Amazon, you don't want to overprice and have customers skip your products, but you also don't want to make a loss. Sure, your pricing isn't only essential for your profit, but it's also an essential metric for winning the Buy Box. So, when you work out a price, you need to think about how much you can afford to charge for a product that is at a competitive price.
You can do this by matching the external competitive price or staying below it. For example, if your current product price is $20 and the competitive price is $23, you can opt to stay at $20 or increase your price to $23. Keep in mind that 31% of customers are willing to spend more on a business with "excellent" reviews, and 53% of customers say the quality is the most important factor when making a purchase compared to 38% who think of the price. So, in addition to getting reviews, you need to also set a competitive price that also benefits your revenue.
4. Manage your product availability
Customers seeing "out of stock" is a sure way to hurt your ranking. And, if you don't have stock, you can't win the Buy Box. It will rotate to the next brand, you don't want this. Make sure that you handle your inventory and ensure you always have your best-selling products available. In the case of having back orders, you can still win the Buy Box as customers are aware that they will have to wait to receive their purchase. However, even if you have the best-selling product, Amazon will favor products that are available to ensure customer satisfaction.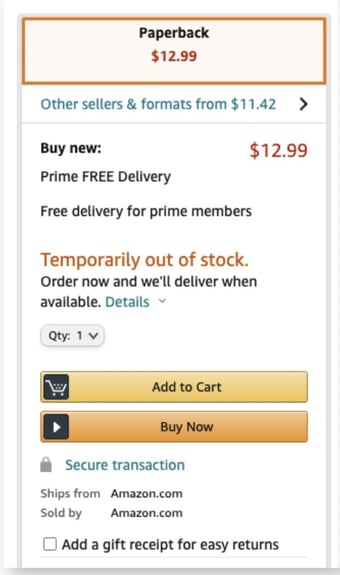 4. Optimize your product listings
Focusing on giving the best customer experience such as positive reviews, faster delivery, competitive pricing, and effective inventory management is only half of the job. You need to optimize your product listings and ensure that you follow Amazon's SEO guidelines to rank.
According to statistics, SEO is one of the biggest traffic drivers in the second quarter of 2021.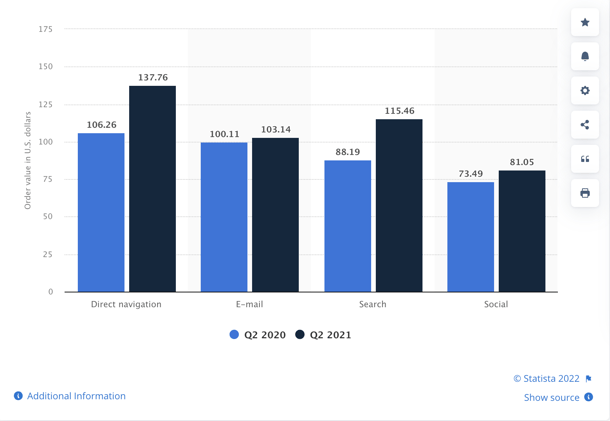 This doesn't just apply to web stores, but marketplaces too.
The process is often referred to as product listing optimization (PLO), and it's about improving listings for product search, which results in more sales, visibility, and a chance at the Buy Box.
To optimize your listing for Amazon, you need to ensure that you;
Make use of high-quality images that depict the usage or features of the product

Follow Amazon's guidelines for images and videos

Do keyword research, and incorporate relevant keywords in your product title, descriptions, features, and more

List bullet points for your features and list them in the order of their priority.

Avoid keyword stuffing and make use of backend keywords

Avoid misspelling words

Make use of long-tail and short-tail keywords
Note: Optimizing product titles, descriptions, product key features, and your entire listing isn't a once-off task. It requires constant changing and modifying to ensure your product stays on top.
Stand a chance to win the Buy Box with PIM
To stay on top, you'll need PIM for ecommerce. PIM tools have grown exponentially in recent years, as they ensure effective data management. However, next-generation PIM systems do more than store your product content. Take Plytix, for example. This is an ecommerce product catalog management system that allows you to store product content and optimize it too.
You can transform the content to fit the requirements of all of your other sales channels such as Amazon. To see how, read our free white paper on how PIM can help you succeed.
Product Information Management
,
Amazon