Considering that nearly 93% of customers read product reviews to validate a purchase, online product reviews CAN be one of your biggest revenue-generating ecommerce tools.
Sadly, many businesses still invest little to no effort in them.
Research found that 79% of customers who shop on Amazon are influenced to buy products with the best reviews. This is a clear indication that online reviews have surpassed brand loyalty, free shipping, product quality, and price when customers are in buying mode.
So, if you ignored product reviews before, now's the time to start.
Let's talk more about what product reviews are, why they're important and how they impact your bottom line on Amazon. We'll share some facts and trends that make reviews powerful.
Why are product reviews important?
Product reviews are opinions customers share online based on their experiences with a product. Usually, this information showcases satisfaction or dissatisfaction with a product.
Buying an item, customers want to get reassurance about a product before they buy it. And so, reviews help them get the reassurance they need. Reviews offer unbiased insights into how a product matches up to the description displayed and evaluate the credibility of your braand.
But beyond that, product reviews impact your bottom line in several different ways.
How do product reviews impact your bottom line?
Customer reviews can really boost your ranking efforts while driving sales and conversions. And the bonus is they can help you create better-personalized customer experiences.
1. Ranking high
Visibility is a sales weapon that can get you to your goals, but you have to rank high to show up in front of the majority of your target customers. Especially on a sales channel like Amazon.
The good news is that Amazon is a customer-centric marketplace that prioritizes customer satisfaction. Because product reviews are tailored to help customers in their buying journey, the more positive yours are, the more likely you are to rank in the platform's search results.
You stand an even higher chance of ranking if you've included product listing optimization for SEO and conversion purposes (to meet Amazon's algorithm), and included backend keywords.
2. Driving sales and conversions
Displaying product reviews can significantly increase your conversion rate.
In fact, a study found that having even five reviews on a product can increase your conversion by 270%. When customers read positive reviews about your product from other people who purchased the same product, it gives them confidence that the product is useful.
According to this, customers trust Amazon reviews the most, and they visit the platform to read the reviews even if they intend to buy elsewhere. For instance, a customer may come across your product on your ecommerce site, move to Amazon marketplace to read reviews, and then come back to your web shop to complete the purchase if the reviews are good.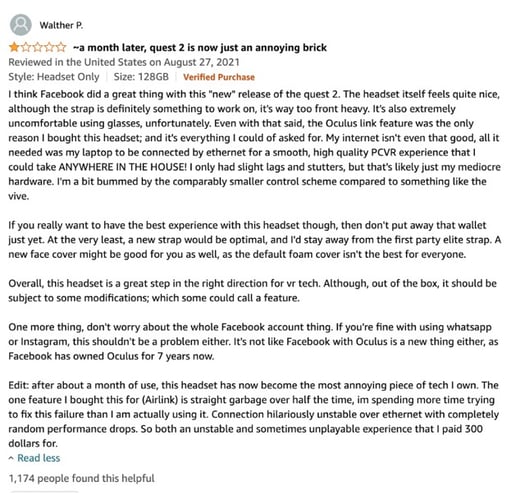 3. Personalized customer experiences
Personalization is all the rage across business-to-business (B2B) and business-to-consumer (B2C) markets right now. No matter which sales channel you sell on, providing personalized customer experiences will play a huge role in how customers perceive your products or brand.
Personalization requires that you know and understand your customers' needs. And therefore, product reviews give you better insights into your products' customer needs, likes, and dislikes.
From there, you can help customers find the right products by using filters and product attributes that enable them to find product reviews that match their needs.
4. Reduces returns
There are various reasons why customers decide to return products, and these include anything from the wrong color or size to product not matching the product description, etc. Considering that product reviews reveal details about what the product is, feels, and looks like from a real customer perspective, prospects are able to get a true understanding of a product.
When you encourage your customers to provide in-depth details about their purchases, you give prospects accurate information useful in their research. For example, say a customer is looking to buy a clothing item in size they know they usually wear. They read a product review of the product, which says the item runs small and it's best to size up by one size for it to fit like a regular small. This is value-adding information to a customer because it guides them on buying the correct sizing of the product. It eliminates the chances of a product return.

Product review facts and trends that matter
To maximize the benefits of reviews, you need to understand the facts and trends that matter.
Let's take you through some of these.
Reviews have a greater impact on higher-priced products — research found that reviews displayed next to higher-priced products increased the conversion rate by 380% compared with a 190% conversion increase.
Five star-ratings "are too good to be true" — while customers find confidence in positive reviews, if the rating is five-star, they tend to be suspicious of it, which decreases the likelihood of product purchase.
Negative reviews can establish credibility — a study found that 82% of customers actively seek out negative reviews. Customers are skeptical of too-perfect reviews, and negative reviews give credibility. But up to a point. If the product only has negative reviews, the likelihood of that product being bought decreases
Stale reviews turn off shoppers — research found that 44% of customers want access to reviews written within the past month, and 38% will not buy a product if the only reviews available are older than 90 days.
Review volume matters to customers — 45% of customers feel more comfortable with a purchase if a product has at least a minimum of 1-25 reviews.
Product reviews add the transparency that customers are searching for throughout their buying journey and experience. This is something you need to offer them no matter what online sales channel you're selling from. Now let's talk about why customers leave reviews.
According to this research:
56% of customers leave reviews because the product was excellent
41% of customers leave reviews because they were unsatisfied with the product
38% of customers leave reviews because they want to help other customers understand product characteristics
29% of customers leave reviews because the product arrived broken
29% of customers leave reviews because they get an incentive
22% of customers leave reviews because the product was more expensive than they felt it was worth
20% 0f customers leave reviews because they had ideas on how to improve the product
How to acquire and manage product reviews
Looking at all the great things you stand to benefit from product reviews, negative or positive, it's more than clear that you should effectively manage them to reap the rewards.
But how do you do that?
You start by encouraging your customers to leave customer reviews through emails and on social media platforms. Use similar tactics you'd use when asking customers to participate in a survey. Always go for quality over quantity. It's also important to remember to respond to both positive and negative reviews as it's a good way to establish credibility in your industry.
For instance, if a customer leaves a negative review, take accountability and apologize for their experience. Then proceed to engage them by asking them to connect with you so you can improve their experience with your product and brand. Always respond in a timely manner because 53.3% of customers who leave reviews expect a response in seven days or less.
Next, pair up your reviews with quality product information. Reviews need to be an extension of your product information; not the only source of quality information customers can access. We understand that multichannel commerce is not easy and that sometimes things may fall through the cracks. But don't let that be your product information. Get yourself a product information management (PIM) system that will help you better store your product data.
PIMs make your retail channel management a lot smoother. Take Plytix, for example. This PIM for ecommerce is designed to help you manage your product data more efficiently. It enables teams to work collaboratively to enrich content and provide the best customer experience.
For more information on what to look out for when choosing a PIM, download our free Ultimate PIM Buyer's Guide white paper. Or book a demo with us to find out more!