The biggest draw for having an ecommerce business right now is how much the industry is growing.
But the growth brings along some significant shifts in customer behavior and changes in the processes of business operations. For instance, in 2021, there were over 2.14 billion people worldwide who were considered digital buyers. These customers have high expectations when it comes to the information they wish to encounter when browsing or searching for products. That presents businesses with a challenge when it comes to managing product data on their catalogs.
For small to medium-sized businesses (SMBs), in particular, that can pose an obstacle that can seem insurmountable. And, even if they're in the market for a Product Information Management (PIM) System, there are a couple of factors that can hold them back. That's because some of the PIMs available on the market don't fully cater to all of the needs of SMBs, which makes the challenge for these businesses all the harder.
Fortunately, here at Plytix, we care about brand diversity and wholeheartedly believe that it is our duty to make sure that SMBs can profitably coexist with big businesses. We do that by providing them with access to a product content management tool that is designed with their needs in mind. A PIM tool that caters to everything that matters the most to SMBs.
What exactly are the factors that SMBs consider when shopping around for a PIM tool? Let's dive in.
1. Fair price
A fair price is a top priority for SMBs when choosing a PIM provider because unlike the big brands they're competing with, they don't have big budgets to work with. The pricing for other PIM software typically runs upwards of $30,000 per year (and can go into the hundreds of thousands!). This is because they're designed for enterprise-size companies, with features that SMBs just don't need, and that's reflected in their prices. In most cases, you won't know that this is the case until you journey into the process (you won't find clearly-listed prices on most PIM websites). You'll learn only later that you have to pay additional costs for tons of feature add-ons. But not us! We're very transparent about what you pay for your Plytix PIM tool, so you won't encounter any hidden fees or unfair surprises.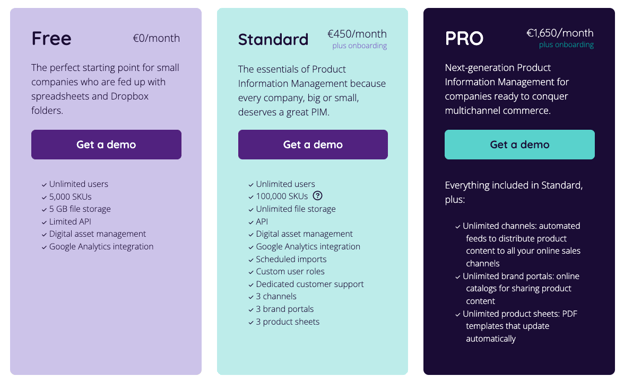 Moreover, we've observed the needs of businesses like yours and designed our modular pricing structure to fit them. You only pay for the features you need. To us, there's no fairness in paying for features that will not serve your business in any way. It's a waste of money and time.
We're also very upfront about the prices for our Channels, Brand Portals, and Product Sheets modules. That way, you ONLY pay for what will be useful in the growth of your business.
2. Ease of use
SMBs prefer software that is easy to use than one with more functionalities, and rightly so. What's the point of having a PIM tool with many functionalities that you can't use?
The right PIM for ecommerce should be easy to use so that you can effectively manage your ecommerce catalog. Plytix PIM is known as the best PIM for small businesses because it is user-friendly. With our PIM, you do not need to have any technical knowledge or previous experience to use it. Secondly, you won't need to waste time trying to figure your way around it because the user interface (UI) is clear and consistent across the entire system, which means you can easily navigate around it. AND, the tool is highly-intuitive, meaning that you won't have to search forever to find where to edit information. In addition to that, the tool doesn't restrict you on what you can do with your data. All of these elements ensure that it's easy to use.
But of course, you don't just have to take our word for it.
See what our clients say about our PIM.
"We've checked many PIM Systems on the market in the past... we've never seen a PIM like Plytix. For our case, Plytix is so simple to implement, and you understand all features within a few minutes. That's what we call user-friendly!" - Manuel S, Head of Digital Transformation of Chemoform AG.
But that's not only the best thing about our PIM.
Plytix is a next-generation PIM software built for collaboration. We understand that product information management is a team effort, so the tool you choose for your business has to be easy to use. That way, everyone across departments can collaborate effectively. Imagine having a PIM system that is so complicated that only one person in the team knows how to use it? That'll create a huge bottleneck because the information management will depend solely on one person. A tool like ours encourages your teams to work collaboratively and ensures that your business can avoid the cost of siloed product data.
3. Content syndication
Ecommerce syndication is an important aspect of multichannel commerce.
Selling on multiple channels is already a challenging undertaking. Distributing information to your channels of choice shouldn't feel like a chore. That's why you should take your time when you're searching for a product content syndication partner so that you can first try to understand what the software can do to improve your syndication process.
With Plytix, you can look forward to simplified data-capturing and validation processes, enrichment, and optimization cues to help you perfect your content according to your customers' expectations. We also provide user-friendly data export capabilities and sales channels integration that streamlines the content distribution process so you can spend your time making sales.
4. Value-adding customer support
Just like any type of customer, SMBs also value great customer support and personalized onboarding. We always hear that dedicated support is too expensive, but that's not the case for us. We want our customers to love the service that they receive from us. We offer ongoing support throughout your time with us. From onboarding to ongoing management, we've got your back!
"At Plytix we don't just mindlessly fill job positions. We make sure the people joining fit into our culture, which is important in the Customer Success team. We all genuinely care about giving the client the best solution, and seeing how the tool transforms their day to day is priceless." - Jon, Plytix Head of Customer Success.
The reviews from G2, a software review website, speak for themselves. Various small businesses can attest to our dedication to providing as much support as needed.
In conclusion
We are proud of the work we do to support SMBs in the ecommerce space. We want nothing more than to see you thrive. We know it's possible because we've seen businesses who in the first year of implementing PIM, saw an increase in sales by up to 50%.
You can reap those benefits too! All you have to do to get started is get yourself a personalized demo from us. Contact us today!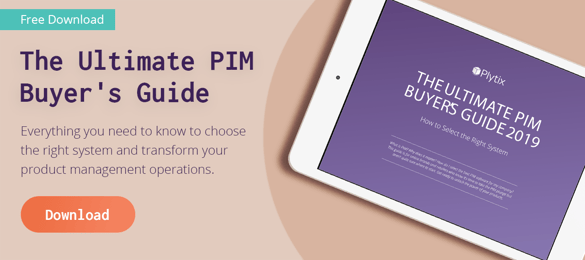 Product Information Management