To say that the world of ecommerce business is ever-changing could be considered a bit of an understatement. Heck, it was just 44 years ago that the first ecommerce transaction with an old-timey computer and telephone was made (and yes, over-the-phone sales count as ecommerce too). 44 years isn't that long ago, but certainly, a lot has changed for ecommerce since then.
These days, the success of your ecommerce business depends on delivering a seamless and engaging customer experience, starting with rich and accurate product information. But, as your product portfolio grows, so does the complexity of managing your product information. And it's not just that; to stand out against your competitors, you also need tools that help boost internal productivity and team collaboration, all while easily getting your products to sales channels. It's like juggling more balls in the air—sooner or later, you might drop one.
As more and more businesses adopt Product Information Management (PIM) solutions, you might ask yourself, when is it time to put down the juggling act and get on board with PIM? Well, in this blog, we'll help you decipher the signs and understand when investing in a PIM is not only a good idea but a game-changer for your business.
6 questions to ask yourself to see if it's time to get PIM software
With any business decision, there are a number of factors to consider before making a purchase decision. To truly find out if now is the right time for your business to invest in PIM, start by asking yourself these questions.
1. Are you selling online?
This year, 20.8% of retail purchases are expected to take place online. That's a little over a fifth of all retail purchases! This means it's pretty likely your business is already selling online; I mean, what would you be doing reading through a PIM blog if not? But hey, we welcome you here all the same.
As the world increasingly interacts with businesses online, it's becoming essential for brands to have and maintain a presence on the World Wide Web. So, the first step to evaluate if your business is ready for a PIM is to ask yourself, are we already selling online? And, as a quick follow-up, in how many places?
As we talked about in our introduction, ecommerce originally meant any type of sale that wasn't physically happening in a store. These days, it still has the same definition despite becoming synonymous with business-to-customer online shopping; think of your favorite stores' website or Amazon. However, the ecommerce umbrella extends to any business with an online presence. Even if they handle their sales through salespeople, over the phone, or through email quote requests, it's all considered part of the wonderful world that is ecommerce.
A PIM can truly be used by any business regardless of its structure because as you sell on more and more channels, your need for accurate product data grows immensely. Managing different requirements for everywhere you sell can be a nightmare. Your distributors want one thing, online retail partners need another, you get the picture. And managing it all within a spreadsheet with multiple tabs a mile long is a little… exhausting.
So, if you sell in more than one place online, you're a good candidate for a PIM system. With a PIM, you'd be able to manage all of your product information from one central location, no more pesky spreadsheets and duplicate data. But there are a few more questions to go through, so let's see what's next.
2. What ecommerce tech tools are you already using?
Although I'd personally love for our PIM to be your first-ever tool, there are other parts of an ecommerce tech stack that you might want to consider before diving into PIM. If we picture your business like a house you're building, you might need a different combination of people (tools) to make it happen. At the very least, you'll need an architect and a builder, but maybe you won't need that expensive exotic plant dealer or interior designer.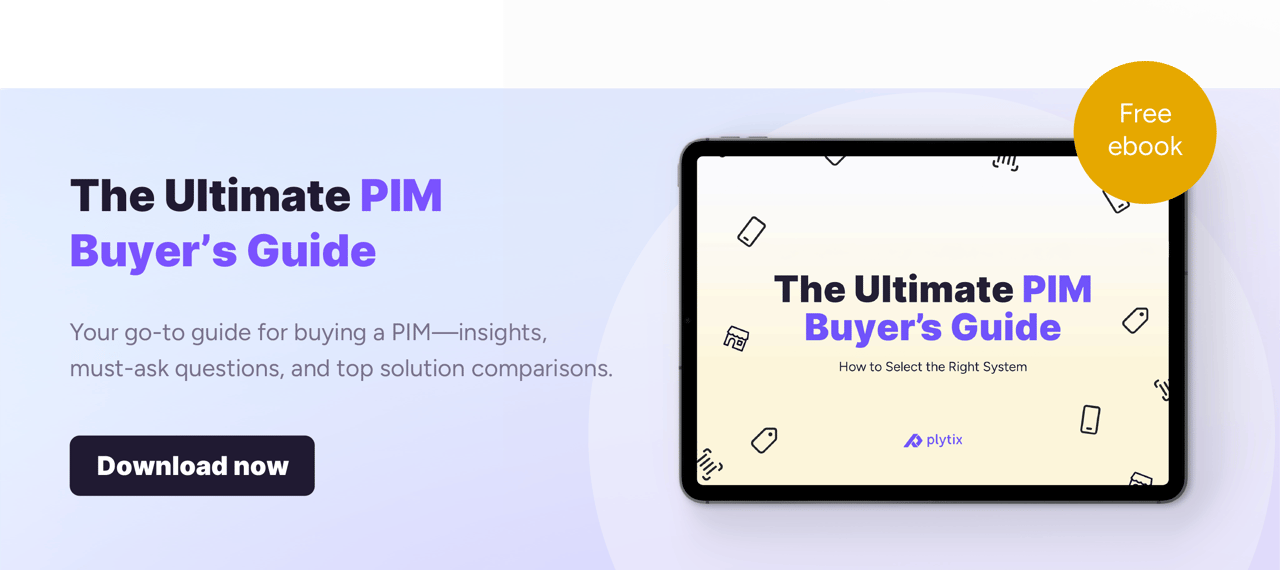 Looking at the tech for your business is kind of the same. There are some tools you might be able to live without (like our interior designer) and others that are absolutely essential (I personally wouldn't budge on the exotic plants, but that's just me). For any ecommerce business, it's essential that you have a way to manage inventory (IMS), a place for people to browse and buy your products (CMS), as well as a way to manage your product data (PIM).
These three tools are essentially the building blocks to success. However, it's not uncommon for businesses to start with the first two and then look for a solution for any product data woes that start to arise. So if that's you, don't worry! As long as you have a way to manage your inventory and a place to sell your products, you're right on track to get a PIM.
3. How are you currently managing your product data?
Even though Product Information Management is up there in the top three most essential tools for building your house ecommerce business, it's often assumed that its functionality can be squeezed out of other tools that weren't exactly designed with data in mind.
Let's put it this way: have you ever tried to eat soup with a fork? Paint your house with a toothbrush? Take a photo with a coffee cup? No? Then perhaps you shouldn't try to manage your product data from your online store, inventory system, or, god forbid, excel spreadsheet.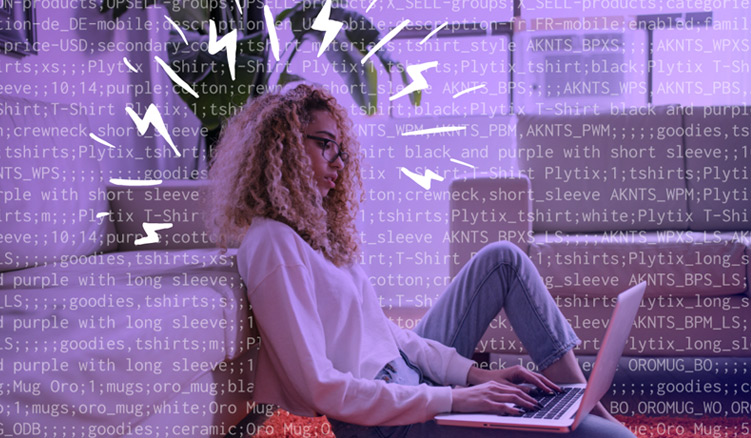 Drowning in a sea of spreadsheets, multiple versions, and data errors are surprisingly common scenarios for growing businesses. But when you find yourself spending more time trying to manage data with insufficient tools than focusing on growth, it's a clear sign that it may be time for a PIM.
4. How many SKUs do you need to manage?
Imagine you're a small company with a few bespoke products and very few variations, let's say around 150 SKUs. As we've already discussed, if you don't also have the need to sell across multiple sales channels, you might be able to get away without using a PIM. That is if you don't mind manually managing the hundreds of data points that go along with your limited products. That and if you don't plan to grow or expand your business any further.
But it's probably a good guess that unless your ecommerce business is a pure passion project, you'll want it to grow and expand beyond its current form. And, as your product catalog grows, so does the complexity of managing it. Keeping track of changes to updating information and ensuring a consistent brand experience for your customers becomes an overwhelming task.
Then, as your business expands into new markets and territories, the complexity of your product data expands as well. By adding more and more data like different languages, currencies, and market requirements, things really start to pile up. A PIM simplifies this process by managing translations, currency conversions, and regional data differences, making global expansion smoother and more efficient. So, if you have or plan to have more than 150 SKUs, it's probably the right time to invest in PIM for your business.
5. How does your team work together?
From virtual meetings to AI integrations, our jobs are increasingly reliant on technology to get work done. But how does your team collaborate together? How do they need to collaborate together? Maybe they're reliant on updating shared documents or spreadsheets, or they use multiple versions of the same project floating around in some shared digital folder.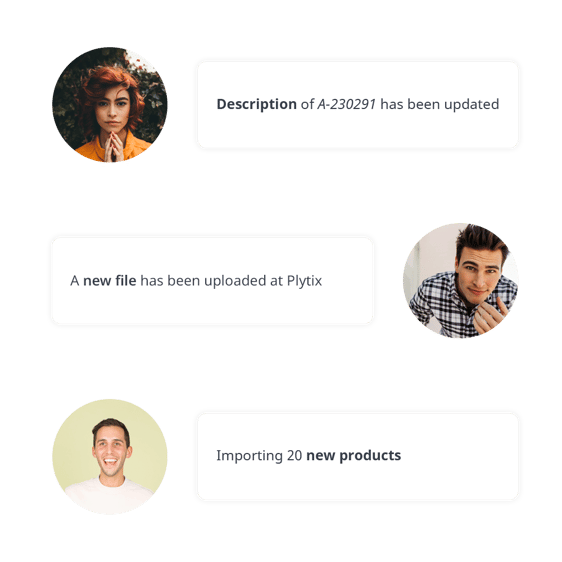 You see, collaboration is the key to progress as a company grows beyond the pivotal 10-employee mark. That's because, simply put, it's easier to handle data and processes between fewer team members. Think about it: if you're a team of five, it's easy enough to shout out at the colleague in front of you to confirm if you've got the most up-to-date information about your new product (though it probably isn't the most practical).
However, as you start to grow, the efficiency and productivity of teams can determine the trajectory of your business. When it's time to get serious about growth, your daily operations will start to involve multiple teams—each responsible for a different aspect of your business. From marketers and designers to manufacturers and distributors, the list can be endless. Keeping all these moving parts (and people) in harmony quickly becomes a daunting task without something like a PIM system. With PIM, you can provide your teams with a singular platform to access, update, and maintain product data, ensuring consistency and accuracy across all your sales channels.
So, if you've set your sights on or already surpassed the 10-employee milestone, investing in a PIM is not just a wise move; it's your key to building a thriving and competitive business. When you use PIM to streamline data management and promote efficient teamwork, you're ensuring that your business won't just survive, but it'll thrive during this critical phase.
6. What's your current process if there's an error on one of your products?
Did you know that 98% of shoppers decide against making a purchase when they notice incomplete or inaccurate product content? When you have inaccurate product information, you can easily damage your brand's reputation, frustrate your customers, and ultimately receive a number of costly returns. The thing about working from tools that weren't specifically designed to manage data is that there can often be multiple versions rolling around in the shared office folder. This leads to incorrect, incomplete, or inconsistent information easily escaping.
We spoke to one of our customers about this very issue and heard it took them almost one complete year to erase some pesky incorrect data that had escaped before they switched to PIM. Your product data influences how customers perceive and trust your business. A PIM ensures that your product information is accurate, up-to-date, and presented consistently across all touchpoints, which, in turn, enhances the shopping experience and builds trust with your customers.
So, if you've received customer complaints about inaccurate product information or faced an increasing number of product returns, it might be the time for PIM. It will address these issues by providing a centralized system for managing and updating product information, ultimately reducing data-related errors.
It's never too early to embrace the PIM advantage
In the end, staying competitive in the dynamic world of ecommerce requires an efficient and effective approach to managing your product information. By asking yourself, your colleagues, boss, or business partner any of the questions above, you've already made a great start to improving your business. If you recognize any of the signs mentioned above, it's definitely the right time to consider investing in a PIM solution. A PIM will empower your business to streamline data management, enhance customer experiences, and drive growth. Start considering a PIM today and pave the way for a more successful and efficient ecommerce journey. Your future self will thank you!
Does it sound like you're ready for a PIM? Check out our free PIM Buyers Guide and discover how to choose the right PIM for you and your business.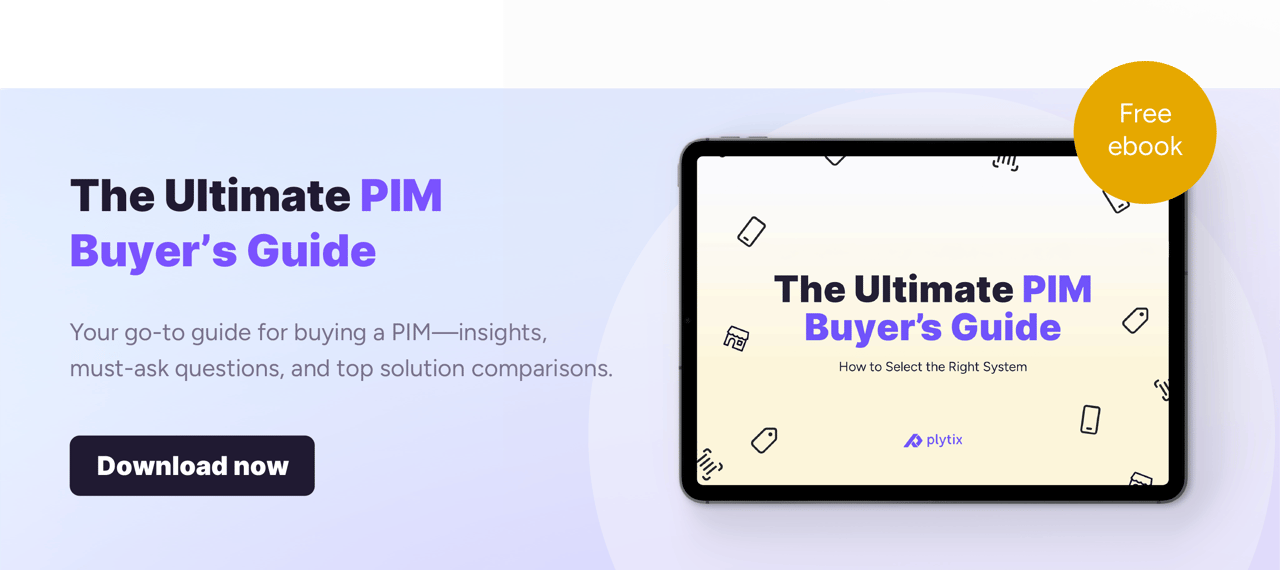 Frequently Asked Questions
A PIM is the single source of truth where all your product information (descriptions, prices, images, SKUs, and more) lives. Plytix PIM takes things a step further by making it easy to distribute your product information wherever you need it. You can sell anywhere using Channels and create online catalogs with Brand Portals.
Choosing the right PIM for your business can take a lot of time, effort, and research. Luckily, we've done that for you! In our free PIM Buyers Guide, you can discover the key questions to consider, compare us to our competitors, and more. Although Plytix is the only PIM specially made (and priced!) for small to medium-sized businesses, any business can benefit.
PIM is a great tool for anywhere you sell online. With a PIM system, you can easily store, manage, create, optimize, and export your product data to your sales channels. With Plytix, you have a direct integration with Shopify. So, it's as easy as copying a couple of codes from your Shopify store and popping them into your Plytix channel—and voilà, you're connected! This is a simple connection that doesn't require any development, and it allows Plytix to push content automatically to your store.
To get started with Plytix PIM, you can choose from one of our four plans: Free, Starter, Custom, and Unlimited.
Our Free plan is a good solution for companies looking for a powerful PIM to replace their spreadsheets and folders. It doesn't include any outputs.
What's an output, you ask? Great question. "Outputs" in Plytix help you share your product data outside the PIM. You can use each output you purchase to set up 1 channel or 1 brand portal.
You get up to 5 outputs in the Starter plan or unlimited outputs in the Unlimited Plan. Our Custom plan is a stepping stone between Starter and Unlimited, where you can choose exactly how many outputs you need, so you only pay for what you use.
Compare plans and pricing on our pricing page.
Product Information Management